2020 24 Hours of LeMans Entry List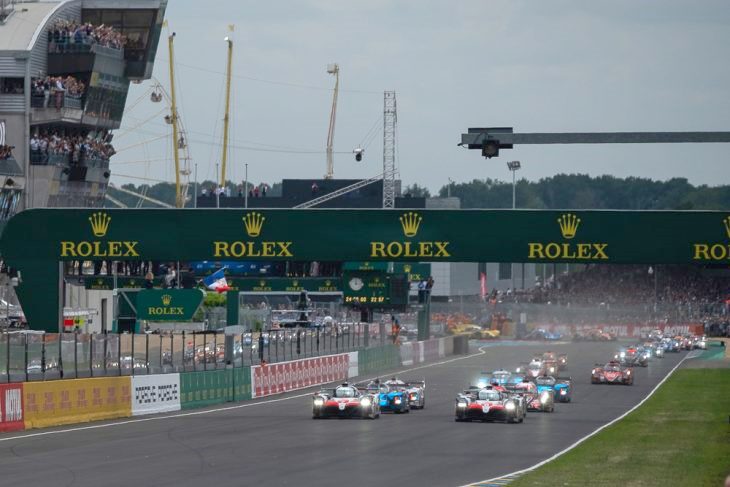 Start of last year's race
The ACO has revealed the full entry list for the 2020 running of the Le Mans 24 Hours in June, featuring 62 cars, and 10 reserves.
The smallest of the four classes is LMP1 with just six cars. Rebellion Racing, Team LNT and Toyota are present, with ByKolles on the reserve list with its CLM P1/01 that hasn't competed in the current FIA WEC season.
All other classes feature double digit entries.
LMP1 (6 cars)
#1 – Rebellion Racing – R-13 Gibson – Senna, Nato, Menezes (1)
#3 – Rebellion Racing – R-13 Gibson – Dumas, Berthon, Deletraz
#5 – Team LNT – Ginetta G60-LT-P1 AER – Robertson (1)
#6 – Team LNT – Ginetta G60-LT-P1 AER – Simpson (1)
#7 – Toyota Gazoo Racing – TS050 HYBRID – Conway, Kobayashi, Lopez (1)
#8 – Toyota Gazoo Racing – TS050 HYBRID – Buemi, Nakajima, Hartley (1)
LMP2 (24 cars + 1 Garage 56)
#11 – Eurointernational – Ligier JS P217 Gibson – Tambay (7)
#21 – DragonSpeed – ORECA 07 Gibson – Rojas, Cullen, Derani (2)
#22 – United Autosports – Oreca 07 Gibson – Hanson, Albuquerque, Di Resta (1)
#24 – Nielsen Racing – ORECA 07 Gibson – Noble (6)
#25 – Algarve Pro Racing – ORECA 07 Gibson – Falb, Trummer (4)
#26 – G-Drive Racing – Aurus 01 Gibson – Rusinov (7)
#28 – IDEC Sport – ORECA 07 Gibson – Lafargue, Chatin, Bradley (7)
#29 – Racing Team Nederland – ORECA 07 Gibson – van Eerd, van der Garde, de Vries (1)
#30 – Duqueine Engineering – ORECA 07 Gibson – Hirschi, Tereschenko, Gommendy (2)
#31 – Panis Racing – ORECA 07 Gibson – Jamin (2)
#32 – United Autosports – ORECA 07 Gibson – Owen, Brundle, Van Uitert (2)
#33 – High Class Racing – ORECA 07 Gibson – Yamashita, Patterson, Fjordbach (1)
#34 – Inter Europol Competition – Ligier JS P217 Gibson – Smiechowski, Binder (4)
#35 – Eurasia Motorsports – Ligier JS P217 Gibson – Van Gisbergen, Gaunt, Yamanaka (5)
#36 – Signatech Alpine – Alpine A470 Gibson – Negrao, Ragues, Laurent (1)
#37 – Jackie Chan DC Racing – ORECA 07 Gibson – Tung, Aubry, Stevens (1)
#38 – JOTA – ORECA 07 Gibson – Davidson, Da Costa, Gonzalez (1)
#39 – SO24 -HAS By GRAFF – ORECA 07 Gibson – Allen, Cougnaud, Capillaire (2)
#42 – Cool Racing – ORECA 07 Gibson – Lapierre, Borga, Coigny (1)
#45 – Thunderhead Carlin Racing – Dallara P217 Gibson – Manchester (4)
#47 – Cetilar Racing – Dallara P217 Gibson – Lacorte, Belicchi, Sernagiotto (1)
#48 – Performance Tech – ORECA 07 Gibson – Cassels (8)
#49 – Rick Ware Racing – RILEY Mk. 30 Gibson – Ware (6)
#50 РRichard Mille Racing РORECA 07 Gibson РLegge, Calderon, Fl̦rsch (2)
#84 Association SRT41 – ORECA 07 Gibson (Garage 56 Innovative car) – Aoki, Ben Moussa, Bailly
GTE Pro (11 cars)
#51 – AF Corse – Ferrari 488 GTE EVO – Pier Guidi, Calado, Serra (1)
#63 – Corvette Racing – C8.R – Garcia, Taylor, Catsburg (3)
#64 – Corvette Racing – C8.R – Gavin, Milner, Fassler (3)
#71 – AF Corse – Ferrari 488 GTE EVO – Rigon, Molina (1)
#82 – Risi Competizione – Ferrari 488 GTE EVO – Pla, Bourdais (10)
#91 – Porsche GT Team – Porsche 911 RSR 19 – Bruni, Lietz, Makowiecki (1)
#92 – Porsche GT Team – Porsche 911 RSR 19 – Christensen, Estre, Vanthoor (1)
#93 – Porsche GT Team – Porsche 911 RSR 19 – Tandy, Bamber, Campbell (3)
#94 – Porsche GT Team – Porsche 911 RSR 19 – Pilet, Jaminet, Andlauer (3)
#95 – Aston Martin Racing – Aston Martin Vantage AMR – Thiim (1)
#97 – Aston Martin Racing – Aston Martin Vantage AMR – Martin (1)
GTE AM (20 cars)
#52 РAF Corse РFerrari 488 GTE EVO РUlrich, G̦rig, West (2)
#54 – AF Corse – Ferrari 488 GTE EVO – Flohr, Castellacci, Fisichella (1)
#56 – Team Project 1 – Porsche 911 RSR – Perfetti, Cairolli (1)
#57 – Team Project 1 – Porsche 911 RSR – Keating, Fraga, Bleekemolen (1)
#61 – Luzich Racing – Ferrari 488 GTE EVO – Piovanetti (7/10)
#62 – Red River Sport – Ferrari 488 GTE EVO – Grimes, Mowlem, Hollings (1)
#65 – WeatherTech Racing – Ferrari 488 GTE EVO – MacNeil (3)
#70 – MR Racing – Ferrari 488 GTE EVO – Ishikawa, Cozzolino, Beretta (1)
#74 – Kessel Racing – Ferrari 488 GTE EVO – Cadei (9)
#77 – Dempsey Proton Racing – Porsche 911 RSR – Reid, Pera, Campbell (1)
#80 – Hub Auto Racing – Ferrari 488 GTE EVO – Chen, Slade, Gomes (6)
#81 – GEAR Racing – Ferrari 488 GTE EVO – Nielsen (3)
#83 – AF Corse – Ferrari 488 GTE EVO – Perrodo, Collard, Nielsen (1)
#85 РIron Lynx РFerrari 488 GTE EVO РG̦stner Frei, Gatting (2)
#86 – Gulf Racing – Porsche 911 RSR – Wainwright, Barker, Watson (1)
#87 – JMW Motorsport – Ferrari 488 GTE EVO – Heistand (8)
#88 – Dempsey Proton Racing – Porsche 911 RSR – Preining (1)
#90 – TF Sport – Aston Martin Vantage AMR – Yoluc, Eastwood, Adam (1)
#98 – Aston Martin Racing – Aston Martin Vantage AMR – Dalla Lana (1)
#99 – Dempsey Proton Racing – Porsche 911 RSR – Long (7)
Reserve
#55 – Spirit of Race – Ferrari 488 GTE EVO – Cameron, Scott, Griffin (2)
#4 – ByKolles – CLM P1/01 Gibson – Dillman (10)
#17 – IDEC Sport – ORECA – Lafargue (2)
#20 – High Class Racing – ORECA 07 Gibson – Magnussen (2)
#78 – Proton Competition – Porsche 911 RSR – Olsen (2)
#27 – DragonSpeed – ORECA 07 Gibson – Hedman, Hanley, Rosenqvist (3)
#60 – Iron Lynx – Ferrari 488 GTE EVO – Schiavoni, Pianezzola, Piccini (2)
#23 – Inter Europol Competition – Ligier JS P217 – Moore (2)
#89 – Team Project 1 – Porsche 911 RSR – Kolkmann (10)
#96 – D'Station Racing – Aston Martin Vantage AMR – Hoshino, Fujii (5)