Barcelona Day 5: Vettel remains unbeaten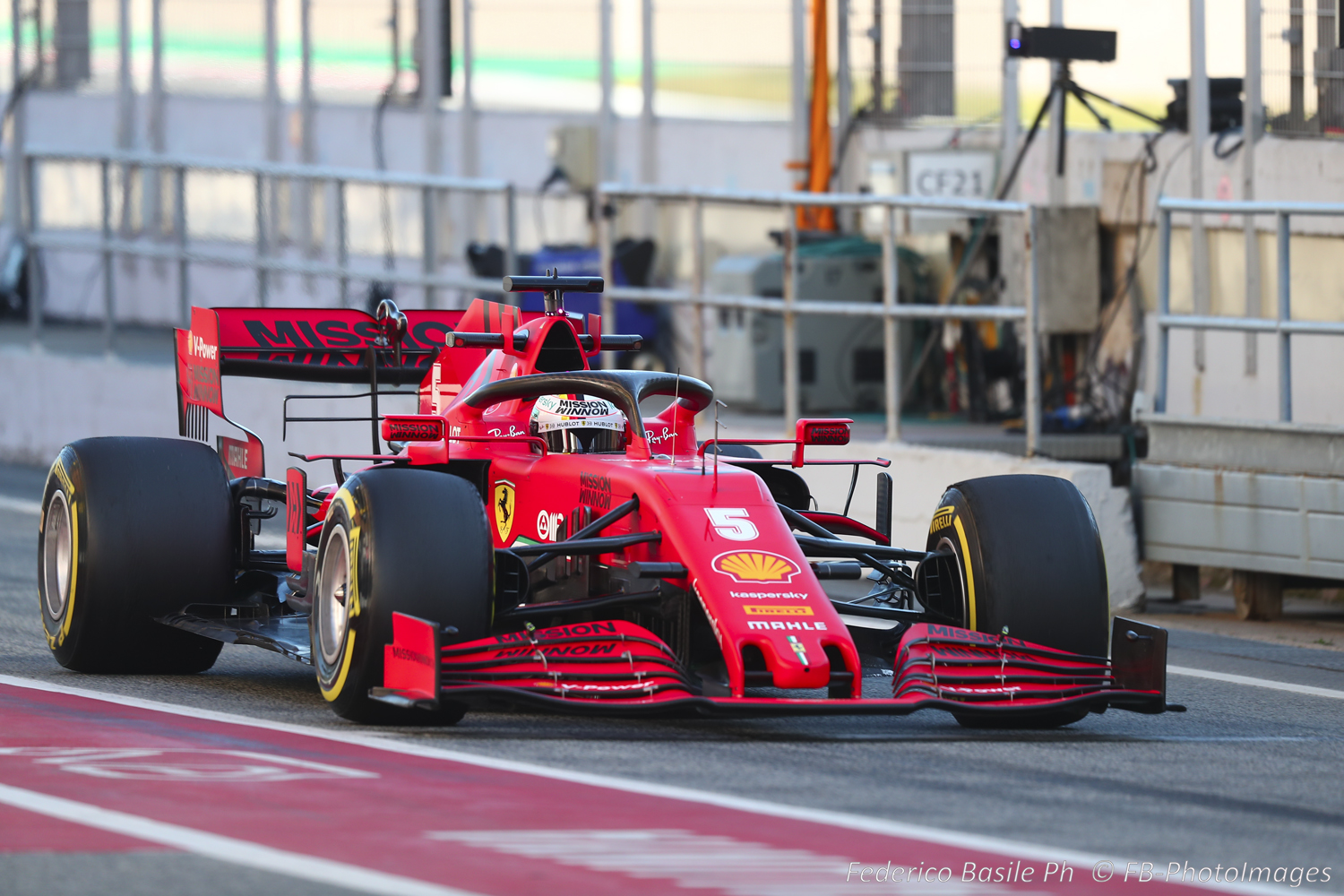 Sebastian Vettel
Sebastian Vettel remained fastest for Ferrari at the end of Day 5 of 6 of 2020 pre-season Formula 1 testing in Barcelona.
Vettel's 1m16.841s on C5s from the morning went unbeaten in the afternoon, although AlphaTauri's Pierre Gasly put in a lap on the same rubber within 0.225 seconds of Vettel with 15 minutes remaining in the day. See AR1.com Photos
The German's 1m16.841s is the second-quickest overall laptime set so far during the winter tests at the Circuit de Barcelona-Catalunya.
Lance Stroll's C3-shod 1m17.118s from morning ended up as the third-quickest time of the day overall for Racing Point.
Nicholas Latifi recorded Williams' fastest lap of the winter so far on a 1m17.313s to finish fourth on what was a strong day for the British outfit as it recovered from lost track time after hitting power unit problems on Wednesday.
Lando Norris rounded out the top five for McLaren, while Red Bull's Max Verstappen suffered two more spins and caused a red flag in the morning ended up sixth.
Lewis Hamilton had taken over at the wheel of Mercedes' W11 from his team-mate Valtteri Bottas – whose morning effort of 1m17.985s put him seventh overall on the day.
But Hamilton's effort came to an end after 12 laps when his engine lost oil pressure as he exited the downhill Turn 5 left-hander.
This caused the afternoon's only red flag, and Hamilton did not reappear again after that so he may have blown the engine.
Esteban Ocon, Kevin Magnussen, Alexander Albon, Daniel Ricciardo and Antonio Giovinazzi made up positions 8-12.
The sixth and final day of 2020 pre-season testing takes place on Friday.
Select Quotes
Sebastian Vettel #5
"This was a good day in terms of the number of laps we managed to do, as well as for the fact that we got through the program we had set ourselves. Having said that, I don't think today's times mean much, because, out of the five days of testing we have done here so far, today's track conditions were definitely the worst. The overnight rain had washed away all the rubber put down on previous days and, on top of that, the wind got much stronger right from early morning, making it harder to drive. I think we have done a good job, concentrating mainly on what we had to do, without thinking too much about lap times. We won't really get a clear picture until Melbourne, but maybe not even there, given that the track is pretty unique. Overall, I'm pleased with the way testing went."
Max Verstappen
"It was a bit of a shame with the weather, so we couldn't really run as much as we wanted, but overall it was positive. We spent time driving with the aero rakes, gathering all the data we could and everything went well. Every day we are improving, learning more, and that's exactly what you want from testing. It was never the target to run as many laps as last week. I think we have done our long runs and now it's about checking parts and trying different things. It all takes time and the end result is fewer laps, but I think we tried everything we wanted to today. Regarding the spin I had this morning, I had a look back at the footage and I just clipped a little damp patch, which I didn't see, but yeah, I think I just tried to take a little too much road on the entry!"
Alex Albon
"This afternoon was a little bit disrupted, mostly because of the wind, which was tricky, and it was hard to get a good read on balance, but otherwise it wasn't too bad today. Everything's going well, but of course we need to look at the data as it was not so easy to do direct comparisons today. I think tomorrow the weather should be a lot better. There's still work to do and that's what tomorrow is about – fine-tuning and chipping away at it. We have done a lot of running and I think the positive thing is that we know the direction we're happy with. We have got a good base heading into the start of the season."
Valtteri Bottas
Obviously, the running today in the morning was slightly limited with the wet weather. But we got a couple of runs in with the intermediate tire, which is always useful. We had a good feeling on that tire in those conditions and gathered some good information. The session was slightly disrupted by red flags, so we missed some of the test items we planned to do. However, we still completed a few good long runs and set-up work – so got some decent mileage in. I have one afternoon left in the car, which I'm really looking forward to. I feel pretty ready to race. We had a few issues here and there, but the team is working on resolving them and we'll sort everything out for tomorrow.
Lewis Hamilton
I only got 14 laps in today, but during those 14 laps, everything was feeling fine. It's obviously not ideal that we didn't get a full day of running in and we experienced this issue, but there are lots of learnings to take from today. Rather than looking at the negatives, we've discovered some things we need to work on, and we'll keep pushing hard to resolve them and keep working away. I'm looking forward to being back in the car tomorrow morning and adding to the mileage we've already achieved.
James Allison
It's frustrating when there's only six days of winter testing, to be spending half of one day in the garage. But, nevertheless, we did some good work this morning with Valtteri. Furthermore, in the solitary run that we managed with Lewis this afternoon, we managed to get a very useful data point from the car. We're happy to have learnt more about its behavior, and we're reassured that in blustery conditions, that the car has still got a decent turn of pace. We're looking forward to tomorrow, where we'll have a good amount of time with both drivers on the softer tire compounds; working on single-lap set-up and performance
Antonio Giovinazzi
"It was a challenging day from the start. I did a mistake in one of my first runs, when the track was damp, and that cost us some time in the morning. When we went out again in the afternoon, the yellow flags ruined our qualifying simulation and we couldn't really do a lap. At least we were able to follow our long runs program: the wind was very strong and we struggled a bit, but we were able to get it done. It was the last time in the car before Melbourne for me: I am satisfied with these two weeks, we need to focus on our job and try to be strong from the start in Australia."
Lance Stroll:
"We put in a lot of laps – my neck's going to be a bit stiff in the morning! We got held up a bit by the rain in the morning and it was really windy in the afternoon, which compromised running for everyone a bit. But all-in-all some solid running and the car felt pretty good out there. It's testing, so we don't know what everyone else is doing – but what matters is that we've been making progress over the past couple of weeks. We've definitely improved the car in terms of the balance on both short and long runs and the team have done a great job of dialling it in more and more as the days have gone by. It's a bit weird having less time in the car compared to previous years, but I'd say this has been my best pre-season so far. I'm feeling fresh from all that off-season training and ready to go racing."
Pierre Gasly
"It was a pretty good and intense day. The track was damp this morning which meant we had to do most of the work in the afternoon. We did over 100 laps after lunch which was great, and managed to do a race simulation and push the car a bit more to see what we've got. Compared to last week, the conditions were slightly more difficult because of the wind which made the car challenging to drive at times. There are a couple of areas we need to improve on, but I can say it was a decent test for me. I know we have a bit more left in our pockets and I'm pretty pleased with the car, however, Melbourne is quite different from Barcelona, so even if I don't want to get too excited, I'm pretty confident going to the first race."
Nicholas Latifi
Overall it was a positive day and I got to experience the car in both trims that you would in a race weekend. We focused our morning on performance runs and I was finally able to feel the limits of the car. Unfortunately, the track conditions this morning hampered our running, and from that point of view our performance simulations weren't as representative as I would have liked. In the afternoon we moved on to conducting our race simulations and I was able to get a lot of laps on the board. I think today went well, we had no issues and I was able to make up for the lost mileage from the previous days. This was the last time I will have had the chance to drive the car, I am looking forward to arriving in Melbourne and making my Formula One Grand Prix debut with the team.
Thursday Times
| | | | | | |
| --- | --- | --- | --- | --- | --- |
| POS | DRIVER | CAR | TIME | GAP | LAPS |
| 1 | Sebastian Vettel | Ferrari | 1m16.841s | 0.000s | 145 |
| 2 | Pierre Gasly | AlphaTauri/Honda | 1m17.066s | 0.225s | 139 |
| 3 | Lance Stroll | Racing Point/Mercedes | 1m17.118s | 0.277s | 130 |
| 4 | Nicholas Latifi | Williams/Mercedes | 1m17.313s | 0.472s | 160 |
| 5 | Lando Norris | McLaren/Renault | 1m17.573s | 0.732s | 113 |
| 6 | Max Verstappen | Red Bull/Honda | 1m17.738s | 0.897s | 31 |
| 7 | Valtteri Bottas | Mercedes | 1m17.985s | 1.144s | 47 |
| 8 | Esteban Ocon | Renault | 1m18.013s | 1.172s | 37 |
| 9 | Kevin Magnussen | Haas/Ferrari | 1m18.225s | 1.384s | 111 |
| 10 | Alexander Albon | Red Bull/Honda | 1m18.393s | 1.552s | 61 |
| 11 | Daniel Ricciardo | Renault | 1m18.395s | 1.554s | 59 |
| 12 | Antonio Giovinazzi | Alfa Romeo/Ferrari | 1m19.670s | 2.829s | 92 |
| 13 | Lewis Hamilton | Mercedes | 1m22.425s | 5.584s | 14 |