ripKurrent Signs as Primary Sponsor for Kimball for 500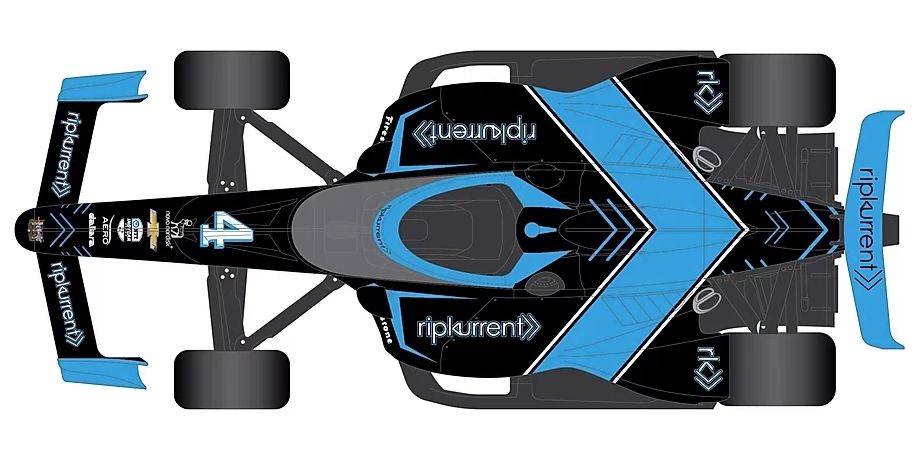 Kimball's Indy 500 livery
AJ Foyt Racing has signed ripKurrent, an energy services company, as the primary sponsor of Charlie Kimball's No. 4 Chevrolet for the 104th Indianapolis 500 presented by Gainbridge. Moreover, ripKurrent will have a season-long presence on the car as an associate marketing partner.
"I am excited for ripKurrent to come on board for the 104th Running of the Indianapolis.
500 with AJ Foyt Racing," Kimball said. "As a tech company that is disrupting the norms associated with commercial and industrial facility energy usage and finding efficiencies for those companies, there is no better place to showcase technology, speed and success than the Indianapolis Motor Speedway!"
The ripKurrent logo will be on the nose of the No. 4 Chevrolet throughout the season and the car will feature a distinctive ripKurrent livery for the Indy 500. The company plans to entertain its guests throughout the month of May.
"We are very excited to be partnered with AJ Foyt Racing and Charlie Kimball for the 2020 season, and more specifically, the 104th Running of the Indianapolis 500," said Jade Culbertson, founder and president of ripKurrent, LLC. "After attending many Indy 500s as a native Hoosier, it will be surreal to think we have an entry with a world class team in AJ Foyt Racing and driver Charlie Kimball in the race. They have the knowledge, experience and skill to put the car in victory circle."
Based in Boca Raton, Florida, ripKurrent is expanding its involvement in the NTT INDYCAR SERIES after having sponsored Kimball's car at World Wide Technology Raceway at Gateway last August.