Week 2, Day 1: Kubica remains on top in Barcelona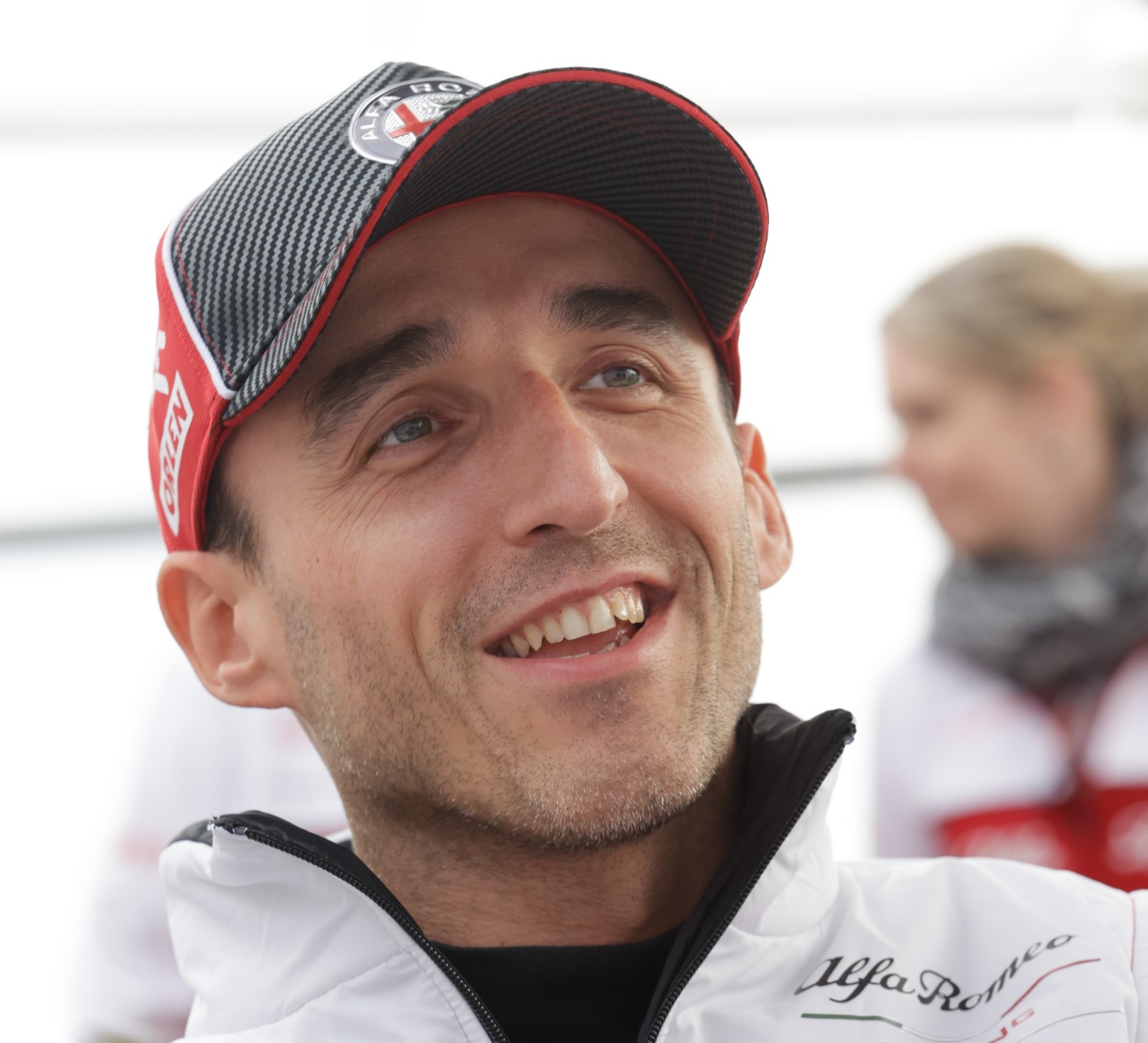 Kubica happy to finish on top
Using Pirelli's softest available C5 compound Robert Kubica led the way for Alfa Romeo on Wednesday as the second Formula 1 pre-season test got underway at Barcelona.
The Pole's 1m16.942s effort, set in the morning, held up to the end and was four-tenths clear of Max Verstappen (who moved up the order with a late flurry of improvements on the C3 Medium compound) and Sergio Perez. See AR1.com Photos
Verstappen suffered two spins in the afternoon, the latter of which occurred at Turn 10 and concluded the Dutchman's day early. A simultaneous red flag for AlphaTauri's Daniil Kvyat at Turn 9 resulted in the end of running.
Kvyat and AlphaTauri teammate Pierre Gasly were fourth and fifth ahead of Red Bull's Alexander Albon, whose morning program was limited due to suspension problems as both Honda-powered outfits lost track time in the morning.
Lewis Hamilton racked up 89 laps in the morning and was seventh-fastest in the 'trick' Mercedes with DAS, outpacing Racing Point's Lance Stroll in last year's Mercedes painted pink and Mercedes teammate Valtteri Bottas.
10th-placed Sebastian Vettel caused the first red flag of the second test when he ran his hapless Ferrari wide through the Turn 8 gravel and was sent into a half-spin, though he was still able to turn in 84 laps before handing over to Ferrari teammate Charles Leclerc in the afternoon who could not beat Vettel's best time.
Robert Kubica (car #88): "It has been a positive morning in the car for me. Times don't matter – P1 or P20, what really counts is finishing the day having completed your testing program, and we did that. The car felt better compared to last week, we already did a few tweaks and I could feel the improvement. We have a lot of data to go through to fully understand their effect, and two more days to get an even better level of confidence in the car. We know what we have to do."
Kimi Raikkonen (car #7): "It has been a challenging session, but this is quite to be expected during testing. We focused mostly on long runs and trying different setup options, which means the team had to learn how best to prepare the car. In the end, we can be fairly satisfied with our long run pace, although we know there is still a lot of work ahead of us before Melbourne."
Lewis Hamilton
It's been a good session and a good start to the second week of testing here in Barcelona. We've just got our heads down, trying to continue increasing our mileage and our understanding of this car – through the subtle changes with car set-up, the tires and the aerodynamic package. A fairly standard day, but it was a bit windier out there and it felt like the track had less grip – so there was some sliding around. The car didn't quite feel as good as the first week, but I'm sure that will change as the test progresses and the track conditions improve.
Valtteri Bottas
Very good mileage today, 90 laps. For half a day in the car, that's really good. We got some good set-up tests done and focused on long running. I think we picked up lots of learning points, although it was a bit tricky this afternoon with gusty wind, which made it sometimes more difficult to understand the set-up changes in detail. But I am sure we'll analyze everything overnight and find the learnings from it. Everything ran smoothly, except a slightly late start to the day with some big changes over lunchtime. But still we got some good running in and it's good to be back in the car again.
James Allison
It was a productive day both in the morning and the afternoon, taking the opportunity that winter testing grants us to explore the car thoroughly, in ways that are near-impossible once the racing season starts. We tested the new prototype tire with Lewis in the morning, which was trouble-free, and ran through set-up changes with both drivers. It was an interesting day, because it got quite gusty at various points. That was useful for us, learning how to get the best from the car as the wind picks up. Tomorrow, we will continue to explore the basic behavior of the car, before focusing more on performance on the final day of testing.
Max Verstappen
"Today I tried the new Pirelli tire compound, but overall we were trying lots of things, learning how the car reacts under various circumstances, so when we reach Australia, we'll know what to expect. We won't know how good we are until we get to Melbourne because testing isn't about setting lap times but trying new and different things. I stopped on track just before the end of the session but we're not concerned and overall it was a positive day. We have a lot of grip but so do the other cars so let's see what happens when we go racing."
Lance Stroll:
"Unfortunately we had a few problems with the car today, which resulted in us not getting the full program done this morning. It's a little frustrating, as obviously you want as much track time as you can get before the first race – but it's better we find and fix these issues now than have them hit us when we get to Melbourne. Overall, the car has felt pretty good since we first hit the track last week, so I'm looking forward to getting back to it tomorrow and hoping for a smoother day."
Sergio Perez:
"Every time you jump in a new car, you're learning new things. We still have a lot to work through to keep learning as much as we can before the first race, and there are a lot of areas we can still improve at this stage, as always in testing. But overall, it was another really solid day – even if this afternoon was a little bit tricky with the wind changing a lot from the beginning to the end of the session. I've got one more day in the car on Friday, so I'm looking forward to that and hoping we can extract the maximum from our package to end the test on a strong note before we head to Melbourne."
Wednesday times
| | | | | | |
| --- | --- | --- | --- | --- | --- |
| POS | DRIVER | CAR | TIME | GAP | LAPS |
| 1 | Robert Kubica | Alfa Romeo/Ferrari | 1m16.942s | 0.000s | 53 |
| 2 | Max Verstappen | Red Bull/Honda | 1m17.347s | 0.405s | 84 |
| 3 | Sergio Perez | Racing Point/Mercedes | 1m17.428s | 0.486s | 84 |
| 4 | Daniil Kvyat | AlphaTauri/Honda | 1m17.456s | 0.514s | 61 |
| 5 | Pierre Gasly | AlphaTauri/Honda | 1m17.540s | 0.598s | 25 |
| 6 | Alexander Albon | Red Bull/Honda | 1m17.550s | 0.608s | 29 |
| 7 | Lewis Hamilton | Mercedes | 1m17.562s | 0.620s | 89 |
| 8 | Lance Stroll | Racing Point/Mercedes | 1m17.787s | 0.845s | 43 |
| 9 | Valtteri Bottas | Mercedes | 1m18.100s | 1.158s | 90 |
| 10 | Sebastian Vettel | Ferrari | 1m18.113s | 1.171s | 84 |
| 11 | Daniel Ricciardo | Renault | 1m18.214s | 1.272s | 53 |
| 12 | Carlos Sainz Jr. | McLaren/Renault | 1m18.221s | 1.279s | 46 |
| 13 | Charles Leclerc | Ferrari | 1m18.244s | 1.302s | 80 |
| 14 | Nicholas Latifi | Williams/Mercedes | 1m18.300s | 1.358s | 48 |
| 15 | George Russell | Williams/Mercedes | 1m18.535s | 1.593s | 59 |
| 16 | Romain Grosjean | Haas/Ferrari | 1m18.670s | 1.728s | 107 |
| 17 | Lando Norris | McLaren/Renault | 1m18.826s | 1.884s | 57 |
| 18 | Kimi Raikkonen | Alfa Romeo/Ferrari | 1m19.515s | 2.573s | 51 |
| 19 | Esteban Ocon | Renault | 1m21.542s | 4.600s | 74 |