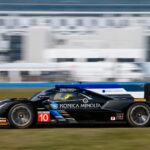 The #10 Cadillac led a Cadillac 1-2-3-4 sweep
While the Roar Before The Rolex 24 At Daytona long has served as the unofficial "kick-off" to the racing season, the 2018 rendition held this past weekend had a different feel than it had in previous years.
"There's still a lot of people here," said Ford Chip Ganassi Racing driver Joey Hand on Sunday afternoon. Hand is a two-time Rolex 24 class winner preparing to make his 13th start in the race.
"I don't have the statistics, but yesterday, I saw probably more people than I've ever seen at the Roar, by a good chunk," he said. "It looked like race day coming down the garages when we were going out to practice. I think that's a great thing. It's so fun to see how healthy the series is right now. I'm glad to be on this wave with everybody else, riding it.
[adinserter name="GOOGLE AD"]"I think IMSA's done a great job. A lot of people thought maybe they weren't doing the right thing, and look at 'em now. Just a bunch of race cars, great, great drivers in the field, teams, and manufacturers and I don't think we're at the top yet. I'm excited to see where it goes and happy to be here."
Many others were happy to be there, including several motorsports heavyweights – most notably two-time Formula 1 World Champion Fernando Alonso; the two-car, six-driver Acura Team Penske armada; the relaunched Mazda Team Joest program; and many others making their public debut at Daytona. That, by itself, offered plenty of intrigue for race fans.
"Daytona, so far, has been great," said Alonso on Friday afternoon. "You feel, you smell motor racing here. That's a good feeling for any driver. The Speedway is amazing, the size of everything is just huge."
While the Roar traditionally has been three days devoted exclusively to testing for the WeatherTech Championship and IMSA Continental Tire SportsCar Challenge, there were a few additions to this year's Roar that "counted."
The IMSA Prototype Challenge Presented by Mazda kicked off its 2018 season Saturday with its first-ever race at Daytona International Speedway. The one-hour, 45-minute event featuring closed-cockpit LMP3 race cars and open-air, Mazda-powered Élan prototypes also was the first time for the series' new endurance racing format, which included pit stops, tire changes and the option to utilize single- or two-driver lineups.
Sixteen-year-old Canadian Roman De Angelis won the LMP3 class race, with the Mazda Prototype Challenge (MPC) class victory going to a local neurosurgeon, Dr. Robert Masson, from nearby Windermere, Florida.
"It was an incredible experience here," Masson said. "The event has been phenomenal. I really like the new format. It really makes it a lot more interesting. We had a good time."
A good time was had by all involved with the IMSA Prototype Challenge Presented by Mazda race, which included a packed Fan Walk on pit lane before the start of the race. Beyond the at-track audience, more than 20,000 fans watched the live stream of the race on IMSA.com. Those who missed it may catch the action on FS2 at 7:30 p.m. ET on Thursday, Jan. 25.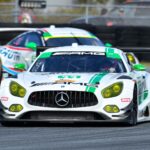 #33 Mercedes GTD
On Sunday, a qualifying session was held for the WeatherTech Championship to determine pit and garage assignments for the Rolex 24 At Daytona race weekend at the end of the month. Each of the three classes, Prototype, GT Le Mans (GTLM) and GT Daytona (GTD) had its own 15-minute session to lay down fast laps.
The Prototype laps were particularly fast – in excess of the WeatherTech Championship track record, although times won't be official until qualifying on the race weekend itself. Felipe Nasr in the No. 31 Whelen Engineering Cadillac DPi-V.R led the way. And while his team earned prime real estate for the Rolex 24 race weekend, Nasr – who spent the 2015 and 2016 racing seasons in Formula 1 – was most pleased to be competing at Daytona again as he gears up for a full WeatherTech Championship season.
"I knew this championship was always going to go up," Nasr said. "I feel this year; we have such a strong lineup of teams and drivers and everyone pushing each other, that it's going to be great. For a racing driver to be in an environment like this, and teams pushing each other, there is nothing better. It's really great to be involved."
And Hand, the fastest GTLM qualifier in the No. 66 Ford GT, admitted that the addition of a qualifying session was a unique approach for the Roar. But it was especially beneficial for fans at Daytona, which included thousands of Boy and Girl Scouts participating in another Roar tradition, Scout Days.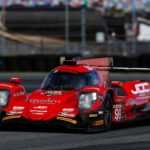 #99 Gainsco Oreca
"I think it's interesting," Hand said. "It changes it up a little bit. I think it's cool for the fans because they can see some guys throw down laps instead of just driving around in practice. They can see the split of the classes and people throwing down laps.
"Why not try it? I would say that the IMSA WeatherTech (Championship) has made some pretty darn good moves in the last couple years. I wouldn't really go against what they're doing. I'm game to do whatever and add the interest."