Q&A with Chase Elliott at Texas (Incl Video)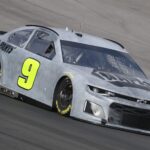 Elliott on track with new Camaro
CHASE ELLIOTT, NO. 9 NAPA CHEVROLET CAMARO ZL1, met with members of the media during the lunch break at the Goodyear tire test at Texas Motor Speedway and discussed making the first on-track laps in the Camaro ZL1, his fan base and many other topics. Full Transcript:
TALK A LITTLE BIT ABOUT WHAT IT'S LIKE TO DRIVE THE NEW CAMARO OUT THERE:
"Yeah, it's been, for me, behind the wheel it's really hard to tell what changes are when you are out there by yourself. I think the changes will probably become more apparent, hopefully, when we get to say Atlanta or get to some of the tracks that the changes are going to become important at. Out there making laps it is so hard to tell. I think until we get into those situations and kind of get some races under our belt as not only an organization, but as a manufacturer as a whole to see exactly how we stack up I think it will be tough to say until then."
YOU TOUCHED ON THE CAMARO A LITTLE BIT. TWITTER FOLLOWERS ARE CALLING THIS CAR 'SEX ON WHEELS' IT LOOKS SHARP ON THE TRACK. DOES THAT AFFECT YOU GETTING IN THE CAR AS FAR AS DRIVING IT THE FACT THAT IT LOOKS FAST? HOW DOES IT FEEL? CAN YOU TELL A DIFFERENCE BETWEEN THIS CAR AND LAST YEAR'S MODEL?
"Yeah, as far as the feel goes, it is so hard to tell. I have a hard time feeling much of anything I'm going so fast. I'm guessing anyway, but no, I think until we get into situations where we are racing and we get some more general analysis of hey, the Chevrolet's are better or the Chevy's are qualifying better or the Chevy's are racing better, I think until we get of those generalizations of exactly how we stack up, it's going to be hard to just make a 'guesstimation' of how the thing drives and say it's better or worse. It's hard for me to tell out there by myself.
"But, the car looks great. I don't know from a manufacturer standpoint from the public eyes standpoint, I don't know how you could not identify the Camaro with the Camaro on the street. It looks the same. I think that is something to be very proud of from Chevrolet. The work they did on that and the thought process behind it. It is the same car, it looks just like it. I think job well done from that standpoint."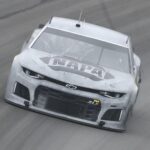 Is it is fast as the Camaro looks?
HOW IMPORTANT IS IT FOR YOU AS A DRIVER TO INTERACT WITH YOUR FANS, ESPECIALLY BEING A NEW DRIVER PULLING THOSE NEW FANS IN?
"Yeah, for sure, I mean look, as I've said before, I'm going to be me. I'm not as active as a lot of people are on Twitter. I think that is just because that is the way my personality is. I'm not going to jump out of the box of my personality to appease other people, never have been that way and I'm not going to be that way. I have been very lucky to have had some great supporters over the past couple of years. I hope we can grow that. Look, I want people to if they want to pull for me or like me I want it to because of who I am and the person I am and the way I carry myself. If I'm not the right guy for somebody, then hey, there are 39 other people to choose from and I think that is your choice, so I will respect it either way."
WHAT DID YOU DO IN THE OFF SEASON FOR FUN?
"Yeah, spent some time out there (Colorado). Spent a couple of weeks in some warmer weather down in Costa Rica which was fun. Went to the ballgame, which was fun for a little while. It's been great so far and kind of been wide-open the past few weeks. Excited to get home and spend these last few weeks at home before we get back going and get to Daytona here real soon as everybody in here knows."
CHANGING YOUR NUMBER SEEMS LIKE A BIG DEAL TO YOU:
"It is."
[adinserter name="GOOGLE AD"]IS THERE A PSYCHOLOGICAL COMFORT LEVEL CHANGE WITH THAT?
"I don't think so. I mean… I listed to Aric (Almirola) and his answer a second ago when y'all asked him about it and frankly I can't see the outside of the car from the inside. So, you know, at the end of the day is it going to make me go any faster? No, probably not. Do I think it looks better? Yes, I do. Is it my favorite number? Yes, it is. Has it always been my favorite number? Yes, it has been. So, all those things are great. I'm very luck and honored to carry the number that I've carried for a number of years before this year, so it's like getting back home to me from that sense, but no, I don't think it's going to make me go any faster or slower. I wish it did make us go faster. I would love that, but unfortunately numbers don't."
NOW THAT YOU'VE HAD SOME TIME TO REFLECT, HOW DO YOU FEEL WHEN IT COMES TO PICKING AND CHOOSING YOUR BATTLES ON THE TRACK?
"I mean I think it's circumstantial. I think in life in general you can't let people run over you and let them get away with it otherwise they are just going to keep doing it. I think that is just a part of life. If you let somebody control you too much they are probably going to take advantage of you as it goes on that happens in work places every day. It happens in racing, I'm sure it happens in football, baseball, basketball, the whole deal. I'm a big believer in that so I will race guys as they race me and obviously I want to beat people the right way because I think at the end of the day racing people the right way and doing it with respect is probably going to make them more mad than it would if you did something dirty to get by them. I'm a big believer in that and I think that is the best way to do it and that is kind of the way I've tried to do it in the past. I've made mistakes like everybody else, but I think it's important to carry yourself and try not to let people run over you."
Elliott was all smiles
WHAT IS YOUR OUTLOOK ON 2018?
"Frankly, I think our preparation over the past two years has been really good. I believe in the process of how we do things in our team and what was the No. 24 team and now the No. 9 team. I think Alan (Gustafson, crew chief) has done a great job of building a consistent week-by-week approach to the races and how we prepare on Tuesday's to how we debrief after races. Putting the amount of effort that needs to go into certain areas to improve performance. I think for us, it's not really things I can share with this group, but when we have had issues or we have had weak points and when we have gone to work on those points we have made them better. I was very proud of our team and the way we ran in the final 10 weeks last year. There wasn't one person, every one of y'all included that thought we were going to do what we did in the last 10 weeks. And I think that is something to be proud of. I know it didn't end like we wanted it to. We had the pace to be there and to have a shot at Homestead and we didn't, but we had the pace to do it throughout those 10 weeks and I think that is something to be proud of. We had the pit stops to do it, we had the race strategy calls to do it. I think I can do it and excited to give it another shot this year."
WHAT WAS THE EXPERIENCE LIKE AT THE GAME LAST NIGHT?
"Yeah, it was a great experience. As a long-time Georgia fan, I haven't had a ton to cheer for since probably early 2000. A few high spots here and there, but I think that is something that is great about being loyal to a team, you are not always going to have your day, as Corey Smith says in his song, but I think that you stick with them long enough and you trust in the process that they are doing and it makes you proud to be a fan when they do have their day. I believe they will some time. I'm excited to keep watching. It's not going to run me off from pulling for them again next year."
ARE YOU GOING TO RUN YOUR SIGN BOARD OUT THERE ALL YEAR LIKE THAT?
(THE TEAM TAPED A 9 OVER THE 24 TO CREATE HIS SIGN BOARD FOR THIS TEST)
"I don't know. I saw it. I got a pretty good laugh out of that too. I rounded the corner and saw that nice tape-job No.9. I don't know, we might to keep it fresh. Although it might confuse William (Byron), I guess. Before, I guess I could have just run the No. 9 sign board and nobody would have ever known, but I don't know, we will see."