Fisker unveils all-new electric car at CES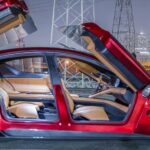 Fisker eMotion
After months of teasing, Fisker officially launched its new EMotion all-electric vehicle at CES in Las Vegas last night.
The car is a mid-size sport sedan with all-wheel drive and ample space for four, and it also comes with gullwing doors that you typically find on supercars.
Unlike Fisker's previous attempt at an electric car, the ill-fated Karma, the EMotion doesn't rely on a range-extender to deliver its claimed 400 miles on a single charge. The range is made possible by a lithium-ion battery sourced from leading battery supplier LG Chem, and puts Fisker at the forefront of electric cars, should the EMotion meet its targeted launch date of late 2019. Tesla's Model S P100D is the current leader with a range of 335 miles.
Henrik Fisker
Henrik Fisker, chairman and CEO of Fisker Inc., commented on the launch:
"We are truly entering a new era in the way the world thinks about vehicles, the way EVs are charged and the way personal consumer electronics are powered – with Fisker Inc. now clearly at the forefront of that revolution through our worldwide launches at CES. With the EMotion, we're introducing edgy, dramatic and emotionally-charged design/proportions – complemented with technological innovation that moves us into the future. That design balance is what has made the Fisker brand emotionally connect with our consumers."
As previously reported, Fisker claims a range of 'over 400 miles of range', '9-minute charging', and a $130,000 price tag.
Solid State Battery Coming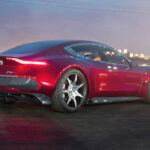 The car is really sharp
Solid-state batteries represent the holy grail for automakers as they promise a driving range for electric cars comparable to internal combustion models, along with charging times that could match the speed of filling a gas tank.
Revived electric car company Fisker last fall announced it had filed patents for solid-state battery technology that could enable a range of 500 miles and a charging time of just one minute. The company on Tuesday gave us a better look at the technology at the 2018 Consumer Electronics Show, where we were also treated with the first public appearance of Fisker's EMotion electric sedan due in 2019.
The high range of solid-state batteries is made possible due to the extra energy density compared to the current lithium-ion batteries. Specifically, Fisker's design is claimed to have 2.5 times the energy density of current battery technology. But solid-state batteries also enable quicker charging. This is due to their three-dimensional electrodes that have 25 times more surface area than flat thin-film electrodes, along with high electronic and ionic conductivities.
Solid-state batteries are already used in some small devices but building them on the scale that automotive production requires isn't possible yet. The batteries also suffer from low rate capability and poor performance in cold temperatures. However, Fisker's Vice President of Battery Systems, Fabio Albano, said the company is working to address these issues.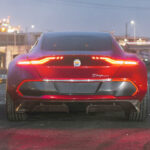 Rear view
"We are addressing all of the hurdles that solid-state batteries have encountered on the path to commercialization, such as performance in cold temperatures; the use of low cost and scalable manufacturing methods; and the ability to form bulk solid-state electrodes with significant thickness and high active material loadings," he said.
Fisker doesn't expect its solid-state batteries to be ready for automotive applications until sometime after 2020. So the company's EMotion will initially use a lithium-ion battery sourced from LG Chem. The svelte sedan will still offer a generous range of 400 miles, Fisker promises.
The Fisker EMotion has a base price of $129,000. Reservation deposits are fully refundable.
Each reservation is $2,000, and limited to 2 reservations per household.
[adinserter name="GOOGLE AD"]