Nasr Leads Cadillac DPi Sweep in Roar Qualifying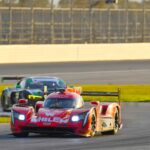 Nasr in the #31 Cadillac
All Photos by LAT for IMSA
DAYTONA BEACH, Fla. – The strong pace shown by Cadillac, which led every session throughout the first two days of the Roar Before The Rolex 24 At Daytona test, carried into Sunday's inaugural Roar qualifying session. The new-for-2018 qualifying sessions establish the garage and pit locations each team will use during the Rolex 24 At Daytona race weekend on Jan. 25-28.
Leading the way in a back-and-forth 15-minute session for the IMSA WeatherTech SportsCar Championship Prototype class was Brazilian driver Felipe Nasr in the No. 31 Whelen Engineering Cadillac DPi-V.R with a best time of 1 minute, 35.806 seconds (133.764 mph). Nasr was first in a top-four sweep for Cadillac, which is looking for its second consecutive Rolex 24 win after taking its debut race last year.
"All I have to say, is we as a team, Action Express and Cadillac, we brought the car out there to run the most amount of laps," Nasr said. "We were really getting into it and preparing for the race, because we know this weekend is more a part of what is going to come at the end of the month. We all felt pretty confident. We felt the car was behaving well.
"Today in qualifying, all I have to say, is myself and Filipe (Albuquerque), that was driving our sister car, we gave everything we had. The times were pretty close. There are some cars out there that aren't showing fully what they can do, but I know we are. I'm pretty happy with what we have right now."
[adinserter name="GOOGLE AD"]Nasr is pleased to be back racing in the Rolex 24 At Daytona, a race that put him on the map somewhat when he earned a ride in the 2012 race as winner of what was then the "Sunoco Rolex 24 At Daytona Challenge" by taking the 2011 British Formula 3 title.
His performance in that race, which netted a third-place result, was impressive and paved the way for a career that ultimately took him into Formula 1. This year, he will race full-time in the WeatherTech Championship alongside 2016 Prototype champion Eric Curran in the No. 31 machine. For the Rolex 24, they welcome Mike Conway and this year's Sunoco Whelen Challenge winner, Stuart Middleton, who is following in Nasr's footsteps.
"There's so many other things I got to experience here in a positive way – the racing, the people – it really opened up the doors for me here," Nasr said. "I became friends since then with everyone. I knew with a phone call to my American friends that I could be coming back to the race and that's what I thought early on. As soon as I had a brief adventure in F1, let's put it this way, I had great fun, but I knew this championship was always going to go up.
"I feel this year we have such a strong lineup of teams and drivers and everyone pushing each other that it's going to be great. For a racing driver to be in an environment like this, and teams pushing each other, there's nothing better than that. It's really great to be involved."
Second quickest in Prototype qualifying was Tristan Vautier in the No. 90 Spirit of Daytona Racing Cadillac DPi-V.R with a time of 1:36.037 (133.442 mph). While the team has participated for several years in the WeatherTech Championship Prototype class, it is a newcomer to the Cadillac camp in 2018 after fielding LM P2 race cars last year. Vautier is sharing the car with full-season teammate Matt McMurry and endurance driver Eddie Cheever III.
"It was good," Vautier said. "All the Caddy teams, we came here with a good spirit. We want to show IMSA what we have and we pushed flat out the whole test, just because we want to maximize everything for the race and we think it is the right thing to do. We all pushed each other. I think it's good because it helps us all to learn about the car and go get those last tenths we can find in the setups. For us at Spirit of Daytona, it's been good, because the first time the car hit the ground was January 2. Things have been pretty straightforward."
Albuquerque was third in the No. 5 Mustang Sampling Cadillac he shares with Joao Barbosa and Christian Fittipaldi with a best lap of 1:36.135 (133.306 mph). Renger van der Zande was fourth at 1:36.481 (132.828 mph) in the No. 10 Konica Minolta Cadillac, co-driving with past IndyCar champion and Indy 500 winner Ryan Hunter-Reay, and defending race and series champion Jordan Taylor.
Dane Cameron rounded out the top five in the No. 6 Acura Team Penske Acura ARX-05 DPi car. Cameron's best lap was a 1:36.988 (132.188 mph) in the car he shares with Juan Pablo Montoya and Simon Pagenaud.
Hand Leads GTLM Roar Qualifying in No. 66 Ford GT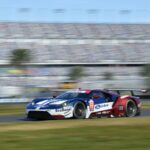 Joey Hand
In three weeks, Joey Hand, Dirk Mueller and Sebastien Bourdais will go for their second consecutive Rolex 24 At Daytona victory for Ford Chip Ganassi Racing in the No. 66 Ford GT. The title defense got off to a strong start at the Roar, as Hand was the fastest qualifier in the GT Le Mans (GTLM) class with a best lap of 1:43.610 (123.688 mph).
"You're always trying to win practice, but especially trying to win qualifying," Hand said. "We went for it. We struggled with our balance of the car a little bit this weekend from the December test. We really liked it. Dirk and Seabass (Sebastien Bourdais) and I were just bouncing it all weekend. We got it closer this morning, we think maybe it's the temperature, and we made a change right between the practice and qualifying.
"We wanted to see how aggressive we could get. It was a better car, but it still needs to be a better race car. We're happy with the progress. To finish out the Roar, I think we're OK looking to come back. You never know what temperature you're going to get when you come back, so you don't want to really tune too much here, but you do want to learn some things that are right and wrong, but yeah, I'll take it. Somebody's got to do it, so I guess I can handle it."
Oliver Gavin posted the second quickest time in GTLM, turning a 1:43.640 (123.653 mph) lap in the No. 4 Corvette Racing Chevrolet Corvette C7.R he's sharing with Tommy Milner and Marcel Fassler. Ryan Briscoe was third in the No. 67 Ford GT at 1:43.714 (123.564 mph), followed by Earl Bamber in the No. 912 Porsche GT Team Porsche 911 RSR at 1:43.888 (123.357 mph) and defending WeatherTech Championship GTLM champion Antonio Garcia at 1:43.998 (123.227 mph).
The top six GTLM cars qualified within one second.
Lamborghini Maintains Torrid GTD Pace at Bortolotti Qualifies Fastest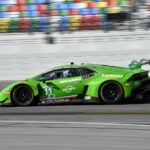 Mirko Bortolotti
Lamborghini Huracan GT3s have been at or near the top of the time charts throughout the Roar Before the Rolex 24, including the class' fastest overall lap of the weekend of 1:47.104 (119.653 mph) set in Friday's first session by Rolf Ineichen in the No. 11 GRT Grasser Racing Team entry.
It was more of the same in Sunday's qualifying session in which Ineichen's teammate, Mirko Bortolotti, posted the fastest time of 1:47.374 (119.352 mph), securing prime garage space and pit selections for the No. 11 team that also includes drivers Franck Perera and Rik Breukers.
"It's good to be back at Daytona," Bortolotti said. "We are not a regular team for the season, but for me, it's already the third time coming back to Daytona, so it's always good to be here. For the team, it's the second time after the race we did last year. We've got a good garage spot for the race. Let's see what kind of benefit we will have out of it.
"Obviously, the race is in two-and-a-half, three weeks' time, so we've got a lot of work in front of us. Hopefully, we can keep this up and go for a strong result."
Andy Lally qualified second in GTD in his return to the No. 44 Magnus Racing Audi R8 LMS GT3 after spending the 2017 WeatherTech Championship season with Michael Shank Racing's Acura NSX program. Lally posted a best time of 1:47.436 (119.284 mph) in the car he shares with owner/driver John Potter, endurance teammate Andrew Davis and Audi factory ace Markus Winkelhock.
Patrick Long was third in GTD at 1:47.481 (119.234 mph) in the No. 58 Wright Motorsports Porsche 911 GT3 R. This lineup includes two-time and defending WeatherTech Championship GTD champion Christina Nielsen, along with Robert Renauer and Mathieu Jaminet. Alvaro Parente was fourth in the No. 86 Michael Shank Racing with Curb-Agajanian Acura NSX GT3 at 1:47.605 (119.096 mph), followed by Ryan Eversley in the No. 69 HART Acura NSX at 1:47.665 (119.030 mph).
The top 18 cars in GTD – all but one of the 19 to participate in the qualifying session – were covered by less than one second.
Qualifying Results
POS
NO.
CL
CL POS
DRIVERS
TEAM/CAR/SPONSOR
LAPS
TIME
1
31
P
1
Eric Curran
Mike Conway
Stuart Middleton
Felipe Nasr
Whelen Engineering Racing
Cadillac DPi
8
01:35.806
2
90
P
2
Matt McMurry
Tristan Vautier
Edward Cheever
Spirit of Daytona Racing
Cadillac DPi
9
01:36.037
3
5
P
3
Joao Barbosa
Christian Fittipaldi
Filipe Albuquerque
Mustang Sampling Racing
Cadillac DPi
9
01:36.135
4
10
P
4
Jordan Taylor
Ryan Hunter-Reay
Renger van Der Zande
Konica Minolta Cadillac DPi-V.R
Cadillac DPi
9
01:36.481
5
6
P
5
Simon Pagenaud
Dane Cameron
Juan Pablo Montoya
Team Penske
Acura DPi
8
01:36.988
6
7
P
6
Ricky Taylor
Graham Rahal
Helio Castroneves
Team Penske
Acura DPi
7
01:37.231
7
22
P
7
Johannes van Overbeek
Luis Felipe Derani
Nicolas Lapierre
Tequila Patron ESM
Nissan DPi
9
01:37.245
8
55
P
8
Spencer Pigot
Jonathan Bomarito
Harry Tincknell
Mazda Team Joest
Mazda DPi
8
01:37.263
9
78
P
9
Alex Brundle
Ho-Pin Tung
Antonio Felix da Costa
Ferdinand Habsburg-Lothringen
Jackie Chan DCR JOTA
ORECA LMP2
8
01:37.274
10
85
P
10
Robert Alon
Austin Cindric
Simon Trummer
Devlin DeFrancesco
JDC-Miller Motorsports
ORECA LMP2
9
01:37.323
11
99
P
11
Misha Goikhberg
Chris Miller
Gustavo Menezes
Stephen Simpson
JDC-Miller Motorsports
ORECA LMP2
9
01:37.331
12
23
P
12
Fernando Alonso
Lando Norris
Phil Hanson
United Autosports
Ligier LMP2
9
01:37.515
13
37
P
13
Lance Stroll
Felix Rosenqvist
Daniel Juncadella
Robin Frijns
Jackie Chan DCR JOTA
ORECA LMP2
9
01:37.697
14
38
P
14
James French
Patricio O'Ward
Kyle Masson
Performance Tech Motorsports
ORECA LMP2
8
01:37.707
15
32
P
15
Bruno Senna
Will Owen
Hugo de Sadeleer
Paul Di Resta
United Autosports
Ligier LMP2
9
01:37.779
16
2
P
16
Scott Sharp
Ryan Dalziel
Olivier Pla
Tequila Patron ESM
Nissan DPi
9
01:37.857
17
52
P
17
Gustavo Yacaman
Sebastian Saavedra
Nicholas Boulle
Roberto Gonzalez
AFS/PR1 Mathiasen Motorsports
Ligier LMP2
9
01:37.905
18
20
P
18
Marc Drumwright
Joel Miller
Ryan Cullen
BAR1 Motorsports
Multimatic/Riley LMP2
9
01:39.920
19
54
P
19
Jonathan Bennett
Colin Braun
Romain Dumas
Loic Duval
CORE autosport
ORECA LMP2
8
01:40.018
20
77
P
20
Tristan Nunez
Oliver Jarvis
Rene Rast
Mazda Team Joest
Mazda DPi
3
01:42.104
21
66
GTLM
1
Dirk Mueller
Joey Hand
Sebastien Bourdais
Ford Chip Ganassi Racing
Ford GT
7
01:43.610
22
4
GTLM
2
Oliver Gavin
Tommy Milner
Marcel Fassler
Corvette Racing
Chevrolet Corvette C7.R
5
01:43.640
23
67
GTLM
3
Richard Westbrook
Ryan Briscoe
Scott Dixon
Ford Chip Ganassi Racing
Ford GT
6
01:43.714
24
912
GTLM
4
Gianmaria Bruni
Earl Bamber
Laurens Vanthoor
Porsche GT Team
Porsche 911 RSR
5
01:43.888
25
3
GTLM
5
Jan Magnussen
Antonio Garcia
Mike Rockenfeller
Corvette Racing
Chevrolet Corvette C7.R
5
01:43.998
26
62
GTLM
6
Alessandro Pier Guidi
Risi Competizione
Ferrari 488 GTE
7
01:44.037
27
25
GTLM
7
Bill Auberlen
Connor De Phillippi
Philipp Eng
Alexander Sims
Colton Herta
BMW Team RLL
BMW M8 GTLM
6
01:45.056
28
24
GTLM
8
Augusto Farfus
John Edwards
Jesse Krohn
Nicky Catsburg
Colton Herta
BMW Team RLL
BMW M8 GTLM
5
01:46.717
29
11
GTD
1
Rolf Ineichen
Mirko Bortolotti
Franck Perera
Rik Breukers
GRT Grasser Racing Team
Lamborghini Huracan GT3
8
01:47.374
30
44
GTD
2
Andy Lally
Andrew Davis
John Potter
Markus Winkelhock
Magnus Racing
Audi R8 LMS GT3
8
01:47.436
31
58
GTD
3
Patrick Long
Christina Nielsen
Robert Renauer
Mathieu Jaminet
Wright Motorsports
Porsche 911 GT3 R
5
01:47.481
32
86
GTD
4
Trent Hindman
Katherine Legge
AJ Allmendinger
Alvaro Parente
Michael Shank Racing
Acura NSX GT3
7
01:47.605
33
69
GTD
5
Sean Rayhall
Ryan Eversley
Chad Gilsinger
John Falb
HART
Acura NSX GT3
8
01:47.665
34
15
GTD
6
David Heinemeier Hansson
Dominik Farnbacher
Scott Pruett
Jack Hawksworth
3GT Racing
Lexus RCF GT3
6
01:47.691
35
63
GTD
7
Jeff Segal
Cooper MacNeil
Gunnar Jeannette
Alessandro Balzan
Scuderia Corsa
Ferrari 488 GT3
8
01:47.726
36
29
GTD
8
Christopher Mies
Jeffrey Schmidt
Sheldon van der Linde
Kelvin van der Linde
Montaplast by Land Motorsport
Audi R8 LMS GT3
8
01:47.765
37
19
GTD
9
Christian Engelhart
Ezequiel Perez Companc
Christopher Lenz
Louis Machiels
Max van Splunteren
GRT Grasser Racing Team
Lamborghini Huracan GT3
7
01:47.778
38
82
GTD
10
Santiago Creel
Martin Fuentes
Ricardo Perez
Miguel Molina
Risi Competizione
Ferrari 488 GT3
8
01:47.814
39
33
GTD
11
Jeroen Bleekemolen
Ben Keating
Luca Stolz
Adam Christodoulou
Mercedes-AMG Team Riley Motorsports
Mercedes-AMG GT3
8
01:47.886
40
93
GTD
12
Mario Farnbacher
Lawson Aschenbach
Justin Marks
Côme Ledogar
Michael Shank Racing
Acura NSX GT3
7
01:47.905
41
75
GTD
13
Maro Engel
Kenny Habul
Thomas Jaeger
Mikael Grenier
Riley Motorsports – Team SunEnergy
Mercedes-AMG GT3
8
01:47.912
42
51
GTD
14
Paul Dalla Lana
Pedro Lamy
Daniel Serra
Mathias Lauda
Spirit of Race
Ferrari 488 GT3
7
01:47.988
43
64
GTD
15
Bill Sweedler
Townsend Bell
Sam Bird
Frank Montecalvo
Scuderia Corsa
Ferrari 488 GT3
7
01:48.042
44
14
GTD
16
Kyle Marcelli
Bruno Junqueira
Dominik Baumann
3GT Racing
Lexus RCF GT3
6
01:48.094
45
73
GTD
17
Jorg Bergmeister
Patrick Lindsey
Timothy Pappas
Park Place Motorsports
Porsche 911 GT3 R
8
01:48.142
46
96
GTD
18
Don Yount
Mark Kvamme
Mark Kvamme
Jens Klingmann
Turner Motorsport
BMW M6 GT3
8
01:48.354
47
71
GTD
19
Kenton Koch
Robby Foley
Juan "JC" Perez
Loris Spinelli
P1 Motorsports
Mercedes-AMG GT3
8
01:49.287
48
48
GTD
20
Bryan Sellers
Bryce Miller
Madison Snow
Andrea Caldarelli
Paul Miller Racing
Lamborghini Huracan GT3
0
00:00.000
49
59
GTD
21
Sven Muller
Randy Walls
Harald Proczyk
Steve Smith
Matteo Cairoli
Manthey Racing
Porsche 911 GT3 R
0
00:00.000
50
911
GTLM
9
Nick Tandy
Patrick Pilet
Frederick Makowiecki
Porsche GT Team
Porsche 911 RSR
0
00:00.000