NASCAR Concussions: An old problem but new concern
Dale Jr. brought a lot of attention to concussions
Concussions have recently become a major issue in professional sports, but they've been a health issue racers have faced for decades, writes Ken Willis. The potential for head injuries that can debilitate for life.
In this report, News-Journal reporters chronicle how head injuries and concussions have impacted both NASCAR racers as well as drivers competing at lower levels of racing on area tracks. We also look at how concussions — and their prevention — have become an increasing part of NASCAR's safety efforts.
Part 1: Addressing the Problem
In the spring of 2002, Dale Earnhardt Jr. wrecked hard during a NASCAR race, with the driver's side of his car slamming the concrete wall at a frighteningly high speed.
He raced again the next week even though, he later confessed, he was hiding definite symptoms of a concussion. And he raced again the next week, and the next, and so on. In retrospect, he shouldn't have, but he did. Such was life as a race-car driver in 2002.
Fifteen years later, Earnhardt's leaving the sport "on my own terms," he says, but he's also leaving after suffering more concussions and after becoming the poster child for NASCAR's upgraded efforts to prevent them.
Former racer Jerry Nadeau in home in Davidson, North Carolina. Nadeau's career ended with a 2003 crash and he still deals with the aftereffects. [Mike Hensdill/The Gaston Gazette]
[adinserter name="GOOGLE AD"]A little over a year after Earnhardt Jr.'s early crash, in the spring of 2003, a very similar-looking wreck involved a different driver — Jerry Nadeau, who violently slammed the concrete wall during practice laps at Richmond.
Nadeau never raced again and, frankly, was lucky to live through it. In many uncomfortable ways, he has never recovered from that crash. Such is the randomness of head injuries.
If Earnhardt Jr. is celebrated as a pied piper for the advanced focus on concussion prevention, Nadeau survives as a reminder of what can happen in auto racing.
The 48-year-old former racer, at a glance, isn't an obvious example of the risks. He moves well, talks well, looks well.
But sitting in the basement of his North Carolina home, surrounded by a bar, pool table, racing simulators and a small home-movie theater, he quickly convinces you that being Jerry Nadeau isn't all fun and games.
Using his hand to draw an imaginary line, starting at the middle of his forehead and running down toward his torso before waving his hand to his left, he begins painting the horrific potential of head injuries.
"This whole left side of my body," he says, "is numb."
Well, actually, not exactly numb. Maybe worse.
"If your leg falls asleep, you know that feeling," he says. "My whole left side tingles, 24 hours a day, seven days a week. All the time. It's like a million little mosquitoes are biting you. All the time."
But again, he appears no different from anyone else you might pass on the street.
It's hard to not think back to fall 2016 when Earnhardt Jr., sidelined since a midsummer concussion, visited his NASCAR cohorts and though still unable to race, looked and behaved in a normal manner. Later, he would suggest he was nowhere near normal at that time, and Nadeau's words give extreme testimony to the hell that can stir behind that façade.
"I just wish I could unzip my body and have you get in it," Nadeau says. "Walk around, walk to the park. It's miserable. I feel like I weigh 10,000 pounds, every day. My left side … I feel like the 'elephant man.'
"I'd rather break every bone in my body three times than to f— with this. That last wreck took everything out of me."
That last wreck — at Richmond International Raceway in May 2003 — left Nadeau with several broken bones and a collapsed lung. But it was bruises that ended his career. Bruises to the brain. He spent 25 days in a Richmond hospital, the first 20 of them in a coma.
He's the last NASCAR racer whose career ended immediately due to a head injury. The key word there, of course, is immediately.
Earnhardt Jr.'s full-time Cup Series career ended at Homestead on Nov. 19, largely because he knows what a concussion feels like and doesn't want to risk it any more than necessary.
It's a bittersweet coincidence, but a glaring one nonetheless. It took the death of Dale Earnhardt Sr., on the last lap of the 2001 Daytona 500, to jump-start a NASCAR safety revolution that has dramatically improved drivers' chances of eventually retiring on their own terms and not from a hospital bed — or worse.
Through the first five-plus decades, NASCAR's overriding safety goal was to keep the drivers alive. The years and efforts since 2001, to this point, have seen that goal attained. Now, with Earnhardt Jr.'s concussion situation serving as beacon, much of NASCAR's safety focus involves the head.
"We owe a debt of gratitude to Junior. He's made my job a lot easier," says neurosurgeon Dr. Vinay Deshmukh, who leads NASCAR's neurological efforts from his offices in Charlotte, North Carolina.
NASCAR stepped up its concussion protocol in 2014 by mandating baseline testing as well as mandatory exams in the track medical center for any driver whose car was disabled by an on-track accident. That system was upgraded in 2017, with every driver involved in an accident forced to visit medical personnel at the track.
Junior's gift to the cause is one that will keep on giving. He's the only current driver who has publicly announced he will donate his brain to neurological science following his death. A long-ago NASCAR superstar — Fred Lorenzen — will do the same.
Lorenzen, now 82, suffers from dementia and his family feels it was auto racing that led to what they feel is CTE (Chronic Traumatic Encephalopathy), the disease associated with repeated head trauma and a major topic among current and former football players. If they're correct, Lorenzen would be the first NASCAR driver officially diagnosed with CTE.
Concussions and their long-term effects have become a big issue in professional and college sports in recent years, but NASCAR spent a long time flying under the concussion radar. That came to an end with Earnhardt Jr.'s ordeal.
ASSESSMENT AND TREATMENT
When Earnhardt Sr. hit the Turn 4 wall on the last lap of the 2001 Daytona 500, the immediate impact killed him. The lasting impact shook the entire sport and roused it into a safety revolution.
The year before, drivers in each of NASCAR's top three national series were killed in racing crashes (Tony Roper, Adam Petty and Kenny Irwin Jr.). Since Earnhardt's crash, there have been no NASCAR deaths. Some of that is due to luck, particularly in the close aftermath before many of the current safety features were implemented.
But a lot of it is due to all of the added protection, hastened by the death of the sport's biggest star. It's a cruel speculative irony, but without Earnhardt's death, "we'd still be going to a lot of funerals," says former racer Randy LaJoie. "As good as that man was behind the wheel, his legacy is saving lives, saving race-car drivers all across the world."
LaJoie is 56. His final five-plus seasons in NASCAR came on the heels of Earnhardt's death. He has personal interest in the new "concussion era" because his son, Corey, currently races in NASCAR.
If Corey LaJoie wrecks and his car is disabled to the point it can no longer compete, the driver will make a mandatory visit to the infield care center for evaluation. If the attending physician suspects a neurological test is called for, Lajoie will be given a SCAT-5 assessment (Sport Concussion Assessment Tool), which measures current function vs. the driver's baseline test. Baselines are administered before the season.
Beginning with the 2017 season, the immediate medical evaluations are handled by the Colorado-based American Medical Response (AMR), which provides NASCAR with a consistent medical presence at every race. Prior to partnering with AMR, each track was responsible for staffing its infield medical center.
"This was something that needed to be tended to," says Dr. Angela Fiege, medical director for the NASCAR/AMR effort. "The cone has been narrowed to focus more now on brain injury and closed-head injury. The maddening thing about the whole thing, though, is closed-head injury is almost invisible.
"You may have a headache. Well, you may have a headache because you've inhaled too much carbon monoxide, you could have a headache because you have a sinus infection, you could have a headache because you hit your head. Just because you have a headache, it doesn't automatically point to concussion. Sometimes the symptoms are immediate and sometimes delayed."
AMR physicians educate each driver on the symptoms to watch for. They tell drivers to return to the care center any time they notice certain symptoms — including headache, visual changes, sleep trouble, emotional changes, etc. Also, says Dr. Fiege, every driver who comes in gets a follow-up call the next day. The consistency, she says, is key.
"We're a familiar face, a familiar voice. This is huge," she says. "These guys travel the country. Imagine every week if you were seeing a different face and different style. It can be unnerving."
According to NASCAR, if a driver has suffered a concussion, he or she must be seen by a board-certified neurologist or neurosurgeon who has a minimum of five years experience in treating sports-related head injuries. The specialist eventually determines if the driver can return to previous NASCAR activity without restrictions.
The increased efforts were pushed by the nine-member Drivers Council, which formed in 2015 to address a wide range of NASCAR issues. Veteran Cup Series racer Kasey Kahne echoes the opinion of many others during this current effort to address prevention, detection and recovery.
"They check you closer now.," he says. "I think everybody understands more about concussions than we used to know. … It has so much to do with your life and your future."
The representatives of several other drivers said their drivers weren't available or were unwilling to talk on the topic. At least one other had yet to dwell too deeply on the subject — due to good luck, apparently.
"I never worried about any of it, but I've never had a concussion, either," says Martin Truex Jr., recently crowned Cup Series champion.
THE WAY IT WAS DONE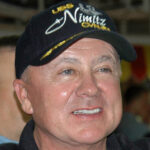 Geoff Bodine
It's all a very far cry from previous measures, which were rather non-existent. To hear some of the stories, you want to assume it all happened back in racing's Neanderthal days, but in reality, it's hardly been a generation ago
"Oh, I can't count how many," 68-year-old retired racer Geoff Bodine says when asked to estimate how many times he'd been knocked senseless inside a racecar. "I'd hit the outside wall, get knocked out, come down and hit the inside wall, wake back up. And I'd be OK. We're all different."
In his vicious wreck at Daytona in the 2000 Truck Series race, Bodine's body was badly broken. He escaped without serious head trauma, however, except for what a doctor called "some wiring in there that shook loose." Bodine moves his head left to right and right to left, as if watching a tennis match.
"I had a problem," he says. "If I did this and stopped, everything kept moving."
It took nearly a year before his equilibrium returned. By then, he'd already been back in the race car for about nine months.
"I shouldn't have," he says. "NASCAR didn't know it. But my doctors knew."
LaJoie remembers wrecking at Charlotte, getting knocked out, visiting the infield care center and then walking back to the garage, where he saw his crewmen unloading the team's backup car off the hauler. He assumed one of the other teams must've ruined a car and needed to rent a backup for the race.
"I remember asking them why they were working on the backup car, and they said, 'because you crashed our other one,'" he recalls. "I said, 'Really, I did?'
"I didn't race the next day," he adds. "But if I hadn't asked about the backup and hadn't gone back to the care center, I would've raced the next day. Hell, I would've been in the car for the next practice."
Simply put, it's just "the way it was done" in earlier times.
"Particularly that terribly bloody period we had in the '60s, when we killed so many drivers, death was obviously the thing drivers worried about," says Humpy Wheeler, who served as president of Charlotte Motor Speedway from 1980-2008.
"I think the tremendous emphasis on concussions by the NFL, and the publicity thereof, has everybody looking at 'what can we do better?' " says Wheeler.
Part of the challenge comes from the mystery of how brains react to trauma. Some drivers can have serious issues as the result of a harmless-looking crash, while others can walk away from major collisions with no issues at all.
"Take Buddy Baker — my God," says Wheeler, recalling his close friend and former racer, who died of cancer two years ago at age 74. "Buddy Baker hit the wall so many times, it wasn't funny. I was with him up until his last day, and I never noticed any dementia with him. He could remember things from 40 years ago, and things from yesterday morning. I remember thinking, 'this guy has a head like nobody else.' "
Unfortunately, not everyone does. David Rogers is 62 and a "local legend" at various short-track venues across Florida. Without the resources of NASCAR and other big-league racing organizations, the short-track scene remains as dangerous as prior NASCAR generations.
"I have sure taken a lot of shots and had a lot of concussions," says Rogers. "I can relate to what they say about post-concussion syndrome, the depression and things like that. I had that and didn't realize it. I wondered why, two or three weeks later after a wreck, I'm mad at the world. Now I'm sure what it was, the lingering effects of a concussion."
One of Rogers' short-track playgrounds is the half-mile, high-banked and high-speed New Smyrna Speedway, where the current policy is similar to the policy NASCAR used in earlier times — the track employs local medical personnel to treat drivers and monitor them for suspicious signs.
"We use Volusia County firefighters, EMTs, first-responders, all trained for that," says Kim Brown, track general manager. "It's strictly up to the paramedics and EMTs. Our policy hasn't changed."
A racer treated for injuries must produce a doctor's release before racing again, Brown says.
THE PREVENTION WORLD
The newfound respect for concussions eventually arrived, but first, earlier in this century, deadlier forms of head injuries had to be addressed.
"My world is the prevention world," says John Patalak, the senior director of safety engineering at NASCAR's Research & Development Center in North Carolina.
The R&D Center opened in 2003, a reaction to the racing deaths in 2000 and 2001.
Head-and-neck restraint collars became mandatory after Earnhardt's death and prior to the R&D Center opening. Much of the engineers' earliest work involved help in testing the SAFER Barrier ("soft walls"), seatbelt advances, modernized seat padding, and chassis that were more crash-friendly.
"It was revolutionary at the time," says Patalak. "It was a wake-up call to everybody. Now, the gains are smaller. You need more sophisticated tools to make those small gains."
Earnhardt Jr.'s crash at Michigan in June 2016 was determined to be the trigger for the concussion symptoms that arrived a few weeks later. That crash was dissected at the R&D Center, using video replays, crash data from the "black box" attached to each car, examination of the vehicle, and much more.
"The superstars get the most attention, but from a research standpoint, we look at every injury seriously," says Patalak. "We look at every crash seriously. There' s a full reporting system that happens, regardless of if there's an injury."
And not just at NASCAR's highest levels. Every NASCAR touring series gets the same safety detail, according to Patalak.
"Each crash is unique. We take the same approach to each one, looking at all of that data. We have our data recorders, our restraint surveys, our incident report, pictures from the race track, videos from the race track, GPS data from the car at the race track. We have all the systems in place — we do our homework."
While the R&D Center sits on the outskirts of Charlotte, its reach extends to wherever the NASCAR flag waves. Included among the many NASCAR officials in the garage at each event are several members of the safety team that represents the R&D Center. David Green, former longtime NASCAR racer, is now NASCAR's "Managing Supervisor of Safety."
Patalak's team designs, tests and eventually mandates certain pieces of safety equipment for each car. Green's onsite team makes sure it's all properly implemented. The checklist is heavy on items closest to the driver — including the safety belts and foam padding that envelops the driver's head and keeps it from snapping violently left or right in a side collision.
"We look at the foam in the head rest, how it's holding up to wear and tear," says Green, who retired from full-time racing in 2006 at age 48. "The seat belts are also obviously important."
Green's satisfaction these days comes from seeing a driver quickly emerge from his wrecked race car and walk away. But concussions can play out differently, with delayed reactions.
"There's always gonna be a risk when you're racing," says Patalak. "Our job is to reduce that risk, as quickly as we can, as far as we can. As each season goes by, you've hopefully reduced that risk."
The effort is appreciated by those in harm's way.
"As far as the foundation of the cars and safety built into the cars today …and the tracks, with what they have done (SAFER barrier, etc.), the helmets and other safety gear, I feel really comfortable running the car," says Kahne.
BEACON FOR UNDERSTANDING CONCUSSIONS
Earnhardt Jr. went very public with his concussion rehab in 2016. His social media platform included videos of him discussing the different exercises he was doing, and even showed examples. It was a 180-degree turn from how he handled his first concussion as a big-league racer.
On April 28, 2002, in a 500-mile race at the high-speed California Raceway in Fontana, Junior crashed very hard. Watching replays in Fox Network's broadcast booth atop the grandstands, was former racer Darrell Waltrip, who the previous year watched Earnhardt Sr.'s fatal crash from a similar vantage point.
"That … that … that," Waltrip quickly stammered, "I don't like the looks of that."
A moment later, an in-car camera showed an agitated Earnhardt Jr. beginning his effort to get out of his car, as rescue workers arrived to help pull him out. Junior clumsily walked with their aid to an awaiting ambulance, doubled over near the open back doors, then plopped into the ambulance with less than full physical coordination.
"I think he got the breath knocked out of him," Waltrip said from the booth before adding with obvious concern in his voice, "I hope that's all it is."
It wasn't. Five months later, Junior admitted he'd suffered an apparent concussion in that wreck, but kept it quiet.
"I didn't want to tell until it got better and I started to run better," he said in September.
Junior finished 30th or worse in the four races after the Fontana wreck. In his five months of secrecy, his physically hampered performances saw him plummet from fifth to 17th in the points standings.
If he'd gone public with his concussion, he said, he feared he would be labeled as damaged goods.
"People are going, 'oh, he's finished, he'll never be the same,' " he said then. "And every time you run bad, it's because of that reason. So I just didn't say a thing."
The 2002 wreck at Fontana was violent. Junior's accident at Michigan last June was, by comparison, a mere kiss of the outside wall with the right side of his car. This time, he drove the car to the garage for repairs, hopped out and looked perfectly normal.
He raced for the next few weeks before finally going to a doctor. He figured he'd receive treatment for a nagging sinus infection. But he learned he was suffering from the symptoms of a concussion, traced back to the accident at Michigan.
"Most of them, you know, you feel it immediately and then you sort of get better over time," he said, shortly after the diagnosis, on his weekly radio show. "This has been the opposite."
From the time he got out of the car in July, he was candid about his ordeal.
"This is scary for me because of the way it's been different, and I'm having balance issues," he said in the early days of recovery.
Junior's openness was just what the doctor ordered.
"He's been such a great spokesperson for head injuries and concussions," says the Charlotte neurosurgeon, Dr. Deshmukh, NASCAR's lead physician on neurological matters. Dr. Deshmukh has a busy practice treating "regular" patients, and Junior's ordeal, he says, has had a positive impact there, too.
"Before he became an advocate, it was always a bit of a challenge on the patient-care side to get people to understand and cooperate with some of the restrictions we ask," he says. "What he's done, as a bit of a beacon for concussions and understanding concussions … people come in and they understand it, they've done their homework, understand the gravity of it."
Dr. Fiege offers her own praise of Junior's role.
"He is a leader among his peers," she says. "I think he opened the door for more education among drivers that it's a real entity and can have long-term and severe consequences. I think drivers are starting to think, 'is it worth it to get back in the car?' "
'IT CAUGHT UP WITH ME'
Earnhardt Jr.'s concussion chapters will obviously help future generations of racers. As a connoisseur of NASCAR history, he'd likely be thrilled to know he also had an impact on past generations as well.
Randy LaJoie was watching a short-track race from the infield early in 2016. Watching the cars go by, he got dizzy. Days later, he went to his doctor and they took action to get his blood pressure to a better number.
"I still wasn't feeling good," says LaJoie, who eventually telephoned Earnhardt Jr. "Junior gave me Micky's number."
"Micky" is Dr. Michael Collins, executive director of the concussion program at the University of Pittsburgh Medical Center's sports-medicine division. Dr. Collins guided Junior's recovery and, subsequently, helped LaJoie, who never would've heard of Collins and the UPMC if not for Junior's situation.
"I went to see him and said, 'let's go this route,' " says LaJoie. "They gave me some programs to do. That pretty much nipped it in the bud."
Bodine was on a ladder recently doing some work inside the laundry room of his Brevard County home. He was up and down the ladder several times, until one time coming down, he got dizzy. He'd recently become accustomed to fighting dizzy spells when he was working on his back, underneath a friend's short-track racer.
He said he'd "scheduled an MRI, just to make sure there's nothing wrong in there."
A few weeks later, he said the MRI came back OK. But still, if "immediate" effects can take weeks to appear — long-term effects might very well be delayed.
"Worry is just a waste of time," says Bodine. "Praying is not a waste of time. I pray and tell God, 'look, whatever you have planned for my life, I'll accept it.' I trust. I believe. … I'm very blessed that I still have my health."
Unlike Bodine, Rogers isn't wondering if symptoms will someday arrive with a vengeance. He's actually still risking it as he remains active in the short-track world.
"It's too late now," he says. "I've been taking shots for 40 years. It is what it is. I can't worry about it."
Meanwhile, practically within earshot of the muscular stock-car engines roaring just down the road in Charlotte and Concord, Jerry Nadeau remains a walking, talking reminder that some aren't as lucky as others.
"Racing is a dangerous sport. You can't just make it easy," he says. "Even the guys who are being cautious can get themselves hurt."
Junior, though his helmet now hangs on the hook, will continue to champion the cause he brought into the spotlight.
"People need to start taking it a little more seriously and try to take better care of themselves for the long term," he said at Homestead on his final weekend as a full-time racer. "The mistake that I made, I think, is that I didn't flag those issues and say I need to get myself in front of a doctor. And it caught up with me." Ken Willis/GatehouseNews
Part 2: On Bobby Allison: 'I still have my same dad, but he is not the same person'