Thunderhead Carlin wins Asian Le Mans Series Finale, Champions Crowned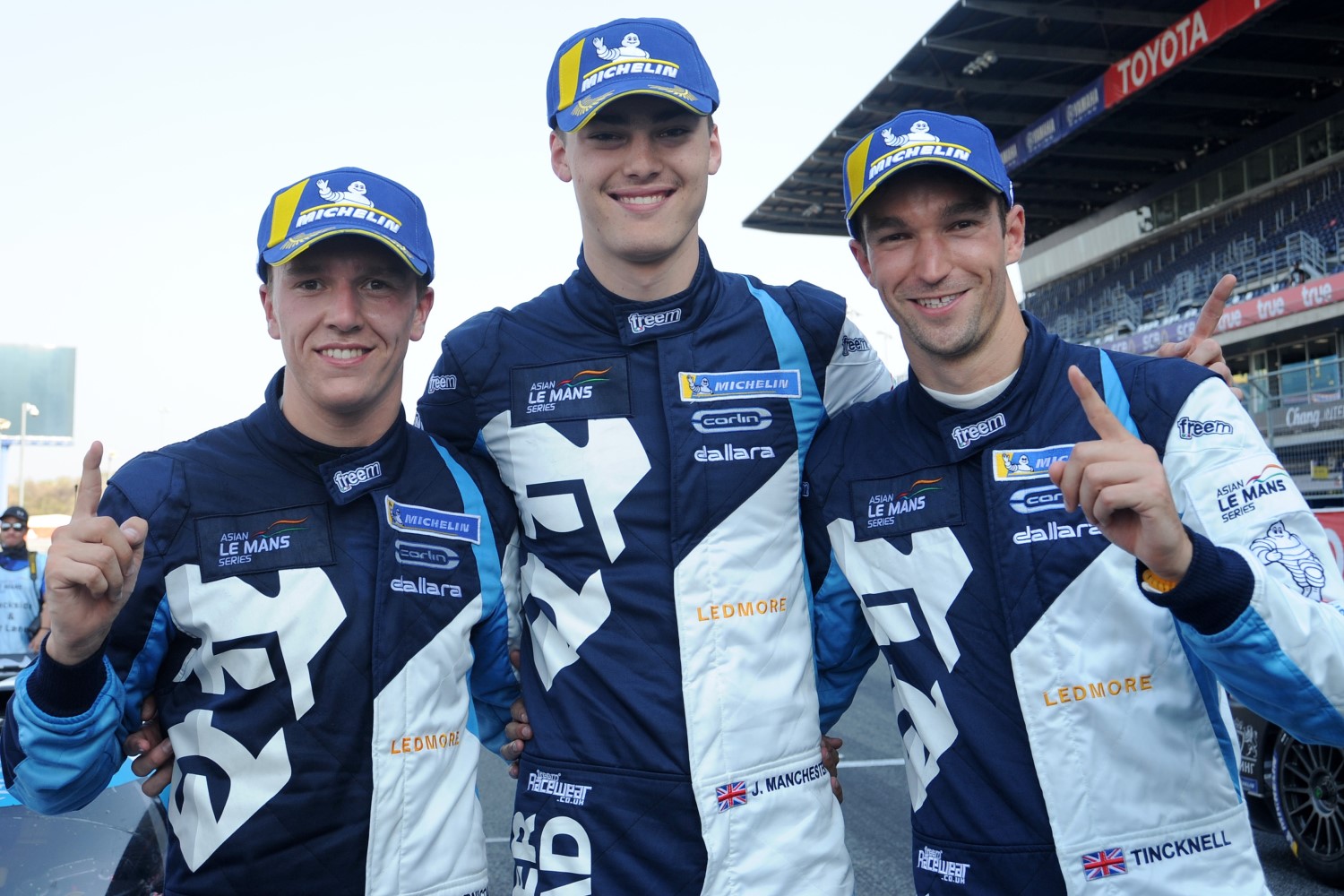 Thunderhead Carlin Racing drivers Ben Barnicoat-Harry Tincknell-Jack Manchester take season finale
Thunderhead Carlin Racing have finished the 2019/2020 Asian Le Mans Series with victory at the 4 Hours of Buriram.
The #45 Thunderhead Carlin Racing Dallara P217 has ended the season with back to back wins after success in the 4 Hours of Sepang and today in Buriram. Finishing second was championship winning #26 G-Drive Racing by Algarve Aurus 01. Round off the podium in an impressive performance was Japanese LMP2 outfit, #96 K2 Uchino Racing Oreca 07. This podium was a first for any Japanese LMP2 team.
A strong start from Roberto Merhi in the #36 Eurasia Motorsport Ligier JS P217 saw them remain in podium and championship contention, before a problem for Nick Foster end their day, and chances, in the gravel at T3. An intense battle between eventual winner Carlin and championship victors G-Drive continued throughout the race, before Ben Barnicoat took the checkered flag in the #45.
Eurasia Motorsport's Nick Cassidy broke the existing Chang International Circuit lap record in the Ligier JS P217 with a 1:23.848.
In LMP2 Am, pole sitter #25 Rick Ware Racing Ligier JS P2 was driven to victory in class by Anthony Lazzaro, Phillipe Mulacek, and Guy Cosmo. Sister car and class championship winner, #52, had a dramatic day with a long stay in the garage and a spin under full course yellow.
The LMP3 class saw two of the four championship contenders removed from the equation before David Fumanelli Alessandro Bressan Andreas Laskaratos claimed victory in #12 ACE1 Villorba Corse Ligier JS P3. Championship winning #2 Nielsen Racing Norma M30 finished second. In third place was #8 Graff. A gearbox issue ended the day, and back to back championship hopes for #13 Inter Europol Competition. Contact with the barrier ended the day for #9 Graff.
HubAuto Corsa took GT race victory at the 4 Hours of Buriram, piloted by Tim Slade, Marcos Gomes and Liam Talbot. The team also wins the class championship. Despite a drive through penalty for contact, #7 Car Guy Ferrari finished second. Francesco Piovanetti, Oswaldo Negri Jr and Daniel Serra finished third in the #51 Spirit of Race entry.
Invitations for class championship winners, and the full entry list for the 24 Hours of Le Mans will be released by the by the Automobile Club de l'Ouest in the coming weeks. The iconic race will take place at Circuit de la Sarthe, June 13 – 14, 2020.
2019/2020 Asian Le Mans Series Champions: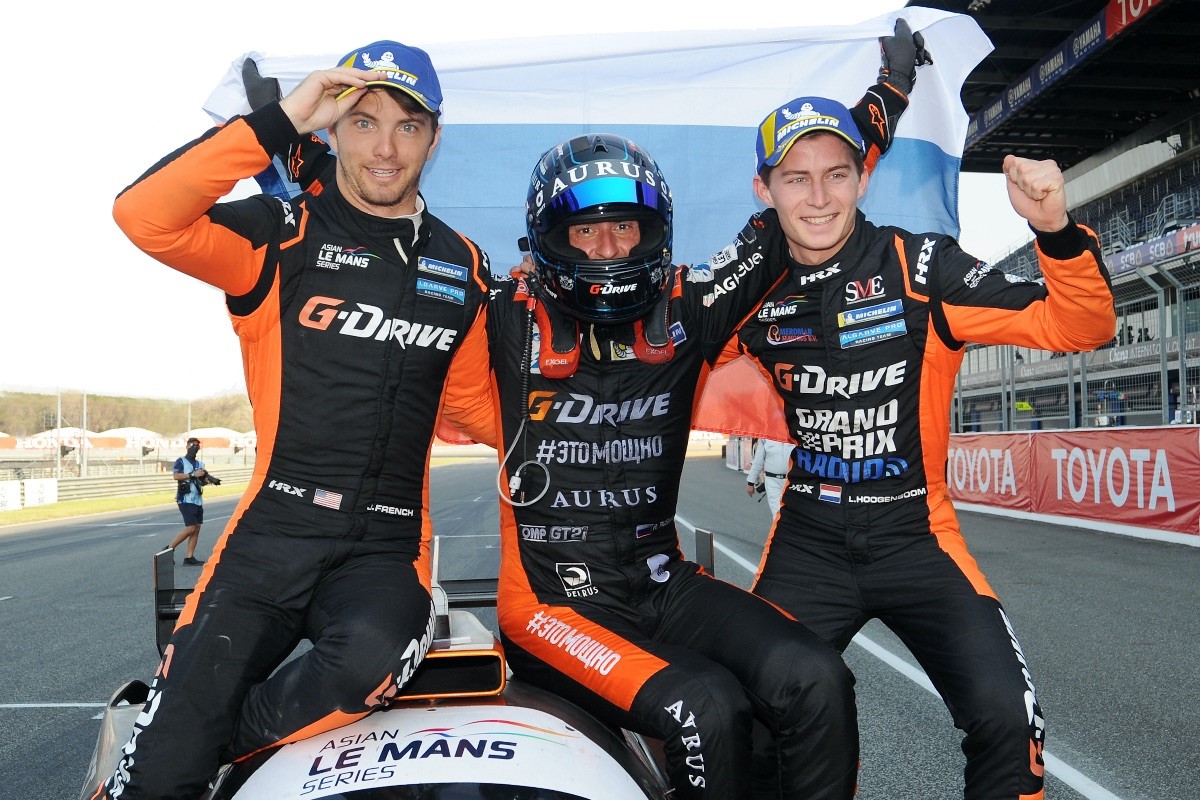 G-Drive takes LMP2 title
LMP2 – #26 G-Drive Racing by Algarve Aurus 01
LMP2 Am – #52 Rick Ware Racing Ligier JS P2
LMP3 – #2 Nielsen Racing Norma M30
GT – #27 HubAuto Corsa Ferrari 488 GT3
These four teams will all receive an invitation to compete in the 24 Hours of Le Mans in June this year.
Invitations are awarded as follows;
First in LMP2 will receive an invitation in LMP2
First in LMP2 Am will receive an invitation in LMP2 or LMGTE Am (subject to the approval of the Selection Committee in the second case)
First in LMP3 will receive an invitation in LMP2 or LMGTE Am
First in GT3 will receive an invitation in LMGTE Am
G-Drive LMP2 Champions
G-Drive Racing by Algarve has won the 2019-20 Asian Le Mans Series Teams' and Drivers' championship titles and a coveted entry to the 88th 24 Hours of Le Mans.
James French, Leonard Hoogenboom and Roman Rusinov ran a controlled race to challenge for the win at Chang International Circuit, but ultimately settled for second place to secure top honours in the 2019-20 Asian Le Mans standings and a Le Mans entry.
Algarve Pro Racing's mechanics had their backs against the wall in the short interval between the 4 Hours of Sepang (15 February) and the Asian Le Mans title-decider in Buriram, as they had very little time to repair damage sustained in a collision with an LMP3 car in Malaysia;
The #26 AURUS 01 lost a rear brake duct, sustained a broken exhaust and bent radiator, and a smashed sidepod and engine cover in the incident, but Algarve Pro Racing stepped up to the challenge and straightened the car out in time for testing on Friday;
In FP1 on Saturday morning, French set a time in the low 1m26s during ten laps of Chang International Circuit to go fourth fastest;
Rusinov consolidated fourth position by recording a 1m25.965s and a 1m25.359s in quick succession, but the pace continued increasing and G-Drive Racing by Algarve concluded FP1 in second on a 1m23.803s;
In LMP2 Qualifying, G-Drive Racing by Algarve bided its time and waited for the mid-session lull to send Rusinov, who used one set of tyres to secure fourth with a 1m23.511s;
Thunderhead Carlin was awarded a point for pole, reducing its deficit to eight points entering Sunday's race, but the championship picture remained unchanged and G-Drive Racing by Algarve would have to finish second if either the #45 Thunderhead or #36 Eurasia Motorsport entries won;
As in Malaysia, French took the start of the Asian Le Mans Series 4 Hours of Buriram. The young American hustled third-placed K2 Uchino Racing on the first lap but settled into fourth and kept tabs on the leaders during a conservative opening stint;
All LMP2 contenders were very evenly matched but the pack began compacting as they became intertwined with lapped GT traffic;
Inter Europol Endurance loomed large in French's mirrors, but he was unfazed and instead snatched third from the #36 Eurasia car just before the first round of LMP2 stops, when the #26 AURUS 01 was topped up with fuel and fitted with fresh tyres on the left-side only;
G-Drive Racing by Algarve got the better of K2 Uchino Racing in the pits and French re-joined the race in a comfortable second place, with Thunderhead Carlin trying to stretch its legs out front;
French was quick and consistent to keep the first-placed #45 Thunderhead Dallara within reach during the second leg of his double stint;
Hoogenboom was installed during the second scheduled stop. The Dutchman steadily chipped away at the race leader's advantage and cemented second place so that Thunderhead and G-Drive by Racing by Algarve were nose-to-tail at the two-hour mark;
Hoogenboom made sure his presence was felt by Jack Manchester in the #45 Dallara, but the lead fight was neutralised when G-Drive Racing by Algarve pulled the #26 AURUS into the pits during a Full Course Yellow (FCY);
G-Drive Racing by Algarve's rival boxed later under green flag conditions, handing the Russian-Portuguese effort a significant 23-second advantage that Hoogenboom maintained until the final driver-change;
Rusinov stepped up to take the #26 AURUS to the chequered flag, and while he was in the box seat with a 26-second lead after the driver-changes, a resurgent Thunderhead Carlin began setting purple sectors to bridge the gap;
The Russian did not take a wholly risk-averse approach to his double stint, as he was feisty in his defence of the lead against the hard-charging #45 car, even though second place would be enough for G-Drive Racing by Algarve to win the championship;
Soon after losing the lead, the #26 AURUS took on fuel and brand-new left-hand tyres to maximise the run to the flag, but Rusinov was able to come off the throttle and focus on bringing the car home as any threat from behind fell away;
After 157 laps of Chang International Circuit, G-Drive Racing by Algarve received the chequered flag in second place overall to win the 2019-20 Asian Le Mans Series Teams' and Drivers' titles by one point and secure an automatic entry to the 88th 24 Hours of Le Mans (13-14 June).
Roman Rusinov (#26 G-Drive Racing by Algarve AURUS 01): "The championship was always more important than the race win in Thailand, so the focus was on finishing second at the very least. We could have easily fought for the win and I had a really nice fight with Thunderhead Carlin during my stint, but we had everything to lose and nothing to gain by putting up too much of a defence. It was risky in the traffic and I have experienced the loss of a title because of a minor incident, so I just brought the car home. I'm very pleased with the result."
Algarve Pro Racing Team Principal, Stewart Cox, said: "We've been involved with the Asian Le Mans Series for five years now and we love coming out to Asia during the winter months, as it's always really pleasant. We knew we had a good driver line-up coming into the 2019-20 season and James (French), Leonard (Hoogenboom) and Roman (Rusinov) have all improved as the campaign unfolded. We didn't win the last race in Malaysia or this one in Thailand, but we just needed to finish second and that's where we ended up by being careful with the car, which has had a hard four races. I'm happy we won the championship again and it's great to be going back to the 24 Hours of Le Mans for a fifth time."