Whincup claims first pole position of 2020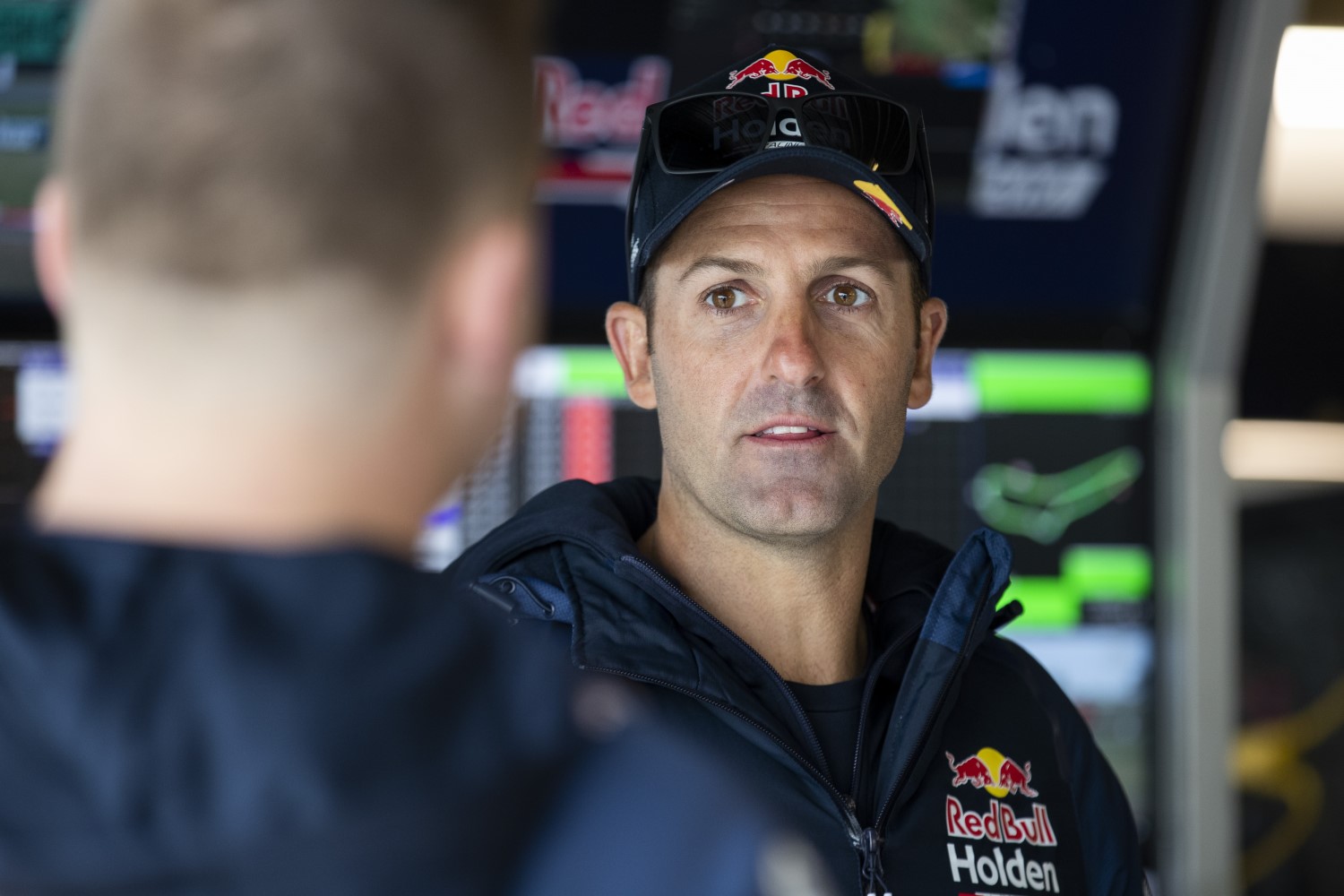 Jamie Whincup
On the day he signed on for another year with Red Bull Holden, Jamie Whincup has claimed the first ARMOR ALL Pole Position of the year at the Superloop Adelaide 500.
Whincup put together a perfect lap to claim his 84th career ARMOR ALL Pole Position and top spot on the grid for this afternoon's opening race of the 2020 Virgin Australia Supercars Championship.
In what has been an emotional week for Holden fans, Whincup was quickest in the fan-favorite ARMOR ALL Top Ten Shootout, edging out fellow Commodore driver David Reynolds who put together an extraordinary lap with smoke billowing from his engine.
Reynolds will start second ahead of the Ford Mustang of Will Davison and Holden's star recruit of 2020 Chaz Mostert. Cam Waters will start fifth ahead of Shane van Gisbergen, defending Supercars Champion Scott McLaughlin will start seventh.
Fabian Coulthard will start from 11th after just missing the shootout following the new look qualifying format.
This afternoon's opening race of the season is set to test drivers as they deal with new aerodynamic and technical regulations introduced following the end of the 2019 Series.
The two-part qualifying began strongly for Andre Heimgartner, who was on the initial pace with a 1:20.4510s in the #7 NED Mustang. The Kiwi would lower the mark to a 1:20.2442s to sail into Q2, taking Nick Percat, Lee Holdsworth and Jack Le Brocq with him.
However, only 13 cars competed in Q2 with LeBrocq's#55 Supercheap Auto Mustang suffering a suspected power steering drama.
Defending champion Scott McLaughlin made an early error in Q2 as he bowled a wide at Turn 4, but recovered to post a 1:19.8256s flyer to head the field. Friday fast man Chaz Mostert slotted in behind with a 1:19.9313s to sit just a tenth down.
Whincup appeared to hit a struggle once he rotated at Turn 9, but still managed to lift himself into third behind McLaughlin – and ninth once happy hour ended – after Waters vaulted to first on a 1:19.5396s.
Shane van Gisbergen, though, sealed last-out honors for the shootout once he dropped in a 1:19.4462, with Anton De Pasquale's last-gasp effort earning himself a shootout berth at the expense of Fabian Coulthard.
De Pasquale's shootout-opening 1:19.9582s didn't last long at the top once Whincup set a 1:19.4793s. Whincup's lap proved too far out of reach for Mark Winterbottom, Mostert, Nick Percat and Will Davison.
Next-man out David Reynolds somehow slotted in 0.0048s behind despite smoke spraying from the #9 Penrite ZB Commodore, before Scott McLaughlin struggled with oversteer to drop into fifth, 0.3697s down on Whincup.
That left Waters and van Gisbergen to prevent a Lazarus effort by Whincup, and the former could only pip McLaughlin to slot into fifth.
Van Gisbergen, with a chance to make it a Red Bull Holden front row and grab the record eighth pole, but could only manage sixth as Whincup claimed an 84th career pole.
Qualifying Results
POS
No.
DRIVER
TEAM
TIME
GAP
1
88
Whincup
Red Bull Holden Racing Team
1:19.479
+0.000
2
9
Reynolds
Penrite Racing – Erebus
1:19.484
+0.005
3
23
Davison
Tickford Racing 2
1:19.493
+0.014
4
25
Mostert
WAU Racing Pty Ltd
1:19.550
+0.071
5
6
C. Waters
Tickford Racing 1
1:19.578
+0.099
6
97
Van Gisbergen
Red Bull Holden Racing Team
1:19.683
+0.204
7
17
McLaughlin
Shell V-Power Racing Team
1:19.849
+0.370
8
99
A. de Pasquale
Penrite Racing – Erebus
1:19.958
+0.479
9
18
Winterbottom
Team 18
1:20.157
+0.678
10
8
Percat
Brad Jones Racing
1:20.303
+0.824
Top-10 Shootout Cutoff
11
12
Coulthard
Shell V-Power Racing Team
1:20.092
+0.646
12
5
Holdsworth
Tickford Racing 2
1:20.108
+0.662
13
7
Heimgartner
Kelly Racing
1:20.146
+0.700
14
55
J. Le Brocq
Tickford Racing 1
1:20.532
+1.085
15
20
S. Pye
Team 18
1:20.611
+1.165
16
15
R. Kelly
Kelly Racing
1:20.657
+1.211
17
3
M. Jones
Brad Jones Racing (2)
1:20.759
+1.313
18
2
B. Fullwood
WAU Racing Pty Ltd
1:20.789
+1.343
19
35
G. Jacobson
Matt Stone Racing
1:20.878
+1.431
20
34
Z. Goddard
Matt Stone Racing
1:20.925
+1.479
21
19
Courtney
Team SYDNEY – Tekno
1:21.177
+1.731
22
4
J. Smith
Brad Jones Racing (2)
1:21.245
+1.799
23
14
T. Hazelwood
Brad Jones Racing
1:21.254
+1.808
24
22
C. Pither
Team SYDNEY – Tekno
1:21.345
+1.898