Mercedes tops Day 3 of preseason testing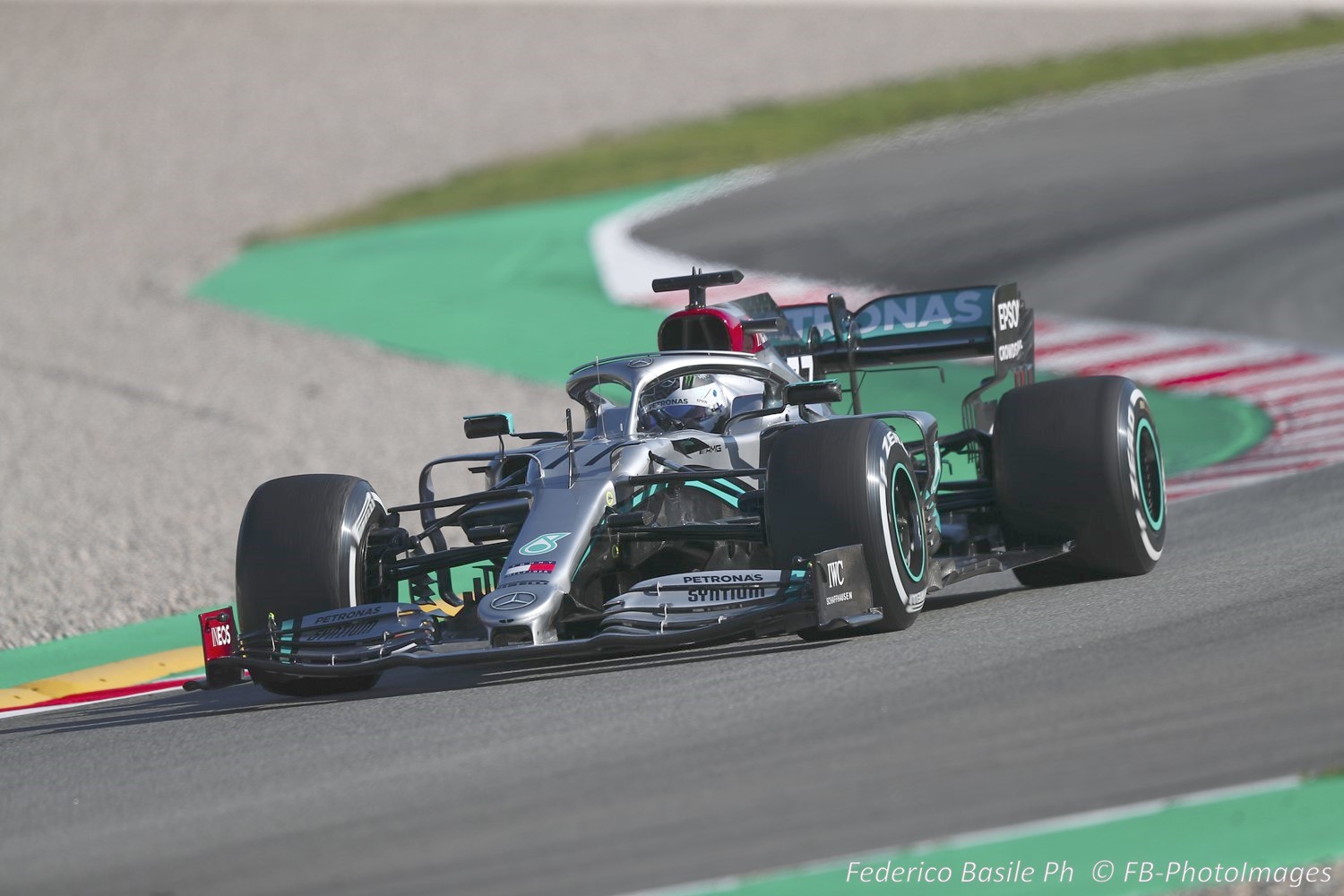 Bottas
The two Mercedes drivers, using the 'trick' and illegal suspension modifying steering system that is only allowed because it is Mercedes, dominated the final day of preseason F1 testing for week 1 in Barcelona. See AR1.com's Day 3 Photos
Using the softest compound tire make by Pirelli, Valtteri Bottas put up a time of 1m15.732s to close out week 1 on top by 0.8s over his teammate Lewis Hamilton, who also ran the softest rubber.
Esteban Ocon was 3rd quick for Renault on the soft compound with Lance Stroll in the pink Mercedes and Daniil Kvyat in the Alpha Tauri rounding out the top-5.
New Ferrari looks like a dog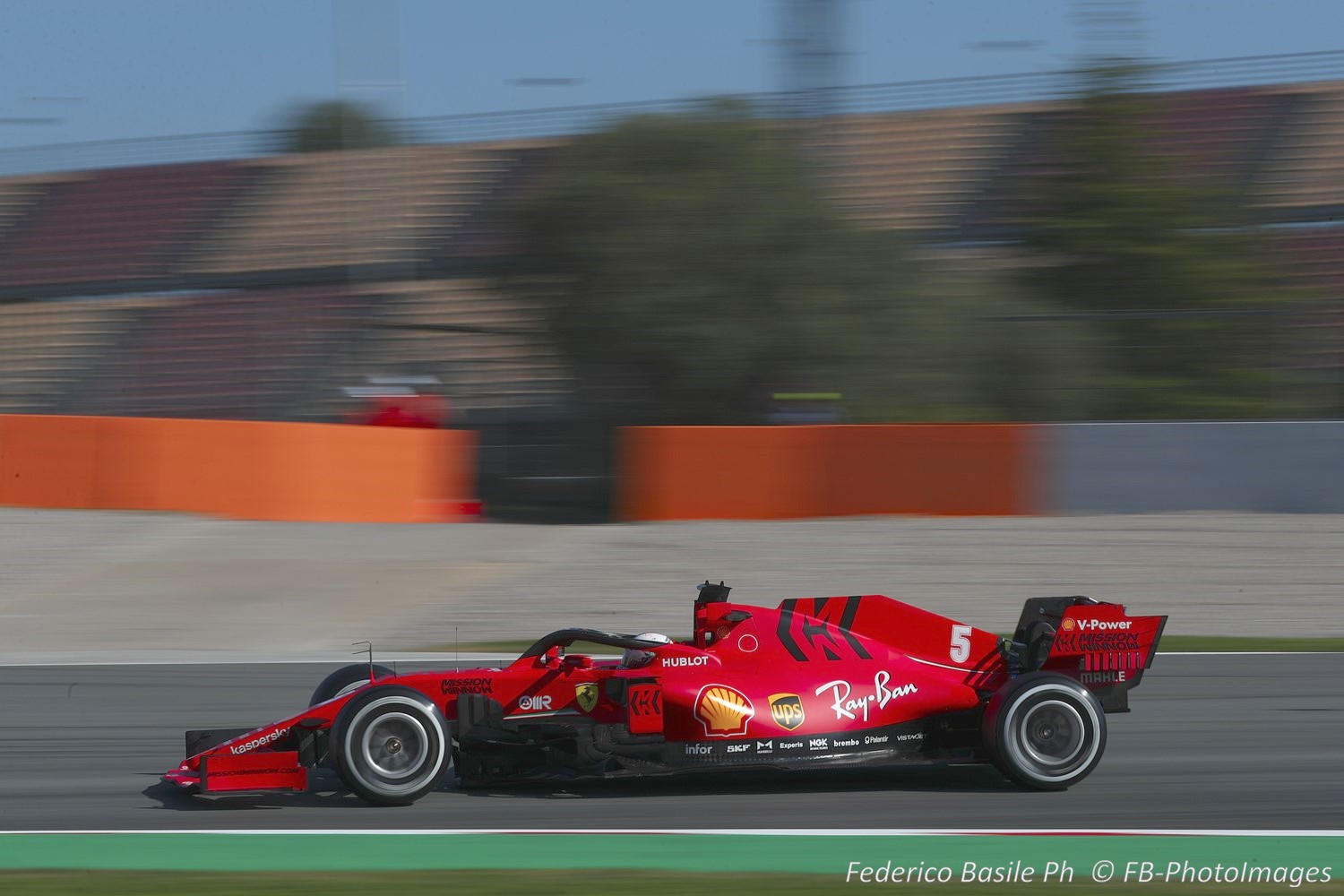 Vettel's so far 'dog' Ferrari
Ferrari team principal Mattia Binotto believes its Formula 1 rivals are currently ahead in terms of performance when assessing the pecking order in the closing stages of the first pre-season test.
In a change to its testing approach, Ferrari has been focusing purely on setup and dialing in the SF1000 rather than searching for performance early on. The team's 2020 F1 car has targeted a step up in downforce while also offering greater setup flexibility to cater for its two drivers Charles Leclerc and Sebastian Vettel, areas Binotto is confident Ferrari has improved on.
Binotto has confirmed Ferrari won't target any performance-focused running until next week's second test at Circuit de Barcelona-Catalunya but accepts when comparing its progress to its front-running F1 rivals Mercedes and Red Bull he fears the Italian squad is currently on the backfoot.
"I am not as optimistic as last year, some of the others are faster than us at the moment I believe, how much faster is really difficult to judge and I will go through all the data in the next days but I don't think we are as fast as them at the moment," Binotto said.
"Do we have any concerns? Certainly, yes, when you are not as fast as you would like to be.
Select Quotes
Lewis Hamilton
It's been a great effort from the team and great to see that the reliability is as strong as it is. The car has felt pretty good out there. It's been a solid first week and we've got some good mileage. It's a true showing of all the incredible work everyone has done back at the factory and here at the track. I'm really proud of everyone. We've got to keep working hard, analyze all the data from this week and figure out how we can move the car forward and build on everything next week.
Valtteri Bottas
It's been really fun today, especially getting to do some shorter runs and being able to push the car a little bit closer to the limits – seeing a little bit more of the performance of the car. I enjoyed it and it felt really good out there. It feels like we made a step with the set-up since yesterday. The car is very drivable and I'm sure with some more hard work next week, we can make it better, which will be the goal. Overall, it's been a really good first test, we have made some improvements every day with the car. A big well done to every single team member to deliver the car and engine – great job! I'm looking forward to getting back in the car next week.
Mercedes Technical Director James Allison
After the brief hiatus of yesterday, it was good to get a solid day of uninterrupted, reliable running today. Both drivers completed a program of set-up work and an early look at the softer compound range. Just a very quick glimpse of that, but really useful preparation for the second week of testing where we have more of the soft rubber to bring. It's been a good first week, the car has been broadly reliable, and the performance has been reasonably good throughout the week. There are, of course, many things to work on and we'll be trying to do that in week two. But it's a really good baseline. At the end of this first week, we start to get some sort of feeling for where all the teams are in the pecking order and especially now a few race distances have gone down. But it will be really interesting in the second week as our estimates start to refine further.
Max Verstappen
"We got another good amount of laps today and for this first week of testing that's really important as we try to understand the new car. We're not chasing lap time; it's not about that. It's about scanning and testing everything on the car, making sure everything works well and that it's reliable. It's been really positive and the car has felt good all week. We still have a lot of things to learn on the car and that will continue next week, but at the end of this first test I'm happy and can't complain."
Alex Albon
"This week we were focused more on reliability and systems checks than anything else and everything went very smoothly," he said. "The car feels good and each time we went out it felt better and better. It's all about gaining experience of the car, learning what we can do with it and getting ready for Melbourne. The main areas we needed to work on have definitely improved. I think we're looking strong and compared to last year we've made a good step forward. I think we've hit the ground running and we have a very good baseline now for next week."
Head of Red Bull Race Engineering, Guillaume Rocquelin
"It's been a very successful test for the whole Team and in my opinion one of the most satisfying first weeks of pre-season testing we've had in some time. We had no issues, and the car ran very smoothly throughout. We did have a small issue on the car in the morning but it was an easy fix and Max was able to complete a full race simulation. We were on course for the same with Alex in the afternoon, but unfortunately there were a few red flags so we didn't quite get everything done. Despite those delays he was still able to get through more than 80 laps so we're very happy. We're in good shape and we've now got a very good platform heading into the second week where we'll hopefully add some more performance."
Daniil Kvyat
"I think today felt quite short, it was only half a day, but it was productive as we squeezed the most out of it. We had a lot of high-quality tests and tried to cover as many laps as we could, so we did well in that respect. Now we need to analyze everything and work on more tests to be ready for next week. The car feels like it's in the ballpark and we're still fine-tuning it like everyone else is, but the initial feeling is we've made some progress compared to last year. It's hard to say how much or if it's enough, but we're still trying to unlock the full potential of the car, both on short and long runs."
Pierre Gasly
"It was a really positive afternoon, I had a few more laps in the car and completed some more tests. We managed to do all of our long run program. Unfortunately, we had a small delay toward the end of the day which meant we couldn't finish our performance runs, but it wasn't too big of an issue as it was already covered by Daniil in the morning session. All in all, it was a positive three days for the team, there are a lot of things to analyze for next week, so we can find even more performance."
Antonio Giovinazzi
"I am pretty satisfied with our work, both today and in the whole of the week. The first outings in a new car are a very exciting moment but you can't really take your eyes off the main objective, which is to get good mileage and give the team the feedback they need. We were able to run without issues and that's the main thing. For me, every new lap, every new run means getting more confidence with the new car: I am looking forward to more of this feeling next week."
Nicholas Latifi:
It wasn't the day I had hoped for in terms of running. I mirrored George's program from yesterday in terms of the sequence, with a lot of aero runs in the morning, and then I was able to get a few pushing laps before we saw some potential problems in the PU data. However, the guys did a great job to rebuild the car and get me back out there. We had a busy last hour of the day, testing lots of items and maximizing the running time. The lack of track time was unfortunate, but that's how testing goes sometimes. Hopefully we can make up for the mileage we missed next week.
Lance Stroll
"After driving in the afternoon of the opening day, it felt good to be back behind the wheel for a full day of running. We covered lots of laps, collected the data and worked through the job list. The RP20 feels very different to last season's car and I think we're in a much better place now than we were this time last year. You never know what the others are doing so we are just focusing on our own work. We definitely have a good base on which to build."
Day 3 Final Times
| | | | | | | |
| --- | --- | --- | --- | --- | --- | --- |
| POS | DRIVER | NAT | TEAM | TIME | LAPS | TIRE |
| 1 | Valtteri Bottas | FIN | Mercedes AMG Petronas | 1m15.732s | 65 | 5-Softest |
| 2 | Lewis Hamilton | GBR | Mercedes AMG Petronas | 1m16.516s | 73 | 5-Softest |
| 3 | Esteban Ocon | FRA | Renault F1 Team | 1m17.102s | 76 | 4-Soft |
| 4 | Lance Stroll | CAN | BWT Racing Point | 1m17.338s | 116 | 4-Soft |
| 5 | Daniil Kvyat | RUS | AlphaTauri Honda | 1m17.427s | 62 | 4-Soft |
| 6 | Antonio Giovinazzi | ITA | Alfa Romeo Racing | 1m17.469s | 152 | 4-Soft |
| 7 | Daniel Ricciardo | AUS | Renault F1 Team | 1m17.574s | 93 | 3-Medium |
| 8 | Max Verstappen | NED | Red Bull Racing | 1m17.636s | 86 | 2-Hard |
| 9 | Pierre Gasly | FRA | AlphaTauri Honda | 1m17.783s | 59 | 2-Hard |
| 10 | Alexander Albon | THA | Red Bull Racing | 1m18.154s | 83 | 2-Hard |
| 11 | Carlos Sainz | ESP | McLaren F1 Team | 1m18.274s | 76 | 2-Hard |
| 12 | Romain Grosjean | FRA | Haas F1 Team | 1m18.380s | 48 | 3-Medium |
| 13 | Sebastian Vettel | GER | Scuderia Ferrari | 1m18.384s | 100 | 3-Medium |
| 14 | Lando Norris | GBR | McLaren F1 Team | 1m18.454s | 49 | 3-Medium |
| 15 | Nicholas Latifi | CAN | ROKiT Williams Racing | 1m19.004s | 72 | 3-Medium |
| 16 | Kevin Magnussen | DEN | Haas F1 Team | 1m 19.709s | 4 | 2-Hard |
| | | |
| --- | --- | --- |
| Leclerc | Leclerc | Leclerc |
| Vettel | Vettel | Vettel |
| Vettel | Vettel | Leclerc |
| Vettel | Binotto and Leclerc | Raikkonen |
| Kubica | Giovinazzi | Giovinazzi |
| Raikkonen | Giovinazzi | Giovinazzi |
| Raikkonen | Giovinazzi | Giovinazzi |