IndyCar Pocono 500 postscript
Pocono 500 winner Will Power
I know this is supposed to be a look back at Sunday's ABC Supply Co. 500 at Pocono Raceway, and we'll get there. However, during Sunday's race, I couldn't help but thinking of the journey Pocono Raceway and Indy car racing had in getting there. And I think to fully appreciate the fine show the Verizon IndyCar Series put on this weekend at The Tricky Triangle, a look back at how Pocono and IndyCar got to Sunday's race is in order.
The return of Indycar racing to Pocono was announced October 2, 2012 in the dying days of the Randy Bernard regime. The last Indy car series to run the 2.5-mile track with three unique turns had been CART in 1989. Due to concerns over the track's surface and protective barriers (it was surrounded by ARMCO at the time), financial issues (the NASCAR race was beginning to generate greater revenue), or perhaps a combination of the two, CART and track founder Doc Mattioli discontinued the relationship. Mattioli, who passed away in 2012, never forgot what he perceived to be poor treatment from CART and Indy car racing.
And in fairness to Mattioli, safety and sanctioning fees were not the only hardships Indy car racing had put him through. Remember, Mattioli had been caught in the crossfire of the CART-USAC split that began in 1979 and spilled into the early 1980s. Without any of the name CART drivers and a field of only 25 (very small then), A.J. Foyt would win the 1979 Music 500. CART returned in 1980 with Bobby Unser taking the checkered flag, as CART and USAC had attempted a truce under the Championship Racing League (CRL) banner?
However, the 1981 race saw the ugliness of Indy car racing's civil war once again rear its ugly head. CART would boycott that year's Pocono race, the attendance for which was an estimated 25,000 down from an estimated 75,000 the previous year.
And if that wasn't bad enough, well then, there was the race itself. A.J. Foyt took the win again in a race that aside from him saw few notable name drivers, and even a number of cars running front-engine Silver Crown roadsters. Perhaps thankfully, the race was called after 305 miles due to rain.
[adinserter name="GOOGLE AD"]Fast forward to 1989, and CART would run 8 more races at the track, three of which reportedly cost Mattioli around $4 million. When CART requested changes following the 1989 race, an unhappy Mattioli decided he was through.
However, Mattioli's passing, along with some changes on the Indy car front seemed to initiate a thaw. With safety upgrades in place and a desire to expand beyond the two NASCAR summer races, Mattioli's grandsons Brandon and Nick Igdalsky, who were now in charge of the track, began speaking with then-INDYCAR CEO Randy Bernard in 2012. They would find a willing dance partner.
Bernard, trying to heal the sport's past wounds, was not only amenable to burying the hatchet, but was facing some serious issues of his own. INDYCAR, of course, had fractious relationships with International Speedway Corp. (ISC) – that mostly predated Bernard – and Speedway Motorsports Inc – that very much happened under Bernard – following disastrous turnouts at Las Vegas, Kentucky and New Hampshire in 2011. Needing a track outside the ISC/SMI orbit, a partnership with family-owned and operated Pocono, which also allowed Bernard access to the precious Northeast market, would prove very timely; Bernard and the Igdalsky brothers would announce a race for 2013.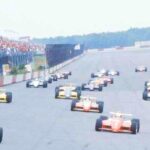 Start of 1985 CART Pocono 500 – the grandstands were packed
While openly admitting the relationship with Bernard, who was deposed shortly after the announcement, was instrumental in Pocono returning to the Indy car calendar, the Igdalsky brothers moved full-steam ahead. Admitting they had to get their grandmother's permission to host IndyCar due to the fractious relationship with Doc and IndyCar, whatever friction there was, seemed to be water under the bridge.
The first race in 2013 would see an estimated crowd of 30-35,000 for a decent, if not overly memorable show. However, the following year, some of the old bitterness began to appear. With soft ticket sales, Brandon Igdalsky made his displeasure known the Saturday before the race.
"The big thing is the fans," Igdalsky said. "The fans begged us to bring it back. Every study and report we did, they all said they'd come. But they're not coming in the numbers we need them to come in. Are these fans really here? In Pennsylvania? In the Andrettis' backyard? Why aren't they coming out? Where are they?"
The quote was as expected, poorly received, and given the history between IndyCar and Pocono, uncertainty surrounding the future of the race swirled. A move from July 4th weekend to August would occur for 2015, and the racing was very good. That weekend, was of course, marred by the death of Justin Wilson, which meant that discussion of the race's future was discussed very little. Despite some uncertainty about returning, IndyCar would be back at The Tricky Triangle in 2016, which due to Sunday rain, ran Monday.
That weekend, Igdalsky was also singing a bit of a different tune. "We've lowered our expectations, said Igdalsky. "The demand is there, it's just not at levels we'd like to see. The product is great entertainment and the racing is phenomenal."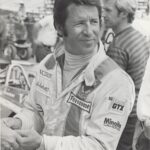 Mario Andretti at Pocono in 1972
Brandon, it should be noted, left his post at Pocono last month for a job with NASCAR, with Nick taking over. But as we can see, his comments from a year ago, indicated a recalibration of the relationship between IndyCar and Pocono. And this is where Sunday's race comes in.
I, as many others, would argue it was the best race since Indy car racing's return to The Tricky Triangle in 2013. Simply put, INDYCAR did their job in bringing a racing package that produced close exciting racing without the batsh** crazy element we saw at Texas earlier this year. Furthermore, with recalibrated expectations, the Pocono brass in recent years was nowhere to be found.
In other words, for the first time in a REALLY LONG TIME, Pocono and IndyCar were not only talking about how good of a match they might be together; they were a good match together. With IndyCar taking care of its responsibility from the racing side, and Pocono not asking IndyCar to be something it's not, all was well at The Tricky Triangle this weekend.
Furthermore, indications are things may continue to be on the up and up. Nick, a racer himself, has expressed a greater desire to utilize the Pocono road course. There have been indications that a second Pocono NASCAR date would use the infield road course, which has seen upgrades in recent years. With the road course being viable could this mean content added to the IndyCar weekend in the form of the Mazda Road to Indy or Pirelli World Challenge? Additional content is certainly needed for the weekend and would put the event on firmer ground.
In short, we know Pocono and IndyCar share a rather dismal past; we know there has been friction in recent years in an attempt to revitalize the event; and for the first time in a very long time, the possibility of a bright future together seems plausible.
Power
Pagenaud leads Rossi last Sunday
I don't have much to add to Will Power's victory that hasn't already been said. It was a phenomenal drive combined with crafty pit work by the Penske team to keep their river in contention despite a broken front wing and later a broken rear pod.
However, for the sake of history, Power moved into sole possession of ninth-place on the all-time wins list with 32 victories, passing Dario Franchitti and Paul Tracy. Interestingly, Power's 32 wins have come in 185 starts, significantly fewer than Franchitti (265) and Tracy (281).
Power is in the prime of his career so we don't necessarily look at him through the historical sense lens we one day will. Also, the Aussie has only one championship and no Indy 500 wins, which perhaps result in him not getting his just recognition.
Still, a mere eight drivers sit ahead of Power on the all-time wins list; three of those drivers are named Unser, two of them Andretti, the other three, Foyt, Dixon and Bourdais. Very impressive company.
Rossi
I've been hammering on the fact lately that Alexander Rossi is on the verge of a serious breakout. One of the items I've cited in making this argument is Rossi's performance relative to teammate Ryan Hunter-Reay. And as you can see from the table below, Rossi has outperformed Hunter-Reay in 6 of the last nine races.
| | | | | | | | | | |
| --- | --- | --- | --- | --- | --- | --- | --- | --- | --- |
| Driver | 500 | Det 1 | Det2 | Tex | ROA | Iow | Tor | MO | Poc |
| Rossi | 7 | 5 | 7 | 22 | 13 | 11 | 2 | 6 | 3 |
| Hunter-Reay | 27 | 13 | 17 | 19 | 14 | 3 | 6 | 8 | 8 |
Now, trust me, I am not here to bury Hunter-Reay, particularly after the performance he turned in this weekend. I am merely saying: Alexander Rossi is the real deal.
Brian Carroccio is a senior columnist for AutoRacing1. He can be contacted at BrianC@AutoRacing1.com.