Inclement weather delays Daytona 500 to Monday (2nd Update)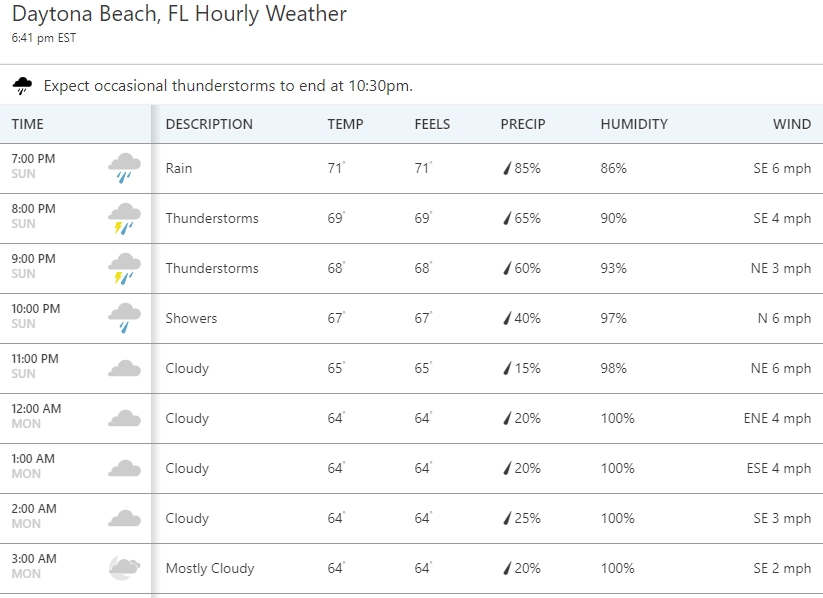 Hourly Forecast
UPDATE The 62nd running of the Daytona 500 will resume at 4 p.m. ET on Monday from Daytona International Speedway (FOX). Inclement weather forced the move after heavy rains came into the area in the late afternoon Sunday and persisted through the evening hours.
When the red flag waved Sunday, pole winner Ricky Stenhouse Jr. was still in the lead in the No. 47 JTG Daugherty Racing Chevrolet. Stenhouse led all 20 of the opening laps.
Joey Logano, in the No. 22 Team Penske Ford, was in second place, with Aric Almirola, Ryan Newman and Kevin Harvick rounding out the top five. When the race resumes, there will be 45 laps remaining in Stage 1 of the three-stage race.
This is the second time the Daytona 500 has been delayed until Monday because of weather. The first was in 2012
02/16/20 It looks like the Daytona 500 will either be delayed until Monday, or run late tonight.
Unlike the Indianapolis Motor Speedway which still operates in the 19th century, Daytona has lights and they can wait out the rain if need be.
If this was the Indy 500 it would have already been cancelled because the owners have been too cheap to put up lights. The poor NASCAR fans have to watch the Brickyard 400 race under the summer sun because the track owners have not invested in lights. And you wonder why the attendance is so bad for the NASCAR race? This year it runs on July 4th weekend – the hottest weekend of the year. Good luck with that.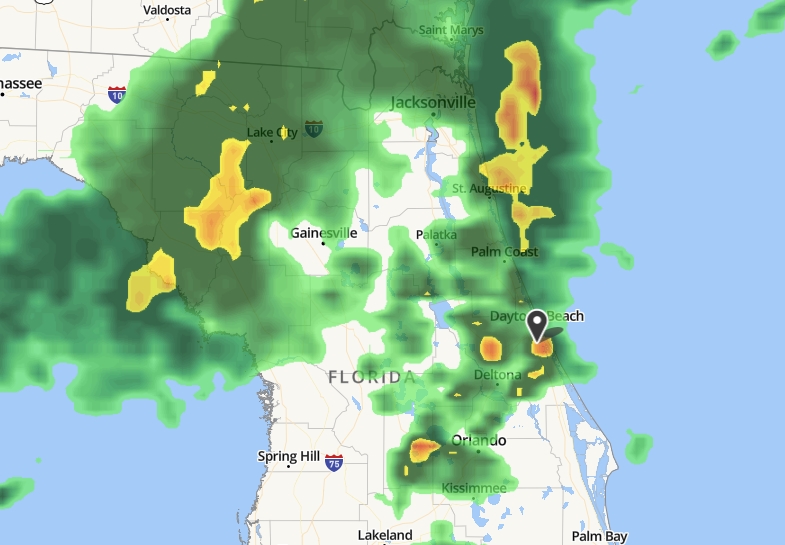 Weather radar at 6:55 pm ET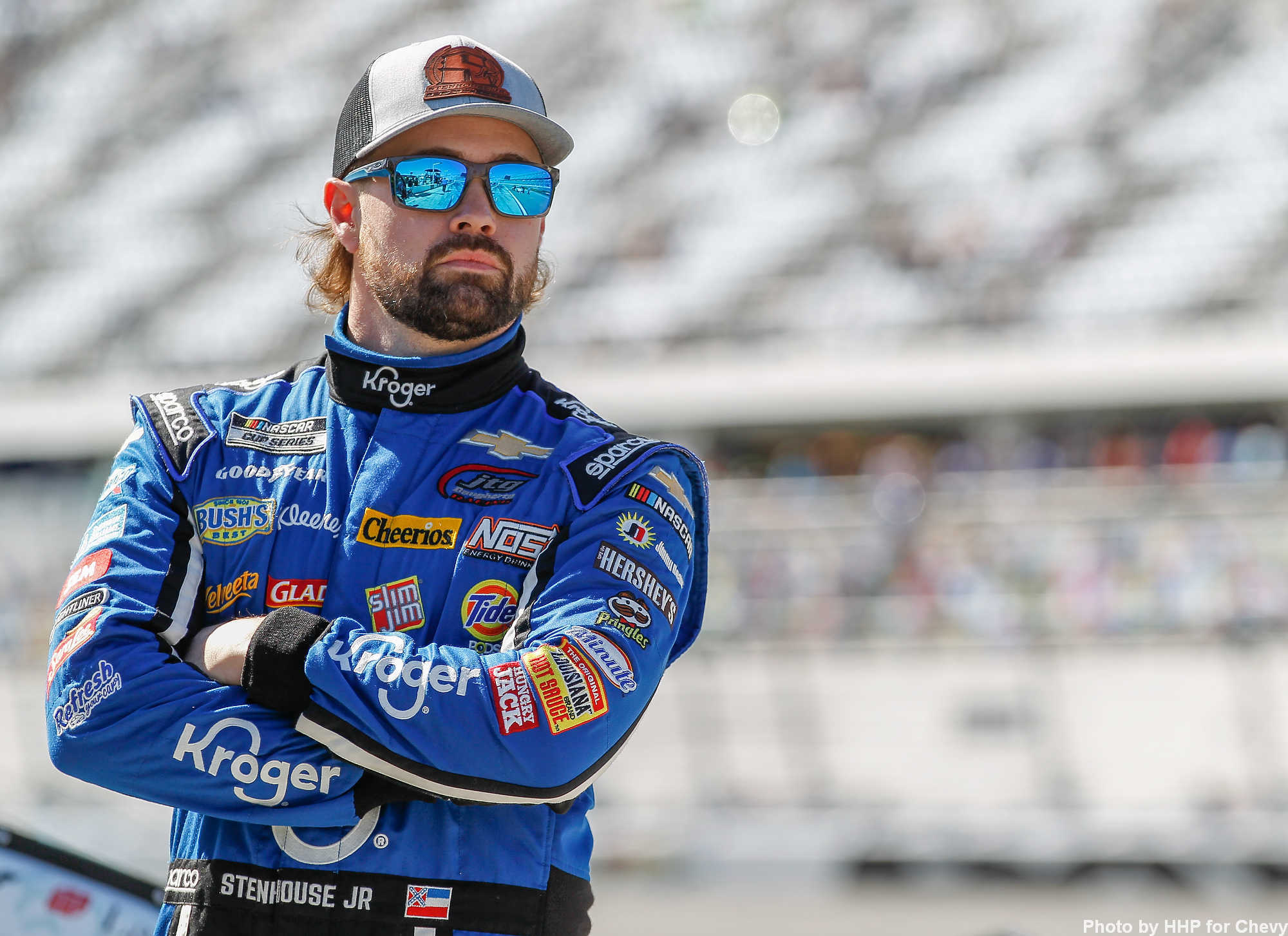 Stenhouse led from the start
02/16/20 Rain in the Daytona Beach, Florida, area has delayed the 62nd annual Daytona 500 for the NASCAR Cup Series at Daytona International Speedway.
The field was able to complete 20 laps in Stage 1 before inclement weather moved over the 2.5-mile superspeedway at 4:36 p.m. ET.
Polesitter Ricky Stenhouse Jr. has led every circuit of the 200-lap race. Joey Logano is second, followed by Aric Almirola, Ryan Newman and Kevin Harvick to round out the top five.
A fleet of 18 Air Titans, 12 jet dryers, two vacuums and one sweeper are at the speedway for track-drying efforts.
Red Flag Standings
| | | | |
| --- | --- | --- | --- |
| POS | CAR | DRIVER | LAPS |
| 1 | 47 | Ricky Stenhouse Jr. | 20 |
| 2 | 22 | Joey Logano | 20 |
| 3 | 10 | Aric Almirola | 20 |
| 4 | 6 | Ryan Newman | 20 |
| 5 | 4 | Kevin Harvick | 20 |
| 6 | 2 | Brad Keselowski | 20 |
| 7 | 24 | William Byron | 20 |
| 8 | 48 | Jimmie Johnson | 20 |
| 9 | 13 | Ty Dillon | 20 |
| 10 | 66 | * Timmy Hill(i) | 20 |
| 11 | 36 | David Ragan | 20 |
| 12 | 17 | Chris Buescher | 20 |
| 13 | 21 | Matt DiBenedetto | 20 |
| 14 | 9 | Chase Elliott | 20 |
| 15 | 77 | Ross Chastain(i) | 20 |
| 16 | 88 | Alex Bowman | 20 |
| 17 | 42 | Kyle Larson | 20 |
| 18 | 1 | Kurt Busch | 20 |
| 19 | 3 | Austin Dillon | 20 |
| 20 | 41 | Cole Custer # | 20 |
| 21 | 34 | Michael McDowell | 20 |
| 22 | 8 | Tyler Reddick # | 20 |
| 23 | 12 | Ryan Blaney | 20 |
| 24 | 43 | Bubba Wallace | 20 |
| 25 | 27 | * Reed Sorenson | 20 |
| 26 | 52 | BJ McLeod(i) | 20 |
| 27 | 32 | Corey LaJoie | 20 |
| 28 | 62 | * Brendan Gaughan(i) | 20 |
| 29 | 37 | Ryan Preece | 20 |
| 30 | 16 | * Justin Haley(i) | 20 |
| 31 | 19 | Martin Truex Jr. | 20 |
| 32 | 18 | Kyle Busch | 20 |
| 33 | 20 | Erik Jones | 20 |
| 34 | 95 | Christopher Bell # | 20 |
| 35 | 11 | Denny Hamlin | 20 |
| 36 | 14 | Clint Bowyer | 20 |
| 37 | 38 | John Hunter Nemechek # | 20 |
| 38 | 00 | Quin Houff # | 20 |
| 39 | 51 | Joey Gase(i) | 20 |
| 40 | 15 | Brennan Poole # | 20 |
# DENOTES ROOKIE
(i) NOT ELIGIBLE FOR POINTS
(*) REQUIRED TO QUALIFY ON TIME