Joey Logano leads final practice for the 62nd running of the Daytona 500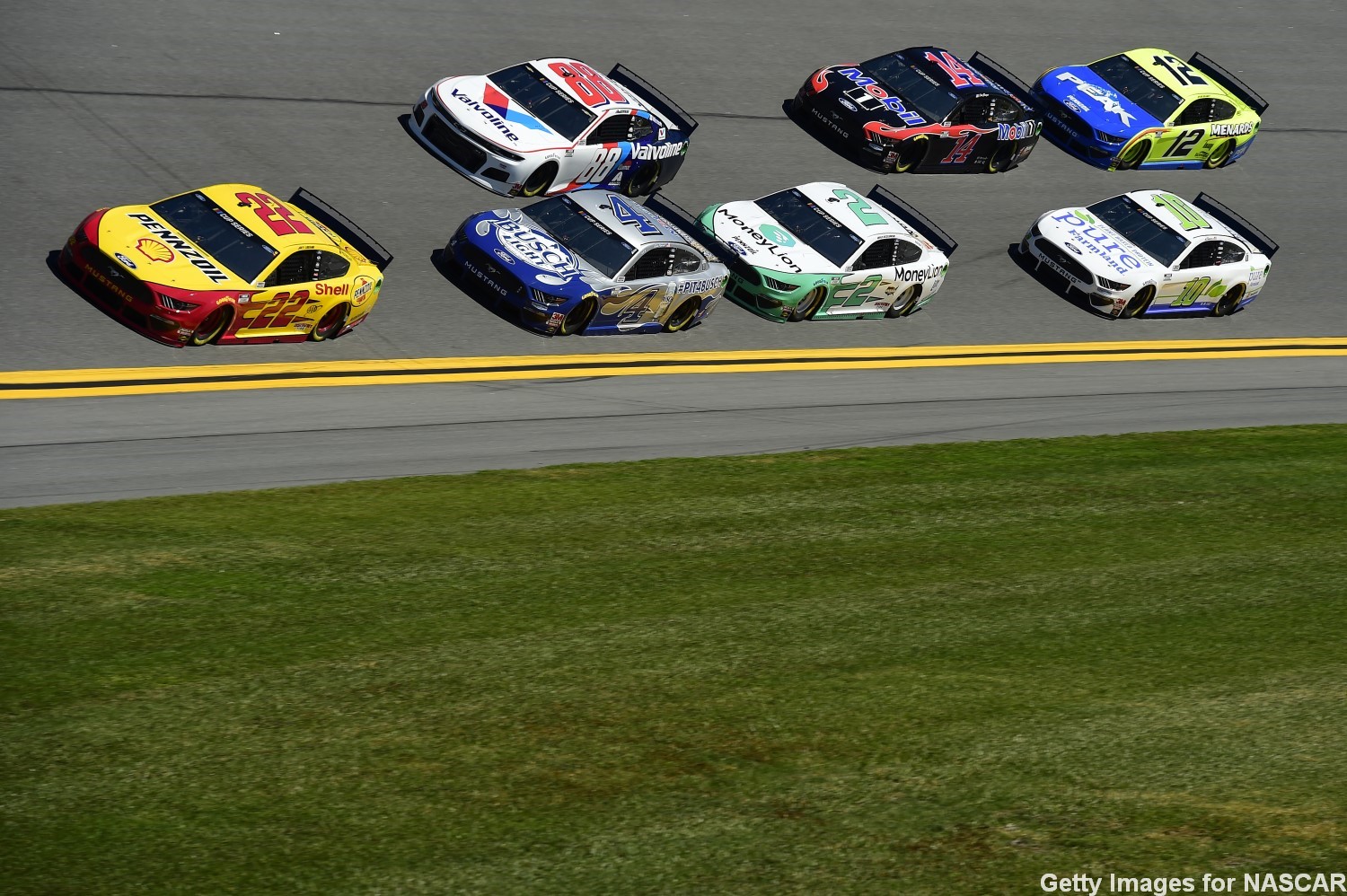 Logano leads bunch of dominating Fords
Joey Logano led final practice in the NASCAR Cup Series on Saturday at Daytona International Speedway. Logano, the 2015 Daytona 500 winner, wheeled his No. 22 Team Penske Ford around the 2.5-mile superspeedway at a top speed of 200.517 mph.
Logano was the fastest of eight Fords at the top of the speed chart with Kevin Harvick, in the No. 4 Stewart-Haas Racing Ford, coming in second at 200.512 mph. Brad Keselowski was third in the No. 2 Team Penske Ford at 200.499 mph.
Clint Bowyer, in the No. 14 SHR Ford, and Cole Custer, in the No. 41 SHR Ford, rounded out to the top five. Other Fords among that top group included Aric Almirola, David Ragan and Michael McDowell.
William Byron was the top Chevrolet in ninth place at 198.754 mph. Brendan Gaughan rounded out the top 10 in the No. 62 Chevrolet at 198.548 mph.
The Toyota group opted to bypass final practice as all of those manufacturer's cars stayed in the garage.
Final Practice Results
| | | | | | | |
| --- | --- | --- | --- | --- | --- | --- |
| Pos | No. | Driver | Team | Time | Speed | Fastest |
| 1 | 22 | Joey Logano | Shell Pennzoil Ford | 44.884 | 200.517 | —.— |
| 2 | 4 | Kevin Harvick | Busch Light #PIT4BUSCH Ford | 44.885 | 200.512 | -0.001 |
| 3 | 2 | Brad Keselowski | Discount Tire Ford | 44.888 | 200.499 | -0.004 |
| 4 | 14 | Clint Bowyer | Rush/Mobil 1 Ford | 44.895 | 200.468 | -0.011 |
| 5 | 41 | Cole Custer # | Haas Automation Ford | 44.906 | 200.419 | -0.022 |
| 6 | 10 | Aric Almirola | Smithfield Ford | 44.916 | 200.374 | -0.032 |
| 7 | 36 | David Ragan | Select Blinds Ford | 45.094 | 199.583 | -0.21 |
| 8 | 34 | Michael McDowell | Love's Travel Stops Ford | 45.143 | 199.366 | -0.259 |
| 9 | 24 | William Byron | Axalta 'Color of the Year' Chevrolet | 45.282 | 198.754 | -0.398 |
| 10 | *62 | Brendan Gaughan(i) | Beard Motorsports/South Chevrolet | 45.329 | 198.548 | -0.445 |
| 11 | 48 | Jimmie Johnson | Ally Chevrolet | 45.331 | 198.54 | -0.447 |
| 12 | 32 | Corey LaJoie | RagingBull.com Ford | 45.382 | 198.317 | -0.498 |
| 13 | 9 | Chase Elliott | NAPA Auto Parts Chevrolet | 45.382 | 198.317 | -0.498 |
| 14 | 0 | Quin Houff # | Jacob Construction Chevrolet | 46.206 | 194.78 | -1.322 |
| 15 | 88 | Alex Bowman | Valvoline Chevrolet | 46.833 | 192.172 | -1.949 |
| 16 | 8 | Tyler Reddick # | Caterpillar Chevrolet | 47.006 | 191.465 | -2.122 |
| 17 | *66 | Timmy Hill(i) | RoofClaim.com/VSI Racing Ford | 47.077 | 191.176 | -2.193 |
| 18 | 12 | Ryan Blaney | Menards/Peak Ford | 47.147 | 190.892 | -2.263 |
| 19 | 42 | Kyle Larson | Credit One Bank Chevrolet | 47.213 | 190.625 | -2.329 |
| 20 | 3 | Austin Dillon | Bass Pro Shops/Tracker Chevrolet | 47.221 | 190.593 | -2.337 |
| 21 | 1 | Kurt Busch | Monster Energy Chevrolet | 47.221 | 190.593 | -2.337 |
| 22 | 38 | John Hunter Nemechek # | Citgard Ford | 47.246 | 190.492 | -2.362 |
| 23 | 17 | Chris Buescher | Fastenal Ford | 47.251 | 190.472 | -2.367 |
| 24 | 37 | Ryan Preece | Cottonelle Chevrolet | 47.258 | 190.444 | -2.374 |
| 25 | 77 | Ross Chastain(i) | AdventHealth Chevrolet | 47.807 | 188.257 | -2.923 |
| 26 | 52 | BJ McLeod(i) | Ford | 48.762 | 184.57 | -3.878 |