McLaughlin completes first test on an IndyCar oval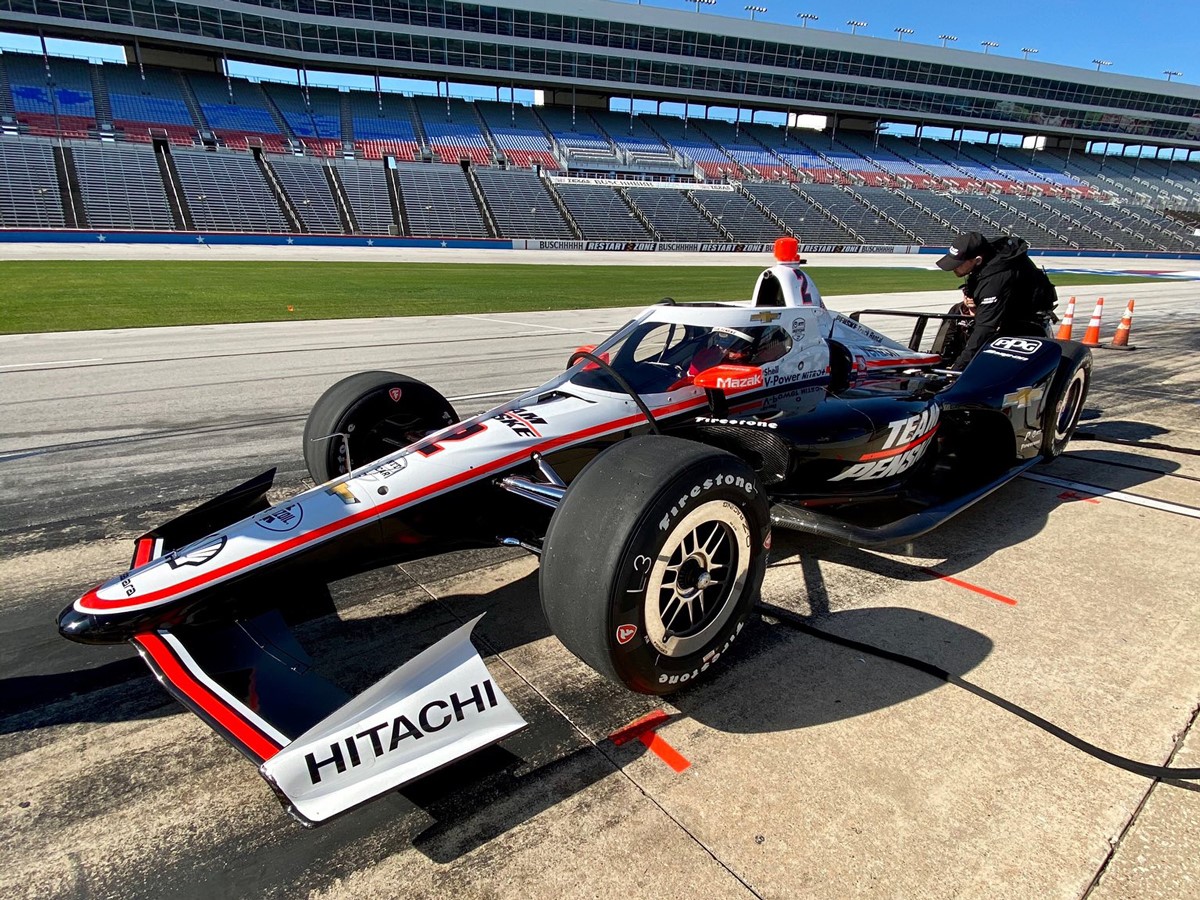 Scott McLaughlin driving the superior Penske Chevy Alexander Rossi turned down
Four NTT INDYCAR SERIES rookie drivers got to experience their first laps around Texas Motor Speedway on Friday as the oval-track portion of preseason testing began.
Rinus VeeKay of Ed Carpenter Racing, Oliver Askew of Arrow McLaren SP, Alex Palou of Dale Coyne Racing with Team Goh and Scott McLaughlin of Team Penske turned laps around the high-banked 1.5-mile track where the NTT INDYCAR SERIES races Saturday night, June 6 as the ninth race of the season.
The drivers combined to complete more than 300 laps. Takuma Sato of Rahal Letterman Lanigan Racing won the pole for last year's race at 220.250 mph, but this day wasn't aimed at achieving outright speed, but still Scott McLaughlin buried last year's pole speed.
The speedway outing gave McLaughlin his first taste of an oval track – and it's not one he's about to forget.
"The last week testing IndyCars with Team Penske in Texas has been like a dream," he said.
"Adapting to the car has been a major adjustment for me. The sensation of speed in these cars is just incredible."
McLaughlin was in awe of the top speeds reached around the 1.5-mile oval.
"I logged more than 150 laps, and did 222 mph," said McLaughlin
Driving the Team Penske Chevrolet, McLaughlin reached speeds he had never experienced before.
"My out lap was well and truly the fastest I've ever gone in a race car in my life.
"It's an amazing feeling. You need to be so precise."
McLaughlin will be back in the States for his IndyCar race debut in the GMR Grand Prix at Indianapolis in May, but for now returns to Australia in preparation for his Supercars title defense with the opening round in Adelaide next week.
"I really enjoyed it," said Askew. "I've been looking forward to this test for a long time. I love ovals. We had a lot of success on them in Indy Lights last year, both with (World Wide Technology Raceway at Gateway) and Indianapolis Motor Speedway. We did a test last year at Kentucky (Speedway) in Indy Lights and I kind of feel some similarities between those two tracks with the tri-oval and how smooth the tracks are, but it's a completely different car, right? (This is) much quicker. An extra 30 mph at those speeds feels like an extra 100."
Askew said he felt comfortable in the car. Turns 1-2 are "a bit trickier."
The test was the second of the week for the series newcomers, who held their own at the road course at Circuit of The Americas in Austin, Texas. There, McLaughlin was third among the 27 drivers with Askew seventh, Palou ninth and VeeKay 19th.
VeeKay, Askew and Palou are scheduled to compete in this year's Texas race. McLaughlin's only scheduled NTT INDYCAR SERIES race is Saturday, May 9 — the GMR Grand Prix on the Indianapolis Motor Speedway road course.
Veteran drivers Josef Newgarden of Team Penske, who won last year's race at TMS, Ed Carpenter of Ed Carpenter Racing, the track's 2014 race winner, and Santino Ferrucci of Dale Coyne Racing with Vasser-Sullivan, also ran laps to help the rookies get comfortable. They said INDYCAR's innovative Aeroscreen performed as expected.
"There's a couple subtleties with the way the air moves around — it's quieter, which is different," Carpenter said. "Believe it or not it kind of changes the sensation of how you feel the car. Visually it's actually very good. There's not limits or distortion or anything like that. When you're out by yourself it's fine. Where we have a lot to learn and understand what it's going to be like is when we're out running in traffic, (but) so far so good."
Newgarden said the racing at TMS this year "is going to be very similar" with the Aeroscreen.
"We're obviously trying to figure out what it needs to go quickly, how does it affect the aerodynamics, it looks very different," he said. "It looks a bit more like a fighter jet, in my opinion."
Ferrucci suggested decking the Aeroscreens with LED lights to make the series' four night races — TMS, Richmond Raceway, Iowa Speedway and World Wide Technology Raceway at Gateway — "look even cooler."
The NTT INDYCAR SERIES season begins Sunday, March 15 with the Firestone Grand Prix of St. Petersburg on the city streets of St. Petersburg, Fla. In part from IndyCar PR
View this post on Instagram