Starting Lineup for Daytona 500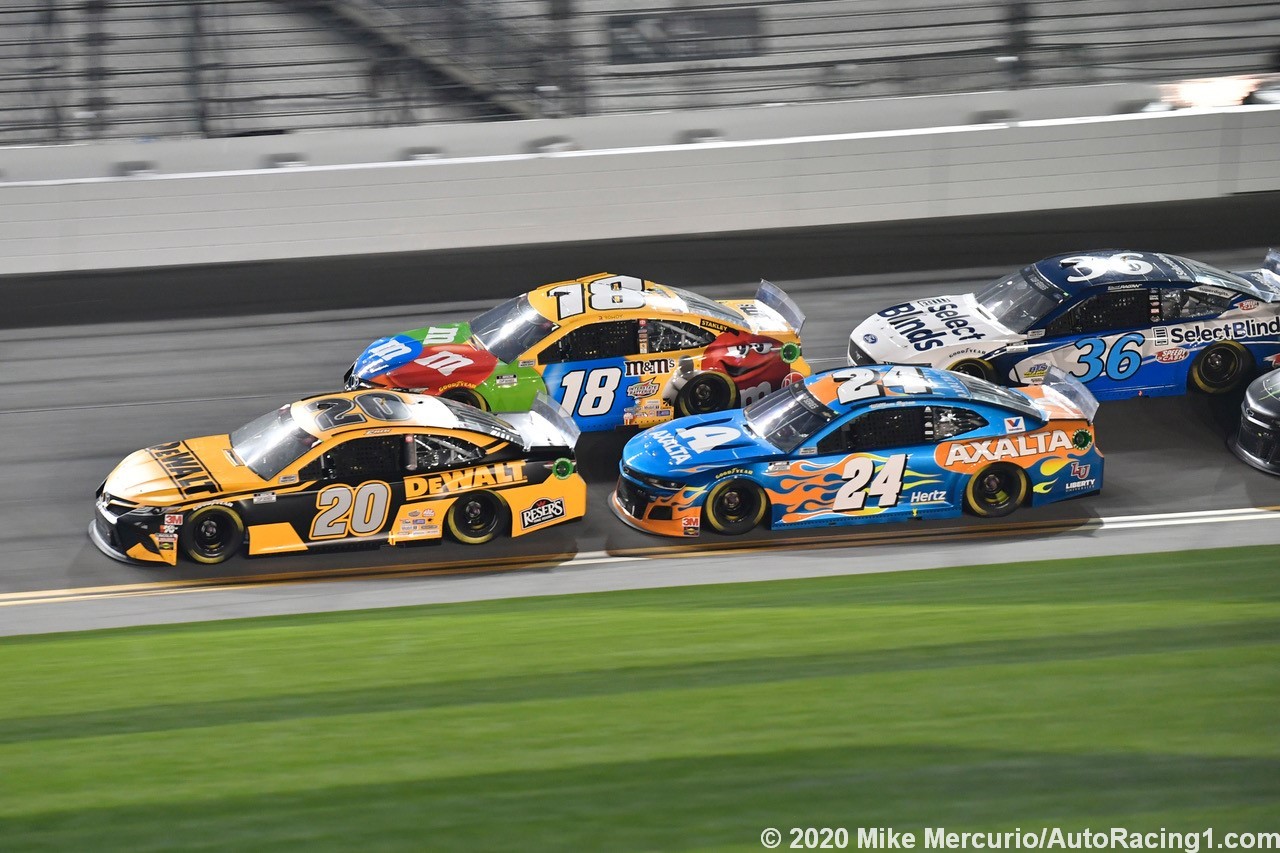 Duel 2 action
Heading into Thursday's Bluegreen Vacations Duel races at Daytona, we already knew the front row for Sunday's Daytona 500 main event — superspeedway ace Ricky Stenhouse Jr. is on the Busch Pole, and Hendrick Motorsports driver Alex Bowman will start second for the second consecutive year when the green flag drops Feb. 16 (2:30 p.m. ET, FOX).
Thursday's twin 60-lap races set the remainder of the running order, as well as the final two spots in the field.
Following the Bluegreen Vacations Duel races, here is the official Daytona 500 starting lineup.
Starting Lineup
Row
St.
No.
Driver
Sponsor/Car
Row 1:
1
47
Ricky Stenhouse Jr.
Kroger Chevrolet
2
88
Alex Bowman
Valvoline Chevrolet
Row 2:
3
22
Joey Logano
Shell Pennzoil Ford
4
24
William Byron
Axalta 'Color of the Year' Chevrolet
Row 3:
5
10
Aric Almirola
Smithfield Ford
6
48
Jimmie Johnson
Ally Chevrolet
Row 4:
7
6
Ryan Newman
Koch Industries Ford
8
42
Kyle Larson
Credit One Bank Chevrolet
Row 5:
9
2
Brad Keselowski
Discount Tire Ford
10
4
Kevin Harvick
Busch Light #PIT4BUSCH Ford
Row 6:
11
43
Bubba Wallace
United States Air Force Chevrolet
12
41
Cole Custer #
Haas Automation Ford
Row 7:
13
3
Austin Dillon
Bass Pro Shops/Tracker OffRoad Chevrolet
14
20
Erik Jones
DEWALT Toyota
Row 8:
15
19
Martin Truex Jr.
Bass Pros Shops Toyota
16
21
Matt DiBenedetto
Motorcraft/Quick Lane Ford
Row 9:
17
95
Christopher Bell #
Procore Toyota
18
1
Kurt Busch
Monster Energy Chevrolet
Row 10:
19
17
Chris Buescher
Fastenal Ford
20
77
Ross Chastain(i)
AdventHealth Chevrolet
Row 11:
21
11
Denny Hamlin
FedEx Express Toyota
22
8
Tyler Reddick #
Caterpillar Chevrolet
Row 12:
23
38
John Hunter Nemechek #
Citgard Ford
24
13
Ty Dillon
GEICO Chevrolet
Row 13:
25
9
Chase Elliott
NAPA Auto Parts Chevrolet
26
34
Michael McDowell
Love's Travel Stops Ford
Row 14:
27
12
Ryan Blaney
Menards/Peak Ford
28
18
Kyle Busch
M&M's Toyota
Row 15:
29
14
Clint Bowyer
Rush/Mobil 1 Ford
30
36
David Ragan
Select Blinds Ford
Row 16:
31
37
Ryan Preece
Cottonelle Chevrolet
32
66
Timmy Hill(i)
RoofClaim.com/VSI Racing Ford
Row 17:
33
16
Justin Haley(i)
Fraternal Order of Eagles Chevrolet
34
15
Brennan Poole #
SpartanGo Chevrolet
Row 18:
35
00
Quin Houff #
Jacob Construction Chevrolet
36
32
Corey LaJoie
RagingBull.com Ford
Row 19:
37
51
Joey Gase(i)
EFX Corp. Chevrolet
38
52
BJ McLeod(i)
Ford
Row 20:
39
62
Brendan Gaughan(i)
Beard Motorsports/South Point Chevrolet
40
27
Reed Sorenson
Chevrolet
(i) Ineligible for driver points in this series