FOX Sports Bolsters Stellar Xfinitry Driver Analyst Roster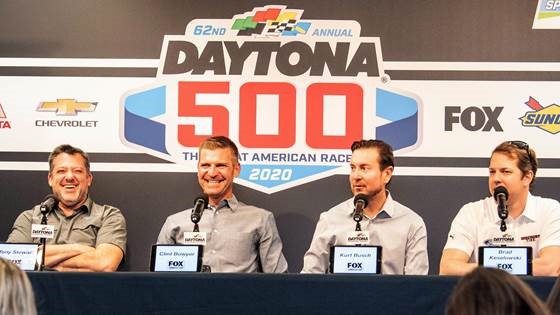 Stewart, Bowyer, Busch and Keselowski
FOX Sports adds a 2020 NASCAR Hall of Fame inductee and one of the sport's most legendary brother pairs to its NASCAR XFINITY SERIES broadcast booth this season.
Three-time champion Tony Stewart, inducted into the NASCAR Hall of Fame in January, joins FOX NASCAR play-by-play announcer Adam Alexander and driver analyst Clint Bowyer to call the NASCAR XFINITY SERIES race at Talladega Superspeedway on Saturday, April 25, marking Stewart's first race broadcast in the FOX Sports booth.
Kurt Busch, the 2004 NASCAR CUP SERIES champion who made his FOX NASCAR analyst debut last season, pairs with younger brother and reigning champion, Kyle Busch, to call the April 4 action at Bristol Motor Speedway.
"The sibling rivalry between us has been genuine over the years," Kurt Busch said. "It was very unique in the beginning with our racing, but as we both have mellowed a bit, we'll have fun in the booth going back and forth … It's our favorite track, a track that spoke to us early in our career, and that's how this opportunity came together. It seemed organic from FOX. When you see guys on TV calling races or football games, the gang you see from the field to the booth, that's where Kyle and I will be going back and forth. It will probably get lost in 'Busch translation' at some point on what we both think needs to happen, and that's part of the fun of it all."
To kick off the new NASCAR XFINITY SERIES season, 2012 Cup Series champion Brad Keselowski calls the season opener with Alexander and Bowyer on Saturday, Feb. 15, (2:30 PM ET on FS1) from Daytona International Speedway.
In all, FOX Sports features 15 NASCAR CUP SERIES drivers, former drivers or crew chiefs throughout the 2020 NXS season (including the "Drivers Only + Chad" broadcast), with Bowyer (nine NXS races), Ryan Blaney (two), Kyle Busch (one), Kurt Busch (three), Austin Dillon (one), Keselowski (three), Chad Knaus (three), Joey Logano (two), Jamie McMurray (one), Stewart (one) and Michael Waltrip (three).
"The XFINITY Series is a steppingstone of our sport," Bowyer said. "We all used that steppingstone to get to this (driving) opportunity in Cup. To be able to go back and sell the story of the Xfinity Series — these new kids coming up through the ranks — is important."
"DRIVERS ONLY + CHAD" BROADCAST:
In addition, FOX Sports' "Drivers Only + Chad" broadcast is back for the fourth consecutive year, with newcomer Daniel Suarez serving as a pit reporter in his FOX Sports debut. Charlotte Motor Speedway is the backdrop for the annual broadcast on Saturday, May 23 (1:00 PM ET on FS1). The original broadcast booth trio of Kevin Harvick, Bowyer and Logano has the call, while Blaney and Bubba Wallace Jr. again cover pit road, this year teaming with Suarez. Keselowski returns to host race coverage from FOX Sports' virtual studio in Charlotte alongside analysts Ricky Stenhouse Jr. and Knaus.
Furthermore, FOX Sports is adding several active NASCAR CUP SERIES drivers to its NASCAR GANDER RV & OUTDOORS TRUCK SERIES broadcast booth this season, with the full lineup to be announced in the near future.
FOX NASCAR driver analyst schedule for 2020 NASCAR XFINITY SERIES:
Date
Race
Play-by-Play
Driver Analyst
Driver Analyst
Start Time
2/15
Daytona
Adam Alexander
Clint Bowyer
Brad Keselowski
2:30 PM
2/22
Las Vegas
Adam Alexander
Michael Waltrip
Austin Dillon
4:00 PM
2/29
California
Adam Alexander
Joey Logano
Chad Knaus
4:00 PM
3/7
Phoenix
Adam Alexander
Clint Bowyer
Joey Logano
4:00 PM
3/14
Atlanta
Adam Alexander
Clint Bowyer
Ryan Blaney
4:00 PM
3/21
Homestead
Adam Alexander
Clint Bowyer
Brad Keselowski
3:30 PM
3/28
Texas
Adam Alexander
Clint Bowyer
Kurt Busch
1:00 PM
4/4
Bristol
Adam Alexander
Kyle Busch
Kurt Busch
1:00 PM
4/25
Talladega
Adam Alexander
Clint Bowyer
Tony Stewart
1:00 PM
5/2
Dover
Adam Alexander
Clint Bowyer
Chad Knaus
1:30 PM
5/23
Charlotte
"Drivers Only + Chad"
Kevin Harvick
Joey Logano
Clint Bowyer
Studio: Keselowski
Knaus, Stenhouse Jr.
Reporters: Blaney,
Suarez and Wallace Jr.
1:00 PM
5/30
Mid-Ohio
Adam Alexander
Michael Waltrip
TBD
1:00 PM
6/6
Michigan
Adam Alexander
Clint Bowyer
Kurt Busch
1:30 PM
6/13
Iowa
TBD
Michael Waltrip
Jamie McMurray
8:30 PM
*subject to change
**all races live on FS1
In appreciation of the drivers' participation, FOX Sports will make a donation to each driver's individual foundation or charity of choice.