Power tops Rossi with 1-hour left at COTA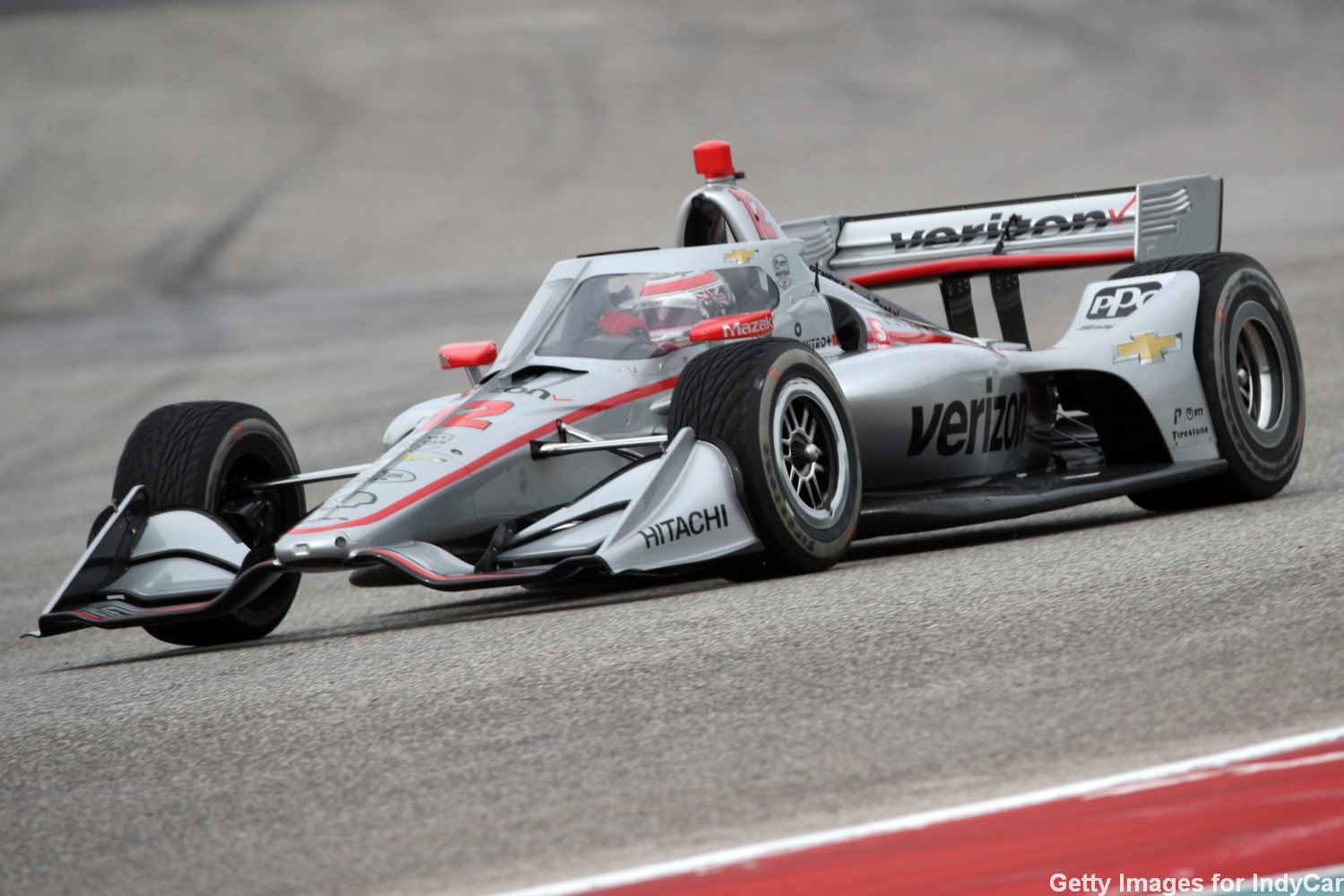 Will Power
The last hour of today's Open Test running at COTA is supposed to be for pit stop practice, but we still will see some fast laps. With the 1-hour remaining Team Penske's Will Power sits atop the results with Chevy Power.
The next 4 cars are Andretti Autosport Hondas led by Alexander Rossi 0.18sec behind Power, then Colton Herta, Zach Veach and Ryan Hunter-Reay rounding out the top-5.
Stay tuned for the final results in 1-hour.
Standings 1-Hour to Go
| | | | | | | | | | |
| --- | --- | --- | --- | --- | --- | --- | --- | --- | --- |
| Pos | No | Name | FTime | Diff | Gap | Laps | FSpeed | Engine | Team |
| 1 | 12 | Will Power | 1:47.612 | –.—- | –.—- | 42 | 114.077 | Chevy | Team Penske |
| 2 | 27 | Alexander Rossi | 1:47.796 | 0.1850 | 0.1850 | 35 | 113.881 | Honda | Andretti Autosport |
| 3 | 88 | Colton Herta | 1:47.931 | 0.3197 | 0.1347 | 34 | 113.739 | Honda | Andretti Harding Steinbrenner Auto |
| 4 | 26 | Zach Veach | 1:48.005 | 0.3939 | 0.0742 | 46 | 113.661 | Honda | Andretti Autosport |
| 5 | 28 | Ryan Hunter-Reay | 1:48.019 | 0.4073 | 0.0134 | 36 | 113.647 | Honda | Andretti Autosport |
| 6 | 2 | Scott McLaughlin | 1:48.038 | 0.4268 | 0.0195 | 51 | 113.626 | Chevy | Team Penske |
| 7 | 98 | Marco Andretti | 1:48.092 | 0.4807 | 0.0539 | 41 | 113.570 | Honda | Andretti Herta w/Marco & Curb-Aga |
| 8 | 1 | Josef Newgarden | 1:48.257 | 0.6454 | 0.1647 | 36 | 113.397 | Chevy | Team Penske |
| 9 | 8 | Marcus Ericsson | 1:48.306 | 0.6950 | 0.0496 | 49 | 113.345 | Honda | Chip Ganassi Racing |
| 10 | 55 | Alex Palou | 1:48.359 | 0.7472 | 0.0522 | 45 | 113.290 | Honda | Dale Coyne Racing with Team Goh |
| 11 | 9 | Scott Dixon | 1:48.363 | 0.7518 | 0.0046 | 39 | 113.286 | Honda | Chip Ganassi Racing |
| 12 | 5 | Pato O'Ward | 1:48.441 | 0.8295 | 0.0777 | 59 | 113.204 | Chevy | Arrow McLaren SP |
| 13 | 22 | Simon Pagenaud | 1:48.565 | 0.9536 | 0.1241 | 50 | 113.075 | Chevy | Team Penske |
| 14 | 21 | Rinus VeeKay | 1:48.679 | 1.0671 | 0.1135 | 67 | 112.957 | Chevy | Ed Carpenter Racing |
| 15 | 30 | Takuma Sato | 1:48.690 | 1.0781 | 0.0110 | 37 | 112.945 | Honda | Rahal Letterman Lanigan Racing |
| 16 | 4 | Charlie Kimball | 1:48.692 | 1.0810 | 0.0029 | 45 | 112.942 | Chevy | AJ Foyt Enterprises |
| 17 | 7 | Oliver Askew | 1:48.706 | 1.0944 | 0.0134 | 64 | 112.929 | Chevy | Arrow McLaren SP |
| 18 | 60 | Jack Harvey | 1:48.712 | 1.1007 | 0.0063 | 49 | 112.922 | Honda | Meyer Shank Racing |
| 19 | 14 | Sebastien Bourdais | 1:48.836 | 1.2246 | 0.1239 | 35 | 112.793 | Chevy | AJ Foyt Enterprises |
| 20 | 59 | Max Chilton | 1:48.877 | 1.2657 | 0.0411 | 56 | 112.751 | Chevy | Carlin |
| 21 | 18 | Santino Ferrucci | 1:48.972 | 1.3607 | 0.0950 | 41 | 112.653 | Honda | Dale Coyne Racing w/Vasser Sullivan |
| 22 | 20 | Conor Daly | 1:49.078 | 1.4666 | 0.1059 | 49 | 112.543 | Chevy | Ed Carpenter Racing |
| 23 | 10 | Felix Rosenqvist | 1:49.089 | 1.4778 | 0.0112 | 51 | 112.532 | Honda | Chip Ganassi Racing |
| 24 | 31 | Sergio Sette Camara | 1:49.819 | 2.2077 | 0.7299 | 15 | 111.784 | Chevy | Carlin |
| 25 | 15 | Graham Rahal | 1:49.828 | 2.2160 | 0.0083 | 32 | 111.775 | Honda | Rahal Letterman Lanigan Racing |
| 26 | 31 | Felipe Nasr | 1:50.768 | 3.1568 | 0.9408 | 49 | 110.826 | Chevy | Carlin |
| 27 | 14 | Dalton Kellett | No Time | — | — | — | — | Chevy | AJ Foyt Enterprises |