Sepang Test: Quartararo remains untouchable on Day 3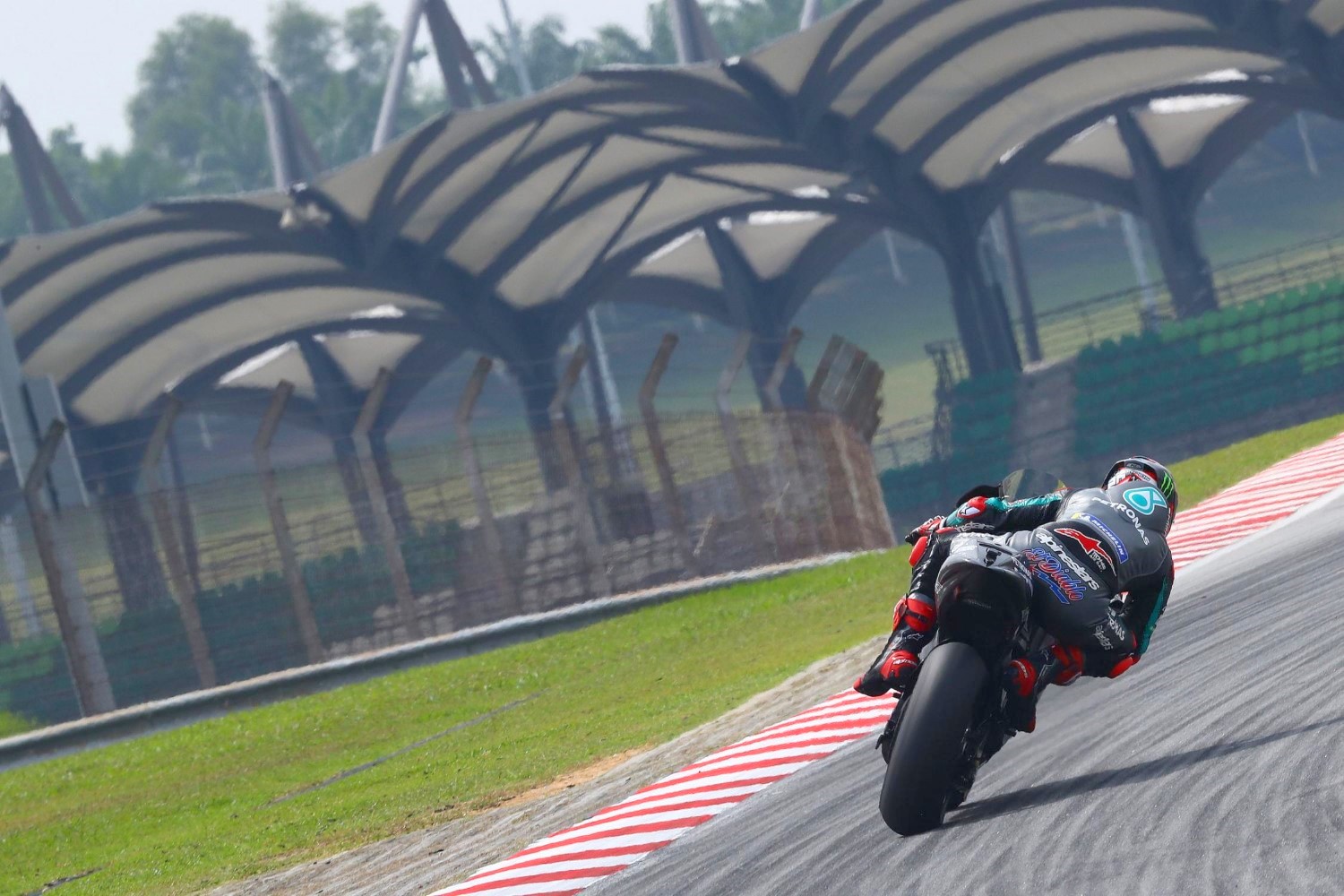 Fabio Quartararo
Fabio Quartararo (Petronas Yamaha SRT) made it a full house at the Sepang Test as he topped the timesheets once again on Sunday, with the Frenchman putting in a 1:58.349 to end the session close to the fastest ever lap of the Malaysian venue. He had some close company himself, however, with LCR Honda Castrol's Cal Crutchlow taking second place, 0.082 off, and Alex Rins (Team Suzuki Ecstar) taking third within 0.101 of the top. All manufacturers ended the test within 0.345.
The weather was on side again on Sunday, with only the last half hour or so affected by rain – but a few finished a little early whether by design or mishap. For Quartararo it was a shorter day than Saturday, as the Petronas Yamaha SRT rider put in 57 laps, setting his fastest on his 17th. Teammate Franco Morbidelli, on his "A-spec" machine, did 58 laps and ends the test in P13.
Valentino Rossi (Monster Energy Yamaha MotoGP) was actually the second fastest Yamaha rider on Sunday and overall at the test. His best was a 1:58.541 and that puts him in fifth overall after just over a half century of laps. Rossi's teammate Maverick Vinales, meanwhile, was way down the timesheets yet positive about the test; his best a 1:59.169 in P18 – but after a whopping 83 laps and some impressive long run pace. On Saturday evening, the Spaniard was especially impressed by the top speed improvement in the engine.
Test rider Jorge Lorenzo was out on track on Sunday too, with the Spaniard adding another 45 laps to the Iwata marque's program and proving a key point of interest. But Yamaha had another slightly different talking point too – something that looks very much like a holeshot device, spotted on Vinales', Rossi's and test rider Katsuyuki Nakasuga's machinery.
Honda's test program workhorse Cal Crutchlow kept them in the hunt for the top on Day 3. The Brit's best was a 1:58.431 and, predictably, he was one of the most prolific on track, completing 69 laps. Reigning Champion Marc Marquez did 47 laps and was P12, his day ending in a mishap at Turn 15 – rider ok. The Spaniard also reported in his debrief that he's more focused on getting the technical side of the new season sorted, rather than worried about his shoulder recovery.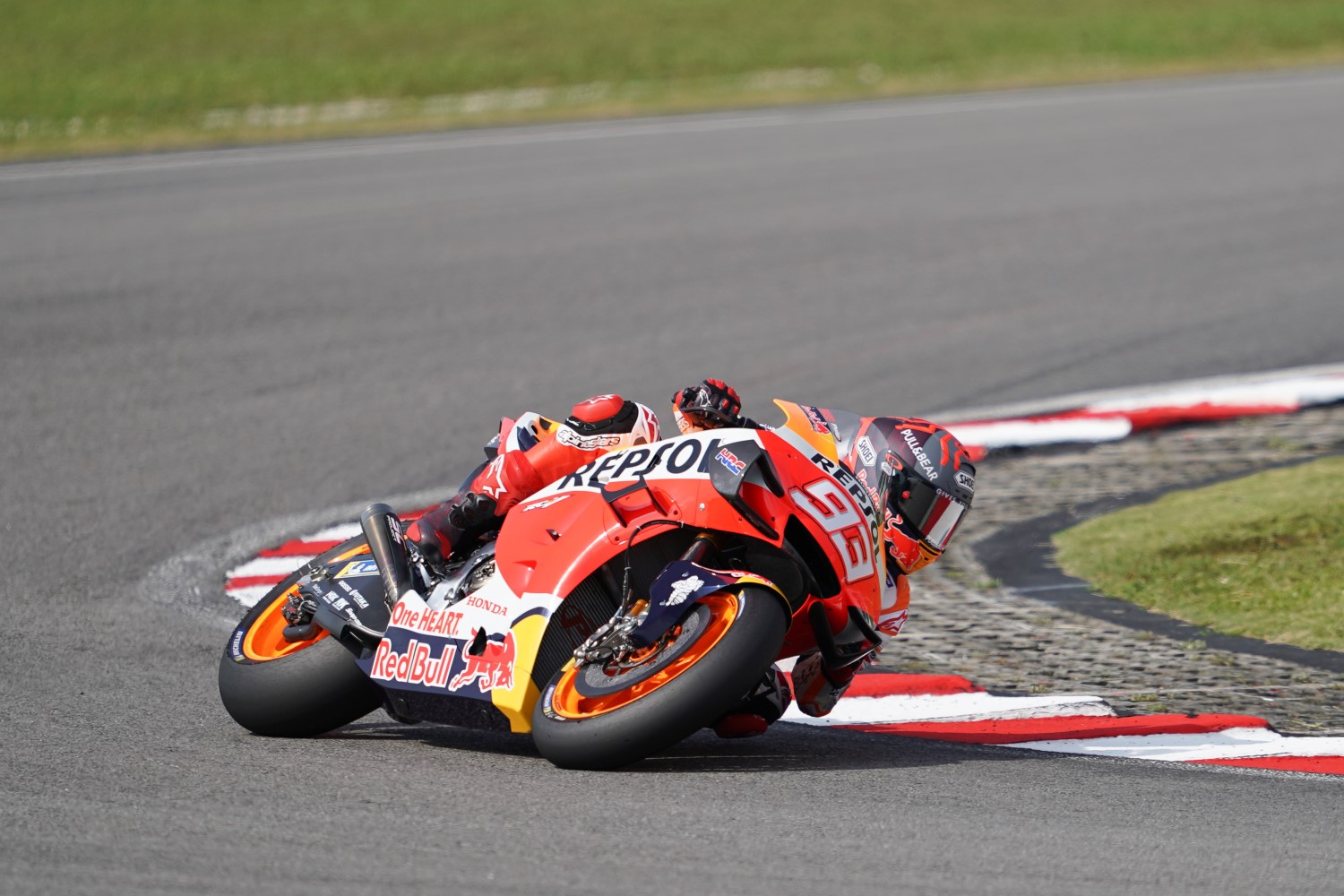 The recovering of surgery Marc Marquez fell yet again
His rookie teammate Alex Marquez was 16th and did 49 laps, ending the test less than half a tenth off getting into the 1:58s. Takaaki Nakagami (LCR Honda Idemitsu) did a best of a 1:59.860 a bit further back, completing 48 laps.
Alex Rins was back in charge of the Suzuki teammate battle for supremacy on Sunday. The number 42 almost made it three bikes in a tenth but for a single thousandth, and he did an apt 42 laps, downing tools a little early. Teammate Joan Mir was P10 after 32 laps, his best a 1:58.736 despite a crash at Turn 9. The feeling from the Hamamatsu factory seems positively brimming after the test, and some impressive long run pace in the mid 59s made for good reading too.
Ducati, meanwhile, saw their top position on the timesheets taken over by Francesco Bagnaia (Pramac Racing) as the Italian put in a 1:58.502 to secure P4 – only 0.052 off Rins. Ducati Team's Danilo Petrucci was sixth with a 1:58.606, and Jack Miller (Pramac Racing) eighth… but just 0.010 behind the Italian. Bagnaia and Miller both crashed at Turn 15, riders ok.
Andrea Dovizioso (Ducati Team) was a little further down in P14 with a best of 1:58.859, with every GP20 rider putting in around 50 laps each on Sunday. But Dovizioso sounded pretty satisfied, working on setup and feeling on the new tire in the morning – and pointing out that both he and Miller set their best on the medium…
Johann Zarco (Reale Avintia Racing), meanwhile, continued his improvement on the GP19 and ends the test 15th on Day 3, getting down to a 1:58.951 after 42 laps. Teammate Tito Rabat did a best of 1:59.549.
Day 3 Results
| | | | | | |
| --- | --- | --- | --- | --- | --- |
| Pos | Rider | Team | Time | Behind | Gap |
| 1 | QUARTARARO, Fabio | Petronas Yamaha SRT | 1:58.349 | 0.000s | 0.000s |
| 2 | CRUTCHLOW, Cal | LCR Honda CASTROL | 1:58.431 | 0.082 | 0.082 |
| 3 | RINS, Alex | Team SUZUKI ECSTAR | 1:58.450 | 0.101 | 0.019 |
| 4 | BAGNAIA, Francesco | Pramac Racing | 1:58.502 | 0.153 | 0.052 |
| 5 | ROSSI, Valentino | Monster Energy Yamaha MotoGP | 1:58.541 | 0.192 | 0.039 |
| 6 | PETRUCCI, Danilo | Ducati Team | 1:58.606 | 0.257 | 0.065 |
| 7 | ESPARGARO, Pol | Red Bull KTM Factory Racing | 1:58.610 | 0.261 | 0.004 |
| 8 | MILLER, Jack | Pramac Racing | 1:58.616 | 0.267 | 0.006 |
| 9 | ESPARGARO, Aleix | Aprilia Racing Team Gresini | 1:58.694 | 0.345 | 0.078 |
| 10 | MIR, Joan | Team SUZUKI ECSTAR | 1:58.736 | 0.387 | 0.042 |
| 11 | OLIVEIRA, Miguel | Red Bull KTM Tech 3 | 1:58.764 | 0.415 | 0.028 |
| 12 | MARQUEZ, Marc | Repsol Honda Team | 1:58.772 | 0.423 | 0.008 |
| 13 | MORBIDELLI, Franco | Petronas Yamaha SRT | 1:58.838 | 0.489 | 0.066 |
| 14 | DOVIZIOSO, Andrea | Ducati Team | 1:58.859 | 0.510 | 0.021 |
| 15 | ZARCO, Johann | Reale Avintia Racing | 1:58.951 | 0.602 | 0.092 |
| 16 | MARQUEZ, Alex | Repsol Honda Team | 1:59.042 | 0.693 | 0.091 |
| 17 | BINDER, Brad | Red Bull KTM Factory Racing | 1:59.104 | 0.755 | 0.062 |
| 18 | VIÃ'ALES, Maverick | Monster Energy Yamaha MotoGP | 1:59.169 | 0.820 | 0.065 |
| 19 | RABAT, Tito | Reale Avintia Racing | 1:59.549 | 1.200 | 0.380 |
| 20 | LORENZO, Jorge | Yamaha Test Team | 1:59.697 | 1.348 | 0.148 |
| 21 | SMITH, Bradley | Aprilia Factory Racing | 1:59.841 | 1.492 | 0.144 |
| 22 | NAKAGAMI, Takaaki | LCR Honda IDEMITSU | 1:59.860 | 1.511 | 0.019 |
| 23 | LECUONA, Iker | Red Bull KTM Tech 3 | 1:59.898 | 1.549 | 0.038 |
| 24 | GUINTOLI, Sylvain | SUZUKI Test Team | 2:00.100 | 1.751 | 0.202 |
| 25 | KALLIO, Mika | Red Bull KTM Factory Racing | 2:00.148 | 1.799 | 0.048 |
| 26 | TEST 1, Yamaha | Yamaha Test Team | 2:01.123 | 2.774 | 0.975 |
| 27 | TSUDA, Takuya | SUZUKI Test Team | 2:03.674 | 5.325 | 2.551 |
| NC | PEDROSA, Dani | Red Bull KTM Factory Racing | No Time | No Time | No Time |
| NC | SAVADORI, Lorenzo | Aprilia Racing Team Gresini | No Time | No Time | No Time |
| NC | PIRRO, Michele | Ducati Team | No Time | No Time | No Time |
| NC | TEST 2, Yamaha | Yamaha Test Team | No Time | No Time | No Time |