Ty Dillon tops opening Daytona 500 practice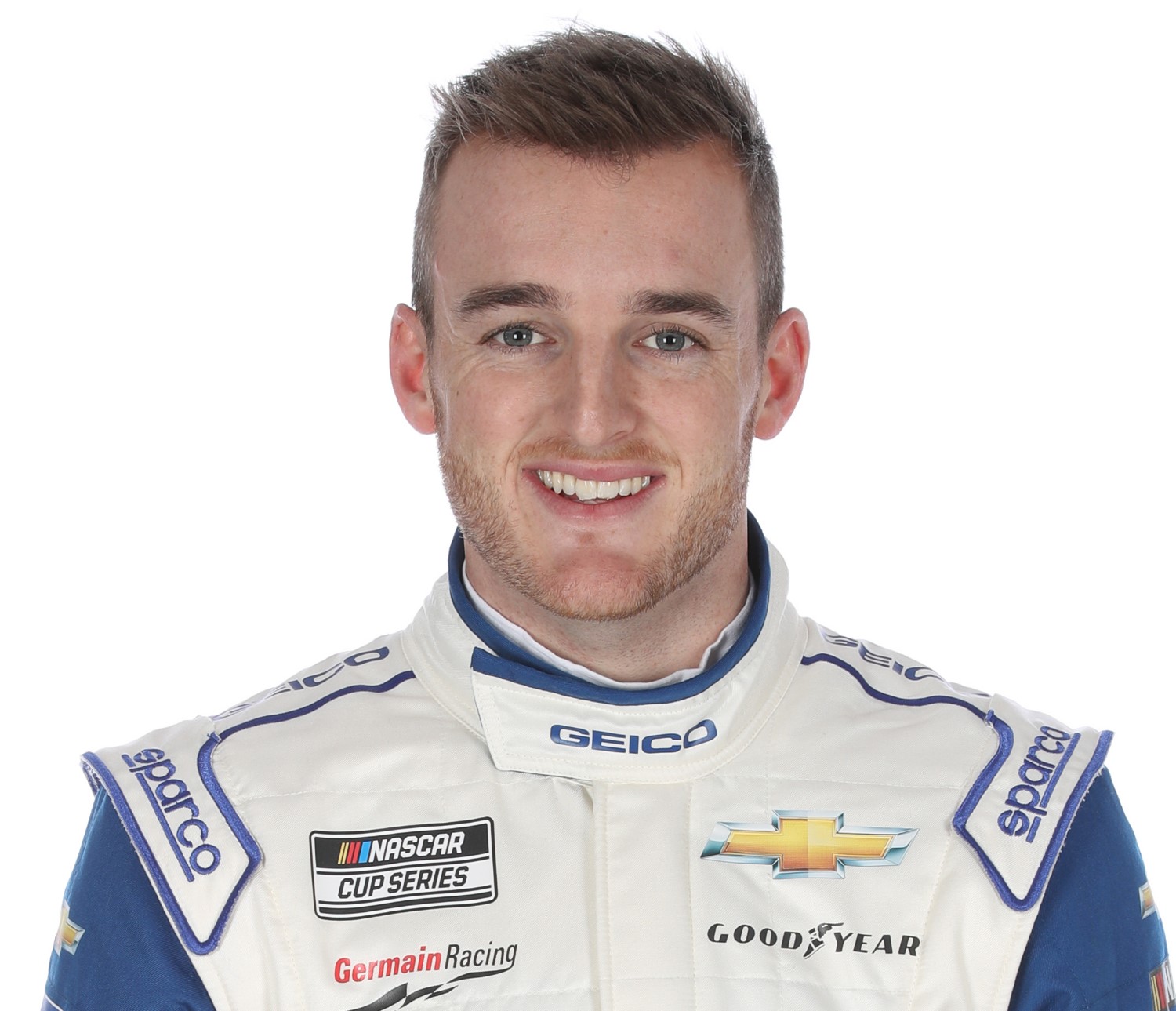 Ty Dillon
Ty Dillon clocked the fastest lap time in the first of two Daytona 500 practices Saturday at Daytona International Speedway. The driver of the No. 15 Germain Racing Chevrolet circled the 2.5-mile Florida track in 44.809 seconds at 203.592 mph.
As the only other driver to break the 203-mph mark, Ricky Stenhouse Jr. was second fastest at 203.192 mph in his No. 47 JTG Daugherty Chevrolet.
Joe Gibbs Racing drivers Denny Hamlin (202.684 mph), Erik Jones (202.525 mph) and Martin Truex Jr. (202.379 mph) then rounded out the top five in order with their Toyotas.
The bottom half of the top 10 featured a variety of competitors. Rookie Christopher Bell was sixth at 202.293 mph. Reigning NASCAR Cup Series champion Kyle Busch was seventh at 202.188 mph. Daniel Suarez and Matt DiBenedetto, who are both in new rides this season, were eighth (202.152 mph) and 10th (201.902 mph), respectively. The retired David Ragan was then ninth at 202.097 mph.
Daytona 500 Practice 1 Results
| | | | | | | | |
| --- | --- | --- | --- | --- | --- | --- | --- |
| Pos | Car | Driver | Team | Time | Speed | Behind | Gap |
| 1 | 13 | Ty Dillon | GEICO Chevrolet | 44.206 | 203.592 | —.— | —.— |
| 2 | 47 | Ricky Stenhouse Jr. | Kroger Chevrolet | 44.293 | 203.192 | -0.087 | -0.087 |
| 3 | 11 | Denny Hamlin | FedEx Express Toyota | 44.404 | 202.684 | -0.198 | -0.111 |
| 4 | 20 | Erik Jones | DEWALT Toyota | 44.439 | 202.525 | -0.233 | -0.035 |
| 5 | 19 | Martin Truex Jr. | Bass Pros Shops Toyota | 44.471 | 202.379 | -0.265 | -0.032 |
| 6 | 95 | Christopher Bell # | Procore Toyota | 44.490 | 202.293 | -0.284 | -0.019 |
| 7 | 18 | Kyle Busch | M&M's Toyota | 44.513 | 202.188 | -0.307 | -0.023 |
| 8 | *96 | Daniel Suarez | Toyota Certified Used Vehicles Toyota | 44.521 | 202.152 | -0.315 | -0.008 |
| 9 | 36 | David Ragan | Select Blinds Ford | 44.533 | 202.097 | -0.327 | -0.012 |
| 10 | 21 | Matt DiBenedetto | Motorcraft/Quick Lane Ford | 44.576 | 201.902 | -0.370 | -0.043 |
| 11 | 17 | Chris Buescher | Fastenal Ford | 44.739 | 201.167 | -0.533 | -0.163 |
| 12 | 10 | Aric Almirola | Smithfield Ford | 44.806 | 200.866 | -0.600 | -0.067 |
| 13 | 41 | Cole Custer # | Haas Automation Ford | 44.878 | 200.544 | -0.672 | -0.072 |
| 14 | 14 | Clint Bowyer | Rush/Mobil 1 Ford | 45.030 | 199.867 | -0.824 | -0.152 |
| 15 | 34 | Michael McDowell | Love's Travel Stops Ford | 45.158 | 199.300 | -0.952 | -0.128 |
| 16 | 38 | John Hunter | Citgard Ford | 45.160 | 199.291 | -0.954 | -0.002 |
| 17 | 6 | Ryan Newman | Koch Industries Ford | 45.277 | 198.776 | -1.071 | -0.117 |
| 18 | 43 | Bubba Wallace | United States Air Force Chevrolet | 45.290 | 198.719 | -1.084 | -0.013 |
| 19 | 15 | Brennan Poole # | SpartanGo Chevrolet | 45.364 | 198.395 | -1.158 | -0.074 |
| 20 | 32 | Corey LaJoie | RagingBull.com Ford | 45.380 | 198.325 | -1.174 | -0.016 |
| 21 | 2 | Brad Keselowski | Discount Tire Ford | 45.628 | 197.247 | -1.422 | -0.248 |
| 22 | *54 | JJ Yeley | Ford | 45.786 | 196.567 | -1.580 | -0.158 |
| 23 | 9 | Chase Elliott | NAPA Auto Parts Chevrolet | 45.868 | 196.215 | -1.662 | -0.082 |
| 24 | 48 | Jimmie Johnson | Ally Chevrolet | 46.056 | 195.414 | -1.850 | -0.188 |
| 25 | 88 | Alex Bowman | Valvoline Chevrolet | 46.155 | 194.995 | -1.949 | -0.099 |
| 26 | 00 | Quin Houff # | Jacob Construction Chevrolet | 46.190 | 194.847 | -1.984 | -0.035 |
| 27 | 8 | Tyler Reddick # | Caterpillar Chevrolet | 46.428 | 193.849 | -2.222 | -0.238 |
| 28 | 37 | Ryan Preece | Cottonelle Chevrolet | 46.449 | 193.761 | -2.243 | -0.021 |
| 29 | 4 | Kevin Harvick | Busch Light #PIT4BUSCH Ford | 46.585 | 193.195 | -2.379 | -0.136 |
| 30 | 24 | William Byron | Axalta 'Color of the Year' Chevrolet | 46.649 | 192.930 | -2.443 | -0.064 |
| 31 | 22 | Joey Logano | Shell Pennzoil Ford | 46.657 | 192.897 | -2.451 | -0.008 |
| 32 | 42 | Kyle Larson | Credit One Bank Chevrolet | 46.674 | 192.827 | -2.468 | -0.017 |
| 33 | *62 | Brendan Gaughan(i) | Beard Motorsports/South Point Chevrolet | 46.814 | 192.250 | -2.608 | -0.140 |
| 34 | 1 | Kurt Busch | Monster Energy Chevrolet | 46.829 | 192.189 | -2.623 | -0.015 |
| 35 | 12 | Ryan Blaney | Menards/Peak Ford | 46.958 | 191.661 | -2.752 | -0.129 |
| 36 | 3 | Austin Dillon | Bass Pro Shops/Tracker OffRoad Chev | 47.190 | 190.718 | -2.984 | -0.232 |
| 37 | 77 | Ross Chastain(i) | AdventHealth Chevrolet | 47.215 | 190.617 | -3.009 | -0.025 |
| 38 | 52 | BJ McLeod(i) | Ford | 47.324 | 190.178 | -3.118 | -0.109 |
| 39 | *27 | Reed Sorenson | Chevrolet | 47.340 | 190.114 | -3.134 | -0.016 |
| 40 | *16 | Justin Haley(i) | Fraternal Order of Eagles Chevrolet | 47.347 | 190.086 | -3.141 | -0.007 |
| 41 | 51 | Joey Gase(i) | EFX Corp. Chevrolet | 47.475 | 189.573 | -3.269 | -0.128 |
| 42 | *66 | Timmy Hill(i) | RoofClaim.com/VSI Racing Ford | 48.562 | 185.330 | -4.356 | -1.087 |
| 43 | *49 | Chad Finchum | Garrison Homes Toyota | 48.965 | 183.805 | -4.759 | -0.403 |