Hailie Deegan Sets The Pace At Daytona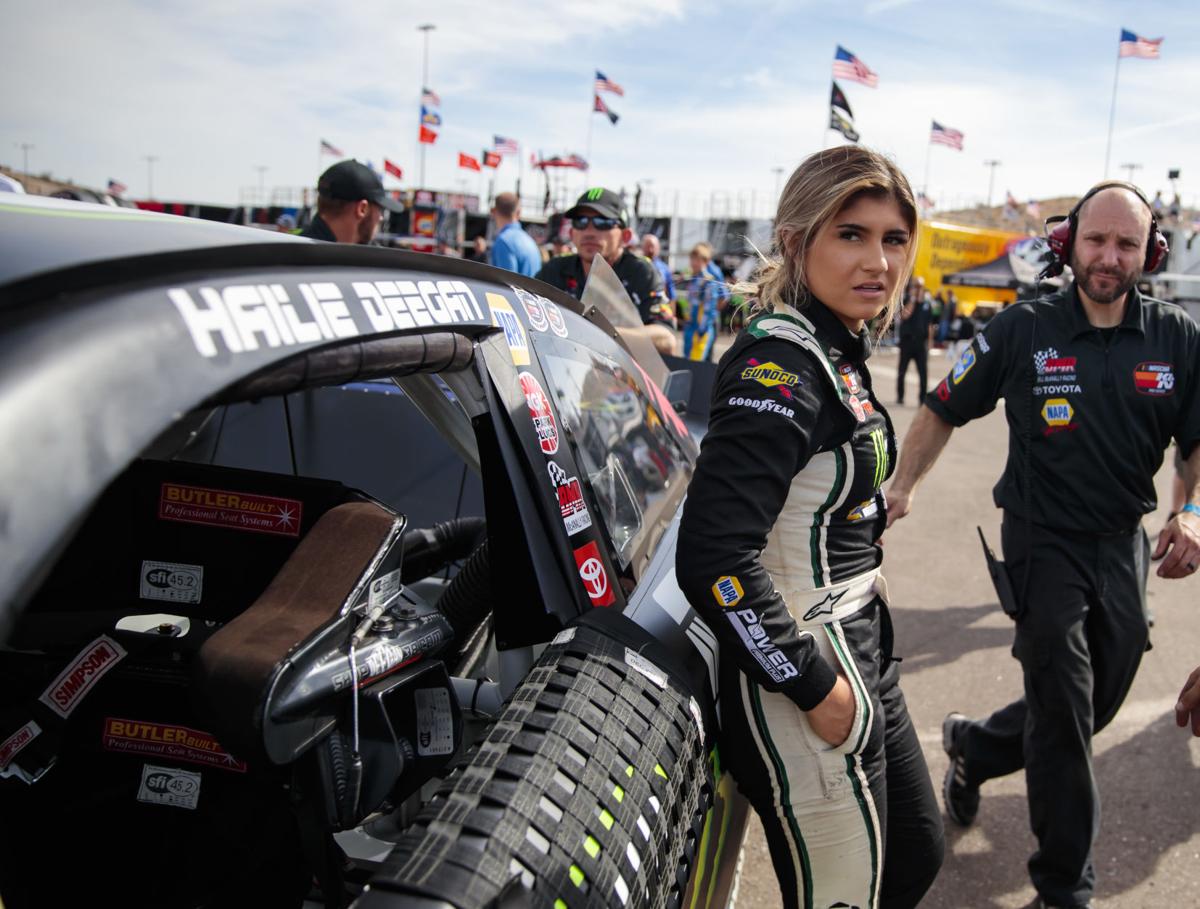 The making of Danica #2 – Hailie Deegan placed first in ARCA practice 1. So predictable.
Hailie Deegan led the way in dual 60-minute practice sessions on Friday afternoon in preparation for Saturday's Lucas Oil 200 driven by General Tire.
Deegan, who'll be making her first start for DGR-Crosley and Ford Performance, turned a 49.027-second lap around the 2.5-mile oval in the first session and ran 24 laps (third-most). She was among a handful of the faster cars that did not go out for the second session.
"That was the real drafting practice that I had with more than five cars," she said. "I needed that, and I didn't get a lot of that in the test. It was really good leading the pack too. Felt super stable, not darty at all."
Connor Hall, driving for Chad Bryant Racing, ran a lap of 49.496 seconds, good enough for first in final practice. Venturini Motorsports' drivers Michael Self, Ryan Repko and Drew Dollar didn't participate in the session, along with Joe Gibbs Racing's Riley Herbst.
Dollar (49.093), Tanner Gray (49.122), Herbst (49.141) and Bret Holmes (49.164) rounded out the top five speeds. Hall, Jacob Heafner, Gus Dean, Self and Repko competed the top 10.
Qualifying for the Lucas Oil 200 driven by General Tire is scheduled for Saturday, February 8 at 12:30 p.m. EST. The green flag for the season opener is scheduled for 4:30 p.m. EST on Fox Sports 1.
"That was crazy." 🤯

Hear from @HailieDeegan on her experience in the draft during first practice @DISupdates. ðŸ"Šâ¬†ï¸�#ARCAMenards | #LucasOil200 pic.twitter.com/jkHf9gxUeh

— ARCA Menards Series (@ARCA_Racing) February 7, 2020
Practice 1 Results:
| | | | | | | | |
| --- | --- | --- | --- | --- | --- | --- | --- |
| Rank | Driver | No. | Car | Time | Diff | Speed | # Laps |
| 1 | Hailie Deegan | 4 | Ford | 49.027 | 0.000s | 183.572 | 24 |
| 2 | Drew Dollar | 15 | Toyota | 49.093 | 0.066 | 183.326 | 22 |
| 3 | Tanner Gray | 17 | Ford | 49.122 | 0.095 | 183.217 | 14 |
| 4 | Riley Herbst | 18 | Toyota | 49.141 | 0.114 | 183.146 | 18 |
| 5 | Bret Holmes | 23 | Chevrolet | 49.164 | 0.137 | 183.061 | 16 |
| 6 | Connor Hall | 22 | Ford | 49.165 | 0.138 | 183.057 | 12 |
| 7 | Jacob Heafner | 77 | Ford | 49.172 | 0.145 | 183.031 | 15 |
| 8 | Gus Dean | 32 | Chevrolet | 49.188 | 0.161 | 182.971 | 19 |
| 9 | Michael Self | 25 | | 49.213 | 0.186 | 182.879 | 20 |
| 10 | Ryan Repko | 20 | Toyota | 49.217 | 0.190 | 182.864 | 20 |
| 11 | John Ferrier | 01 | Chevrolet | 49.360 | 0.333 | 182.334 | 21 |
| 12 | Thad Moffit | 46 | Ford | 49.410 | 0.383 | 182.149 | 20 |
| 13 | David Gravel | 28 | Chevrolet | 49.494 | 0.467 | 181.840 | 25 |
| 14 | Andy Seuss | 02 | Chevrolet | 49.500 | 0.473 | 181.818 | 26 |
| 15 | Sean Corr | 8 | Chevrolet | 49.931 | 0.904 | 180.249 | 14 |
| 16 | Thomas Praytor | 9 | Chevrolet | 49.956 | 0.929 | 180.159 | 14 |
| 17 | Willie Mullins | 3 | Ford | 50.338 | 1.311 | 178.791 | 21 |
| 18 | Natalie Decker | 52 | Ford | 50.459 | 1.432 | 178.363 | 17 |
| 19 | Dave Mader III | 63 | Chevrolet | 50.499 | 1.472 | 178.221 | 5 |
| 20 | Jason White | 12 | | 50.596 | 1.569 | 177.880 | 13 |
| 21 | J.J. Pack | 61 | Toyota | 50.861 | 1.834 | 176.953 | 11 |
| 22 | Chuck Hiers | 11 | Toyota | 50.925 | 1.898 | 176.730 | 11 |
| 23 | Dominique Van Wieringen | 30 | Ford | 51.257 | 2.230 | 175.586 | 7 |
| 24 | Ryan Huff | 10 | Toyota | 51.397 | 2.370 | 175.107 | 10 |
| 25 | Benny Chastain | 09 | Chevrolet | 51.442 | 2.415 | 174.954 | 13 |
| 26 | Scott Melton | 69 | Ford | 51.493 | 2.466 | 174.781 | 19 |
| 27 | Jason Kitzmiller | 97 | Chevrolet | 51.535 | 2.508 | 174.639 | 10 |
| 28 | Eric Caudell | 7 | Ford | 51.671 | 2.644 | 174.179 | 5 |
| 29 | Scott Reeves | 88 | Chevrolet | 51.785 | 2.758 | 173.796 | 12 |
| 30 | Tim Richmond | 06 | Toyota | 52.011 | 2.984 | 173.040 | 17 |
| 31 | Brad Smith | 48 | Chevrolet | 52.219 | 3.192 | 172.351 | 5 |
| 32 | Con Nicolopoulos | 0 | Chevrolet | 53.365 | 4.338 | 168.650 | 10 |
Practice 2 Results
| | | | | | | | |
| --- | --- | --- | --- | --- | --- | --- | --- |
| Rank | Driver | No. | Car | Time | Diff | Speed | # Laps |
| 1 | Connor Hall | 22 | Ford | 49.476 | 0.00s | 181.906 | 10 |
| 2 | Dave Mader III | 63 | Chevrolet | 49.495 | 0.019 | 181.837 | 6 |
| 3 | Dominique Van Wieringen | 30 | Ford | 49.568 | 0.092 | 181.569 | 16 |
| 4 | Willie Mullins | 3 | Ford | 49.685 | 0.209 | 181.141 | 11 |
| 5 | Sean Corr | 8 | Chevrolet | 49.786 | 0.310 | 180.774 | 22 |
| 6 | Jason White | 12 | | 49.792 | 0.316 | 180.752 | 5 |
| 7 | Thad Moffit | 46 | Ford | 49.816 | 0.340 | 180.665 | 15 |
| 8 | Natalie Decker | 52 | Ford | 49.820 | 0.344 | 180.650 | 9 |
| 9 | Chuck Hiers | 11 | Toyota | 49.852 | 0.376 | 180.534 | 3 |
| 10 | Jacob Heafner | 77 | Ford | 50.120 | 0.644 | 179.569 | 9 |
| 11 | Andy Seuss | 02 | Chevrolet | 50.605 | 1.129 | 177.848 | 13 |
| 12 | Jason Kitzmiller | 97 | Chevrolet | 50.606 | 1.130 | 177.845 | 12 |
| 13 | Bret Holmes | 23 | Chevrolet | 50.820 | 1.344 | 177.096 | 2 |
| 14 | Scott Melton | 69 | Ford | 50.942 | 1.466 | 176.672 | 19 |
| 15 | Tim Richmond | 06 | Toyota | 51.006 | 1.530 | 176.450 | 18 |
| 16 | Benny Chastain | 09 | Chevrolet | 51.027 | 1.551 | 176.377 | 8 |
| 17 | Ryan Huff | 10 | Toyota | 51.206 | 1.730 | 175.761 | 8 |
| 18 | Scott Reeves | 88 | Chevrolet | 51.433 | 1.957 | 174.985 | 14 |
| 19 | John Ferrier | 01 | Chevrolet | 51.648 | 2.172 | 174.257 | 8 |
| 20 | Eric Caudell | 7 | Ford | 52.075 | 2.599 | 172.828 | 4 |
| 21 | Brad Smith | 48 | Chevrolet | 52.109 | 2.633 | 172.715 | 4 |
| 22 | J.J. Pack | 61 | Toyota | 52.435 | 2.959 | 171.641 | 5 |
| 23 | Con Nicolopoulos | 0 | Chevrolet | 53.699 | 4.223 | 167.601 | 8 |
| 24 | Chuck Buchanan, Jr. | 87 | Chevrolet | 55.949 | 6.473 | 160.861 | 2 |