Ilmor NT1 Engine Powers NASCAR Truck Series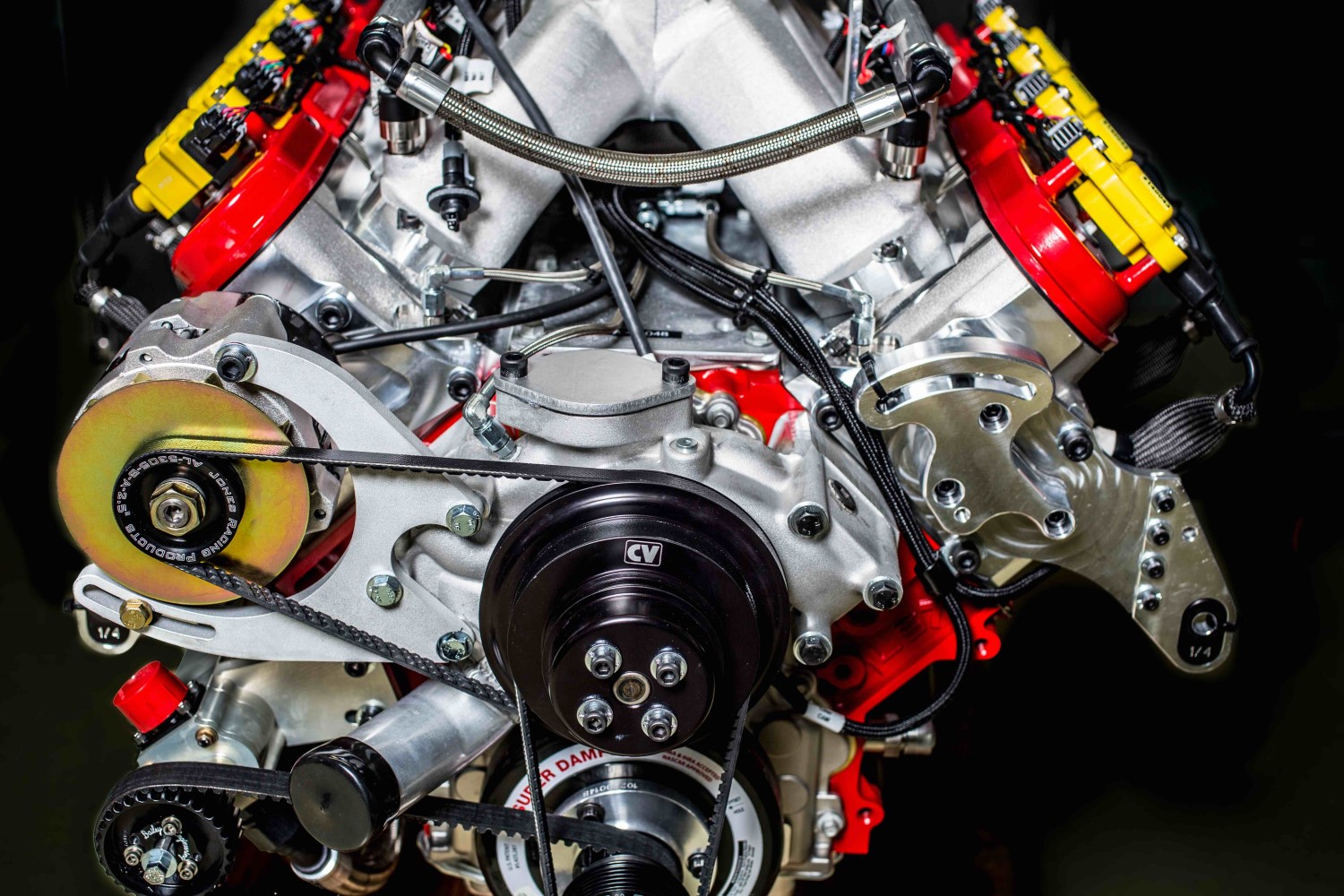 Ilmor NT1 Truck Engine
When Jordan Anderson began driving in the NASCAR Gander RV & Outdoors Truck Series in 2014, the teams he raced for didn't have the budget to lease a top-of-the-line engine. So they started each race with 25 to 30 horsepower less than the competitors who were going for a victory. Then, when NASCAR allowed the Ilmor NT1 engine into the series in 2018, Anderson knew his dream of owning a NASCAR truck team could be achieved.
"It was always a goal of mine – my dream – to start my own team," said Anderson. "When NASCAR announced the new engine program [allowing the teams to purchase the NT1 engines], that was the biggest deciding factor for me to jump in feet-first as a team owner. For a small team like mine, it was huge step forward. It finally made sense financially and we could also be more competitive. It makes me excited for the future of the series and my team."
The NT1, which is an updated version of the 396 cubic-inch engine that has appeared in the ARCA Series since 2015, was brought in by NASCAR to help curb expenses for the race teams. As fewer teams could afford expensive engine lease programs, starting fields had been dwindling and the disparity between the haves and have-nots continued to grow. While there are some upfront costs to the teams to mount the NT1, the team owns the engine outright, and sends it to Ilmor for rebuilds every 1,500 miles. This vastly reduced the overall budgets for teams.
"Before the Ilmor engine, we would always finish three to five laps down," said Anderson, who is entering his third full season as owner/driver. "Now, we're looking for top-fives. We even battled for the lead at Michigan [International Speedway] in 2019. It represents a huge step forward for us and one less worry for a small team. We're racers, and now we can concentrate on other things to make our trucks better."
Record-Setting Results
According to NASCAR statistics, the engine has made a big difference in the competition. There were a record numbers of lead changes during the 2018 and 2019 seasons. The truck series also had a record number of race leaders and an all-time number of green-flag passes throughout the field.
"We had 10 different winners in 2019," said Brad Moran, managing director of the NASCAR Truck Series. "Some of those wins were by new teams that are helping the series thrive. By making a reliable and powerful engine, the NT1 has allowed the series to get stronger and more competitive. It's an absolute positive for the fans: they see more winners and much more balanced and competitive fields."
Ilmor Engineering has been designing and building championship-winning engines in Formula One and IndyCar since its creation in 1983 by engineers Mario Illien and Paul Morgan. Going into the 2020 season, Ilmor-designed or built engines have powered 21 Indianapolis 500 wins and 334 overall victories in the IndyCar series.
Using their expertise from decades of racing across the globe, Ilmor's NT1 engines produce equal power and have been very reliable. In 2018, teams had engine-related issues which resulted in a DNF (did not finish) in only one percent of the race starts. That number was 1.2 percent in 2019, while covering more than 156,000 miles on-track.
When Bad Things Happen to Good Engines
In the Las Vegas race in September of last year, four competitors suffered engine failures due to extreme heat. Ilmor reacted immediately by going to the shops of the two teams impacted, ThorSport and Young Motorsports, to diagnose what had happened. All issues were corrected at Ilmor's expense. Young Motorsports and driver Spencer Boyd won the following race at Talladega Superspeedway with Ilmor power.
"It's stressful when something like that happens," described Ilmor's Andrew Richards, Program Manager for the NT1. "But Ilmor has been built on strong relationships and we did everything we could do to make sure each team was taken care of on an individual basis. We stand by our product and always do our best to do the right thing."
"Racing engines take a lot of abuse," said NASCAR's Moran. "But Ilmor resolved the issue swiftly and transparently. I think all of the teams felt good about things by the next race."
The 23-race NASCAR Gander RV & Outdoors Truck Series season kicks-off on Friday evening, February 14 at the Daytona International Speedway.