Sport Clips expands sponsorship with Joe Gibbs Racing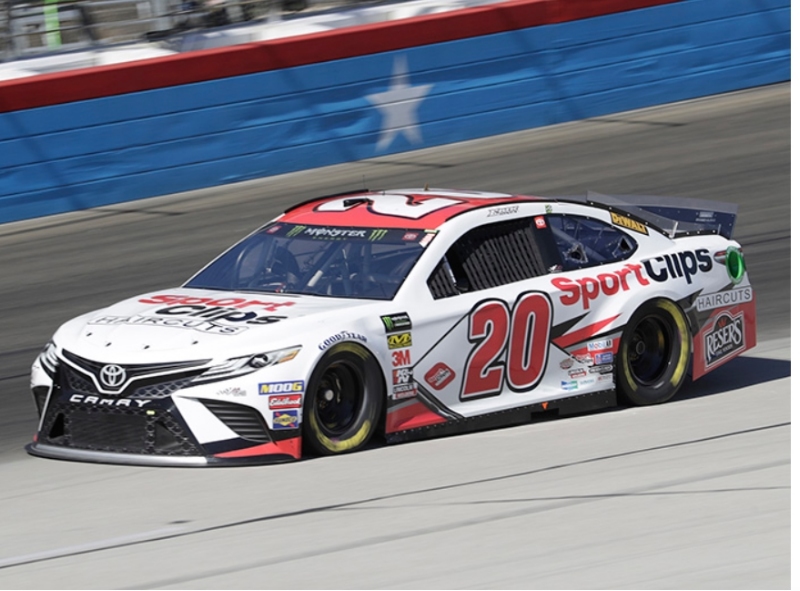 Sport Clips livery
Joe Gibbs Racing (JGR) announced today that Sport Clips will add Kyle Busch and Martin Truex Jr. to their family of drivers joining Erik Jones and Denny Hamlin.
Continuing their partnership with Jones, Sport Clips will partner with the No. 20 Toyota Camry team for five races throughout the season (The Clash at Daytona International Speedway – February 9, New Hampshire Motor Speedway – July 19, Darlington Raceway – September 6, Talladega Superspeedway – October 4, Texas Motor Speedway – October 25). Sport Clips first partnered with Jones in 2015 at Talladega Superspeedway in the NASCAR Xfinity Series and progressed with the 23-year-old to the Cup Series in 2017 during his rookie season. The duo won the prestigious Southern 500 at Darlington Raceway in 2019 and look to continue their success this season as they move in to their fourth year together in the Cup Series.
New to the Sport Clips family this year, 2019 NASCAR Cup Series Champion Busch will carry the Georgetown, Texas based company as his primary partner on the No. 18 Toyota Camry for the Cup Series race at Phoenix Raceway on March 8, 2020. In this race one year ago, Busch started from fourth and led 177 of 312 laps on his way to securing his first of five wins in the 2019 season.
With 26 Cup Series wins, Truex joins Sport Clips this season showcasing the recognizable red and white paint scheme on the No. 19 Toyota Camry for the Cup Series race at Dover International Speedway on May 3. Truex returns as the defending race winner, one of his seven victories in 2019.
With a decade-long partnership, Sport Clips will continue their relationship with Hamlin for his lone NASCAR Xfinity Series race of the 2020 season, the Sport Clips Help a Hero 200 at Darlington Raceway on September 5. Hamlin is no stranger to victory lane with Sport Clips having captured wins in both the Cup and Xfinity Series during his time representing the company.
"We are especially thrilled with our partnership with Joe Gibbs Racing this year because we get to welcome two additional drivers to the Sport Clips team with Kyle and Martin joining Erik and Denny," said Gordon Logan, founder and CEO of Sport Clips. "Together, these four drivers bring decades of NASCAR experience to the team and further strengthen our partnership with JGR. I know our clients will be excited to watch these guys hit the track and bring home some big wins this season."
The 2020 season will mark Sport Clips 12th season partnering with JGR. During their relationship with the team, Sport Clips has been partnered with multiple drivers including Jones, Hamlin, Carl Edwards and Joey Logano. Earning multiple wins across the Cup and Xfinity Series throughout their time at JGR, two Southern 500 wins with Jones and Hamlin top the list with notable wins also coming at Atlanta Motor Speedway with Hamlin and Texas Motor Speedway with Edwards.
"Sport Clips has been a tremendous partner for us over the past 12 years and we greatly value the relationship we've built with Gordon (Logan) and everyone on his team," said Joe Gibbs, owner of Joe Gibbs Racing. "We're thrilled this year to have them expand their partnership to include Kyle and Martin in the NASCAR Cup Series as well as continue to sponsor Erik in the Cup Series and Denny in the Xfinity Race at Darlington. We're proud of our association with Sport Clips and especially with the work they do in our communities and with our country's veterans."