Montoya takes Gamers to school to win Miami's Fastest Gamer crown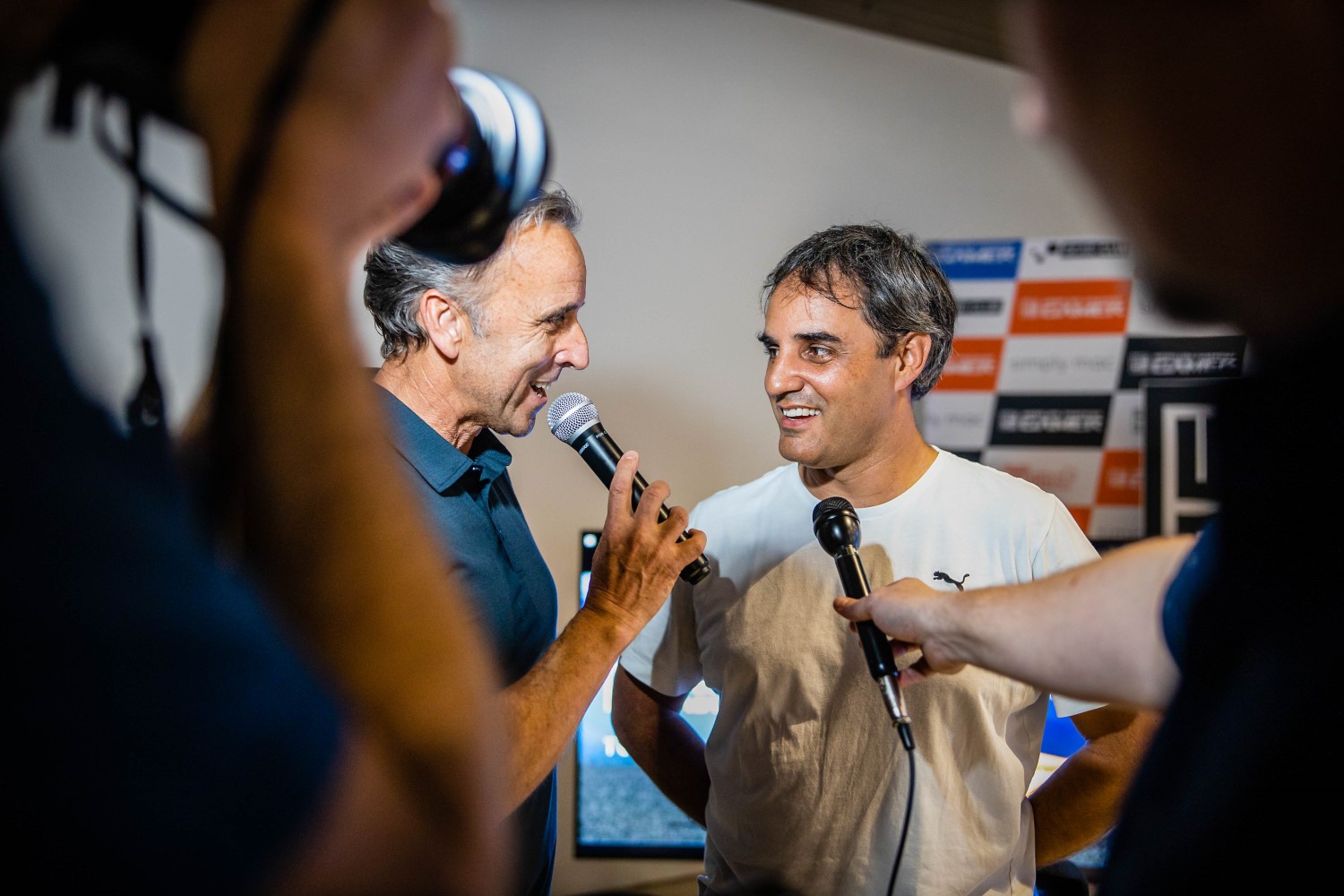 Juan Montoya
Racing legend Juan Pablo Montoya showed he has the virtual skills to match his real-world victories with a stunning winning drive in today's inaugural Miami's Fastest Gamer.
A spin-off of the World's Fastest Gamer competition, the Miami's Fastest Gamer event brought together racing legends like Montoya and Adrian Fernandez, next-generation stars from the Montoya, Barrichello, and Fittipaldi families plus local real-world and virtual racers.
Montoya started third in today's final and was part of a fierce battle at the front with pole man Ed Jones (DTM/IndyCar) and James Davison (IndyCar/GT racing).
As Jones and Davison battled for position on the opening lap, Montoya was able to sneak through and then drove a stunning race to hold on over the ten-lap journey. The Monaco Grand Prix, 2 x Indy 500, and 3 x Rolex 24 at Daytona winner came under massive pressure from Jones on the final lap but was able to hold on to take the crown.
"It's unbelievable. I can't believe the intensity where you are racing these guys on the simulator. I was burning up – my head felt so hot because you have to be so focussed," Montoya said.
"Ed (Jones) did a great job, but I was surprised I had anything for them. I didn't think I was quick enough, but I just put the laps together, and it was pretty damn good – I'm surprised.
"I think it's cool because the sim racers are really good. They spend a lot of hours on it. One of the things you could see was the racecraft from the guys that have done a lot of real racing start to pay off. In pure lap speed, the sim guys are really good, but I think we got them today in the little details.
"Honestly, from driving and watching today, I haven't been this excited about racing in a long time. Everyone in this room who was watching was cheering for somebody – it was so cool.
"I'm a big believer that sim racing is going to be huge – but after today, this is a different level – it was incredible."
Rubens Barrichello's son Eduardo took third place after his last corner lunge on Jones came up short while World's Fastest Gamer winner James Baldwin crossed the line in fourth after starting on the back row.
The Miami's Fastest Gamer event is a prelude to Miami Esports Arena, which was announced by Torque Esports and it's simulator manufacturing company Allinsports in October of last year.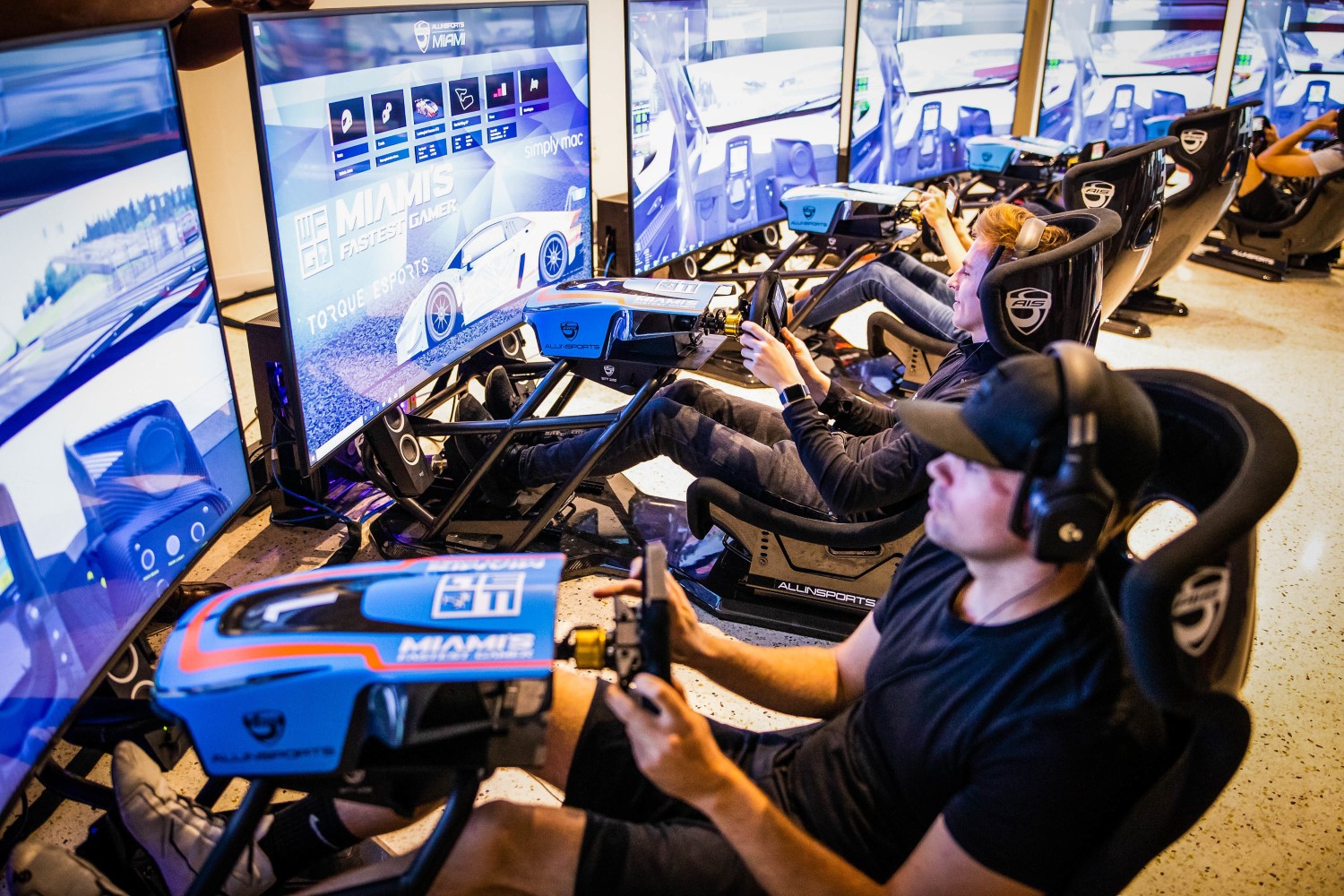 Real race drivers go at it
"Today's performance from Juan was massively impressive because although he wasn't necessarily the fastest guy out there, he used his years of racing experience to hold off some very fast drivers," Allinsports President, Anton Stiponovich said.
"Many of our young gamers and local racers have put in a lot of laps to prepare for today's event, but Juan did the job.
"Today's event was brilliant and really showcased how exciting esports racing can be both from a competitor's perspective but also as a spectator. We're planning to hold these types of events regularly, and the intensity will go even higher when we open the new arena.
"And Miami will just be the first step – this is the pilot city for these types of races, and we'll also expand in the future to include other venues around the world plus online competitions."
Today's final field also included Haas F1 reserve driver Pietro Fittipaldi, IMSA GT race winner Robby Foley and former racer/turned gamer, Chris Munoz.
Torque Esports has been making industry headlines with the announcement of the Miami Esports Arena plus the reveal of key acquisitions, including motorsport simulator experts, Allinsports, and gaming competition group UMG.
Torque also recently announced it was forming a three-way partnership Frankly Media and WinView Games to create an integrated news, gaming, sports, and esports platform