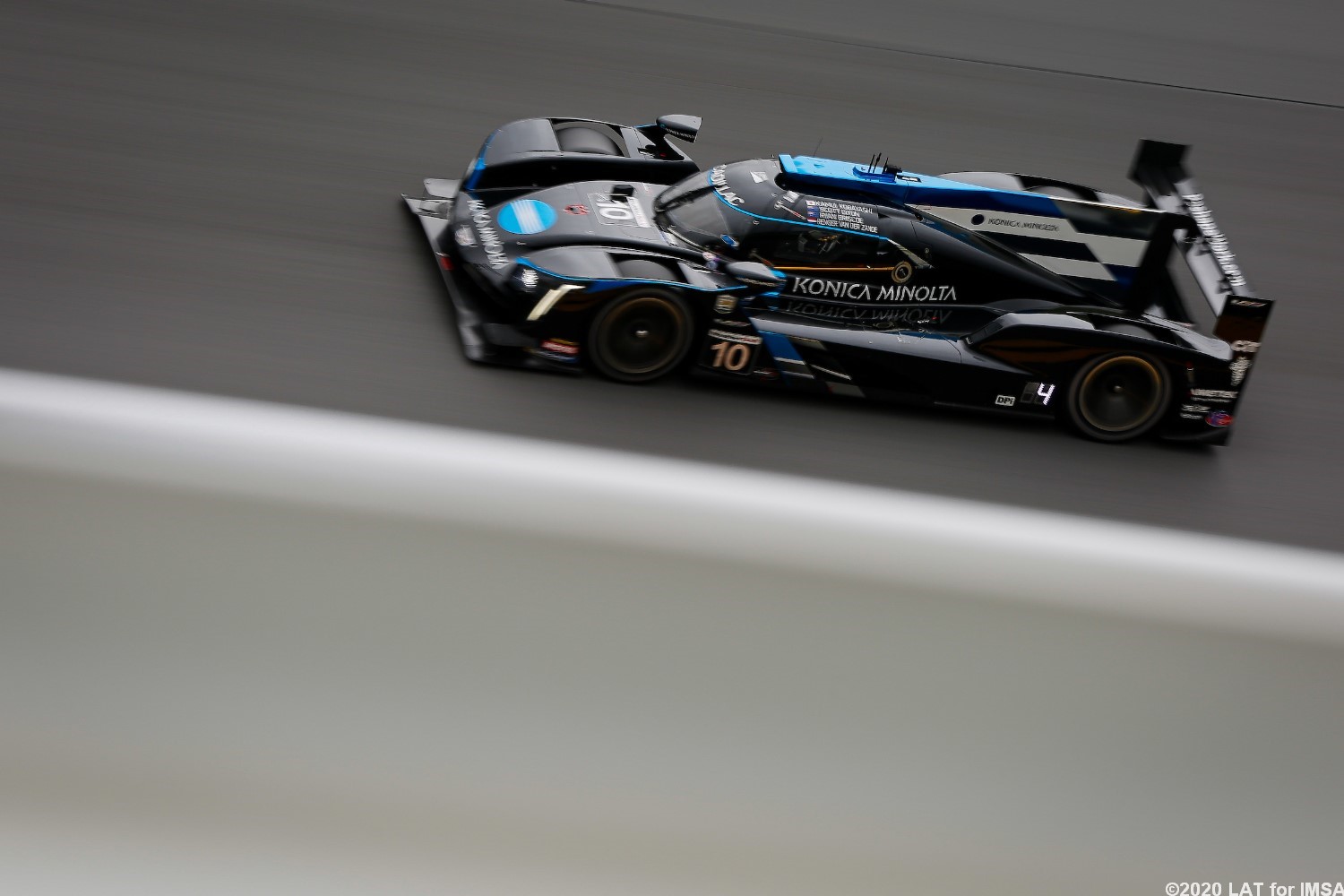 The #10 Cadillac looks like a easy winner with one hour to go.
With one hour to go in the Rolex 24 the #10 Cadillac appears headed to an easy win with over a 1-minute lead over the #5 Cadillac. The #77 Mazda of Oliver Jarvis is hanging on to the end of the lead lap but the Cadillacs are too quick after IMSA neutered their competitors.
Juan Montoya has fallen 4 laps behind in the #6 Penske Acura and Ryan Hunter-Reay rounds out the top-5 in the #55 Mazda.
Ben Hanley leads in LMP2 in the Dragonspeed Oreca over the #52 Oreca.
The Nick Tandy #911 Porsche leads in GTLM but the Jesse Krohn #24 RLLL BMW is closing and looks set to pass him soon with Earl Bamber not far behind in the #912 Porsche.
Hour 23 Standings
| | | | | | | | | |
| --- | --- | --- | --- | --- | --- | --- | --- | --- |
| Pos | Class | Pic | Current Driver | No./Make | Laps | Behind | Bic | Stops |
| 1 | DPI | 1 | Kamui Kobayashi | #10 CADILLAC DPI | 796 | –.— | –.— | 39 |
| 2 | DPI | 2 | Loic Duval | #5 CADILLAC DPI | 796 | 1:05.836 | 1:05.836 | 36 |
| 3 | DPI | 3 | Oliver Jarvis | #77 MAZDA DPI | 795 | 1 LAP | 1 LAP | 39 |
| 4 | DPI | 4 | Juan Pablo Montoya | #6 ACURA DPI | 792 | 4 LAPS | 4 LAPS | 40 |
| 5 | DPI | 5 | Ryan Hunter Reay | #55 MAZDA DPI | 789 | 7 LAPS | 7 LAPS | 39 |
| 6 | DPI | 6 | Matheus Leist | #85 CADILLAC DPI | 787 | 9 LAPS | 9 LAPS | 36 |
| 7 | DPI | 7 | Felipe Nasr | #31 CADILLAC DPI | 785 | 11 LAPS | 11 LAPS | 38 |
| 8 | DPI | 8 | Helio Castroneves | #7 ACURA DPI | 774 | 22 LAPS | 22 LAPS | 40 |
| 9 | LMP2 | 1 | Ben Hanley | #81 ORECA LMP2 07 | 774 | 22 LAPS | –.— | 37 |
| 10 | LMP2 | 2 | Gabriel Aubry | #52 ORECA LMP2 07 | 773 | 23 LAPS | 1 LAP | 38 |
| 11 | LMP2 | 3 | Nic Minassian | #18 ORECA LMP2 07 | 763 | 33 LAPS | 11 LAPS | 36 |
| 12 | LMP2 | 4 | Nicolas Lapierre | #8 ORECA LMP2 07 | 762 | 34 LAPS | 12 LAPS | 40 |
| 13 | GTLM | 1 | Nick Tandy | #911 PORSCHE 911 RSR – 19 | 751 | 45 LAPS | –.— | 26 |
| 14 | GTLM | 2 | Jesse Krohn | #24 BMW M8 GTE | 751 | 45 LAPS | 5.794 | 26 |
| 15 | GTLM | 3 | Earl Bamber | #912 PORSCHE 911 RSR – 19 | 751 | 45 LAPS | 7.644 | 26 |
| 16 | GTLM | 4 | Antonio Garcia | #3 CHEVROLET CORVETTE C8.R | 751 | 45 LAPS | 27.657 | 28 |
| 17 | LMP2 | 5 | Cameron Cassels | #38 ORECA LMP2 07 | 748 | 48 LAPS | 26 LAPS | 39 |
| 18 | GTLM | 5 | James Calado | #62 FERRARI 488 GTE | 738 | 58 LAPS | 13 LAPS | 29 |
| 19 | GTLM | 6 | Colton Herta | #25 BMW M8 GTE | 737 | 59 LAPS | 14 LAPS | 28 |
| 20 | GTD | 1 | Andrea Caldarelli | #48 LAMBORGHINI HURACAN GT3 | 730 | 66 LAPS | –.— | 28 |
| 21 | GTD | 2 | Marco Mapelli | #44 LAMBORGHINI HURACAN GT3 | 730 | 66 LAPS | 12.162 | 28 |
| 22 | GTD | 3 | Mirko Bortolotti | #88 AUDI R8 LMS GT3 | 730 | 66 LAPS | 51.914 | 27 |
| 23 | GTD | 4 | Klaus Bachler | #16 PORSCHE 911 GT3 R | 730 | 66 LAPS | 54.009 | 29 |
| 24 | GTD | 5 | Bill Auberlen | #96 BMW M6 GT3 | 729 | 67 LAPS | 1 LAP | 29 |
| 25 | GTD | 6 | Jeroen Bleekemolen | #54 PORSCHE 911 GT3 R | 729 | 67 LAPS | 1 LAP | 28 |
| 26 | GTD | 7 | Toni Vilander | #63 FERRARI 488 GT3 | 728 | 68 LAPS | 2 LAPS | 28 |
| 27 | GTD | 8 | Aj Allmendinger | #57 ACURA NSX GT3 | 728 | 68 LAPS | 2 LAPS | 27 |
| 28 | GTD | 9 | Kyle Busch | #14 LEXUS RC F GT3 | 724 | 73 LAPS | 7 LAPS | 29 |
| 29 | GTD | 10 | Mario Farnbacher | #86 ACURA NSX GT3 | 713 | 83 LAPS | 17 LAPS | 29 |
| 30 | GTD | 11 | Gar Robinson | #74 MERCEDES-AMG GT3 | 707 | 89 LAPS | 23 LAPS | 28 |
| 31 | GTD | 12 | Aaron Telitz | #12 LEXUS RC F GT3 | 694 | 102 LAPS | 36 LAPS | 27 |
| 32 | GTD | 13 | Patrick Pilet | #9 PORSCHE 911 GT3 R | 682 | 114 LAPS | 48 LAPS | 25 |
| 33 | GTD | 14 | Jonathan Hoggard | #47 LAMBORGHINI HURACAN GT3 | 608 | 188 LAPS | 122 LAPS | 23 |
| 34 | GTD | 15 | Richard Heistand | #11 LAMBORGHINI HURACAN GT3 | 599 | 197 LAPS | 131 LAPS | 28 |
| 35 | GTD | 16 | Christina Nielsen | #19 LAMBORGHINI HURACAN GT3 | 471 | 325 LAPS | 259 LAPS | 20 |
| 36 | GTLM | 7 | Marcel Fassler | #4 CHEVROLET CORVETTE C8.R | 426 | 370 LAPS | 325 LAPS | 17 |
| 37 | GTD | 17 | Ross Gunn | #98 ASTON MARTIN VANTAGE GT3 | 189 | 607 LAPS | 541 LAPS | 9 |
| 38 | GTD | 18 | Alex Riberas | #23 ASTON MARTIN VANTAGE GT3 | 151 | 645 LAPS | 579 LAPS | 6 |