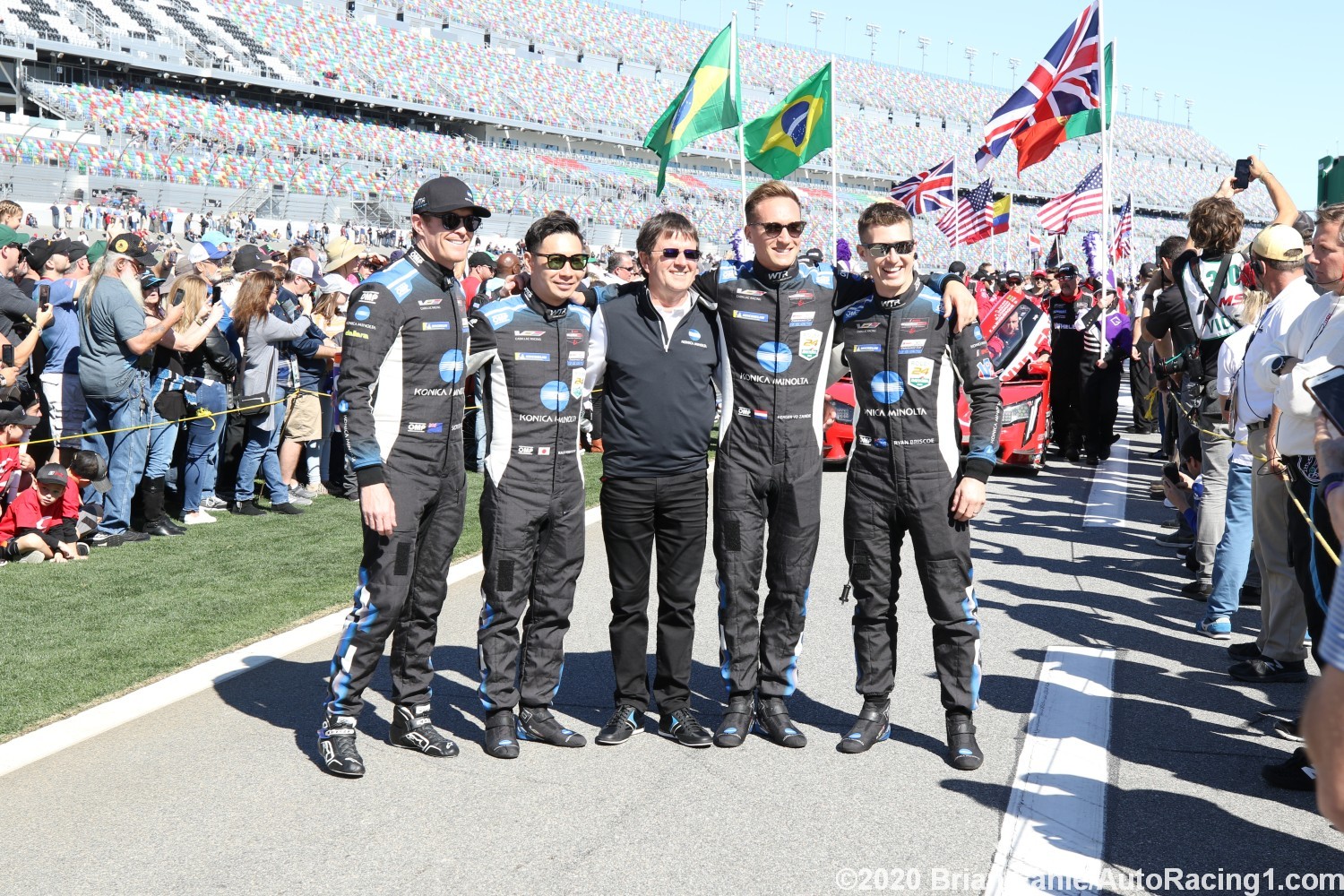 The #10 Cadillac drivers head for victory
Brian Fahie/AR1.com
Kamui Kobayashi and Wayne Taylor Racing held a lead of half a minute over their closest pursuer as the 58th Rolex 24 at Daytona entered its final two hours.
He took over the car from Ryan Briscoe who overcame a pit lane penalty to retake the lead in the No. 10 Cadillac DPi-V.R with just under four hours remaining.
The combination of Briscoe and Kobayashi has steadily increased the gap over Tristan Nunez in the No. 77 Mazda RT24-P and the No. 5 JDC-Miller Motorsports Cadillac driven by Loic Duval.
Ben Hanley and DragonSpeed held a lap advantage in the LMP2 category over the chasing Ben Keating out of the PR1/Mathiasen Motorsports stable.
Keating was on a recovery drive after a minor accident with six hours and 20 minutes to go that cost the team three laps, but it has since been able to make up two of them.
BMW-Porsche GTLM Battle Rages On
The race-long battle at the front of the GT Le Mans class between BMW Team RLL and Porsche GT Team continued to evolve into the final two hours.
John Edwards and Mathieu Jaminet traded the lead three times, starting with a pass from BMW driver Edwards on his Porsche counterpart on the tri-oval midway through Hour 20.
Risi Competizione's Ferrari 488 GTE Evo and the No. 3 Chevrolet Corvette C8.R remain in contention, with the latter occasionally breaching the top three on its alternate pit strategy.
In GT Daytona, Andrea Caldarelli led in the Paul Miller Racing Lamborghini Huracan GT3 Evo.
The other three cars on the lead lap are the WRT Speedstar Audi R8 LMS GT3 Evo, the GRT Magnus Lamborghini and the Wright Motorsports Porsche 911 GT3 R.
Hour 22 Standings
| | | | | | | |
| --- | --- | --- | --- | --- | --- | --- |
| Pos | Pic | No. | Class | Drivers | Car | Laps |
| 1 | 1 | 10 | DPi | R. Briscoe/S. Dixon/K. Kobayashi/van der Zande | Cadillac DPi | 761 |
| 2 | 2 | 77 | DPi | O. Jarvis/T. Nunez/O. Pla | Mazda DPi | 761 |
| 3 | 3 | 5 | DPi | J. Barbosa/S. Bourdais/L. Duval | Cadillac DPi | 761 |
| 4 | 4 | 6 | DPi | D. Cameron/J. Montoya/S. Pagenaud | Acura DPi | 758 |
| 5 | 5 | 55 | DPi | J. Bomarito/H. Tincknell/R. Hunter-Reay | Mazda DPi | 757 |
| 6 | 6 | 85 | DPi | J. Piedrahita/M. Leist/C. Miller/T. Vautier | Cadillac DPi | 754 |
| 7 | 7 | 31 | DPi | F. Nasr/M. Conway/P. Derani/F. Albuquerque | Cadillac DPi | 750 |
| 8 | 1 | 81 | LMP2 | B. Hanley/H. Hedman/C. Braun/H. Newey | ORECA LMP2 07 | 741 |
| 9 | 8 | 7 | DPi | H. Castroneves/A. Rossi/R. Taylor | Acura DPi | 740 |
| 10 | 2 | 52 | LMP2 | N. Boulle/G. Aubry/B. Keating/S. Trummer | ORECA LMP2 07 | 739 |
| 11 | 3 | 18 | LMP2 | N. Minassian/D. Merriman/K. Tilley/R. Lewis | ORECA LMP2 07 | 731 |
| 12 | 4 | 8 | LMP2 | J. Farano/R. Dalziel/D.H Hansson/N. Lapierre | ORECA LMP2 07 | 728 |
| 13 | 1 | 24 | GTLM | J. Krohn/J. Edwards/C. Mostert/A. Farfus | BMW M8 GTE | 718 |
| 14 | 2 | 912 | GTLM | E. Bamber/L. Vanthoor/M. Jaminet | Porsche 911 RSR – 19 | 718 |
| 15 | 3 | 3 | GTLM | A. Garcia/J. Taylor/N. Catsburg | Chevrolet Corvette C8.R | 718 |
| 16 | 4 | 911 | GTLM | N. Tandy/F. Makowiecki/M. Campbell | Porsche 911 RSR – 19 | 718 |
| 17 | 5 | 62 | GTLM | J. Calado/A. Pier Guidi/D. Serra/D. Rigon | Ferrari 488 GTE | 718 |
| 18 | 5 | 38 | LMP2 | Cassels/K. Masson/R. Masson/Yount | ORECA LMP2 07 | 716 |
| 19 | 6 | 25 | GTLM | Spengler/C. De Phillippi/P. Eng/Herta | BMW M8 GTE | 705 |
| 20 | 1 | 44 | GTD | M. Mapelli/S. Pumpelly/J. Potter/A. Lally | Lamborghini Huracan GT3 | 699 |
| 21 | 2 | 48 | GTD | B. Sellers/M. Snow/C. Lewis/A. Caldarelli | Lamborghini Huracan GT3 | 699 |
| 22 | 3 | 88 | GTD | M. Bortolotti/R. Ineichen/D. Morad/D. Vanthoor | Audi R8 LMS GT3 | 699 |
| 23 | 4 | 16 | GTD | R. Hardwick/P. Long/A. Imperato/K. Bachler | Porsche 911 GT3 R | 699 |
| 24 | 5 | 54 | GTD | T. Pappas/J. Bleekemolen/T. Estep/S. Muller | Porsche 911 GT3 R | 698 |
| 25 | 6 | 96 | GTD | J. Klingmann/D. Machavern/B. Auberlen/R. Foley | BMW M6 GT3 | 698 |
| 26 | 7 | 57 | GTD | A. Parente/M. Goikhberg /Allmendinger/ T. Hindman | Acura NSX GT3 | 697 |
| 27 | 8 | 63 | GTD | C. MacNeil/T. Vilander/J. Westphal/ A. Balzan | Ferrari 488 GT3 | 697 |
| 28 | 9 | 14 | GTD | P. Chase/J. Hawksworth/K. Busch/M. De Quesada | Lexus RC F GT3 | 693 |
| 29 | 10 | 86 | GTD | M. Farnbacher/M. McMurry/S. Michimi/J. Gounon | Acura NSX GT3 | 682 |
| 30 | 11 | 74 | GTD | G. Robinson/L. Aschenbach/B. Keating/F. Fraga | Mercedes-AMG GT3 | 676 |
| 31 | 12 | 12 | GTD | F. Montecalvo/T. Bell/S. van Gisbergen/A. Telitz | Lexus RC F GT3 | 664 |
| 32 | 13 | 9 | GTD | D. Olsen/Z. Robichon/L. Kern/P. Pilet | Porsche 911 GT3 R | 651 |
| 33 | 14 | 47 | GTD | B. Gdovic/M. Kvamme/J. Hoggard/E. Lux | Lamborghini Huracan GT3 | 608 |
| 34 | 15 | 11 | GTD | R. Heistand/S. Schothorst/F. Perera/A. Costa | Lamborghini Huracan GT3 | 569 |
| 35 | 16 | 19 | GTD | C. Nielsen/K. Legge/T. Calderon/R. Frey | Lamborghini Huracan GT3 | 471 |
| 36 | 7 | 4 | GTLM | O. Gavin/T. Milner/M. Fassler | Chevrolet Corvette C8.R | 394 |
| 37 | 17 | 98 | GTD | P. Lamy/R. Gunn/A. Watson M. Lauda | Aston Martin Vantage GT3 | 189 |
| 38 | 18 | 23 | GTD | A. Riberas/R. De Angelis/I. James/N. Thiim | Aston Martin Vantage GT3 | 151 |