Rolex 24: Hour 20 Update (3/4-mark)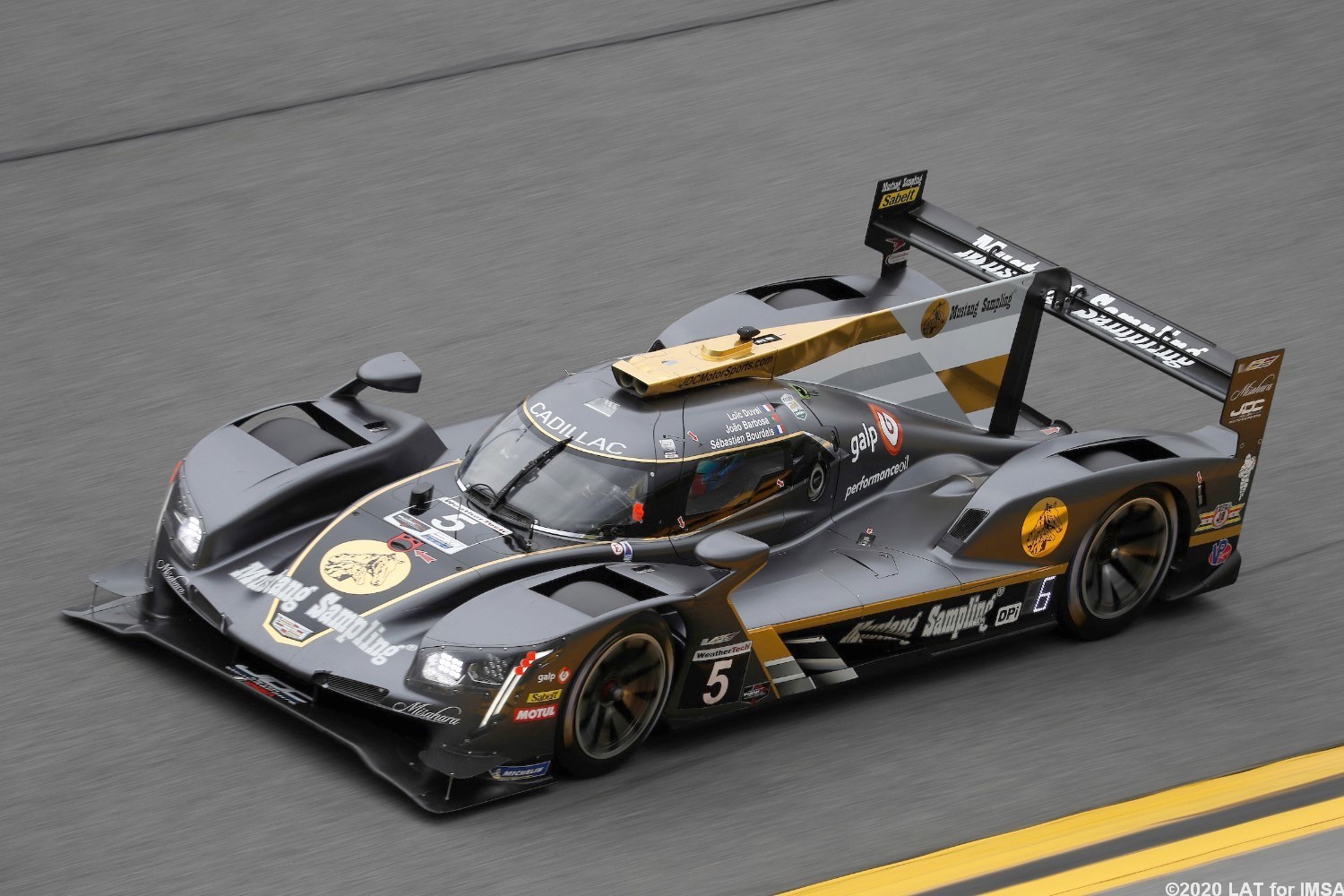 The #5 Cadillac leads but the #10 will soon pass it for the lead
It's two Cadillacs against two Mazda for the win in the Rolex 24. With 4 hours to go the #5 Cadillac is in front of the #10 Wayne Taylor Cadillac by 3 seconds.
Olivar Pla runs third in the #77 Mazda ahead of the team car the #55 driven by Harry Tincknell.
The 5th place DPI car of Juan Montoya is 2 laps back in the #6 Penske Acura and has no chance to win.
In LMP2 Adrian Newey's son Harrison leads in the #81 Oreca over the #52 Simon Trummer Oreca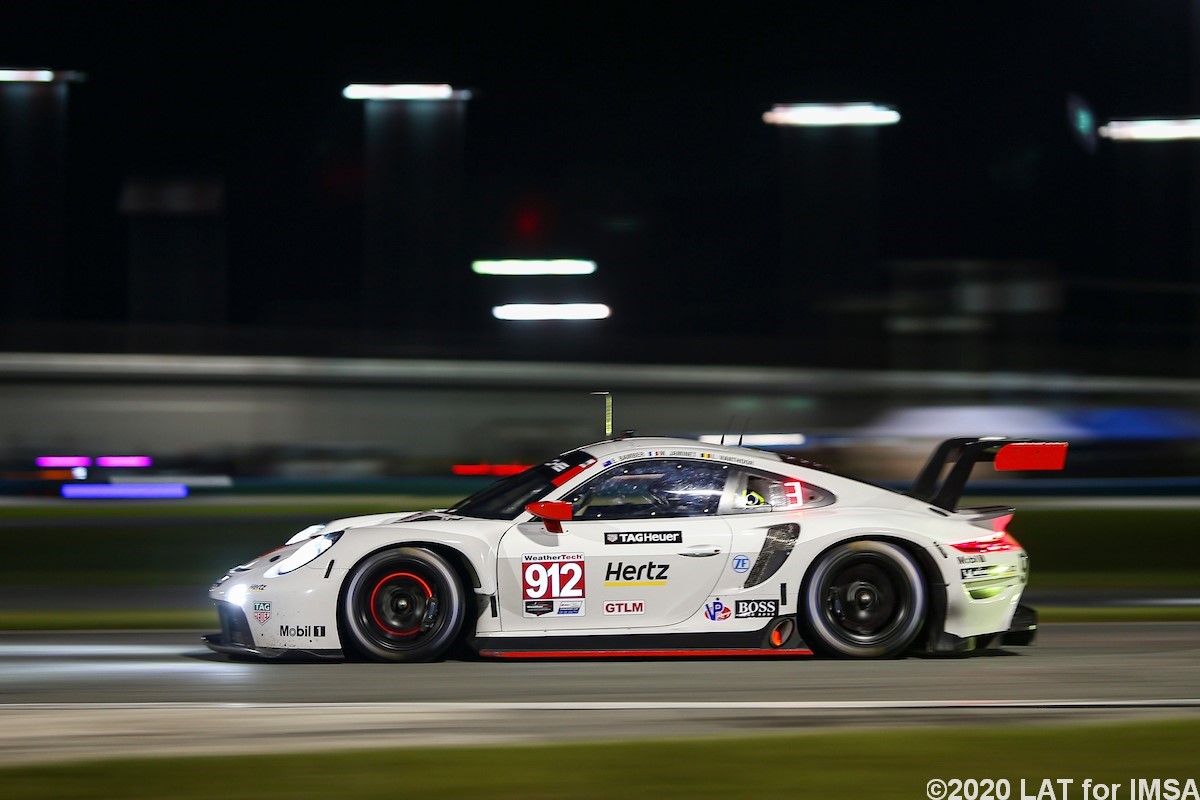 The #912 Porsche came out of the night in the lead in GTLM
The GT Le Mans class lead swung back and forth between BMW and Porsche in the early hours of the morning while Corvette Racing's No. 3 C8.R also remains in the hunt.
After BMW's Jesse Krohn passed Porsche's Laurens Vanthoor for the lead in Hour 16, the RLL crew brought its leading No. 24 BMW M8 GTE into the pits for a brake change which dropped it to fourth behind the two Porsches and the best-placed Corvette, but by the 20-hour mark it was back up to 2nd with John Edwards at the wheel. The #912 Porsche leads the class by 0.1 sec. The top-5 are so close, anyone can win.
The No. 4 Chevrolet Corvette C8.R returned to the track after spending almost eight hours in its garage for lengthy repairs on an oil leak.
The #48 Lamborghini is less than 1 sec. ahead of the #44 Audi in GTD.
Hour 20 Standings
| | | | | | | | | |
| --- | --- | --- | --- | --- | --- | --- | --- | --- |
| Pos | Class | PiC | Current Driver | No./Make | Laps | Behind | BiC | Stops |
| 1 | DPI | 1 | Joao Barbosa | #5 CADILLAC DPI | 688 | –.— | –.— | 31 |
| 2 | DPI | 2 | Ryan Briscoe | #10 CADILLAC DPI | 688 | 3.261 | 3.261 | 34 |
| 3 | DPI | 3 | Harry Tincknell | #55 MAZDA DPI | 688 | 57.647 | 57.647 | 35 |
| 4 | DPI | 4 | Oliver Jarvis | #77 MAZDA DPI | 688 | 1:21.303 | 1:21.303 | 35 |
| 5 | DPI | 5 | Juan Pablo Montoya | #6 ACURA DPI | 686 | 2 LAPS | 2 LAPS | 35 |
| 6 | DPI | 6 | Tristan Vautier | #85 CADILLAC DPI | 681 | 7 LAPS | 7 LAPS | 31 |
| 7 | DPI | 7 | Filipe Albuquerque | #31 CADILLAC DPI | 677 | 11 LAPS | 11 LAPS | 34 |
| 8 | LMP2 | 1 | Harrison Newey | #81 ORECA LMP2 07 | 669 | 19 LAPS | –.— | 32 |
| 9 | LMP2 | 2 | Simon Trummer | #52 ORECA LMP2 07 | 669 | 19 LAPS | 14.704 | 33 |
| 10 | DPI | 8 | Alexander Rossi | #7 ACURA DPI | 667 | 21 LAPS | 21 LAPS | 35 |
| 11 | LMP2 | 3 | Nic Minassian | #18 ORECA LMP2 07 | 661 | 27 LAPS | 8 LAPS | 31 |
| 12 | LMP2 | 4 | Ryan Dalziel | #8 ORECA LMP2 07 | 656 | 32 LAPS | 13 LAPS | 35 |
| 13 | GTLM | 1 | Mathieu Jaminet | #912 PORSCHE 911 RSR – 19 | 650 | 38 LAPS | –.— | 22 |
| 14 | GTLM | 2 | John Edwards | #24 BMW M8 GTE | 650 | 38 LAPS | 0.118 | 22 |
| 15 | GTLM | 3 | Fred Makowiecki | #911 PORSCHE 911 RSR – 19 | 650 | 38 LAPS | 1.274 | 22 |
| 16 | GTLM | 4 | Nicky Catsburg | #3 CHEVROLET CORVETTE C8.R | 650 | 38 LAPS | 1.349 | 24 |
| 17 | GTLM | 5 | Daniel Serra | #62 FERRARI 488 GTE | 650 | 38 LAPS | 4.929 | 24 |
| 18 | LMP2 | 5 | Robert Masson | #38 ORECA LMP2 07 | 649 | 39 LAPS | 20 LAPS | 34 |
| 19 | GTLM | 6 | Connor De Phillippi | #25 BMW M8 GTE | 637 | 51 LAPS | 13 LAPS | 24 |
| 20 | GTD | 1 | Corey Lewis | #48 LAMBORGHINI HURACAN GT3 | 632 | 56 LAPS | –.— | 24 |
| 21 | GTD | 2 | Dries Vanthoor | #88 AUDI R8 LMS GT3 | 632 | 56 LAPS | 0.831 | 23 |
| 22 | GTD | 3 | Spencer Pumpelly | #44 LAMBORGHINI HURACAN GT3 | 632 | 56 LAPS | 6.405 | 24 |
| 23 | GTD | 4 | Patrick Long | #16 PORSCHE 911 GT3 R | 632 | 56 LAPS | 1:12.587 | 26 |
| 24 | GTD | 5 | Bill Auberlen | #96 BMW M6 GT3 | 631 | 57 LAPS | 1 LAP | 25 |
| 25 | GTD | 6 | Jeroen Bleekemolen | #54 PORSCHE 911 GT3 R | 631 | 57 LAPS | 1 LAP | 25 |
| 26 | GTD | 7 | Aj Allmendinger | #57 ACURA NSX GT3 | 631 | 57 LAPS | 1 LAP | 23 |
| 27 | GTD | 8 | Alessandro Balzan | #63 FERRARI 488 GT3 | 631 | 57 LAPS | 1 LAP | 24 |
| 28 | GTD | 9 | Kyle Busch | #14 LEXUS RC F GT3 | 627 | 61 LAPS | 5 LAPS | 25 |
| 29 | GTD | 10 | Matt Mcmurry | #86 ACURA NSX GT3 | 616 | 72 LAPS | 16 LAPS | 26 |
| 30 | GTD | 11 | Lawson Aschenbach | #74 MERCEDES-AMG GT3 | 610 | 78 LAPS | 22 LAPS | 24 |
| 31 | GTD | 12 | Jonathan Hoggard | #47 LAMBORGHINI HURACAN GT3 | 608 | 80 LAPS | 24 LAPS | 23 |
| 32 | GTD | 13 | Aaron Telitz | #12 LEXUS RC F GT3 | 597 | 91 LAPS | 35 LAPS | 23 |
| 33 | GTD | 14 | Patrick Pilet | #9 PORSCHE 911 GT3 R | 584 | 104 LAPS | 48 LAPS | 21 |
| 34 | GTD | 15 | Franck Perera | #11 LAMBORGHINI HURACAN GT3 | 502 | 186 LAPS | 130 LAPS | 24 |
| 35 | GTD | 16 | Christina Nielsen | #19 LAMBORGHINI HURACAN GT3 | 471 | 217 LAPS | 161 LAPS | 20 |
| 36 | GTLM | 7 | Tommy Milner | #4 CHEVROLET CORVETTE C8.R | 336 | 352 LAPS | 314 LAPS | 13 |
| 37 | GTD | 17 | Ross Gunn | #98 ASTON MARTIN VANTAGE GT3 | 189 | 499 LAPS | 443 LAPS | 9 |
| 38 | GTD | 18 | Alex Riberas | #23 ASTON MARTIN VANTAGE GT3 | 151 | 537 LAPS | 481 LAPS | 6 |