Rolex 24: Hour 16 Update (2/3-mark)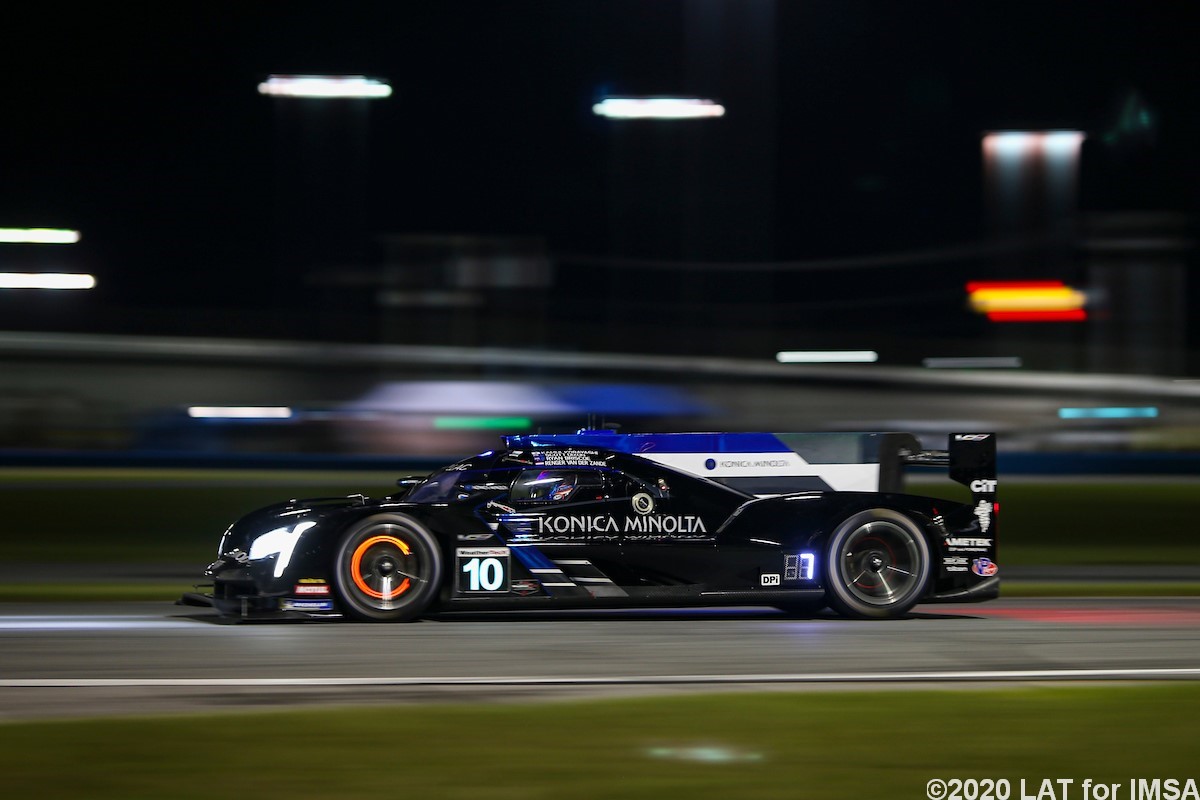 As the sun is about to rise, running a torrid pace the #10 Cadillac is pulling away
Taking full advantage of the BoP advantage gifted to them by IMSA before the race, Cadillacs still run 1-2-3 at the 2/3rds mark of the Rolex 24. The #10 Wayne Taylor Racing Cadillac now holds a comfortable 48 second lead over the #5 Mustang Sampling Cadillac.
The #31 Whelen Cadillac runs third but is almost 1-lap down. The #77 and #55 Mazdas round out the top-5 one and two laps down respectively.
The Penske Acuras are now both out to lunch having been slowed by IMSA before the race with a BoP adjustment to slow them. Of course the #7 getting put into the barriers by the #55 Mazda earlier did not help their cause.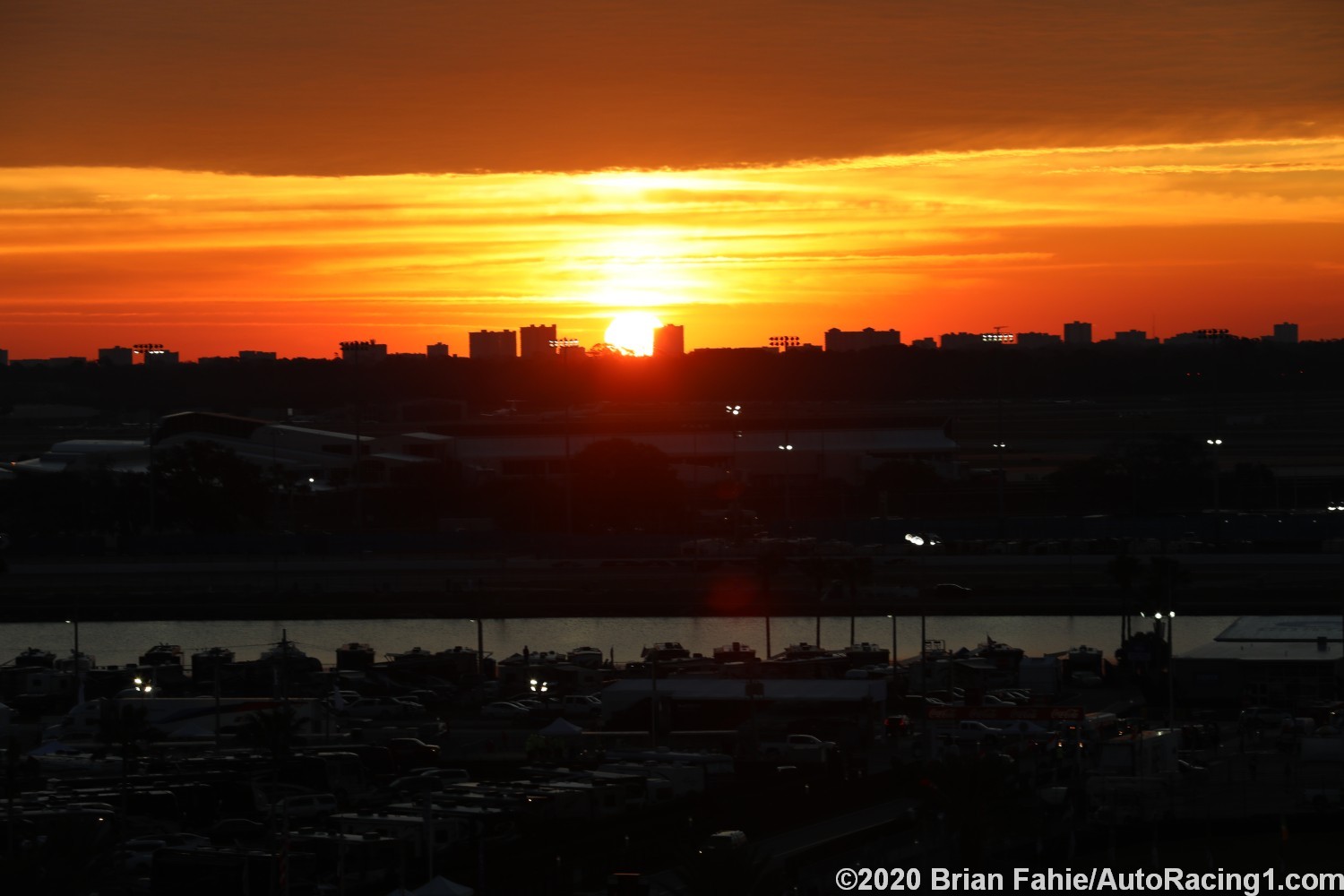 Daybreak
Colin Braun has the the #81 Oreca to the lead in LMP2 – 6.4 secs up on the #52.
The #24 BMW with Jesse Krohn at the wheel leads in GTLM but the #912 Porsche driven by Vanthoor is right on his rear bumper. A few minutes before two-thirds distance, Krohn drove his BMW up the inside of Vanthoor's Porsche on the infield to take the category lead.
Nick Tandy in the #911 Porsche and Antonio Garcia in the #3 Corvette run 3rd and 4th and still on the same lap as the BMW.
The #48 Lamborghini with Andrea Calderelli at the wheel leads in GTD by 1-lap over the #88 Audi as its nearest competitor, the #9 Porsche has gone to the garage.
Hour 16 Standings
| | | | | | | | | |
| --- | --- | --- | --- | --- | --- | --- | --- | --- |
| Pos | Class | PiC | Current Driver | No./Make | Laps | Behind | BiC | Stops |
| 1 | DPI | 1 | Renger Van Der Zande | #10 CADILLAC DPI | 558 | –.— | –.— | 27 |
| 2 | DPI | 2 | Sebastien Bourdais | #5 CADILLAC DPI | 557 | 48.625s | 48.625s | 26 |
| 3 | DPI | 3 | Felipe Nasr | #31 CADILLAC DPI | 557 | 1:25.806 | 37.181s | 27 |
| 4 | DPI | 4 | Tristan Nunez | #77 MAZDA DPI | 557 | 1 LAP | 1 LAP | 27 |
| 5 | DPI | 5 | Jonathan Bomarito | #55 MAZDA DPI | 556 | 2 LAPS | 2 LAPS | 28 |
| 6 | DPI | 6 | Dane Cameron | #6 ACURA DPI | 556 | 2 LAPS | 2 LAPS | 28 |
| 7 | DPI | 7 | Chris Miller | #85 CADILLAC DPI | 553 | 5 LAPS | 5 LAPS | 25 |
| 8 | LMP2 | 1 | Colin Braun | #81 ORECA LMP2 07 | 542 | 16 LAPS | –.— | 26 |
| 9 | LMP2 | 2 | Gabriel Aubry | #52 ORECA LMP2 07 | 542 | 16 LAPS | 6.415 | 26 |
| 10 | DPI | 8 | Ricky Taylor | #7 ACURA DPI | 534 | 24 LAPS | 24 LAPS | 28 |
| 11 | LMP2 | 3 | Ryan Lewis | #18 ORECA LMP2 07 | 533 | 25 LAPS | 9 LAPS | 25 |
| 12 | LMP2 | 4 | David H. Hansson | #8 ORECA LMP2 07 | 527 | 31 LAPS | 15 LAPS | 27 |
| 13 | GTLM | 1 | Jesse Krohn | #24 BMW M8 GTE | 525 | 33 LAPS | –.— | 18 |
| 14 | GTLM | 2 | Laurens Vanthoor | #912 PORSCHE 911 RSR – 19 | 525 | 33 LAPS | 0.891 | 18 |
| 15 | GTLM | 3 | Nick Tandy | #911 PORSCHE 911 RSR – 19 | 525 | 33 LAPS | 13.409 | 18 |
| 16 | GTLM | 4 | Antonio Garcia | #3 CHEVROLET CORVETTE C8.R | 525 | 33 LAPS | 19.212 | 19 |
| 17 | LMP2 | 5 | Kyle Masson | #38 ORECA LMP2 07 | 525 | 33 LAPS | 17 LAPS | 27 |
| 18 | GTLM | 5 | Alessandro Pier Guidi | #62 FERRARI 488 GTE | 525 | 33 LAPS | 1:24.225 | 19 |
| 19 | GTLM | 6 | Colton Herta | #25 BMW M8 GTE | 512 | 46 LAPS | 13 LAPS | 20 |
| 20 | GTD | 1 | Andrea Caldarelli | #48 LAMBORGHINI HURACAN GT3 | 511 | 47 LAPS | –.— | 20 |
| 21 | GTD | 2 | Mirko Bortolotti | #88 AUDI R8 LMS GT3 | 510 | 48 LAPS | 1 LAP | 19 |
| 22 | GTD | 3 | Spencer Pumpelly | #44 LAMBORGHINI HURACAN GT3 | 510 | 48 LAPS | 1 LAP | 20 |
| 23 | GTD | 4 | Jeff Westphal | #63 FERRARI 488 GT3 | 510 | 48 LAPS | 1 LAP | 19 |
| 24 | GTD | 5 | Jens Klingmann | #96 BMW M6 GT3 | 509 | 49 LAPS | 2 LAPS | 20 |
| 25 | GTD | 6 | Lawson Aschenbach | #74 MERCEDES-AMG GT3 | 509 | 49 LAPS | 2 LAPS | 20 |
| 26 | GTD | 7 | Patrick Long | #16 PORSCHE 911 GT3 R | 509 | 49 LAPS | 2 LAPS | 20 |
| 27 | GTD | 8 | Trent Hindman | #57 ACURA NSX GT3 | 509 | 49 LAPS | 2 LAPS | 19 |
| 28 | GTD | 9 | Sven Muller | #54 PORSCHE 911 GT3 R | 508 | 50 LAPS | 3 LAPS | 21 |
| 29 | GTD | 10 | Jack Hawksworth | #14 LEXUS RC F GT3 | 504 | 54 LAPS | 7 LAPS | 19 |
| 30 | GTD | 11 | Brandon Gdovic | #47 LAMBORGHINI HURACAN GT3 | 501 | 57 LAPS | 10 LAPS | 19 |
| 31 | GTD | 12 | Dennis Olsen | #9 PORSCHE 911 GT3 R | 496 | 62 LAPS | 15 LAPS | 17 |
| 32 | GTD | 13 | Jules Gounon | #86 ACURA NSX GT3 | 494 | 64 LAPS | 17 LAPS | 21 |
| 33 | GTD | 14 | Shane Van Gisbergen | #12 LEXUS RC F GT3 | 474 | 84 LAPS | 37 LAPS | 18 |
| 34 | GTD | 15 | Christina Nielsen | #19 LAMBORGHINI HURACAN GT3 | 470 | 88 LAPS | 41 LAPS | 19 |
| 35 | GTD | 16 | Richard Heistand | #11 LAMBORGHINI HURACAN GT3 | 438 | 120 LAPS | 73 LAPS | 19 |
| 36 | GTLM | 7 | Marcel Fassler | #4 CHEVROLET CORVETTE C8.R | 303 | 255 LAPS | 222 LAPS | 10 |
| 37 | GTD | 17 | Ross Gunn | #98 ASTON MARTIN VANTAGE GT3 | 189 | 369 LAPS | 322 LAPS | 9 |
| 38 | GTD | 18 | Alex Riberas | #23 ASTON MARTIN VANTAGE GT3 | 151 | 407 LAPS | 360 LAPS | 6 |