Rolex 24: Hour 8 Update (1/3-mark)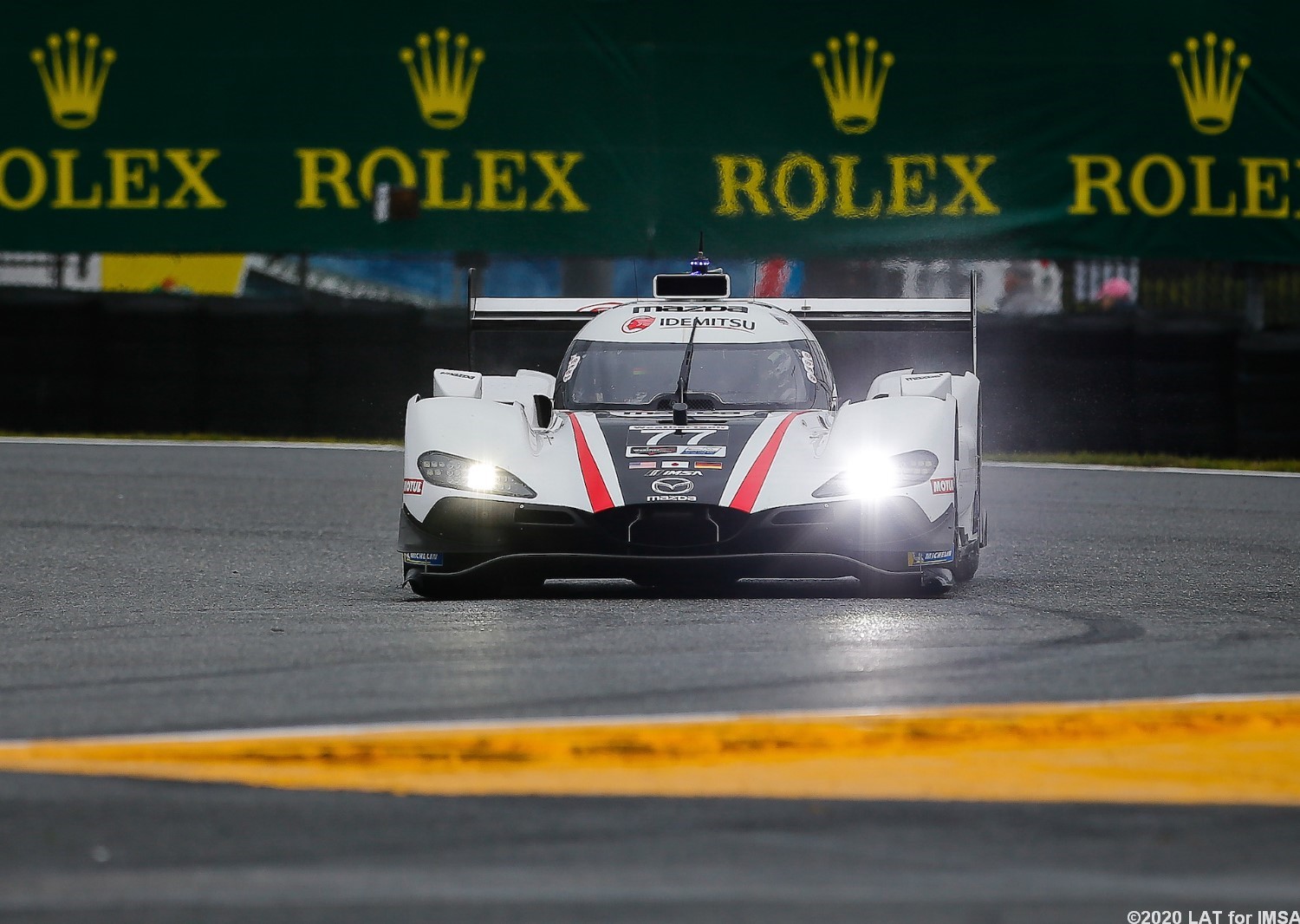 Oliver Jarvis
The 3rd full course caution of the race was just coming to an end at the 8-Hour mark of the Rolex 24 with Oliver Jarvis leading in the #77 Mazda but as the green flew Scott Dixon took over the lead in the #10 Cadillac and the Wayne Taylor Cadillac, which won last year appears to have the legs on everyone again this year.
Juan Montoya runs 3rd in the #6 Penske Acura while the #31 Cadillac driven by Felipe Nasr and the #5 Cadillac driven by Sebastien Bourdais round out the top-5.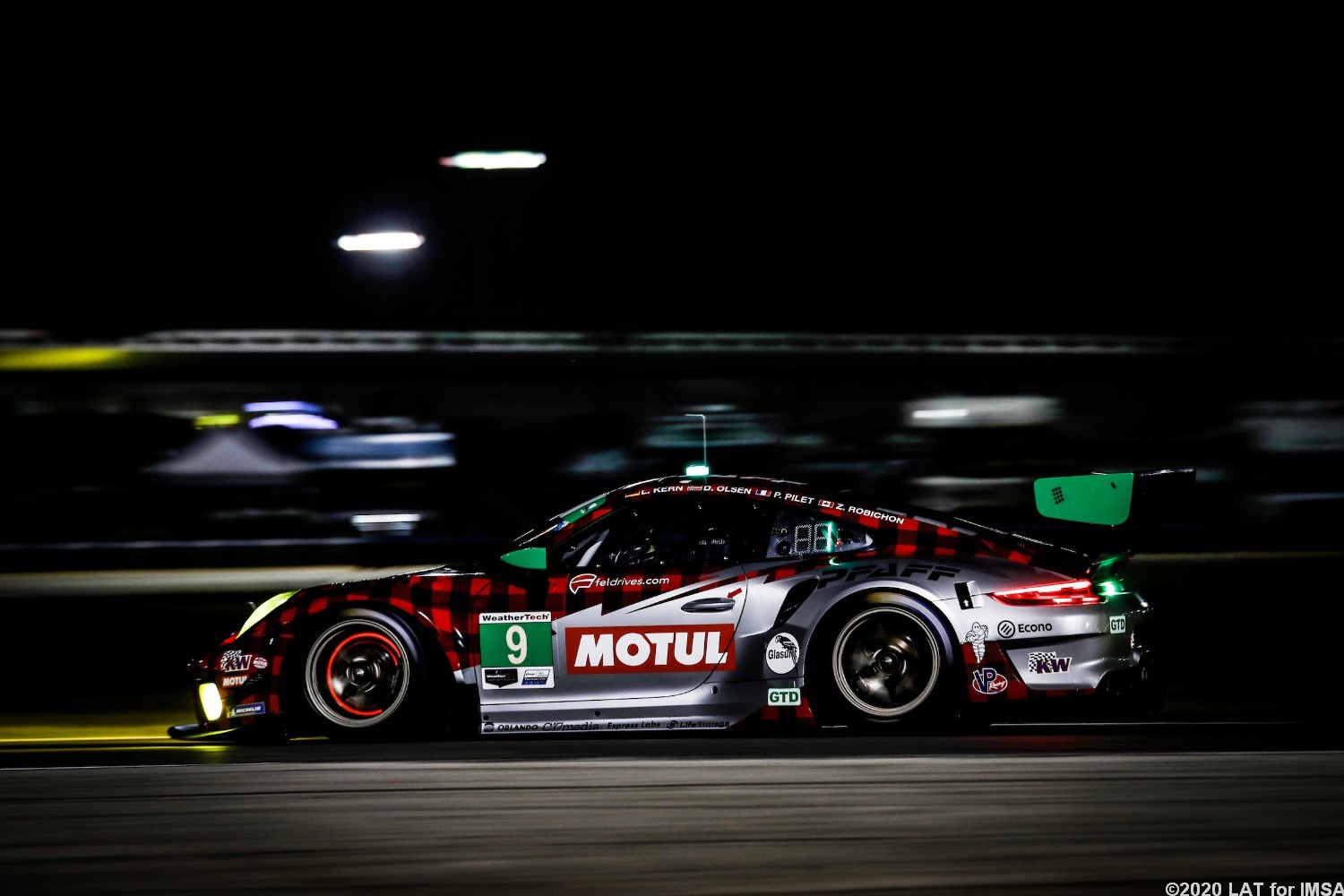 The #9 Porsche battles to regain the GTD class lead
Alexander Rossi brought the #7 Penske Acura up from 33rd to 19th before stepping out of the car, but they are still 22 laps behind the leader with zero chance to win.
There is no change at the top of LMP2 with the #52 Oreca still leading.
The #24 BMW with Agusto Farfus at the wheel continues to hold off the #912 and #911 Porsches, but the Porsche look ready to make the pass.
GTD is still a battle between the #48 Lambo and the #9 Porsche
Hour 8 Standings
| | | | | | | | | |
| --- | --- | --- | --- | --- | --- | --- | --- | --- |
| Pos | Class | PiC | Current Driver | No./Make | Laps | Behind | BiC | Stops |
| 1 | DPI | 1 | Oliver Jarvis | #77 MAZDA DPI | 277 | –.— | –.— | 12 |
| 2 | DPI | 2 | Scott Dixon | #10 CADILLAC DPI | 277 | 0.324 | 0.324 | 14 |
| 3 | DPI | 3 | Juan Pablo Montoya | #6 ACURA DPI | 277 | 0.980 | 0.980 | 14 |
| 4 | DPI | 4 | Felipe Nasr | #31 CADILLAC DPI | 277 | 1.528 | 1.528 | 14 |
| 5 | DPI | 5 | Sebastien Bourdais | #5 CADILLAC DPI | 277 | 1.994 | 1.994 | 13 |
| 6 | DPI | 6 | Harry Tincknell | #55 MAZDA DPI | 277 | 2.015 | 2.015 | 15 |
| 7 | DPI | 7 | Tristan Vautier | #85 CADILLAC DPI | 276 | 1 LAP | 1 LAP | 12 |
| 8 | LMP2 | 1 | Simon Trummer | #52 ORECA LMP2 07 | 269 | 8 LAPS | –.— | 13 |
| 9 | LMP2 | 2 | Ben Hanley | #81 ORECA LMP2 07 | 269 | 8 LAPS | 0.233 | 13 |
| 10 | LMP2 | 3 | David H. Hansson | #8 ORECA LMP2 07 | 269 | 8 LAPS | 3.615 | 13 |
| 11 | LMP2 | 4 | Ryan Lewis | #18 ORECA LMP2 07 | 265 | 12 LAPS | 4 LAPS | 12 |
| 12 | GTLM | 1 | Augusto Farfus | #24 BMW M8 GTE | 261 | 16 LAPS | –.— | 9 |
| 13 | GTLM | 2 | Earl Bamber | #912 PORSCHE 911 RSR – 19 | 261 | 16 LAPS | 0.280 | 9 |
| 14 | GTLM | 3 | Fred Makowiecki | #911 PORSCHE 911 RSR – 19 | 261 | 16 LAPS | 1.322 | 9 |
| 15 | GTLM | 4 | Oliver Gavin | #4 CHEVROLET CORVETTE C8.R | 261 | 16 LAPS | 1.585 | 9 |
| 16 | GTLM | 5 | Antonio Garcia | #3 CHEVROLET CORVETTE C8.R | 261 | 16 LAPS | 5.532 | 10 |
| 17 | GTLM | 6 | Alessandro Pier Guidi | #62 FERRARI 488 GTE | 261 | 16 LAPS | 6.142 | 10 |
| 18 | LMP2 | 5 | Robert Masson | #38 ORECA LMP2 07 | 260 | 17 LAPS | 9 LAPS | 13 |
| 19 | DPI | 8 | Ricky Taylor | #7 ACURA DPI | 255 | 22 LAPS | 22 LAPS | 13 |
| 20 | GTD | 1 | Madison Snow | #48 LAMBORGHINI HURACAN GT3 | 254 | 23 LAPS | –.— | 10 |
| 21 | GTD | 2 | Zacharie Robichon | #9 PORSCHE 911 GT3 R | 254 | 23 LAPS | 0.210 | 9 |
| 22 | GTD | 3 | Misha Goikhberg | #57 ACURA NSX GT3 | 254 | 23 LAPS | 0.829 | 9 |
| 23 | GTD | 4 | Frankie Montecalvo | #12 LEXUS RC F GT3 | 254 | 23 LAPS | 1.788 | 10 |
| 24 | GTD | 5 | Rolf Ineichen | #88 AUDI R8 LMS GT3 | 254 | 23 LAPS | 2.533 | 10 |
| 25 | GTD | 6 | Ryan Hardwick | #16 PORSCHE 911 GT3 R | 254 | 23 LAPS | 3.494 | 11 |
| 26 | GTD | 7 | Jeff Westphal | #63 FERRARI 488 GT3 | 254 | 23 LAPS | 4.966 | 10 |
| 27 | GTD | 8 | Matt Mcmurry | #86 ACURA NSX GT3 | 254 | 23 LAPS | 5.867 | 12 |
| 28 | GTD | 9 | Dillon Machavern | #96 BMW M6 GT3 | 254 | 23 LAPS | 5.897 | 11 |
| 29 | GTD | 10 | John Potter | #44 LAMBORGHINI HURACAN GT3 | 254 | 23 LAPS | 6.451 | 11 |
| 30 | GTD | 11 | Christina Nielsen | #19 LAMBORGHINI HURACAN GT3 | 254 | 23 LAPS | 7.991 | 10 |
| 31 | GTD | 12 | Michael De Quesada | #14 LEXUS RC F GT3 | 253 | 24 LAPS | 1 LAP | 10 |
| 32 | GTD | 13 | Gar Robinson | #74 MERCEDES-AMG GT3 | 253 | 24 LAPS | 1 LAP | 11 |
| 33 | GTD | 14 | Tim Pappas | #54 PORSCHE 911 GT3 R | 253 | 24 LAPS | 1 LAP | 11 |
| 34 | GTD | 15 | Jonathan Hoggard | #47 LAMBORGHINI HURACAN GT3 | 250 | 27 LAPS | 4 LAPS | 11 |
| 35 | GTLM | 7 | Colton Herta | #25 BMW M8 GTE | 248 | 29 LAPS | 13 LAPS | 11 |
| 36 | GTD | 16 | Steijn Schothorst | #11 LAMBORGHINI HURACAN GT3 | 213 | 64 LAPS | 41 LAPS | 10 |
| 37 | GTD | 17 | Ross Gunn | #98 ASTON MARTIN VANTAGE GT3 | 189 | 88 LAPS | 65 LAPS | 9 |
| 38 | GTD | 18 | Alex Riberas | #23 ASTON MARTIN VANTAGE GT3 | 151 | 126 LAPS | 103 LAPS | 6 |