Rolex 24: Hour 6 Update (1/4-mark)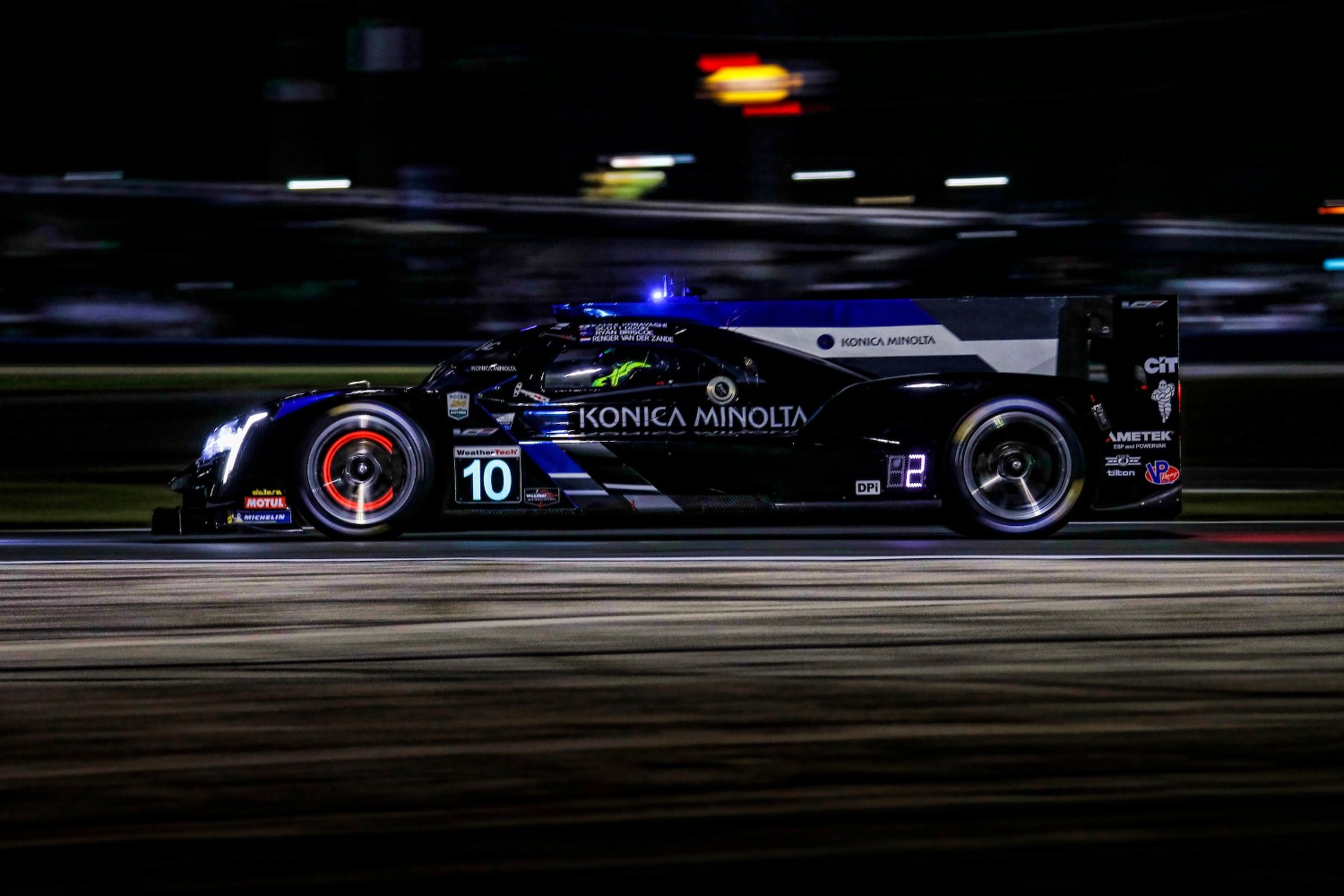 The #10 Cadillac looks strong, leading at the 1/4-mark
As complete darkness has settled over the Daytona Speedway, Cadillacs run 1-2 at the 1/4 mark of the Rolex 24, the #10 being driven by Renger Van Der Zande leading the #31 of Felipe Albuquerque by 8 seconds.
Simon Pagenaud has the #6 Penske Acura in third some 18 seconds back ahead of the #77 Mazda of Jarvis.
The #52 Oreca leads LMP2 over the #8 Oreca.
In GTLM the 2nd place #3 Corvette made contact with the GTD car of Pedro Lamy and spun in Turn 1. He was able to continue but stopped to get the car checked.
The #911 Porsche of Nick Tandy leads the GTLM class ahead of the #24 BMW of Jesse Krohn while the #912 Porsche lurks in 3rd ahead of the #4 Corvette of Tommy Milner.
The #48 Lamborghini now leads in GTD over the #9 Porsche that has led the category much of the way.
Hour 6 Standings
| | | | | | | | | |
| --- | --- | --- | --- | --- | --- | --- | --- | --- |
| Pos | Class | PiC | Current Driver | Make | Laps | Behind | Gap In Cl | Stops |
| 1 | DPI | 1 | Renger Van Der Zande | #10 CADILLAC DPI | 208 | –.— | –.— | 10 |
| 2 | DPI | 2 | Filipe Albuquerque | #31 CADILLAC DPI | 208 | 8.019 | 8.019 | 10 |
| 3 | DPI | 3 | Simon Pagenaud | #6 ACURA DPI | 208 | 18.012 | 9.993 | 10 |
| 4 | DPI | 4 | Oliver Jarvis | #77 MAZDA DPI | 208 | 21.404 | 3.392 | 9 |
| 5 | DPI | 5 | Joao Barbosa | #5 CADILLAC DPI | 208 | 28.887 | 7.483 | 9 |
| 6 | DPI | 6 | Ryan Hunter Reay | #55 MAZDA DPI | 208 | 32.863 | 3.976 | 11 |
| 7 | DPI | 7 | Chris Miller | #85 CADILLAC DPI | 208 | 58.582 | 25.719 | 9 |
| 8 | LMP2 | 1 | Gabriel Aubry | #52 ORECA LMP2 07 | 202 | 6 LAPS | –.— | 9 |
| 9 | LMP2 | 2 | Nicolas Lapierre | #8 ORECA LMP2 07 | 201 | 7 LAPS | 1:25.543 | 9 |
| 10 | LMP2 | 3 | Harrison Newey | #81 ORECA LMP2 07 | 201 | 7 LAPS | 6.943 | 9 |
| 11 | LMP2 | 4 | Nic Minassian | #18 ORECA LMP2 07 | 200 | 8 LAPS | 1:48.956 | 9 |
| 12 | LMP2 | 5 | Kyle Masson | #38 ORECA LMP2 07 | 198 | 10 LAPS | 1:32.088 | 9 |
| 13 | GTLM | 1 | Nick Tandy | #911 PORSCHE 911 RSR – 19 | 196 | 12 LAPS | –.— | 7 |
| 14 | GTLM | 2 | Jesse Krohn | #24 BMW M8 GTE | 196 | 12 LAPS | 0.009 | 7 |
| 15 | GTLM | 3 | Laurens Vanthoor | #912 PORSCHE 911 RSR – 19 | 196 | 12 LAPS | 0.576 | 7 |
| 16 | GTLM | 4 | Tommy Milner | #4 CHEVROLET CORVETTE C8.R | 196 | 12 LAPS | 8.198 | 7 |
| 17 | GTLM | 5 | Davide Rigon | #62 FERRARI 488 GTE | 196 | 12 LAPS | 1.365 | 7 |
| 18 | GTLM | 6 | Antonio Garcia | #3 CHEVROLET CORVETTE C8.R | 196 | 12 LAPS | 7.496 | 7 |
| 19 | GTD | 1 | Andrea Caldarelli | #48 LAMBORGHINI HURACAN GT3 | 190 | 18 LAPS | –.— | 8 |
| 20 | GTD | 2 | Lars Kern | #9 PORSCHE 911 GT3 R | 190 | 18 LAPS | 6.486 | 7 |
| 21 | GTD | 3 | Katherine Legge | #19 LAMBORGHINI HURACAN GT3 | 190 | 18 LAPS | 0.451 | 7 |
| 22 | GTD | 4 | Townsend Bell | #12 LEXUS RC F GT3 | 190 | 18 LAPS | 45.185 | 8 |
| 23 | GTD | 5 | Marco Mapelli | #44 LAMBORGHINI HURACAN GT3 | 190 | 18 LAPS | 19.814 | 8 |
| 24 | GTD | 6 | Cooper Macneil | #63 FERRARI 488 GT3 | 190 | 18 LAPS | 1.509 | 7 |
| 25 | GTD | 7 | Aj Allmendinger | #57 ACURA NSX GT3 | 190 | 18 LAPS | 8.737 | 7 |
| 26 | GTD | 8 | Tim Pappas | #54 PORSCHE 911 GT3 R | 190 | 18 LAPS | 8.328 | 8 |
| 27 | GTD | 9 | Robby Foley | #96 BMW M6 GT3 | 190 | 18 LAPS | 0.851 | 8 |
| 28 | GTD | 10 | Klaus Bachler | #16 PORSCHE 911 GT3 R | 190 | 18 LAPS | 1.603 | 8 |
| 29 | GTD | 11 | Mario Farnbacher | #86 ACURA NSX GT3 | 190 | 18 LAPS | 2.369 | 9 |
| 30 | GTD | 12 | Rolf Ineichen | #88 AUDI R8 LMS GT3 | 189 | 19 LAPS | 14.772 | 8 |
| 31 | GTD | 13 | Parker Chase | #14 LEXUS RC F GT3 | 189 | 19 LAPS | 57.593 | 8 |
| 32 | GTD | 14 | Ross Gunn | #98 ASTON MARTIN VANTAGE GT3 | 189 | 19 LAPS | 36.605 | 9 |
| 33 | GTD | 15 | Ben Keating | #74 MERCEDES-AMG GT3 | 189 | 19 LAPS | 0.089 | 8 |
| 34 | GTD | 16 | Brandon Gdovic | #47 LAMBORGHINI HURACAN GT3 | 186 | 22 LAPS | 24.834 | 8 |
| 35 | DPI | 8 | Alexander Rossi | #7 ACURA DPI | 186 | 22 LAPS | 3.076 | 9 |
| 36 | GTLM | 7 | Bruno Spengler | #25 BMW M8 GTE | 183 | 25 LAPS | 2.865 | 8 |
| 37 | GTD | 17 | Alex Riberas | #23 ASTON MARTIN VANTAGE GT3 | 151 | 57 LAPS | 0.128 | 6 |
| 38 | GTD | 18 | Franck Perera | #11 LAMBORGHINI HURACAN GT3 | 149 | 59 LAPS | 2.365 | 8 |