Rolex 24: Hour 4 Update #7 Acura gets crashed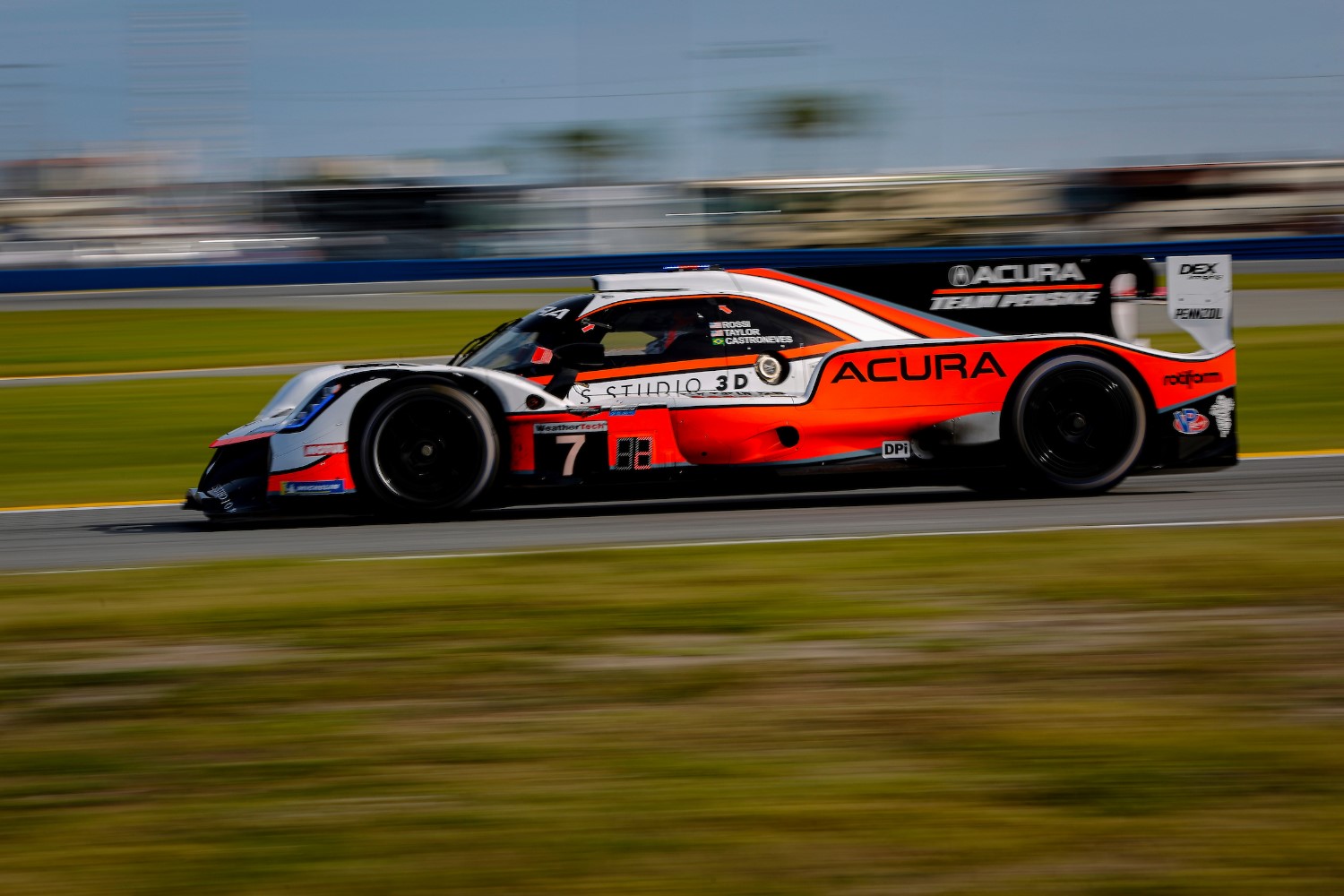 The #7 Acura – driven by Castroneves, Rossi, and R Taylor now have 0.000% chance of winning and should just park it
#55 Mazda driver Harry Tincknell took out 1/2 of the Team Penske team with a boneheaded move in the chicane in the 4th hour of the Rolex 24.
The two cars were battling for third overall at the time.
Tincknell in the No. 55 Mazda RT24-P tried to outbrake the No. 7 Acura DPi of Castroneves at the Bus Stop chicane, but Tincknell had zero chance to make the pass and drilled the side of the #7 Acura as it drove toward the apex.
While the Mazda spun across the tarmac, the Acura ended up in the tire wall, leaving it with significant rear-end damage.
Rest assured Harry Tincknell will never drive for Roger Penske
Castroneves immediately took the car behind the wall and to the garage, while Tincknell was handed a drive-through penalty for incident responsibility.
Meanwhile the sister Team Penske car – the #6 Acura – is now leading while the #7 is now so many laps behind they have zero chance to win.
It's the 2nd major crash of the car after Ricky Taylor wadded it up in qualifying.
The car is so banged up and so far behind running in dead last they should just park it.
Why bother?
The Porsche GT Team continues to battle the #24 BMW in the GT Le Mans category.
LMP2 is still led by the No. 52 PR1/Mathiasen Motorsports Oreca 07 Gibson.
The GT Daytona field is headed by the No. 9 Pfaff Motorsports Porsche 911 GT3 R
Hour 4 Standings
| | | | | | | | | |
| --- | --- | --- | --- | --- | --- | --- | --- | --- |
| Pos | Pic | Class | Current Driver | Make | Laps | Behind | Gap In Cl | Stops |
| 1 | 1 | DPI | Dane Cameron | #6 ACURA DPI | 144 | –.— | –.— | 6 |
| 2 | 2 | DPI | Olivier Pla | #77 MAZDA DPI | 144 | 9.942 | 9.942 | 6 |
| 3 | 3 | DPI | Renger Van Der Zande | #10 CADILLAC DPI | 144 | 34.096 | 24.154 | 7 |
| 4 | 4 | DPI | Loic Duval | #5 CADILLAC DPI | 144 | 39.754 | 5.658 | 6 |
| 5 | 5 | DPI | Filipe Albuquerque | #31 CADILLAC DPI | 144 | 1:01.702 | 21.948 | 7 |
| 6 | 6 | DPI | Harry Tincknell | #55 MAZDA DPI | 144 | 1:02.495 | 0.793 | 7 |
| 7 | 7 | DPI | Matheus Leist | #85 CADILLAC DPI | 143 | 1 LAP | 48.467 | 6 |
| 8 | 1 | LMP2 | Nick Boulle | #52 ORECA LMP2 07 | 140 | 5 LAPS | –.— | 6 |
| 9 | 2 | LMP2 | Colin Braun | #81 ORECA LMP2 07 | 139 | 5 LAPS | 25.623 | 6 |
| 10 | 3 | LMP2 | John Farano | #8 ORECA LMP2 07 | 138 | 6 LAPS | 1:27.988 | 6 |
| 11 | 4 | LMP2 | Nic Minassian | #18 ORECA LMP2 07 | 136 | 8 LAPS | 14.077 | 6 |
| 12 | 5 | LMP2 | Don Yount | #38 ORECA LMP2 07 | 135 | 9 LAPS | 2:23.900 | 6 |
| 13 | 1 | GTLM | Mathieu Jaminet | #912 PORSCHE 911 RSR – 19 | 135 | 9 LAPS | –.— | 4 |
| 14 | 2 | GTLM | Chaz Mostert | #24 BMW M8 GTE | 135 | 9 LAPS | 1.352 | 4 |
| 15 | 3 | GTLM | Matt Campbell | #911 PORSCHE 911 RSR – 19 | 135 | 9 LAPS | 1.267 | 4 |
| 16 | 4 | GTLM | Nicky Catsburg | #3 CHEVROLET CORVETTE C8.R | 135 | 9 LAPS | 20.307 | 4 |
| 17 | 5 | GTLM | Connor De Phillippi | #25 BMW M8 GTE | 135 | 9 LAPS | 24.916 | 4 |
| 18 | 6 | GTLM | Marcel Fassler | #4 CHEVROLET CORVETTE C8.R | 135 | 9 LAPS | 7.642 | 4 |
| 19 | 7 | GTLM | Alessandro Pier Guidi | #62 FERRARI 488 GTE | 134 | 10 LAPS | 1:02.286 | 5 |
| 20 | 1 | GTD | Lars Kern | #9 PORSCHE 911 GT3 R | 131 | 13 LAPS | –.— | 4 |
| 21 | 2 | GTD | Corey Lewis | #48 LAMBORGHINI HURACAN GT3 | 131 | 13 LAPS | 14.171 | 5 |
| 22 | 3 | GTD | Dillon Machavern | #96 BMW M6 GT3 | 131 | 13 LAPS | 24.716 | 5 |
| 23 | 4 | GTD | Alessandro Balzan | #63 FERRARI 488 GT3 | 131 | 13 LAPS | 7.784 | 4 |
| 24 | 5 | GTD | Anthony Imperato | #16 PORSCHE 911 GT3 R | 130 | 14 LAPS | 16.607 | 5 |
| 25 | 6 | GTD | Mat Lauda | #98 ASTON MARTIN VANTAGE GT3 | 130 | 14 LAPS | 5.559 | 5 |
| 26 | 7 | GTD | Franck Perera | #11 LAMBORGHINI HURACAN GT3 | 130 | 14 LAPS | 8.671 | 5 |
| 27 | 8 | GTD | Alvaro Parente | #57 ACURA NSX GT3 | 130 | 14 LAPS | 11.928 | 4 |
| 28 | 9 | GTD | Daniel Morad | #88 AUDI R8 LMS GT3 | 130 | 14 LAPS | 2.676 | 5 |
| 29 | 10 | GTD | Shane Van Gisbergen | #12 LEXUS RC F GT3 | 130 | 14 LAPS | 2.235 | 5 |
| 30 | 11 | GTD | Shinya Michimi | #86 ACURA NSX GT3 | 130 | 14 LAPS | 6.547 | 6 |
| 31 | 12 | GTD | Lawson Aschenbach | #74 MERCEDES-AMG GT3 | 130 | 14 LAPS | 7.282 | 5 |
| 32 | 13 | GTD | Andy Lally | #44 LAMBORGHINI HURACAN GT3 | 130 | 14 LAPS | 14.409 | 5 |
| 33 | 14 | GTD | Sven Muller | #54 PORSCHE 911 GT3 R | 130 | 14 LAPS | 6.731 | 5 |
| 34 | 15 | GTD | Michael De Quesada | #14 LEXUS RC F GT3 | 129 | 15 LAPS | 49.820 | 5 |
| 35 | 16 | GTD | Alex Riberas | #23 ASTON MARTIN VANTAGE GT3 | 129 | 15 LAPS | 19.037 | 5 |
| 36 | 17 | GTD | Rahel Frey | #19 LAMBORGHINI HURACAN GT3 | 129 | 15 LAPS | 9.616 | 5 |
| 37 | 18 | GTD | Eric Lux | #47 LAMBORGHINI HURACAN GT3 | 129 | 15 LAPS | 1:01.410 | 5 |
| 38 | 8 | DPI | Helio Castroneves | #7 ACURA DPI | 121 | 23 LAPS | 3.076 | 5 |