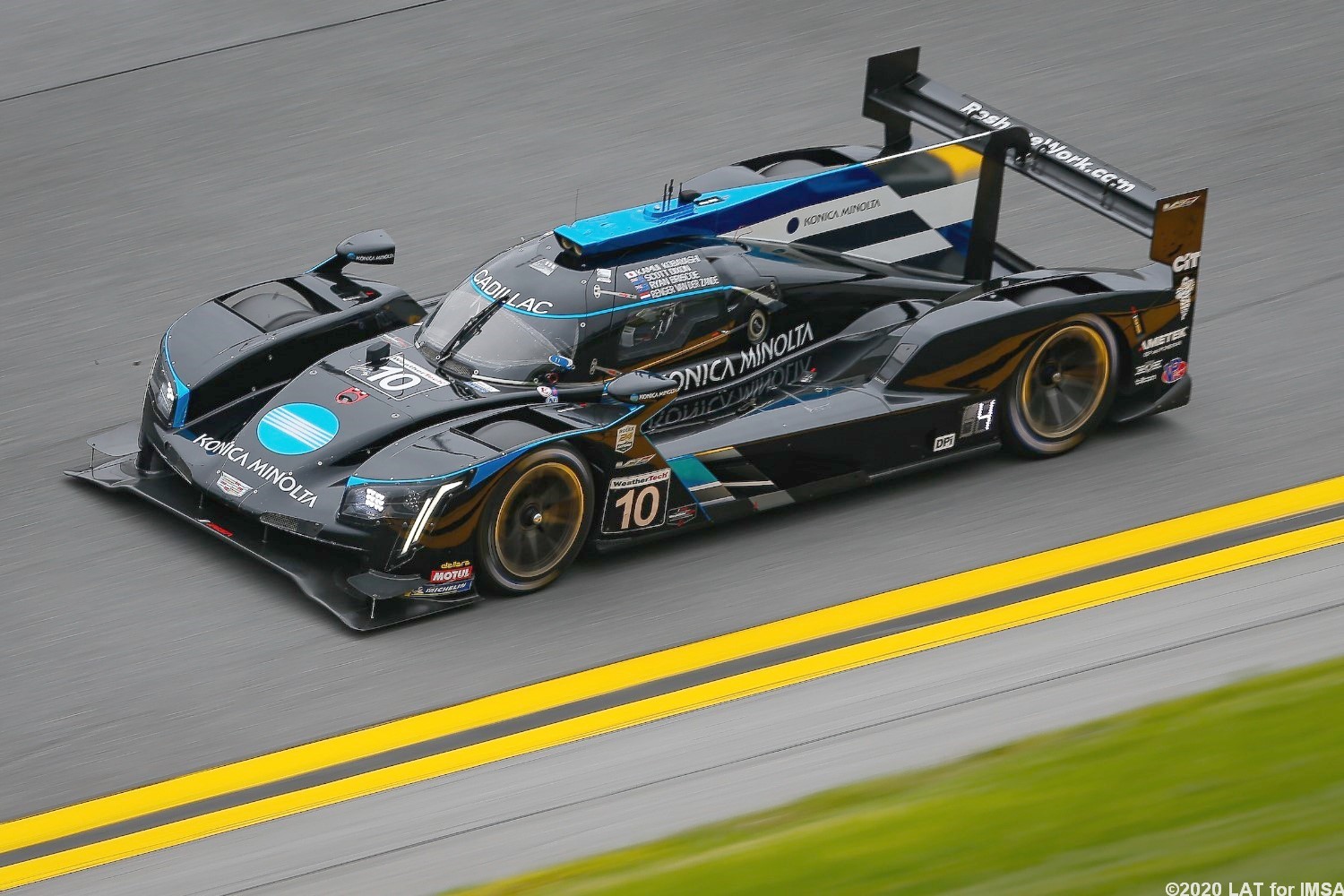 Last year's winning team, the #10 Cadillac, has taken the lead
Kamui Kobayashi in the #10 Wayne Taylor Cadillac smoked Tristan Nunez in the #77 Mazda to take the lead of the Rolex 24 in the third hour. Those two DPIs were 36-sec. ahead of Sebastien Bourdais in the #5 Cadillac and a massive 63-sec ahead of Helio Castroneves in the #7 Acura in 4th but the standings are changing with pit stops.
In the popular GTLM class the two Porsches continued to embarrass the rest of the class with the #912 Porsche driven by Earl Bamber now in front of the #911 Porsche and Fred Makowiecki. The #24 BMW and the #3 Corvette run 3rd and 4th.
The #9 Porsche is back in front in GTD over the #96 BMW by 18 secs.
So far the race has been incident free
Hour 3 Standings
| | | | | | | | | |
| --- | --- | --- | --- | --- | --- | --- | --- | --- |
| Pos | Pic | Class | Current Driver | Make | Laps | Behind | Gap In Cl | Stops |
| 1 | 1 | DPI | Kamui Kobayashi | #10 CADILLAC DPI | 108 | –.— | –.— | 4 |
| 2 | 2 | DPI | Tristan Nunez | #77 MAZDA DPI | 108 | 2.844s | 2.844s | 4 |
| 3 | 3 | DPI | Sebastien Bourdais | #5 CADILLAC DPI | 108 | 36.278 | 33.434 | 4 |
| 4 | 4 | DPI | Helio Castroneves | #7 ACURA DPI | 108 | 62.727 | 26.449 | 5 |
| 5 | 5 | DPI | Harry Tincknell | #55 MAZDA DPI | 108 | 67.803 | 5.076 | 5 |
| 6 | 6 | DPI | Pipo Derani | #31 CADILLAC DPI | 108 | 69.593 | 1.739 | 5 |
| 7 | 7 | DPI | Juan Piedrahita | #85 CADILLAC DPI | 108 | 79.044 | 9.451 | 4 |
| 8 | 8 | DPI | Dane Cameron | #6 ACURA DPI | 108 | 86.027 | 6.983 | 5 |
| 9 | 1 | LMP2 | Simon Trummer | #52 ORECA LMP2 07 | 105 | 3 LAPS | –.— | 4 |
| 10 | 2 | LMP2 | David H. Hansson | #8 ORECA LMP2 07 | 104 | 4 LAPS | 54.797 | 4 |
| 11 | 3 | LMP2 | Harrison Newey | #81 ORECA LMP2 07 | 104 | 4 LAPS | 20.767 | 4 |
| 12 | 4 | LMP2 | Robert Masson | #38 ORECA LMP2 07 | 101 | 7 LAPS | 1:19.129 | 4 |
| 13 | 5 | LMP2 | Kyle Tilley | #18 ORECA LMP2 07 | 101 | 7 LAPS | 17.702 | 4 |
| 14 | 1 | GTLM | Earl Bamber | #912 PORSCHE 911 RSR – 19 | 101 | 7 LAPS | –.— | 3 |
| 15 | 2 | GTLM | Fred Makowiecki | #911 PORSCHE 911 RSR – 19 | 101 | 7 LAPS | 2.924 | 3 |
| 16 | 3 | GTLM | Chaz Mostert | #24 BMW M8 GTE | 101 | 7 LAPS | 2.865 | 3 |
| 17 | 4 | GTLM | Jordan Taylor | #3 CHEVROLET CORVETTE C8.R | 101 | 7 LAPS | 16.175 | 3 |
| 18 | 5 | GTLM | Davide Rigon | #62 FERRARI 488 GTE | 101 | 7 LAPS | 9.694 | 3 |
| 19 | 6 | GTLM | Oliver Gavin | #4 CHEVROLET CORVETTE C8.R | 100 | 8 LAPS | 10.942 | 3 |
| 20 | 7 | GTLM | Connor De Phillippi | #25 BMW M8 GTE | 100 | 8 LAPS | 17.446 | 3 |
| 21 | 1 | GTD | Dennis Olsen | #9 PORSCHE 911 GT3 R | 98 | 10 LAPS | –.— | 3 |
| 22 | 2 | GTD | Dillon Machavern | #96 BMW M6 GT3 | 97 | 11 LAPS | 18.627 | 4 |
| 23 | 3 | GTD | Bryan Sellers | #48 LAMBORGHINI HURACAN GT3 | 97 | 11 LAPS | 0.583 | 4 |
| 24 | 4 | GTD | Jules Gounon | #86 ACURA NSX GT3 | 97 | 11 LAPS | 28.227 | 4 |
| 25 | 5 | GTD | Andrew Watson | #98 ASTON MARTIN VANTAGE GT3 | 97 | 11 LAPS | 1.132 | 4 |
| 26 | 6 | GTD | Alessandro Balzan | #63 FERRARI 488 GT3 | 97 | 11 LAPS | 0.291 | 3 |
| 27 | 7 | GTD | Misha Goikhberg | #57 ACURA NSX GT3 | 97 | 11 LAPS | 8.462 | 3 |
| 28 | 8 | GTD | Aaron Telitz | #12 LEXUS RC F GT3 | 97 | 11 LAPS | 0.104 | 4 |
| 29 | 9 | GTD | Patrick Long | #16 PORSCHE 911 GT3 R | 97 | 11 LAPS | 0.998 | 4 |
| 30 | 10 | GTD | Richard Heistand | #11 LAMBORGHINI HURACAN GT3 | 97 | 11 LAPS | 3.969 | 4 |
| 31 | 11 | GTD | Daniel Morad | #88 AUDI R8 LMS GT3 | 97 | 11 LAPS | 18.856 | 4 |
| 32 | 12 | GTD | Andy Lally | #44 LAMBORGHINI HURACAN GT3 | 97 | 11 LAPS | 16.328 | 4 |
| 33 | 13 | GTD | Lawson Aschenbach | #74 MERCEDES-AMG GT3 | 97 | 11 LAPS | 8.803 | 4 |
| 34 | 14 | GTD | Trenton Estep | #54 PORSCHE 911 GT3 R | 96 | 12 LAPS | 23.658 | 4 |
| 35 | 15 | GTD | Michael De Quesada | #14 LEXUS RC F GT3 | 96 | 12 LAPS | 12.279 | 4 |
| 36 | 16 | GTD | Mark Kvamme | #47 LAMBORGHINI HURACAN GT3 | 96 | 12 LAPS | 6.974 | 4 |
| 37 | 17 | GTD | Roman De Angelis | #23 ASTON MARTIN VANTAGE GT3 | 96 | 12 LAPS | 7.662 | 4 |