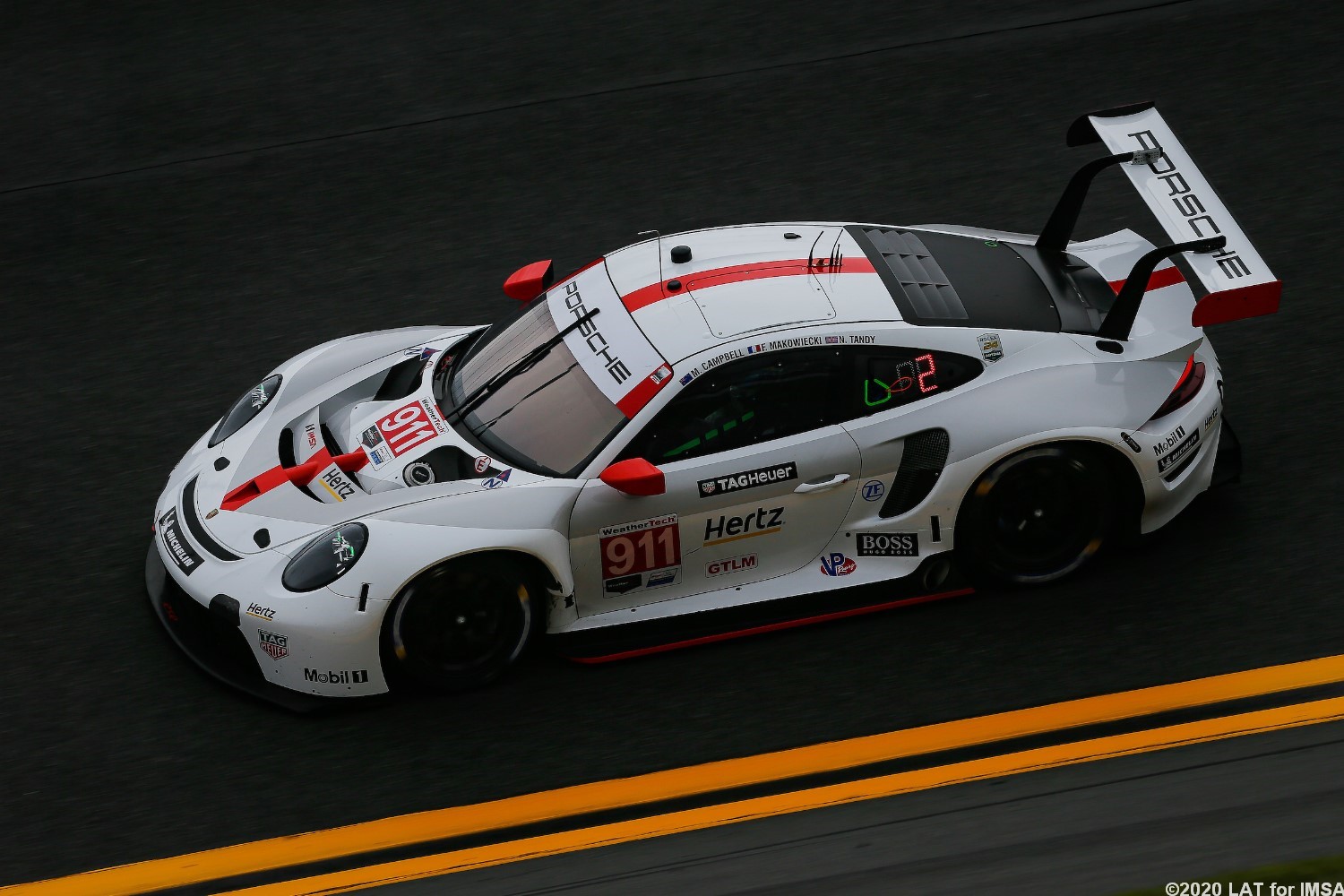 The #911 Porsche leads in GTLM
Tristan Nunez stretched out the lead for Mazda Team Joest in the second hour of the Rolex 24 at Daytona as the #31 Whelen Engineering Racing Cadillac had to make an unscheduled pit stop and dropped back to 8th.
Last year's winning car, the No. 10 Wayne Taylor Racing Cadillac,is now up to 2nd less than 1-second ahead of the #6 Acura with Dane Cameron at the wheel of the Team Penske Acura ARX-05.
Porsche GT Team runs nose-to-tail in GT Le Mans with the No. 911 Porsche 911 RSR ahead of the sister No. 912 car.
BMW Team RLL's No. 24 BMW M8 GTE sits third ahead of Jordan Taylor in the No. 3 Corvette C8.R and the No. 62 Risi Competizione Ferrari 488 GTE Evo in fifth in GTLM.
Ben Keating handed the No. 52 PR1/Mathiasen Motorsports Oreca 07 Gibson over to Simon Trummer before the end of the second hour, with Trummer holding a 16 second lead in the LMP2 class.
Hour 2 Standings
| | | | | | | | |
| --- | --- | --- | --- | --- | --- | --- | --- |
| Pos | Pic | Class | Current Driver | No./Make | Laps | Behind | Stops |
| 1 | 1 | DPI | Tristan Nunez | #77 MAZDA DPI | 75 | –.— | 3 |
| 2 | 2 | DPI | Ryan Briscoe | #10 CADILLAC DPI | 75 | 18.817 | 3 |
| 3 | 3 | DPI | Dane Cameron | #6 ACURA DPI | 75 | 19.353 | 3 |
| 4 | 4 | DPI | Ryan Hunter Reay | #55 MAZDA DPI | 75 | 23.850 | 3 |
| 5 | 5 | DPI | Helio Castroneves | #7 ACURA DPI | 75 | 28.753 | 3 |
| 6 | 6 | DPI | Sebastien Bourdais | #5 CADILLAC DPI | 75 | 37.547 | 3 |
| 7 | 7 | DPI | Juan Piedrahita | #85 CADILLAC DPI | 75 | 43.390 | 3 |
| 8 | 8 | DPI | Pipo Derani | #31 CADILLAC DPI | 74 | 1 LAP | 4 |
| 9 | 1 | LMP2 | Simon Trummer | #52 ORECA LMP2 07 | 73 | 2 LAPS | 3 |
| 10 | 2 | LMP2 | Henrik Hedman | #81 ORECA LMP2 07 | 72 | 3 LAPS | 3 |
| 11 | 3 | LMP2 | David H. Hansson | #8 ORECA LMP2 07 | 72 | 3 LAPS | 3 |
| 12 | 4 | LMP2 | Robert Masson | #38 ORECA LMP2 07 | 71 | 4 LAPS | 3 |
| 13 | 1 | GTLM | Fred Makowiecki | #911 PORSCHE 911 RSR – 19 | 70 | 5 LAPS | 2 |
| 14 | 2 | GTLM | Earl Bamber | #912 PORSCHE 911 RSR – 19 | 70 | 5 LAPS | 2 |
| 15 | 3 | GTLM | John Edwards | #24 BMW M8 GTE | 70 | 5 LAPS | 2 |
| 16 | 4 | GTLM | Jordan Taylor | #3 CHEVY CORVETTE C8.R | 70 | 5 LAPS | 2 |
| 17 | 5 | GTLM | Davide Rigon | #62 FERRARI 488 GTE | 70 | 5 LAPS | 2 |
| 18 | 6 | GTLM | Oliver Gavin | #4 CHEVY CORVETTE C8.R | 70 | 5 LAPS | 2 |
| 19 | 7 | GTLM | Philipp Eng | #25 BMW M8 GTE | 70 | 5 LAPS | 2 |
| 20 | 5 | LMP2 | Kyle Tilley | #18 ORECA LMP2 07 | 70 | 5 LAPS | 3 |
| 21 | 1 | GTD | Dennis Olsen | #9 PORSCHE 911 GT3 R | 68 | 7 LAPS | 2 |
| 22 | 2 | GTD | Bill Auberlen | #96 BMW M6 GT3 | 68 | 7 LAPS | 3 |
| 23 | 3 | GTD | Bryan Sellers | #48 LAMBORGHINI HURACAN | 68 | 7 LAPS | 3 |
| 24 | 4 | GTD | Misha Goikhberg | #57 ACURA NSX GT3 | 68 | 7 LAPS | 2 |
| 25 | 5 | GTD | Rolf Ineichen | #88 AUDI R8 LMS GT3 | 68 | 7 LAPS | 3 |
| 26 | 6 | GTD | Jules Gounon | #86 ACURA NSX GT3 | 68 | 7 LAPS | 3 |
| 27 | 7 | GTD | Ross Gunn | #98 ASTON MARTIN VANTAGE | 68 | 7 LAPS | 3 |
| 28 | 8 | GTD | Richard Heistand | #11 LAMBORGHINI HURACAN | 68 | 7 LAPS | 3 |
| 29 | 9 | GTD | Aaron Telitz | #12 LEXUS RC F GT3 | 68 | 7 LAPS | 3 |
| 30 | 10 | GTD | Cooper Macneil | #63 FERRARI 488 GT3 | 68 | 7 LAPS | 2 |
| 31 | 11 | GTD | John Potter | #44 LAMBORGHINI HURACAN | 67 | 8 LAPS | 3 |
| 32 | 12 | GTD | Patrick Long | #16 PORSCHE 911 GT3 R | 67 | 8 LAPS | 3 |
| 33 | 13 | GTD | Gar Robinson | #74 MERCEDES-AMG GT3 | 67 | 8 LAPS | 3 |
| 34 | 14 | GTD | Jonathan Hoggard | #47 LAMBORGHINI HURACAN | 67 | 8 LAPS | 3 |
| 35 | 15 | GTD | Roman De Angelis | #23 ASTON MARTIN VANTAGE | 67 | 8 LAPS | 3 |
| 36 | 16 | GTD | Trenton Estep | #54 PORSCHE 911 GT3 R | 67 | 8 LAPS | 3 |
| 37 | 17 | GTD | Jack Hawksworth | #14 LEXUS RC F GT3 | 67 | 8 LAPS | 3 |
| 38 | 18 | GTD | Tati Calderon | #19 LAMBORGHINI HURACAN | 67 | 8 LAPS | 3 |