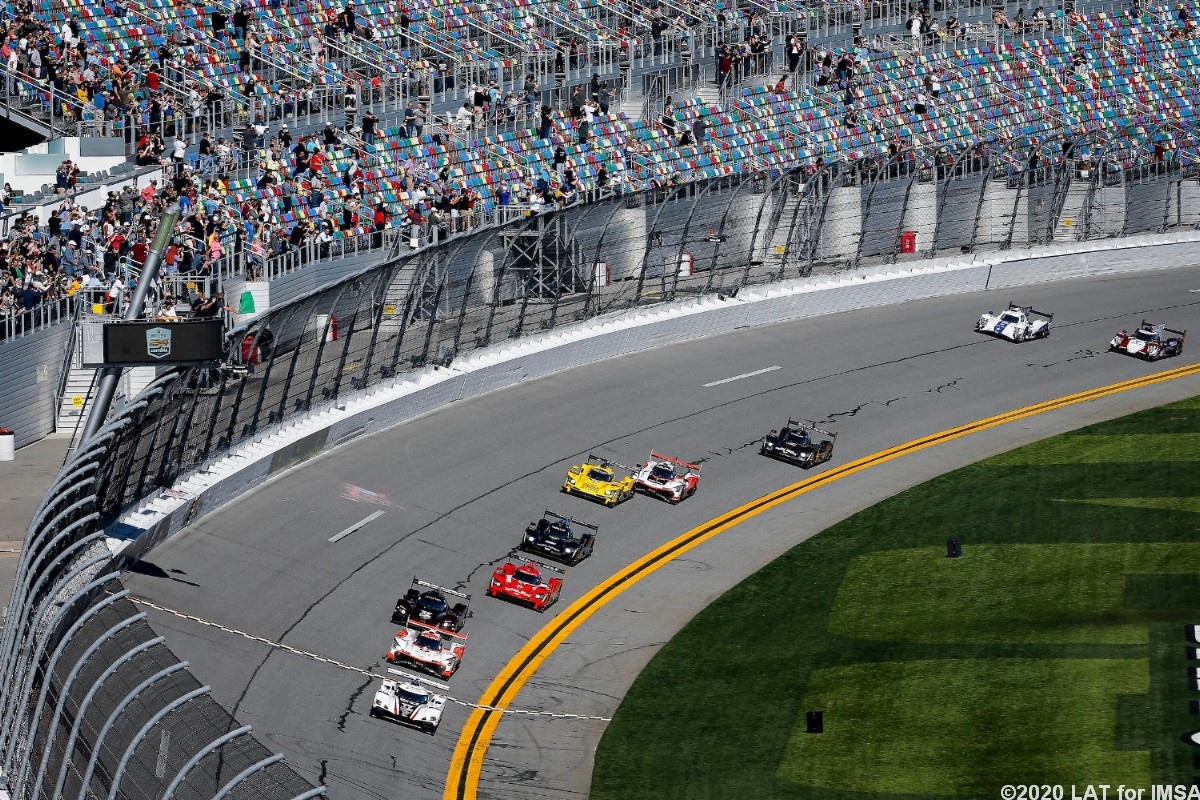 Oliver Jarvis leads at the start
Oliver Jarvis in the polesitting #77 Mazda DPI has easily led the Rolex 24 thru the first hour and it's clear the Balance of Power changes were made to favor Mazda and Cadillac.
At the end of the first hour, Jarvis led the #31 Cadillac with Felipe Nasr at the wheel by about 2 seconds with Juan Montoya running third 6-seconds back in the #6 Acura.
In GTLM the #911 (Nick Tandy) and #912 Porsche (Vanthoor) ran 1-2 ahead of the #25 BMW with Philipp Eng at the wheel.
The #9 Porsche led the #57 Acura in GTD at the end of Hour 1.
Hour 1 Standings
| | | | | | | | | |
| --- | --- | --- | --- | --- | --- | --- | --- | --- |
| Pos | Pic | Class | Current Driver | Mfg | Laps | Behind | Gap In Cl | Stops |
| 1 | 1 | DPI | Oliver Jarvis | #77 MAZDA DPI | 36 | –.— | –.— | 1 |
| 2 | 2 | DPI | Felipe Nasr | #31 CADILLAC DPI | 36 | 2.146 | 2.146 | 1 |
| 3 | 3 | DPI | Juan Pablo Montoya | #6 ACURA DPI | 36 | 6.465 | 4.319 | 1 |
| 4 | 4 | DPI | Jonathan Bomarito | #55 MAZDA DPI | 36 | 10.035 | 3.570 | 1 |
| 5 | 5 | DPI | Ricky Taylor | #7 ACURA DPI | 36 | 19.770 | 9.735 | 1 |
| 6 | 6 | DPI | Ryan Briscoe | #10 CADILLAC DPI | 36 | 20.402 | 0.632 | 1 |
| 7 | 7 | DPI | Tristan Vautier | #85 CADILLAC DPI | 36 | 22.114 | 1.712 | 1 |
| 8 | 8 | DPI | Joao Barbosa | #5 CADILLAC DPI | 36 | 26.579 | 4.465 | 1 |
| 9 | 1 | LMP2 | Ben Keating | #52 ORECA LMP2 07 | 35 | 1 LAP | –.— | 1 |
| 10 | 2 | LMP2 | Ben Hanley | #81 ORECA LMP2 07 | 34 | 2 LAPS | 40.834 | 1 |
| 11 | 3 | LMP2 | Cameron Cassels | #38 ORECA LMP2 07 | 34 | 2 LAPS | 18.735 | 1 |
| 12 | 4 | LMP2 | John Farano | #8 ORECA LMP2 07 | 34 | 2 LAPS | 6.659 | 1 |
| 13 | 5 | LMP2 | Dwight Merriman | #18 ORECA LMP2 07 | 33 | 3 LAPS | 59.602 | 1 |
| 14 | 1 | GTLM | Nick Tandy | #911 PORSCHE 911 RSR – 19 | 33 | 3 LAPS | –.— | 1 |
| 15 | 2 | GTLM | Laurens Vanthoor | #912 PORSCHE 911 RSR – 19 | 33 | 3 LAPS | 2.179 | 1 |
| 16 | 3 | GTLM | Philipp Eng | #25 BMW M8 GTE | 33 | 3 LAPS | 4.721 | 1 |
| 17 | 4 | GTLM | James Calado | #62 FERRARI 488 GTE | 33 | 3 LAPS | 1.764 | 1 |
| 18 | 5 | GTLM | Antonio Garcia | #3 CHEVROLET CORVETTE C8.R | 33 | 3 LAPS | 0.477 | 1 |
| 19 | 6 | GTLM | John Edwards | #24 BMW M8 GTE | 33 | 3 LAPS | 2.476 | 1 |
| 20 | 7 | GTLM | Tommy Milner | #4 CHEVROLET CORVETTE C8.R | 33 | 3 LAPS | 13.131 | 1 |
| 21 | 1 | GTD | Zacharie Robichon | #9 PORSCHE 911 GT3 R | 32 | 4 LAPS | –.— | 1 |
| 22 | 2 | GTD | Trent Hindman | #57 ACURA NSX GT3 | 32 | 4 LAPS | 0.308 | 1 |
| 23 | 3 | GTD | Cooper Macneil | #63 FERRARI 488 GT3 | 32 | 4 LAPS | 1.450 | 1 |
| 24 | 4 | GTD | Robby Foley | #96 BMW M6 GT3 | 32 | 4 LAPS | 2.489 | 2 |
| 25 | 5 | GTD | Rolf Ineichen | #88 AUDI R8 LMS GT3 | 32 | 4 LAPS | 6.282 | 2 |
| 26 | 6 | GTD | Steijn Schothorst | #11 LAMBORGHINI HURACAN | 32 | 4 LAPS | 3.805 | 2 |
| 27 | 7 | GTD | John Potter | #44 LAMBORGHINI HURACAN | 32 | 4 LAPS | 1.362 | 2 |
| 28 | 8 | GTD | Matt Mcmurry | #86 ACURA NSX GT3 | 32 | 4 LAPS | 0.892 | 2 |
| 29 | 9 | GTD | Madison Snow | #48 LAMBORGHINI HURACAN | 32 | 4 LAPS | 0.250 | 2 |
| 30 | 10 | GTD | Frankie Montecalvo | #12 LEXUS RC F GT3 | 32 | 4 LAPS | 0.463 | 2 |
| 31 | 11 | GTD | Pedro Lamy | #98 ASTON MARTIN VANTAGE | 32 | 4 LAPS | 17.350 | 2 |
| 32 | 12 | GTD | Ryan Hardwick | #16 PORSCHE 911 GT3 R | 32 | 4 LAPS | 7.178 | 2 |
| 33 | 13 | GTD | Gar Robinson | #74 MERCEDES-AMG GT3 | 32 | 4 LAPS | 1.426 | 2 |
| 34 | 14 | GTD | Tim Pappas | #54 PORSCHE 911 GT3 R | 32 | 4 LAPS | 11.380 | 2 |
| 35 | 15 | GTD | Parker Chase | #14 LEXUS RC F GT3 | 32 | 4 LAPS | 1.593 | 2 |
| 36 | 16 | GTD | Jonathan Hoggard | #47 LAMBORGHINI HURACAN | 32 | 4 LAPS | 0.121 | 2 |
| 37 | 17 | GTD | Ian James | #23 ASTON MARTIN VANTAGE | 32 | 4 LAPS | 0.454 | 2 |
| 38 | 18 | GTD | Tati Calderon | #19 LAMBORGHINI HURACAN | 31 | 5 LAPS | 25.591 | 2 |