Riley Motorsports Takes Daytona Win, Mercedes 1-2-3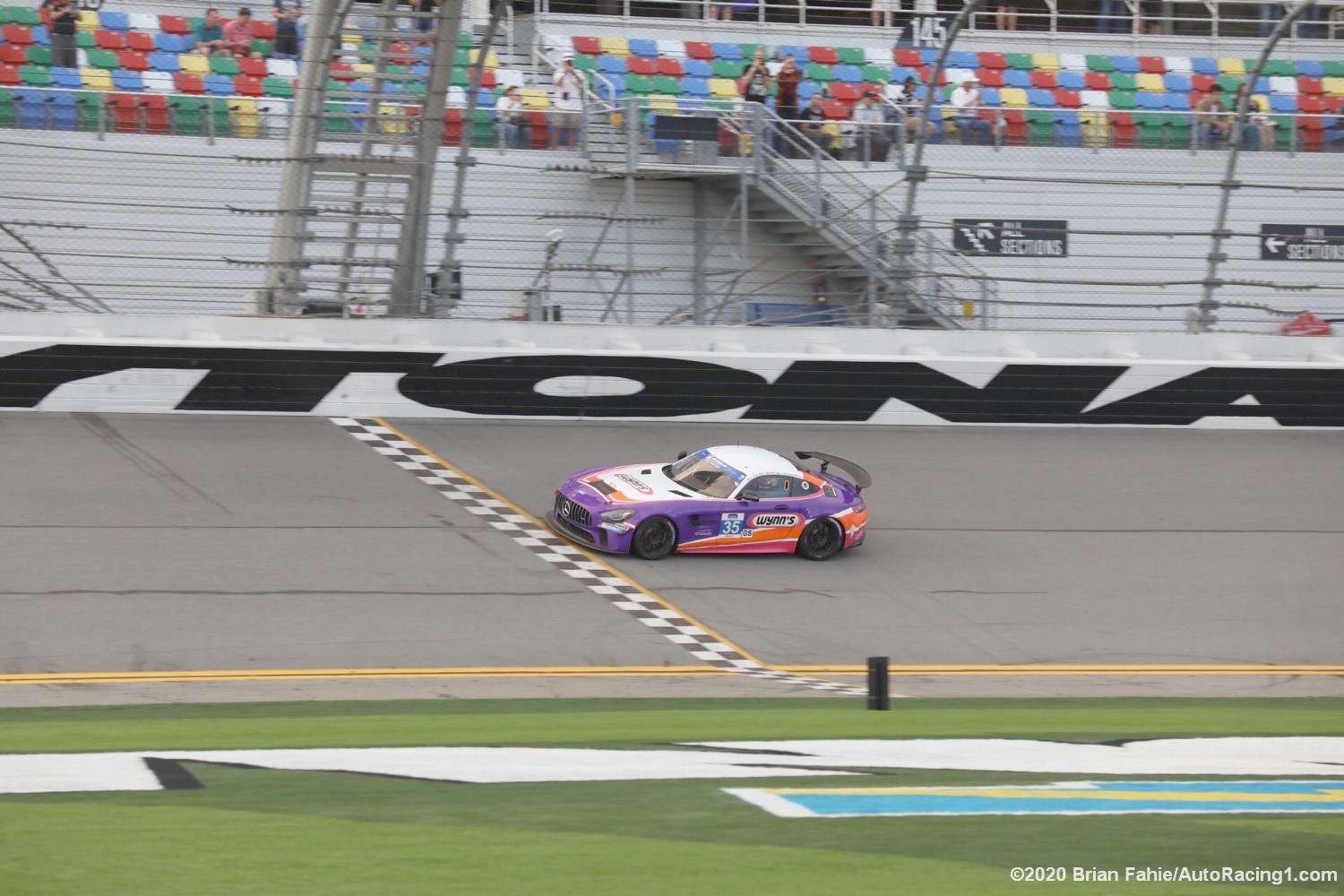 The winning Riley Motorsports Mercedes GT4
Brian Fahie/AR1.com
Daytona Beach. Mercedes-AMG Motorsport Customer Racing teams Riley Motorsports and Winward Racing combined to give the Mercedes-AMG GT4 its first podium sweep in worldwide competition Friday with a 1-2-3 finish in the season-opening IMSA Michelin Pilot Challenge four-hour race at Daytona International Speedway (DIS). Dylan Murry, Jim Cox and Jeroen Bleekemolen won their third-straight four-hour IMSA race in the No. 35 Riley Motorsports Mercedes-AMG GT4. The winners were followed across the finish line by the No. 57 Winward Racing Mercedes-AMG GT4 of co-drivers Bryce Ward and Philip Ellis and the team's sister No. 4 entry of Russell Ward and Indy Dontje.
The top-three made it a dominating day for the Mercedes-AMG GT4 on the 3.56-mile DIS road course. The winning Riley team and drivers combined to lead a race-high 60 laps and led a competitive train of three and sometimes four Mercedes-AMG GT4 teams at the front of the field for the final two hours of the race.
The No. 35 Mercedes-AMG GT4 team's victory followed four-hour IMSA race wins in November in the Michelin Encore at Sebring International Raceway and last June in Michelin Pilot Challenge competition at Watkins Glen International.
Winward Racing's runner-up and third place showings are the first time the two-car team has landed both entries on the podium in the same race. The No. 57 Winward entry led two race laps and Ellis, in his Daytona debut, set the fastest lap of the race of 1:54.295 (112.130 mph) in the Grand Sport (GS) class.
Beginning their second year as teammates, Russell Ward and Dontje earned a podium finish together for the first time with their third place showing in the No. 4.
A fourth Mercedes-AMG GT4 entry joined the top three at the front of the field for most the race's final two hours. The No. 56 Murillo Racing Mercedes-AMG GT4 of Jeff Mosing and Eric Foss ran in tight formation up front with the Riley and Winward cars but dropped from contention, and to an eventual eighth place finish, after a late pit stop for a loose wheel.

On-track action at the World Center of Racing continues this weekend with the 58th running of the Rolex 24 At Daytona, January 25 – 26.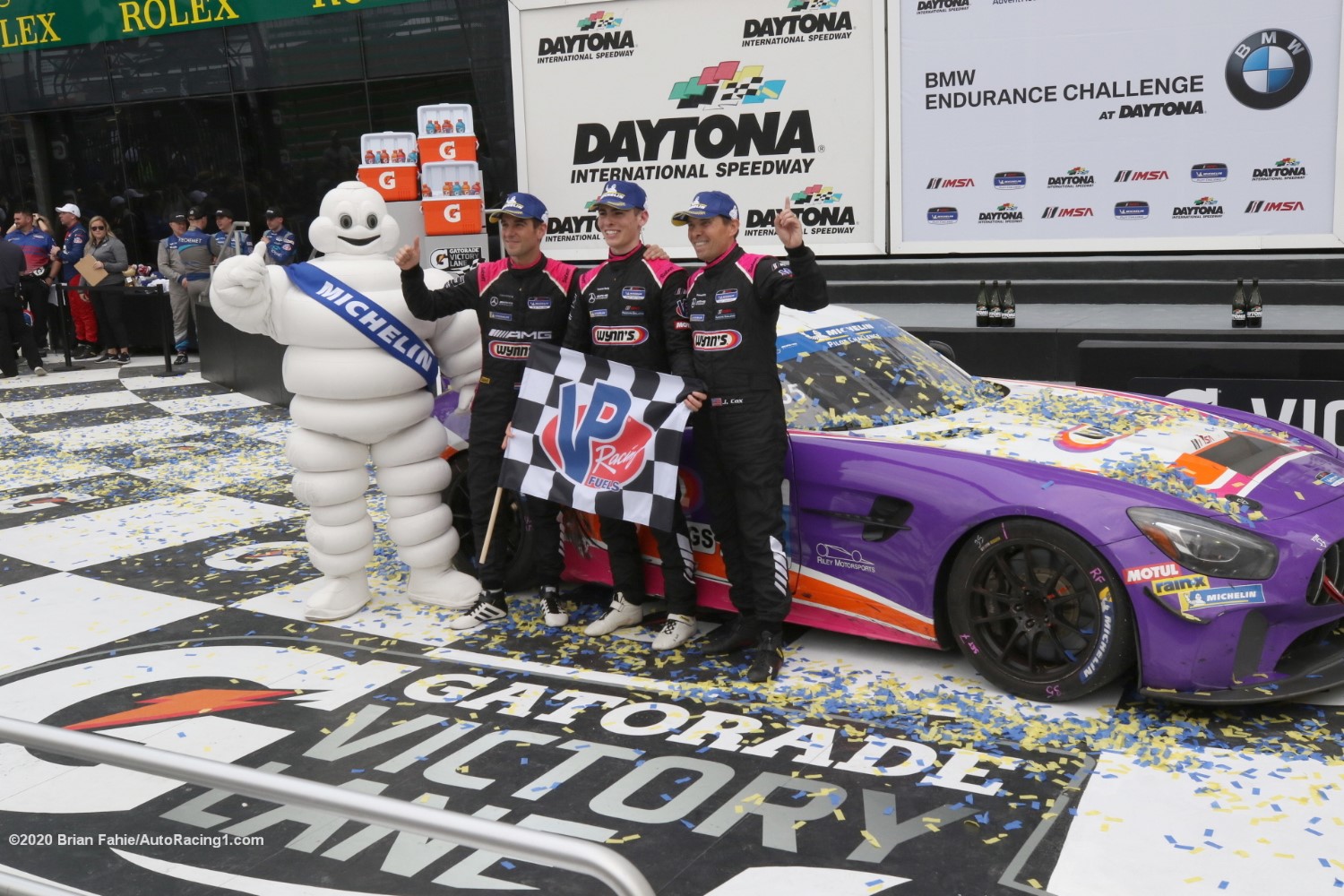 To the winners go the spoils
Brian Fahie/AR1.com
The No. 74 Riley Motorsports team of co-drivers Gar Robinson, Lawson Aschenbach, Ben Keating and Felipe Fraga will give the Mercedes-AMG GT3 Evo its North American debut in the GT Daytona (GTD) class in the twice-around-the-clock race.
The NBC network will have live coverage of the start of the race beginning at 1:30 p.m. EST this Saturday and returns to televise the race finish beginning at 12 p.m. EST on Sunday, January 26 as part of NBC Sports' complete coverage of the event. The coverage includes programming on the NBC Sports Network (NBCSN), the NBC Sports App and TrackPass on NBC Sports Gold.

The IMSA Michelin Pilot Challenge race will be aired in a two-hour telecast on NBCSN on Thursday, February 6 starting at 1 p.m. EST.

Dylan Murry, Driver – No. 35 Riley Motorsports Mercedes-AMG GT4: "To be able to drive at Daytona is one thing. To be able to win here is an entirely different world. I can't describe the emotions I am going through right now. I have always said, 'if I could win one race, it would be Daytona.' I watched my Dad race here, really grew up at track here in Daytona, so it is amazing to win here with Riley and Mercedes-AMG."

Jim Cox, Driver – No. 35 Riley Motorsports Mercedes-AMG GT4: "We worked really hard in the off season. We want to make a charge on the championship this year. As the gentlemen driver in this car, to stand in victory lane in Daytona is quite an experience. I am not sure it has fully sunk in yet. This our third four-hour race win and we are thinking of petitioning IMSA for all the races to be four hours."
Jeroen Bleekemolen, Driver – No. 35 Riley Motorsports Mercedes-AMG GT4: "The whole Riley Motorsports team has always done well in the longer races. We have always been leading the races here, sometimes even most of the race, and you know when you have a Mercedes-AMG GT from Riley you are going to be fighting for a good position. It's great, I am happy to be back in this car, and this is my first win at Daytona. It took a while, 10 years, but it just fantastic and a lot of fun with this entire team."

Matt Bejnarowicz, Lead Engineer – No. 35 Riley Motorsports Mercedes-AMG GT4: "What we really see is all the pieces of the puzzle coming together. We really worked on it a lot last season. We spent a lot of time here at Daytona preparing for this event, and this time it fired on all cylinders, and I mean everything. We spent by far the least amount of time in the pits. I'd have to back it up with data, but we were told we were on pit lane the least. The crew just nailed every stop, never made a mistake, and the drivers drove flawlessly. The Mercedes-AMG GT4 makes an engineer's life easy and it makes a team's life easy because it is extremely durable. If you treat it right, it will just keep running laps for you."

Bryce Ward, Driver – No. 57 Winward Racing Mercedes-AMG GT4: "I want to thank the engineering staff and the guys back at the shop with Russell for the unbelievable work they put in during the off season. That kind of work leads to these results. I am proud of them. We have really committed to Mercedes-AMG and see a great long-term future between ourselves – Winward Racing and HTP – with Mercedes-AMG. We look forward to many, many years of success as we had today. Our Mercedes-AMG GT4 was really strong, really stable and a great car to drive."

Philip Ellis, Driver – No. 57 Winward Racing Mercedes-AMG GT4: "I am extremely happy with the result for both cars. Bryce started in 18th and worked his way up to P8 at one point. We came back out after his two stints but lost some positions during a caution and lost some more spots on the restart. We fought our way back and found ourselves behind the winning car. Everybody is extremely happy here, maybe some things to work on in the coming race, but I am pretty happy with my first appearance here in IMSA."
Russell Ward, Driver – No. 4 Winward Racing Mercedes-AMG GT4: "It was an awesome day for Winward Racing. We were able to put our Mercedes-AMG GT4 cars up there in second and third place, and it is beautiful to be up there with my father. We had a great race, I had an awesome stint, and I am really looking forward to Sebring."

Indy Dontje, Driver – No. 4 Winward Racing Mercedes-AMG GT4: "A good race today. We finished third in the No. 4, taking P3 and P2 with our Winward Racing team, and a whole lockout out the podium for the Mercedes-AMG GT4. Our car ran very well, and we had a smooth race. I am happy with the performance from Russell, he drove a great stint at the beginning and then I finished it off. Overall we are really happy."
Results
| | | | | | | | |
| --- | --- | --- | --- | --- | --- | --- | --- |
| Pos | PiC | No. | CL | Drivers | Team | Car | Laps |
| 1 | 1 | 35 | GS | J. Cox/D. Murry/J. Bleekemolen | Riley Motorsports | Mercedes-AMG GT GT4 | 110 |
| 2 | 2 | 57 | GS | B. Ward/P. Ellis | Winward Racing | Mercedes-AMG GT GT4 | 110 |
| 3 | 3 | 4 | GS | I. Dontje/R. Ward | Winward Racing | Mercedes-AMG GT GT4 | 110 |
| 4 | 4 | 39 | GS | T. McQuarrie/J. Westphal | CarBahn with Peregrine racing | Audi R8 GT4 | 110 |
| 5 | 5 | 60 | GS | N. Stacy/K. Marcelli | KOHR MOTORSPORTS | Aston Martin Vantage GT4 | 110 |
| 6 | 6 | 82 | GS | J. Clay/D. Jones | BimmerWorld | BMW M4 GT4 | 110 |
| 7 | 7 | 43 | GS | G. Liefooghe/A. Balogh | Stephen Cameron Racing | Aston Martin Vantage GT4 | 110 |
| 8 | 8 | 56 | GS | J. Mosing/E. Foss | Murillo Racing | Mercedes-AMG GT GT4 | 110 |
| 9 | 9 | 31 | GS | R. Ferriol/S. Pumpelly | Team Hardpoint | Audi R8 GT4 | 110 |
| 10 | 10 | 8 | GS | M. McCann Jr./B. Casey Jr. | McCann Racing | Audi R8 GT4 | 110 |
| 11 | 11 | 40 | GS | J. Pesek/J. Buford/S. Lewis | PF Racing | Ford Mustang GT4 | 110 |
| 12 | 12 | 24 | GS | F. Gannett II/D. Staveley | Ian Lacy Racing | Ford Mustang GT4 | 110 |
| 13 | 13 | 71 | GS | F. DePew/R. Liddell/A. Davis | Rebel Rock Racing | Chevrolet Camaro GT4.R | 110 |
| 14 | 14 | 64 | GS | T. Giovanis/O. Trinkler | TGM Racing LLC | Chevrolet Camaro GT4.R | 109 |
| 15 | 15 | 99 | GS | K. Wilson/G. Ferrera | Automatic Racing | Aston Martin Vantage GT4 | 109 |
| 16 | 16 | 38 | GS | T. Collingwood/J. Tecce/J. Heylen | BGB Motorsports | Porsche 718 Cayman GT4 | 109 |
| 17 | 17 | 09 | GS | R. Ecklin/R. Abdolvahabi/B. Kidd | Automatic Racing | Aston Martin Vantage GT4 | 109 |
| 18 | 18 | 3 | GS | S. Monk/C. Lewis | M1 Racing LLC | McLaren 570S GT4 | 109 |
| 19 | 19 | 80 | GS | D. Machavern/N. Galante | BimmerWorld | BMW M4 GT4 | 108 |
| 20 | 20 | 51 | GS | L. Sanchez/A. Abreu | MCC MOTORSPORT | Mercedes-AMG GT GT4 | 108 |
| 21 | 21 | 14 | GS | A. Dias Perera/C. Friedman D. Clarke | Bluff City Racing/Autometrics | Mercedes-AMG GT GT4 | 108 |
| 22 | 22 | 26 | GS | S. McAleer/R. Dalgleish/B. Visser | Fast Track Racing | BMW M4 GT4 | 107 |
| 23 | 23 | 7 | GS | A. Brynjolfsson/T. Hindman | Archangel Motorsports | Porsche 718 Cayman GT4 | 107 |
| 24 | 1 | 61 | TCR | G. Ernstone/J. Morley | Road Shagger Racing | Audi RS3 LMS TCR | 107 |
| 25 | 2 | 32 | TCR | W. Tally/M. Taylor | Speed Syndicate Motorsports | Audi RS3 LMS TCR | 107 |
| 26 | 3 | 54 | TCR | M. Johnson/S. Simpson | JDC-Miller MotorSports | Audi RS3 LMS TCR | 107 |
| 27 | 4 | 98 | TCR | M. Lewis/M. Filippi | Bryan Herta Autosport | Hyundai Veloster N TCR | 107 |
| 28 | 5 | 33 | TCR | G. Chaves/R. Norman | Bryan Herta Autosport w/ Curb Agaj | Hyundai Veloster N TCR | 107 |
| 29 | 6 | 21 | TCR | M. Wilkins/H. Gottsacker | Bryan Herta Autosport w/ Curb Agaj | Hyundai Veloster N TCR | 107 |
| 30 | 7 | 81 | TCR | R. Tomlinson/T. Hill | TWOth Autosport/Bestline AutoTech | Audi RS3 LMS TCR | 106 |
| 31 | 8 | 73 | TCR | M. LaMarra/M. Pombo | LA Honda World Racing | Honda Civic TCR | 105 |
| 32 | 9 | 74 | TCR | A. Muss/B. Waddell | Forty7 Motorsports | Hyundai Veloster N TCR | 105 |
| 33 | 24 | 19 | GS | M. Signoretti/S. Maxwell | Multimatic Motorsports Inc. | Ford Mustang GT4 | 104 |
| 34 | 10 | 84 | TCR | B. Henderson/T. Lamb | Atlanta Speedwerks | Honda Civic TCR | 104 |
| 35 | 11 | 23 | TCR | M. Faulkner/J. Vance | Speed Syndicate Motorsports | Audi RS3 LMS TCR | 102 |
| 36 | 12 | 77 | TCR | R. Eversley/T. Hagler | L.A. Honda World Racing | Honda Civic TCR | 102 |
| 37 | 25 | 65 | GS | T. Probert/B. Mosing/J. Piscitell | Murillo Racing | Mercedes-AMG GT GT4 | 99 |
| 38 | 26 | 13 | GS | O. Fidani/K. Wittmer | AWA | McLaren 570S GT4 | 98 |
| 39 | 27 | 59 | GS | R. Golinello/B. Michaelian | KOHRTEX MOTORSPORTS | Ford Mustang GT4 | 96 |
| 40 | 13 | 5 | TCR | R. Block/T. Lewis | KMW Motorsports with TMR | Alfa Romeo Giulietta TCR | 92 |
| 41 | 14 | 18 | TCR | S. Vajda/A. Premat | TEAM PREMAT | Audi RS3 LMS TCR | 88 |
| 42 | 28 | 95 | GS | A. Straus/C. Bloum/B. Johnson | Turner Motorsport | BMW M4 GT4 | 88 |
| 43 | 29 | 22 | GS | H. Deegan/C. Briscoe | Multimatic Motorsports Inc. | Ford Mustang GT4 | 86 |
| 44 | 15 | 94 | TCR | N. Reger/B. Ortiz | Atlanta Speedwerks | Honda Civic TCR | 79 |
| 45 | 30 | 15 | GS | A. Cindric/S. Priaulx | Multimatic Motorsports Inc. | Ford Mustang GT4 | 78 |
| 46 | 31 | 96 | GS | B. Auberlen/R. Foley/V. Barletta | Turner Motorsport | BMW M4 GT4 | 70 |
| 47 | 16 | 47 | TCR | D. Cangialosi/A. Papadopulos | Forty7 Motorsports | Hyundai Veloster N TCR | 63 |
| 48 | 17 | 89 | TCR | C. Gilsinger/S. Eich/C. Lawrence | HART | Honda Civic TCR | 57 |
| 49 | 32 | 46 | GS | H. Plumb/M. Plumb | TGM Racing LLC | Chevrolet Camaro GT4.R | 46 |
| 50 | 33 | 2 | GS | M. Skeen/M. Brummond | Ave Motorsports | Audi R8 GT4 | 34 |
| 51 | 18 | 37 | TCR | S. Blackstock/C. Miller | LA Honda World Racing | Honda Civic TCR | 30 |