Erik Jones shares thoughts on sequential shifter, aero differences in Next Gen car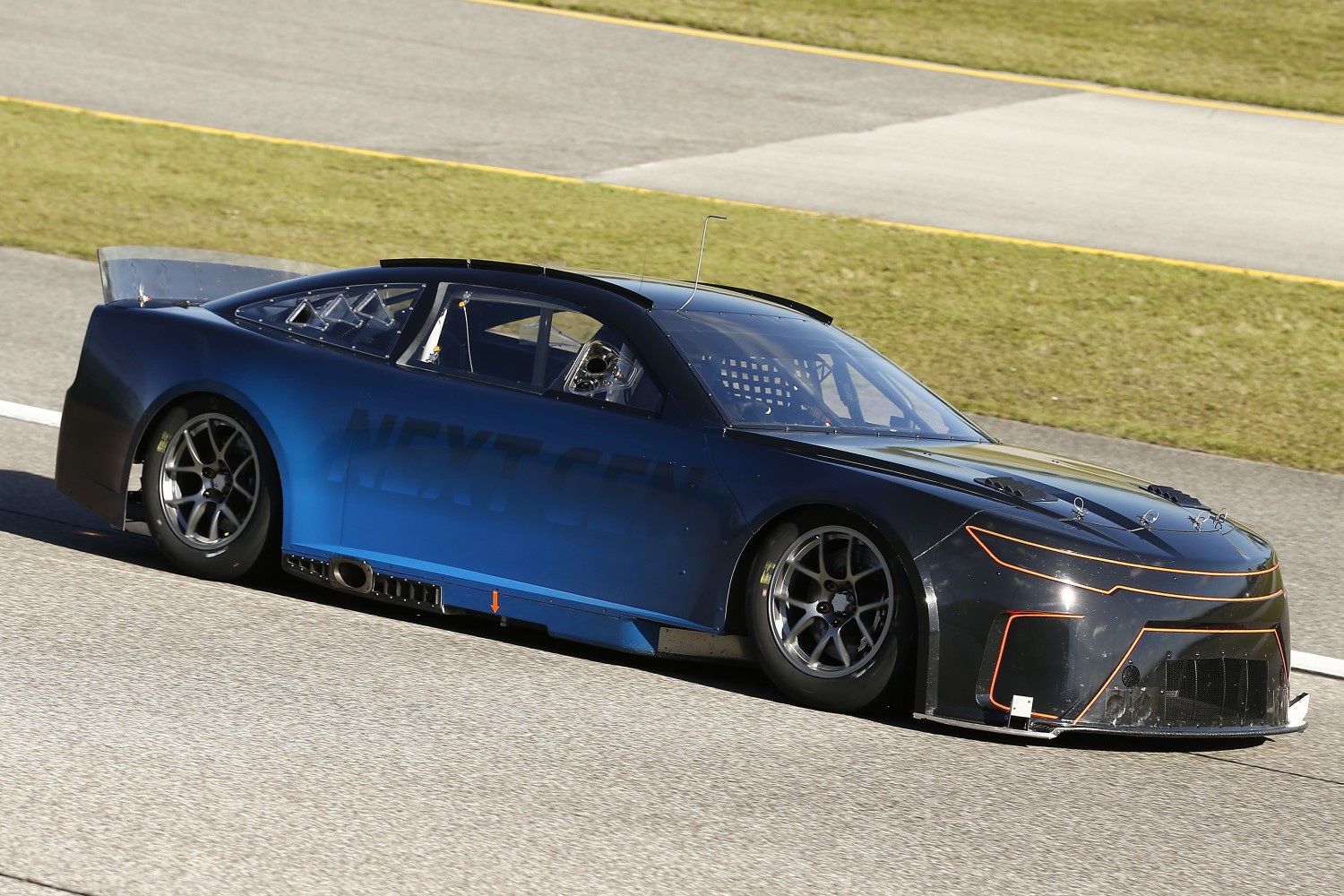 Jones tests the NextGen 'spec' NASCAR Cup car
Erik Jones became just the third NASCAR Cup Series competitor to take a spin in the Next Gen car this week at Homestead-Miami Speedway.
The Joe Gibbs Racing driver spent two days on Florida's 1.5-mile track piloting the prototype in its third test. Throughout the process, Jones definitely noted a few differences between this future car and the current model. Next Gen is set to make its competitive debut in the 2021 season.
"It's definitely a big aero change," Jones said Thursday. "We have a lot of sideforce in our cars now and there is a lot to lean on – when you get loose the car kind of corrects itself and straightens itself out. This car doesn't really have any of that. The quarter panels are so short and there's no offset in the car – it's very symmetrical – so there's not a lot to lean on in this car. I think a lot of the aero changes they've done are going to help as far as racing goes, especially racing in a pack.
"Other than that, as we were working on things, some driving characteristics are similar. I think there is definitely more grip to be had as far as what the car is capable of. I think as far as development goes, there is going to be a lot more mechanical grip available than what we currently have."
Jones posted a video to Twitter midway through the second day of testing to share initial thoughts and a sneak peek inside the Next Gen car.
Got some new wheels to show you… pic.twitter.com/XGdgZviRlK

— Erik Jones (@Erik_Jones) January 16, 2020
In the video, Jones brings viewers into the cockpit, pointing out the sequential shifter he was able to test. It's different from what drivers use now in that shifting is a quick hit rather than more conventional throws. This will allow drivers to change gears faster.
"I've never done anything other than normal H-pattern shifting in my career," said Jones, who has been full time in the Cup Series since 2017. "You can bang right through the gears; we did a restart at the end of the day (Wednesday) and it was fun learning about that and how you can push that gear box. That really gets you excited for the road courses and what it's going to be capable of there."
Road courses, along with superspeedways, have yet to be tested.
A Next Gen vehicle first hit the track in 2019. Austin Dillon piloted the prototype built by Richard Childress Racing in collaboration with NASCAR back in October at Richmond Raceway. Joey Logano then had a run with it in December at Phoenix Raceway, home of the 2020 season finale.
All three testing spots so far have been a different length by virtue. Richmond is a short track at 0.75 miles. Phoenix is a 1-miler. Miami is then the first intermediate oval. This has allowed officials to progress
Take a ride with @Erik_Jones as he pilots the Next Gen car at @HomesteadMiami. pic.twitter.com/mmBCPjRxzp

— NASCAR (@NASCAR) January 17, 2020