John Force edition 2020 COPO Camaro auctioned for $600,000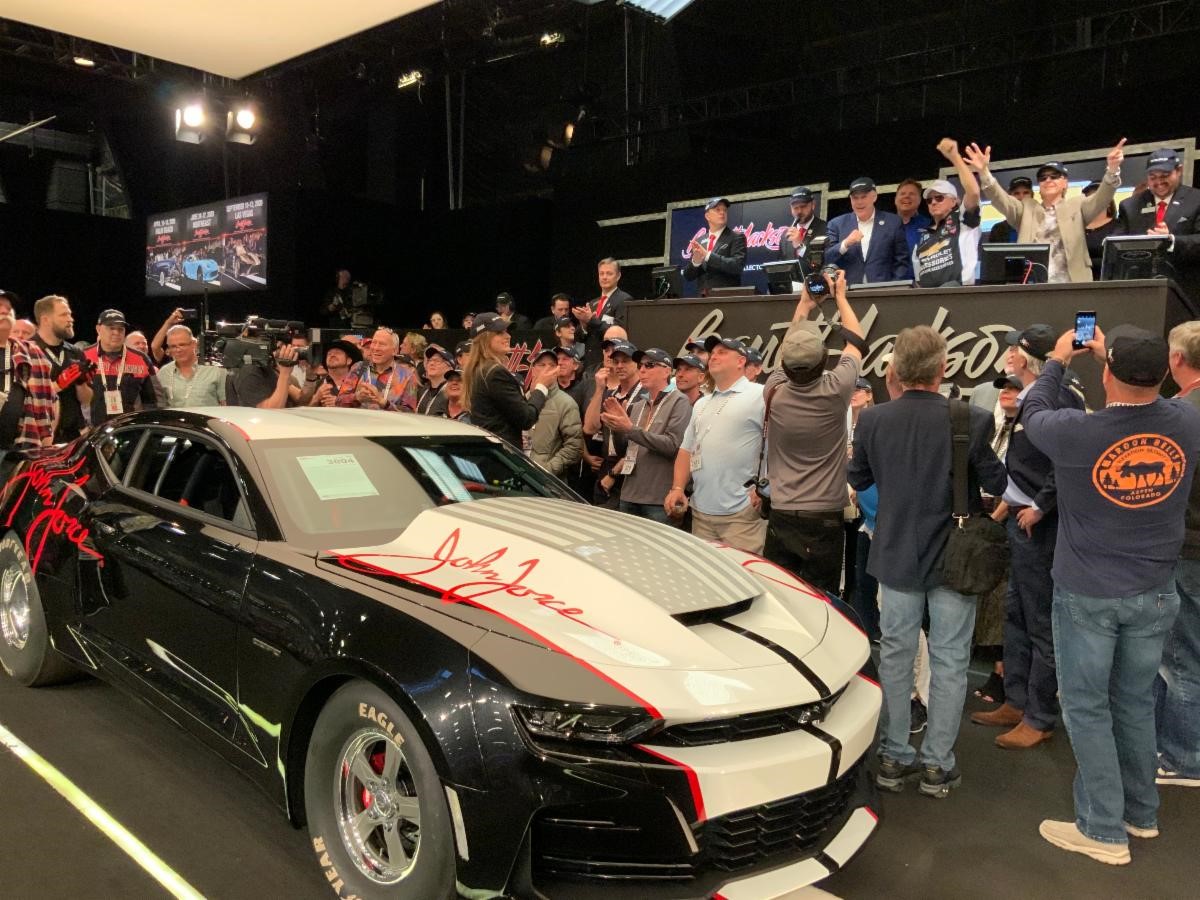 Barrett-Jackson Photo
"This is very special," 16-time National Hot Rod Association (NHRA) Funny Car champion John Force said after hearing the hammer price of $600,000 on the one-of-a-kind 2020 Chevrolet COPO Camaro John Force edition at the 49th Barrett-Jackson auction in Scottsdale, Arizona.
Scott Libersher of Wilmington, Illinois, who drives a COPO Camaro in NHRA Lucas Oil Drag Racing Series categories, was the winning bidder for his ninth COPO Camaro. Proceeds from the sale, including Barrett-Jackson Auctions waiving its fees and commissions, will benefit DonorsChoose.org.
"First I want to say I love Chevy. This is a real NHRA race car; it's the real deal and I'm excited to be a part of it," said Force, who also donated the firesuit he wore when he drove a Chevrolet Camaro SS to the Funny Car title at the Chevrolet Performance U.S. Nationals in September 2019. "My name is on this car and that's going to be worth something any day."
The mission of DonorsChoose.org is to supply classrooms with needed materials so students in every community have the tools and experiences they need for a great education.
"(The organization) supports all public school teachers across America who want their kids to have books, art supplies and science equipment that so many teachers provide from their own pockets to purchase. That's where DonorsChoose comes in," said Charles Best, founder of DonorsChoose.org.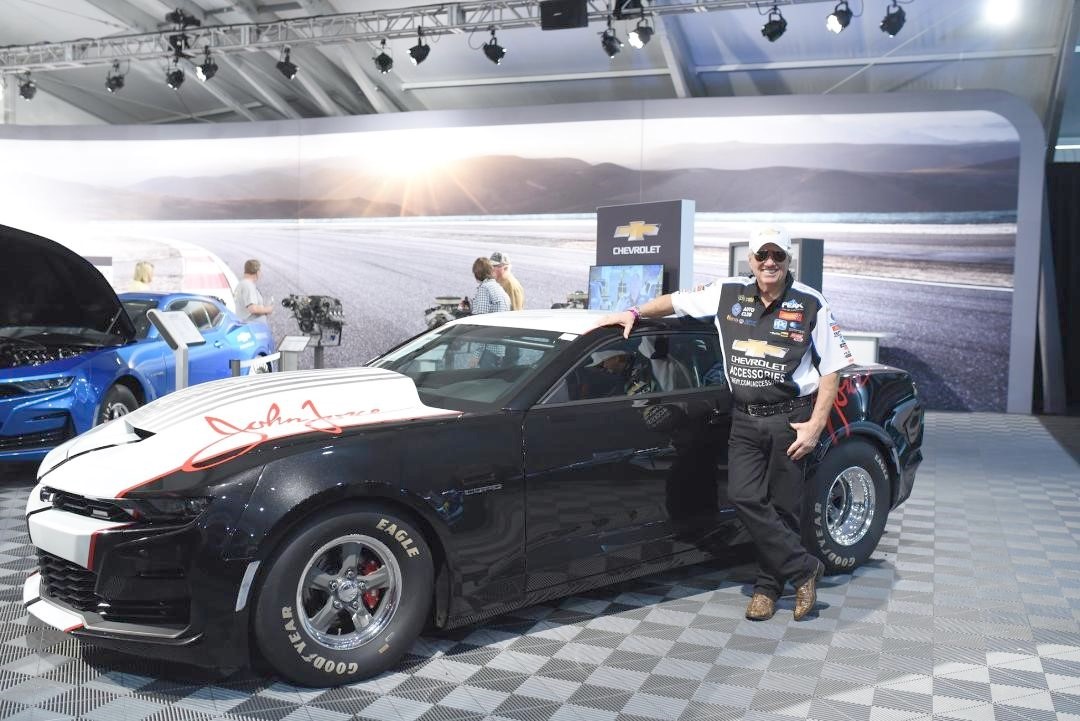 John Force and his COPA Camaro
The John Force COPO is distinctly styled, with a black-and-silver paint scheme and signature exterior graphics, including a ghosted American flag on the hood. The racetrack-ready car also features a unique "2020COPO-FORCE" identification plaque.
"We are so proud at Chevrolet to partner with a 16-time NHRA Funny Car champion," said Jim Campbell, GM U.S. vice president of Performance and Motorsports. "We partnered with John to create a very special COPO Camaro. John helped us design it, and this car will run in Stock Eliminator on the quarter mile."
A revised version of Chevrolet Performance's supercharged, LSX-based 350 engine, featuring a 2.65L Magnuson supercharger and all-new LSX-SC cylinder heads provides the power. A Racer's package, which includes a carbon-fiber air inlet, dual batteries, weight box, parachute and quick-change coupling for the engine, is also included.
Force also greeted fans and signed autographs at the Chevrolet display at the Westwood of Scottsdale.
"This is a great day," he said.
Force, driver of a Chevrolet Camaro SS Funny Car and team namesake, will seek to extend his NHRA record for victories to 152 when the 24-race season opens Feb. 7-9 in Pomona, California.
COPO CAMARO LEGACY: The second COPO program, begun in 2012, builds on the legacy established in 1969, when the first purpose-built Camaro drag racing specialty car was designed to compete in the NHRA Stock Eliminator. The COPO nameplate is a nod to the Central Office Production Order system, which Chevrolet dealers used to build the high-performance cars. Also, as a nod to the program, only 69 COPO Camaros are built and sold each year through a lottery.