Dakar Stage 8 cancelled for Bikes to honor dead rider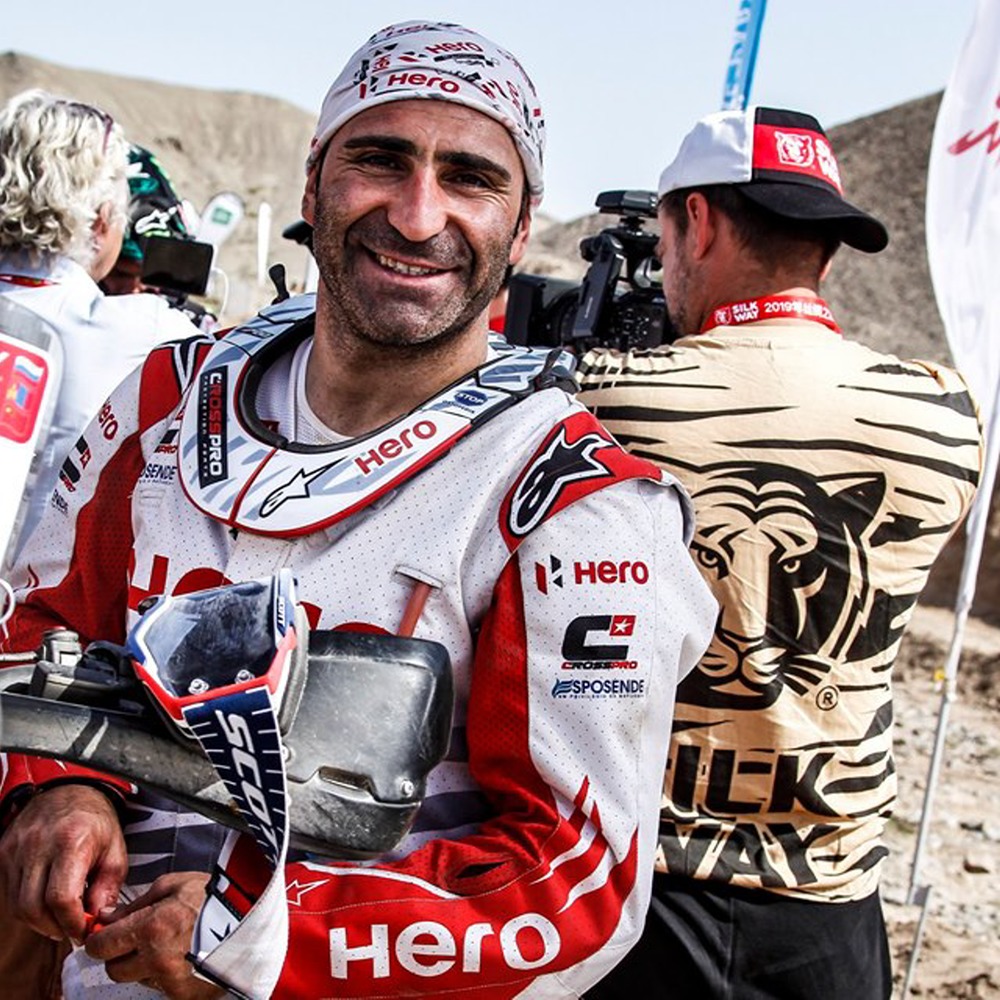 Paulo Goncalves
After the accident yesterday which claimed the life of motorcycle rider Paulo Goncalves, today's stage, the eighth of the Dakar Rally 2020, has been cancelled in the motorcycle category out of respect for the mourning of family and friends in the bivouac.
An on-track accident at kilometer 276 in the seventh stage of the Dakar Rally 2020 took the life of Portuguese rider Paulo Goncalves (5/2/1979).
Paulo Goncalves was a rider with Honda HRC, Monster Energy Honda Team from mid-2013 until mid-2019. During those six season the spirited Portuguese rider won over the hearts of, not only the entire team, but also all the companions in the bivouac.
Paulo won three Dakar Rally stages with Honda and claimed the runner-up spot in the 2015 edition. Previously after various victories in the 2013 world championship, Paulo clinched the title of FIM Cross-Country Rallies world champion in an epic triumph in Morocco. In 2014 he took the runner-up prize was third in the world championship in 2015 and 2017.
Yoshishige Nomura, HRC President
I am shocked, and deeply saddened at the news of Paulo Goncalves passing away. Paulo joined the during 2013 season, the year that Honda returned to the Dakar, and played an invaluable role in enhancing the racing bike's competitiveness. His friendly, jolly personality made him a driving force for the team, and charmed motorsports fans worldwide. HRC appreciates Paulo's tremendous achievements and his immeasurable contribution as a Honda rider, and expresses its deepest condolences to his family and friends.
Rider Standings
Provisional Top-10 Standings after Stage 7
| | | | | | | |
| --- | --- | --- | --- | --- | --- | --- |
| Pos. | Rider | Num | Nat | Team | Constructor | Time/Gap |
| 1 | Brabec Ricky | 9 | USA | Monster Energy Honda Team | Honda | 28:25m01s |
| 2 | Quintanilla Pablo | 5 | CHI | Husqvarna Factory Rally Team | Husqvarna | +24m48s |
| 3 | Cornejo Jose Ignacio | 17 | CHI | Monster Energy Honda Team | Honda | +27m01s |
| 4 | Price Toby | 1 | AUS | KTM Factory Racing Team | KTM | +28m44s |
| 5 | Barreda Joan | 12 | SPA | Monster Energy Honda Team | Honda | +29m39s |
| 6 | Walkner Matthias | 2 | AUT | KTM Factory Racing Team | KTM | +33m04s |
| 7 | Benavides Luciano | 16 | ARG | KTM Factory Racing Team | KTM | +38m58s |
| 8 | Howes Skyler | 59 | USA | Klymciw Racing | KTM | +01h15m02s |
| 9 | Caimi Franco | 22 | ARG | Yamalube Yamaha Official Rally Team | Yamaha | +01h15m31s |
| 10 | Svitko Stefan | 19 | SLO | Slovnaft Team | KTM | +01h19m41s |