Denny Hamlin Wins First-Career Darlington Pole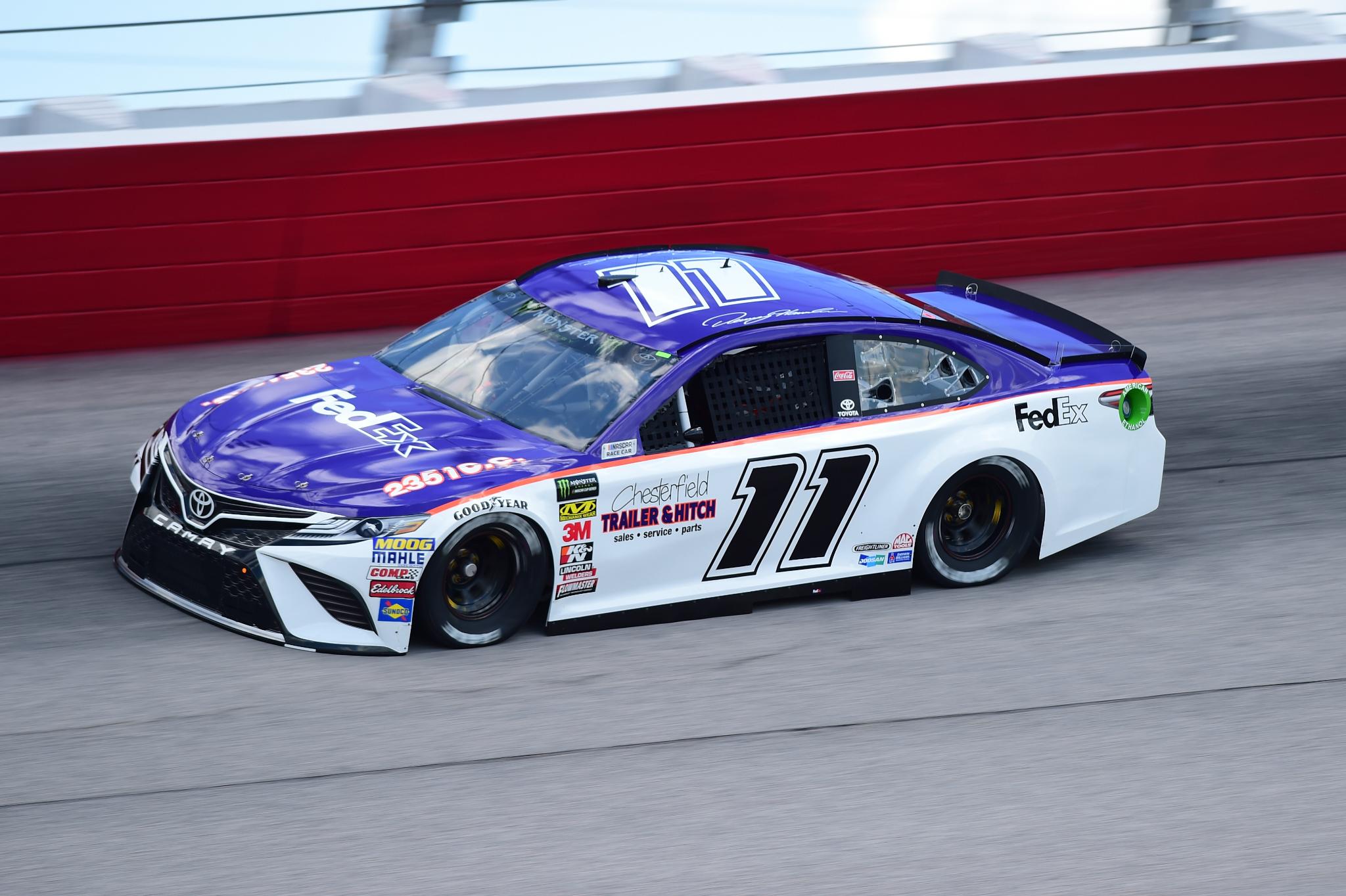 Denny Hamlin
Jared C. Tilton/Getty Images
Defending Southern 500 winner Denny Hamlin lead the field to the green flag for Sunday's race at after the pole position in Saturday's Cup Series qualifying at Darlington Raceway.
Hamlin beat out Kyle Larson for his first-career Darlington pole and his third of the season – all of them coming in just the last four races.
Hamlin turned in a lap of 28.332 seconds (173.571 mph) in his No. 11 Toyota during the third and final round of Saturday's qualifying session, besting Larson's 173.411 mph run in the No. 42 Chevrolet.
Martin Truex, Jr. qualified third in a Toyota, followed by Chevy driver Alex Bowman. Hamlin's Joe Gibbs Racing teammate qualified fifth, putting three Toyotas in the top five starting spots.
Hamlin's pole-winning effort was the 29th of his career and his best Darlington start since starting third back in May of 2011.
[adinserter name="GOOGLE AD"] "The number one pit stall is obviously very important here. I'm excited about that," said Hamlin. "Really, the team has done a great job with the car all weekend, so pretty optimistic and you know hopeful that we have a good smooth race on Sunday and continue to build some momentum here over the next few weeks."
Hamlin had been the fastest car in Friday's opening practice session but only managed to reach the seventh qualifying spot in Round 1 of Saturday's knockout qualifying. By Round 2, Hamlin had moved up to fourth and quickly moved to the top of the leaderboard once the final round was underway.
Larson, who had led the opening round of qualifying and finished second to Alex Bowman in Round 2, also recorded his career-best Darlington start. His lone top-five finish at the famous 1.366-mile oval came back in 2016.
"I just got a little bit too loose there in the center of (Turns) 1 and 2 and the exit of (Turns) 3 and 4 I felt like which cost me a little bit of time," said Larson. "Felt like we had a better car probably than Denny (Hamlin) did throughout qualifying there. I just got a little bit too loose and messed up a little bit there in (Turns) 1 and 2 and gave up that time.
"Disappointed that we didn't get the pole, but it's good to qualify good here. It's a tough race tomorrow. If we can keep our track position and keep it out of the wall we should have a good shot."
Bowman, making just his third-career Cup Series start at Darlington, surprised even himself with not only his best Darlington start, but his third top-five start of the season.
"We mocked up that in first practice there and we weren't very good. So, Greg (Ives, crew chief) and the guys did a good job getting it a lot better today," said Bowman. "I thought I left a little bit on the table there in the third round, a little disappointed in myself, but better than overdriving it and smacking the fence or whatever.
"Not a terrible qualifying effort obviously being fourth, it's way better than I've ever started here before. We have a really good race car. Just wish I had done a little better job there."
Ryan Newman, Erik Jones, Joey Logano, Kurt Busch and William Byron rounded out the top ten starters.
Among the notable drivers starting deeper in the field include Brad Keselowski in 13th and Kevin Harvick back in 22nd.
Jeffrey Earnhardt spun out during his qualifying run and was not able to record a lap, putting him at the tail of the field for Sunday's race.
RACE LINEUP
| | | | | | |
| --- | --- | --- | --- | --- | --- |
| Pos | # | Driver | Sponsor/Make | Lap | Speed |
| 1 | 11 | Denny Hamlin | FedEx Throwback Toyota | 28.332 | 173.571 |
| 2 | 42 | Kyle Larson | DC Solar Chevrolet | 28.358 | 173.411 |
| 3 | 78 | Martin Truex Jr. | Bass Pro Shops/5-hour ENERGY Toyota | 28.392 | 173.204 |
| 4 | 88 | Alex Bowman | LLumar Chevrolet | 28.4 | 173.155 |
| 5 | 18 | Kyle Busch | Skittles 1998 Retro Toyota | 28.415 | 173.064 |
| 6 | 31 | Ryan Newman | Caterpillar Chevrolet | 28.453 | 172.832 |
| 7 | 20 | Erik Jones | Sport Clips Throwback Toyota | 28.506 | 172.511 |
| 8 | 22 | Joey Logano | Pennzoil Ford | 28.507 | 172.505 |
| 9 | 41 | Kurt Busch | Haas Automation Ford | 28.535 | 172.336 |
| 10 | 24 | William Byron | AXALTA Throwback Chevrolet | 28.55 | 172.245 |
| 11 | 9 | Chase Elliott | NAPA Throwback Chevrolet | 28.694 | 171.381 |
| 12 | 10 | Aric Almirola | Smithfield Helping Hungry Homes Ford | 28.922 | 170.03 |
| 13 | 2 | Brad Keselowski | Miller Genuine Draft Ford | 28.46 | 172.79 |
| 14 | 21 | Paul Menard | Motorcraft/Quick Lane Tire & Auto Center Ford | 28.505 | 172.517 |
| 15 | 6 | Matt Kenseth | Oscar Mayer Ford | 28.512 | 172.475 |
| 16 | 19 | Daniel Suarez | ARRIS Toyota | 28.523 | 172.408 |
| 17 | 14 | Clint Bowyer | Carolina Ford Dealers Ford | 28.547 | 172.263 |
| 18 | 3 | Austin Dillon | American Ethanol e15 Chevrolet | 28.585 | 172.034 |
| 19 | 37 | Chris Buescher | Bush's Best Since 1908 Chevrolet | 28.621 | 171.818 |
| 20 | 48 | Jimmie Johnson | Lowe's Throwback Chevrolet | 28.635 | 171.734 |
| 21 | 12 | Ryan Blaney | Menards/Duracell Ford | 28.663 | 171.566 |
| 22 | 4 | Kevin Harvick | Busch Beer Throwback Ford | 28.667 | 171.542 |
| 23 | 38 | David Ragan | Citgard 700 Ford | 28.81 | 170.691 |
| 24 | 47 | AJ Allmendinger | Kroger ClickList Chevrolet | 28.83 | 170.572 |
| 25 | 17 | Ricky Stenhouse Jr. | John Deere Ford | 28.439 | 172.917 |
| 26 | 34 | Michael McDowell | Love's Travel Stops Ford | 28.445 | 172.881 |
| 27 | 43 | Bubba Wallace | STP Chevrolet | 28.489 | 172.614 |
| 28 | 13 | Ty Dillon | GEICO Chevrolet | 28.542 | 172.293 |
| 29 | 95 | Kasey Kahne | Dumont JETS Chevrolet | 28.585 | 172.034 |
| 30 | 32 | Matt DiBenedetto | Keen Parts/CorvetteParts.Net Ford | 28.622 | 171.812 |
| 31 | 1 | Jamie McMurray | McDonald's 50 Years of Big Mac Chevrolet | 28.819 | 170.637 |
| 32 | 52 | JJ Yeley | Trading View Chevrolet | 28.854 | 170.43 |
| 33 | 15 | Ross Chastain | Chevrolet | 28.928 | 169.994 |
| 34 | 72 | Corey LaJoie | BCT The Blockchain Terminal Chevrolet | 29.091 | 169.042 |
| 35 | 0 | Landon Cassill | StarCom Fiber Chevrolet | 29.33 | 167.665 |
| 36 | 66 | Timmy Hill | Rewards.com Toyota | 30.018 | 163.822 |
| 37 | 51 | BJ McLeod | Jacob Companies Chevrolet | 30.038 | 163.713 |
| 38 | 99 | Derrike Cope | Bojangles' Chevrolet | 30.662 | 160.381 |
| 39 | 23 | Joey Gase | Agri-Supply/Sparks Toyota | 31.781 | 154.734 |
| 40 | 96 | Jeffrey Earnhardt | Xtreme Concepts Toyota | 0 | 0 |

[adinserter name="GOOGLE AD"]