Martin Truex, Jr. Scores Second-Straight Kentucky Win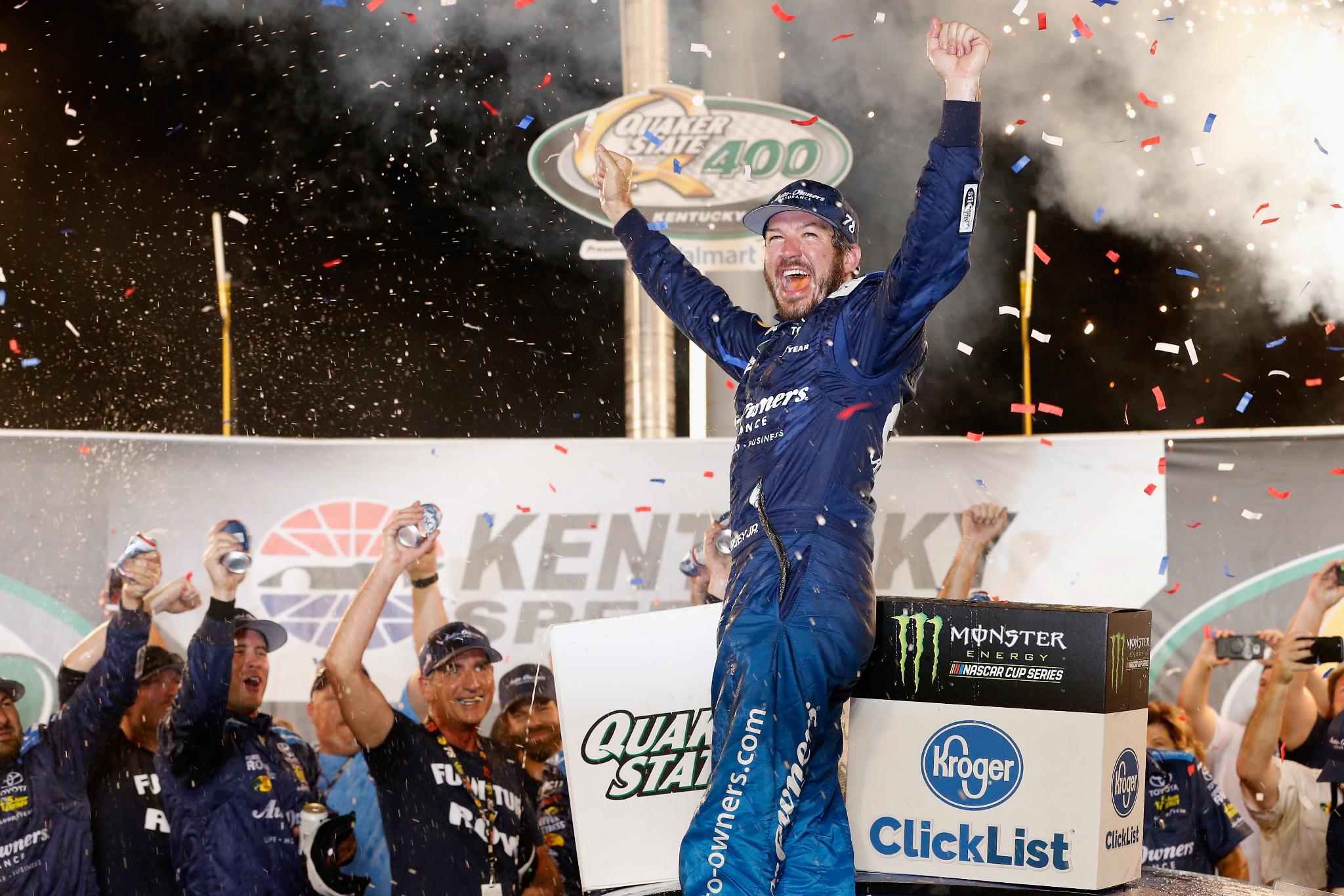 Martin Truex, Jr. wins at Kentucky
Sarah Crabill/Getty Images
Martin Truex Jr., made it a clean sweep at Kentucky Speedway this weekend.
After starting from the pole, Truex won all three stages and successfully defended his victory from last year's Quaker State 400.
Truex led 174 laps en route to his fourth win of the season and his 19th career victory in the Monster Energy NASCAR Cup Series.
"What a hell of a night this was," Truex said. "We try to do this every single week but that just shows you how hard it is. We made it look easy last year, but it certainly wasn't. Hats off to my guys for sticking with me all year. We've really been working hard on these race cars trying to figure them out."
The No. 78 Furniture Row Racing team certainly figured it out on Saturday night. Truex held a 1.901-second advantage over Ryan Blaney at the finish line. Brad Keselowski finished third followed by Kyle Busch, Kevin Harvick, Kurt Busch, Erik Jones, Aric Almirola, Kyle Larson and Joey Logano.
"It's a positive, that's for sure," Blaney said of his fourth top-five finish and best result of the season. "I hate it. I thought we were in a good spot there restarting fourth and Martin struggled a little bit the first couple laps and I thought I could get by him, but just couldn't quite get a run on him. His car came in and mine kind of faded a little bit and he won the race. That stunk. I thought we had a shot at it tonight, but I'm really proud of the gains we made all race though, to be honest with you. I didn't think we were a second-place car at the beginning of the race, and we got a lot better throughout the night so (crew chief) Jeremy Bullins and everybody did a great job."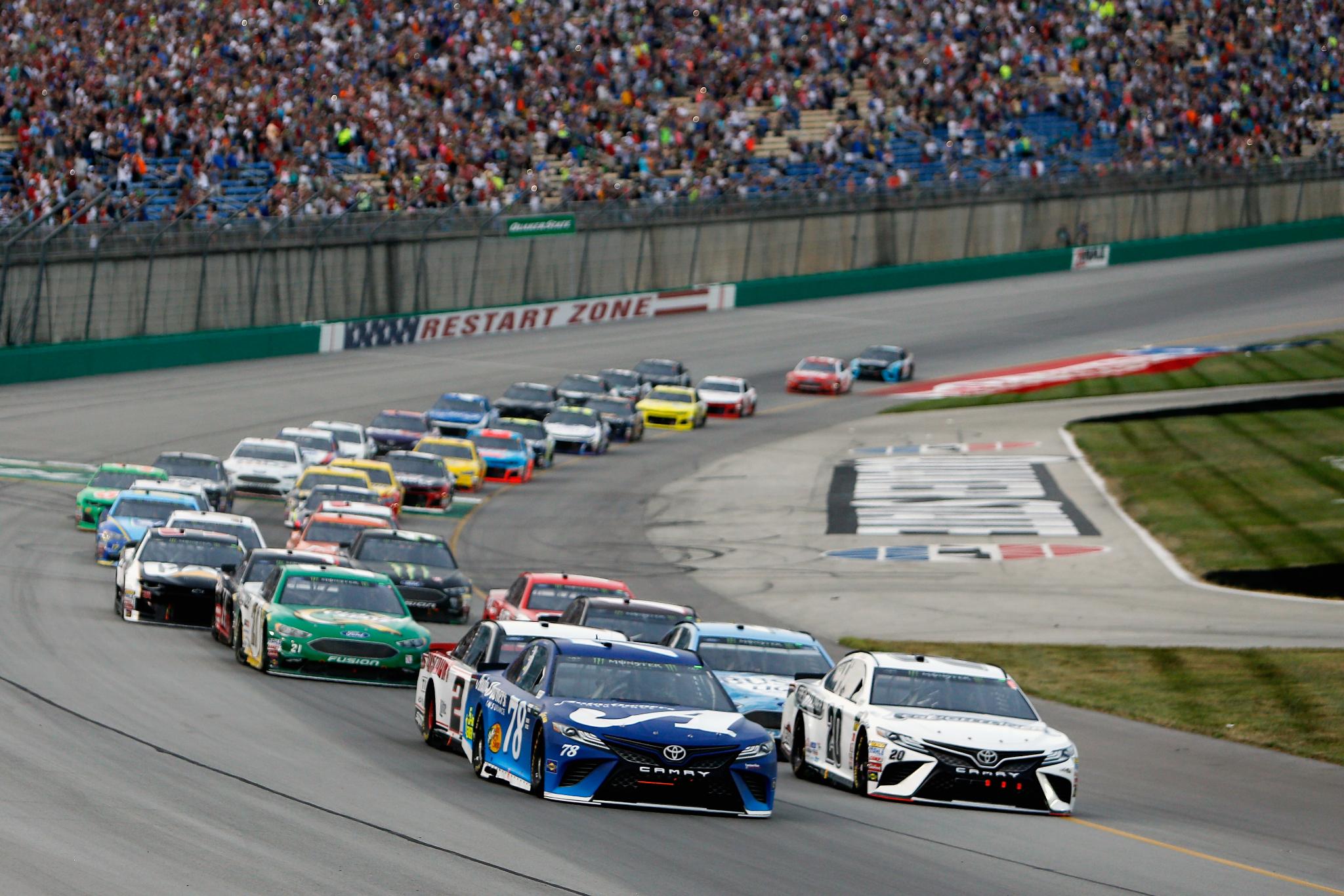 Martin Truex, Jr. (78) led a race-high 174 laps in Saturday night's race
Michael Reaves/Getty Images
Entering the weekend, Truex was adamant about the No. 78 Furniture Row Racing team picking up additional Playoff points. He did just that by winning the first two stages of the race in dominant fashion. Truex led 51 of the first 80 laps and won the first caution-free segment by .963-seconds over Harvick. The third member of the "Big Three," Kyle Busch, finished third.
Logano, who pitted on Lap 62, skipped pit road when the lead-lap cars came in for service on Lap 84 to gain the lead. However, it was short-lived as Kurt Busch, who opted for a two-tire stop between stages, muscled past him on the restart. But Truex was back at the point 10 laps later and extended his lead to 1.3-seconds over Kyle Busch for his second stage win of the evening and fifth of the season.
Stage 2 was a bit more eventful, when Alex Bowman, who also took two tires between stages, popped a right front tire and slammed into the Turn 3 wall. The team was forced to take the No. 88 Chevrolet to the garage after 108 laps. The accident stopped a streak of three-consecutive top-10 finishes and ended a DNF-free season.
[adinserter name="GOOGLE AD"] "We were the last guy that didn't have any DNF's – we made it one week farther than everybody else," Bowman said. "But it's a bummer. We popped a right front (tire) there. Don't know if a brake rotor caused that or if we just had a tire go down. It's unfortunate, but we will move on from it and go to the next one."
Keselowski, who came from two laps down following a pit road speeding penalty in the first stage, battled from 33rd to 15th in Stage 2. A two-tire stop vaulted the No. 2 Team Penske Ford to first to start the final stage on Lap 164.
But as was the case with all of Truex's other contenders, Keselowski fell to the No. 78 Toyota on Lap 201.
"Obviously, we wanted to win here at Kentucky," Keselowski said. "We had a solid run up front, led a bunch of laps there at one point. We really didn't have anything there for the 78, but we led laps and kept them honest."
Seven laps later, JJ Yeley hit the wall in Turn 4 to trigger the fourth and final caution. The No. 41 Stewart-Haas Racing team called for a two-tire stop and Kurt Busch returned to the lead. But 14 laps later, Truex returned to the lead and held on for his second career Cup win at Kentucky.
Kyle Busch retains a 59-point lead over Kevin Harvick in the Cup standings. Truex, who remained third in the standings, trails Harvick by eight points.
Quotes
MARTIN TRUEX JR., No. 78 Auto-Owners Insurance Toyota Camry, Furniture Row Racing
Finishing Position: 1st
How was your trip to victory lane?
"How long ago was that out there? The NASCAR official took me down the wrong turn. He disappeared. I couldn't see anything I was overheating so bad – dang windshield was fogged up and I couldn't see anything, but finally made it here and, man, what an awesome night. I mean, what a race car. Cole (Pearn, crew chief) and Jazzy and James and Pete and all the guys came up with one hell of a setup for here and we thought we were good yesterday and we tweaked on it for today and my goodness this thing was good, so get tired of thanking everybody, but I don't. I mean, there's a lot of people we couldn't do this without – all of my partners, all the guys at TRD (Toyota Racing Development). I think I hurt your engine a little bit – it smells bad and I never had one overheat that bad, but what can I say about the team and Barney (Visser, team owner) and everybody that gives us the things we need. JGR (Joe Gibbs Racing) chassis shop and body shop for their collaboration making this possible and just this is one hell of a race team. I'm so lucky to be out for them just enjoying myself and say hi to Sherry (Pollex) at home, say hi to everybody back home in Jersey and Bass Pro – Johnny (Morris) wasn't here tonight. John Paul (Morris) was here, so we're going to drink a cold beer, but Auto-Owners Insurance, 5-Hour, Furniture Row – again, just everybody that helps us out. This is so much fun I can't even tell you."
How does it feel to win like this?
"It feels good, you know? You never know how these races are going to play out. You never know quite what is going to happen and we had such a strong Toyota tonight they weren't going to beat us. You never know how they're going to turn out, so we just keep our heads down. We don't get too excited. We keep working on the race car and trying to stay calm and not get ahead of ourselves, so we had to make a lot of adjustments tonight on the car and had to battle back a from a few times getting passed for the lead and coming out of the pits second or third, but this Auto-Owners Toyota was amazing tonight, so just thanks to everybody for their support and making all this possible – Toyota, TRD (Toyota Racing Development), Bass Pro, 5-Hour, Auto-Owners of course being our primary tonight and so many people make this possible. I'm just the lucky guy who gets to drive them, so pretty exciting night for us and two in a row at a race track is pretty cool, so hell yeah."
What has it been like to have this success in recent years?
"Well, yeah, really the last three years have been just having the time of my life and just lucky to have great people around us, a great car owner. Barney Visser (team owner) gives us all the tools we need and great partners throughout the years to continue to build this team up. Just feel really lucky. I've been on the other side of it before where teams were struggling and struggled to get in position to win races and having a lot of things kind of going against you and kind of fighting that uphill battle, so it's amazing to be on this side of it. I can't tell you how proud I am of all the guys on our team and what they've done and I honestly just enjoy every single one of these wins like it's my first because you never know when they're going to come to an end. You never know when you're going to have your last one. You never know what's going to happen next. Just trying to ride the wave of momentum and enjoy it all and my team is just so badass, I can't even explain it. They're amazing. Really lucky to be a part of that. All our partners the last couple years, you look at Bass Pro and Johnny Morris and the support he's given me throughout my career – without guys like him I wouldn't be here. This year having 5-Hour and Auto-Owners and everybody at Toyota and TRD (Toyota Racing Development) – Salisbury and Costa Mesa – as part of our team, JGR (Joe Gibbs Racing) chassis shop and all those guys that we work with, with Toyota, it's just a dream come true to be part of all of it and definitely feel lucky right now and hopefully we can continue this wave of momentum and go after another championship."
Was there any point tonight you were concerned?
"Yeah, I mean, you're always concerned. You never know how these things are going to go. You can have the best car and lose – I mean, we've done it 10, 15 times the last four years, so you just – you keep your head down, you keep digging and you try to be ready for whatever they can throw at you and tonight we were."
Are you ready to keep rolling?
"Yeah, man, that's the plan. Get our mile-and-a-half stuff figured out – we're going to need it for the Playoffs, so it's good to get this one under the hat and keep working for the Playoffs and we'll see what we can do."
Did you think two tires might work for some teams?
"I wouldn't say I was worried. I knew that in 10 laps or so I'd be able to chase them down. Passing them was definitely difficult, but I was able to make it happen each and every time. I think the only time you get worried is if you have maybe a guy take two and before you pass him you get another caution and you have a couple more guys take two and you kind of fall back in the order and maybe lose that track position. You get back fifth or sixth, it's going to be really difficult to get back to the lead. I think the furthest back we ran all night without green flag pit stops was third and was able to recover from third, but really much further back than that, it would have been difficult. It would have taken a while, not just because it's hard to pass, but it's hard to be that much faster than everybody else to run them down. I mean, it's even as dominant as we were and how big of a lead we could get at the end of the race, we were still only a tenth or two faster than the guy in second. So you look at that, I mean, it's small. It's a small advantage and you get back too far, then you're going to be in bad shape."
COLE PEARN, crew chief, No. 78 Auto-Owners Insurance Toyota Camry, Furniture Row Racing
Do you feel like you guys are continuing to take steps forward?
"Yeah, we've just been continuing to gain on it. There's been the rule changes this year has forced us to work on it and find a balance that we're happier with and really we've just been plugging away and Martin (Truex Jr.) has got a really good feel for this track, so definitely plays into his wheelhouse for sure. Really right off the truck we had good speed even though the balance wasn't perfect and we just were able to work on it. It was a smooth, just good feeling weekend. Never hair on fire, just steady as she goes and it was a good one. We definitely haven't had a lot of those this year, so it was nice to get one."
What has changed to make your team stronger in the middle of the season?
"I don't know. I mean, I think just a lot of rule changes over the off-season that changed the balance for us and that's just been a steady progression, trying to understand it. It's so easy when you have success to fall into your old traps and the things you do and we've kind of had to just throw that to the wind a little bit and just continue to work on the new problem that we have and try and find the best solution. As we've gained that mindset and through a lot of hard work, we've started to make ground on it."
BARNEY VISSER, owner, No. 78 Auto-Owners Insurance Toyota Camry, Furniture Row Racing
How has your team been able to build so much momentum in recent years?
"Yeah, well, it goes back a little bit to the parity question. Five years ago you never heard of these guys and you didn't think that much of Martin (Truex Jr.), but the truth is he was that good and they're showing it. The team comes together and I think that's part of the sport. It can happen. If you just keep working, it can happen."
RACE RESULTS
| | | | | | | | | |
| --- | --- | --- | --- | --- | --- | --- | --- | --- |
| Finish | Start | # | Driver | Sponsor/Make | Laps | Led | Points | Status |
| 1 | 1 | 78 | Martin Truex Jr. | Auto-Owners Insurance Toyota | 267 | 174 | 60 | Running |
| 2 | 7 | 12 | Ryan Blaney | DEX Imaging Ford | 267 | 1 | 50 | Running |
| 3 | 4 | 2 | Brad Keselowski | Discount Tire Ford | 267 | 38 | 34 | Running |
| 4 | 5 | 18 | Kyle Busch | Snickers Intense Toyota | 267 | 0 | 50 | Running |
| 5 | 3 | 4 | Kevin Harvick | Busch Light Ford | 267 | 0 | 48 | Running |
| 6 | 9 | 41 | Kurt Busch | Monster Energy/Haas Automation Ford | 267 | 45 | 35 | Running |
| 7 | 2 | 20 | Erik Jones | Freightliner Toyota | 267 | 0 | 32 | Running |
| 8 | 12 | 10 | Aric Almirola | Smithfield Ford | 267 | 0 | 31 | Running |
| 9 | 18 | 42 | Kyle Larson | Credit One Bank Chevrolet | 267 | 0 | 37 | Running |
| 10 | 19 | 22 | Joey Logano | Shell Pennzoil Ford | 267 | 5 | 30 | Running |
| 11 | 6 | 21 | Paul Menard | Menards/Quaker State Ford | 267 | 0 | 33 | Running |
| 12 | 8 | 14 | Clint Bowyer | Haas 30 Years of the VF1 Ford | 267 | 0 | 35 | Running |
| 13 | 16 | 9 | Chase Elliott | NAPA Auto Parts Chevrolet | 267 | 0 | 25 | Running |
| 14 | 27 | 48 | Jimmie Johnson | Lowe's/Jimmie Johnson Foundation Chevrolet | 267 | 3 | 23 | Running |
| 15 | 11 | 19 | Daniel Suarez | ARRIS Toyota | 267 | 0 | 26 | Running |
| 16 | 36 | 11 | Denny Hamlin | FedEx Office Toyota | 267 | 0 | 21 | Running |
| 17 | 22 | 1 | Jamie McMurray | Arctic Cat Chevrolet | 267 | 0 | 20 | Running |
| 18 | 24 | 38 | David Ragan | MDS Transport Ford | 267 | 0 | 19 | Running |
| 19 | 17 | 6 | Matt Kenseth | Performance Plus Motor Oil Ford | 267 | 0 | 18 | Running |
| 20 | 21 | 24 | William Byron | Liberty University Chevrolet | 267 | 0 | 17 | Running |
| 21 | 10 | 31 | Ryan Newman | Caterpillar Chevrolet | 267 | 0 | 16 | Running |
| 22 | 13 | 3 | Austin Dillon | AAA Chevrolet | 266 | 0 | 15 | Running |
| 23 | 20 | 37 | Chris Buescher | Gain Chevrolet | 266 | 0 | 14 | Running |
| 24 | 23 | 34 | Michael McDowell | Love's Travel Stops/Roller Bites Ford | 266 | 0 | 13 | Running |
| 25 | 29 | 95 | Kasey Kahne | Dark Matter presented by Ionomy Chevrolet | 266 | 0 | 12 | Running |
| 26 | 14 | 17 | Ricky Stenhouse Jr. | Fifth Third Bank Ford | 266 | 0 | 11 | Running |
| 27 | 25 | 43 | Bubba Wallace | Petty's Garage/Medallion Bank Chevrolet | 264 | 0 | 10 | Running |
| 28 | 30 | 15 | Ross Chastain | Chevrolet | 263 | 0 | 0 | Running |
| 29 | 28 | 13 | Ty Dillon | GEICO Chevrolet | 263 | 0 | 8 | Running |
| 30 | 26 | 47 | AJ Allmendinger | Kroger ClickList Chevrolet | 262 | 0 | 7 | Running |
| 31 | 31 | 72 | Corey LaJoie | Monarch Chevrolet | 260 | 0 | 6 | Running |
| 32 | 34 | 51 | BJ McLeod(i) | Prefund Capital Chevrolet | 256 | 0 | 0 | Running |
| 33 | 33 | 0 | Landon Cassill | StarCom Fiber Chevrolet | 256 | 0 | 4 | Running |
| 34 | 39 | 66 | immy Hill | Crypto Crow Toyota | 254 | 0 | 0 | Running |
| 35 | 38 | 7 | Jesse Little | Chevrolet | 253 | 0 | 0 | Running |
| 36 | 35 | 99 | Garrett Smithley | Victory Lane Quick Oil Change Chevrolet | 251 | 0 | 0 | Running |
| 37 | 37 | 32 | Matt DiBenedetto | Keen Parts/CorvetteParts.net Ford | 200 | 0 | 1 | Vibration |
| 38 | 32 | 23 | JJ Yeley | Steakhouse Elite Toyota | 199 | 0 | 0 | Engine |
| 39 | 15 | 88 | Alex Bowman | Axalta Chevrolet | 108 | 1 | 1 | Accident |
[adinserter name="GOOGLE AD"]