Christopher Bell Goes From Worst to First at Kentucky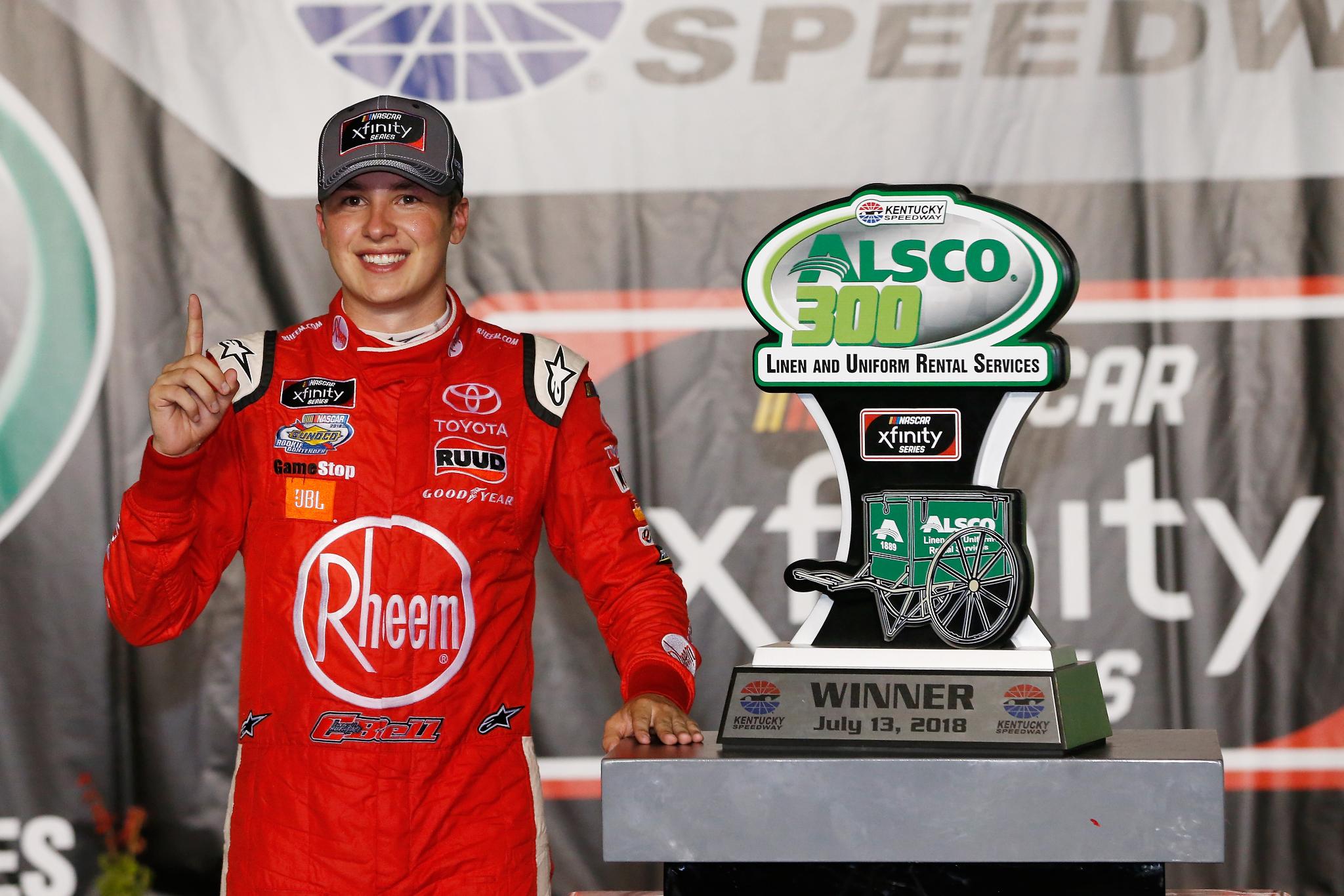 Christopher Bell wins at Kentucky
Brian Lawdermilk/Getty Images
A spin didn't stop Christopher Bell from the win in the ALSCO 300 at Kentucky Speedway.
The Joe Gibbs Racing rookie was going for the pole in the final round of qualifying and spun out before completing the lap.
Bell was forced to start from the rear of the field but recovered for his first win on the 1.5-mile track and his second of 2018.
"This is really special," Bell said. "I keep making mistakes. I have to stop doing that to my team. They build really fast race cars and I made another mistake there in qualifying and I didn't know if I was going to be able to get back. But this Camry was good enough that I was able to get back around these guys.
"Hats off to Daniel Hemric. He's been trying to get an Xfinity win for a long time. He's been really close."
Hemric, who passed Kyle Busch on Lap 143 and led eight laps, settled for second.
"I can't make excuses," Hemric said. "I should have gotten it done."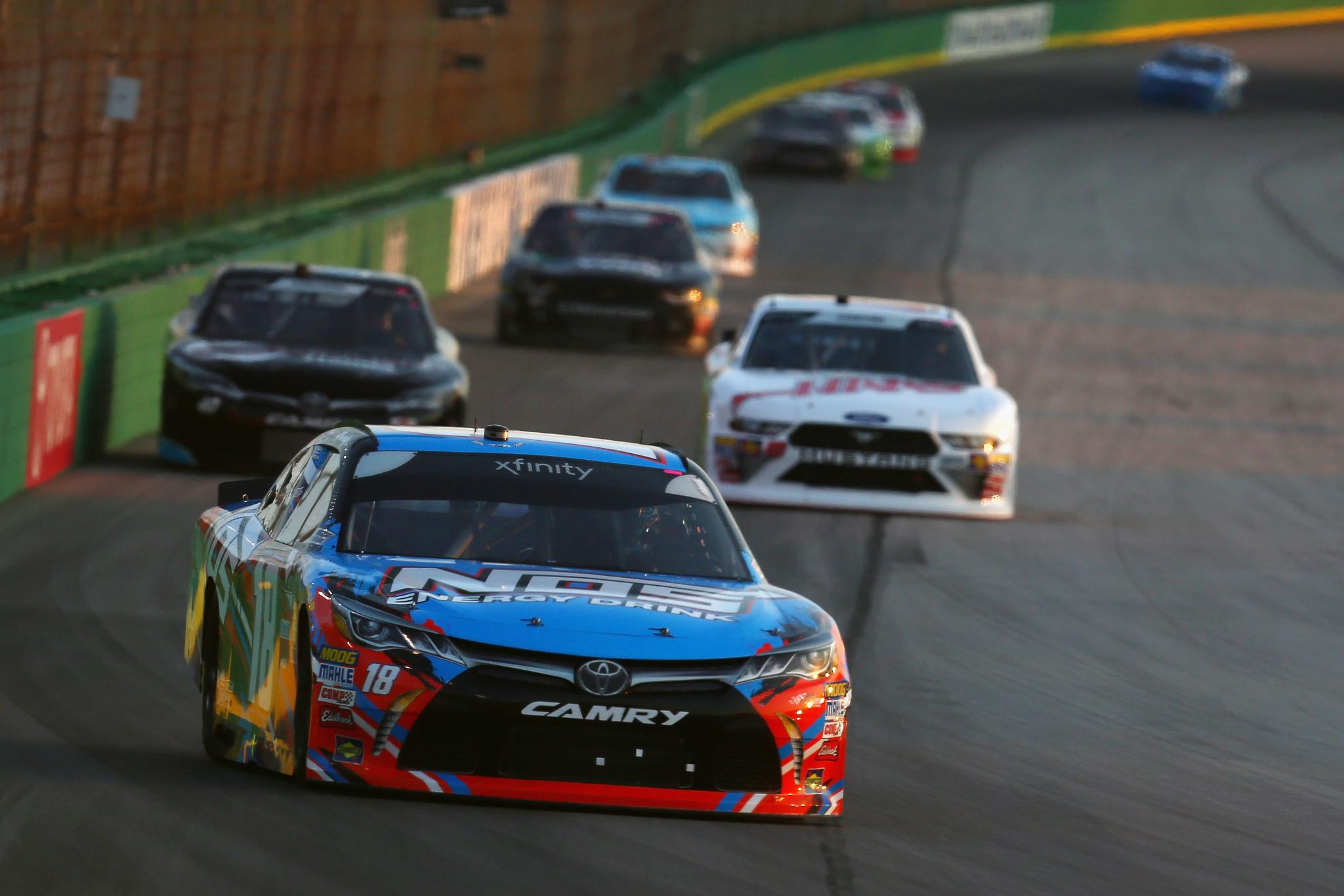 Kyle Busch led a race-high 111 laps but ended the night in third place
Sarah Crabill/Getty Images
Kyle Busch led a race-high 111 laps before finishing third. Justin Allgaier, Cole Custer, Tyler Reddick, John Hunter Nemechek, Ryan Truex, Paul Menard and Austin Cindric rounded out the top 10.
Busch took the lead from Custer, the pole sitter, after just 14 laps and held a 3.218-second lead when he won Stage 1. Custer finished second followed by Nemechek, Matt Tifft, Cindric, Brandon Jones, Reddick, Allgaier, Hemric and Sadler. Bell moved up to 28th after the first lap and finished 14th in the first stage.
Busch retained the lead following service on pit road. Ty Majeski, who rolled off second, gained 14 positions with a two-tire pit stop. Custer, Nemechek, Cindric, Tifft, Brandon Jones, Menard, Reddick and Sadler completed the top 10 when the race returned to green for Stage 2 on Lap 52.
Majeski's track position was short-lived after he slid up in to the wall on the restart exiting Turn 2. He dropped to 20th before pitting on Lap 57. Busch set sail with Custer, Cindric, Nemechek and Jones in tow. Reddick moved up to sixth, followed by Allgaier, Bell, Menard and Sadler.
Busch tagged the wall on Lap 64 but Custer couldn't take advantage of the champion's rare mistake. Nemechek, however, passed the Custer on Lap 71. He used the low line to take the point from Busch on Lap 80. The rookie driver held the lead by .396 seconds over Busch for his first Xfinity stage win. Custer finished third followed by Cindric, Jones, Allgaier, Bell, Menard and Hemric.
[adinserter name="GOOGLE AD"] The final stage was rife with cautions. Busch retook the lead on pit road followed by Custer, Nemechek, Cindric, Allgaier and Bell. The third caution occurred when Josh Williams clipped Blake Jones in Turn 4 on Lap 99. Busch retained the lead followed by Custer, Allgaier, Bell, Nemechek, Brandon Jones and Hemric.
Entering Turn 2 on the Lap 104 restart, Nemechek slid into Brandon Jones and the No. 19 hit the wall to trigger the fourth caution. The Joe Gibbs Racing crew was forced to push Jones behind the wall.
"Gosh, one of our really good mile-and-a-half cars here," said Jones, who finished 36th. "This has got to be a kill or be killed situation on these restarts."
Busch elected to take the inside lane for the Lap 108 restart with Custer, Bell, Allgaier and Hemric in tow. Reddick, Tifft, Nemechek, Cindric and Menard rounded out the top 10. Bell grabbed second from Custer and closed in behind Busch. Hemric followed for third. Nemechek moved by Custer for fourth on Lap 125.
Majeski's misfortunes continued on Lap 132 when he spun through the front stretch to ignite the fifth caution. Busch retained the lead coming to the Lap 139 restart. A two-tire stop by the No. 5 JR Motorsports team allowed Michael Annett to move up to second. Nemechek lined up third, but lost power attempting to save fuel. He was forced to pit for a new battery and dropped to 21st, one lap down. Hemric moved up to third followed by Custer, Menard, Allgaier, Cindric, Tifft and Bell.
Annett slapped the wall on the restart. Hemric passed Busch for the lead coming off of Turn 2 on Lap 143. Allgaier moved passed the No. 18 Toyota for second on Lap 145. Tifft slid up into Sadler coming out of Turn 2 to bring out the sixth caution on Lap 146.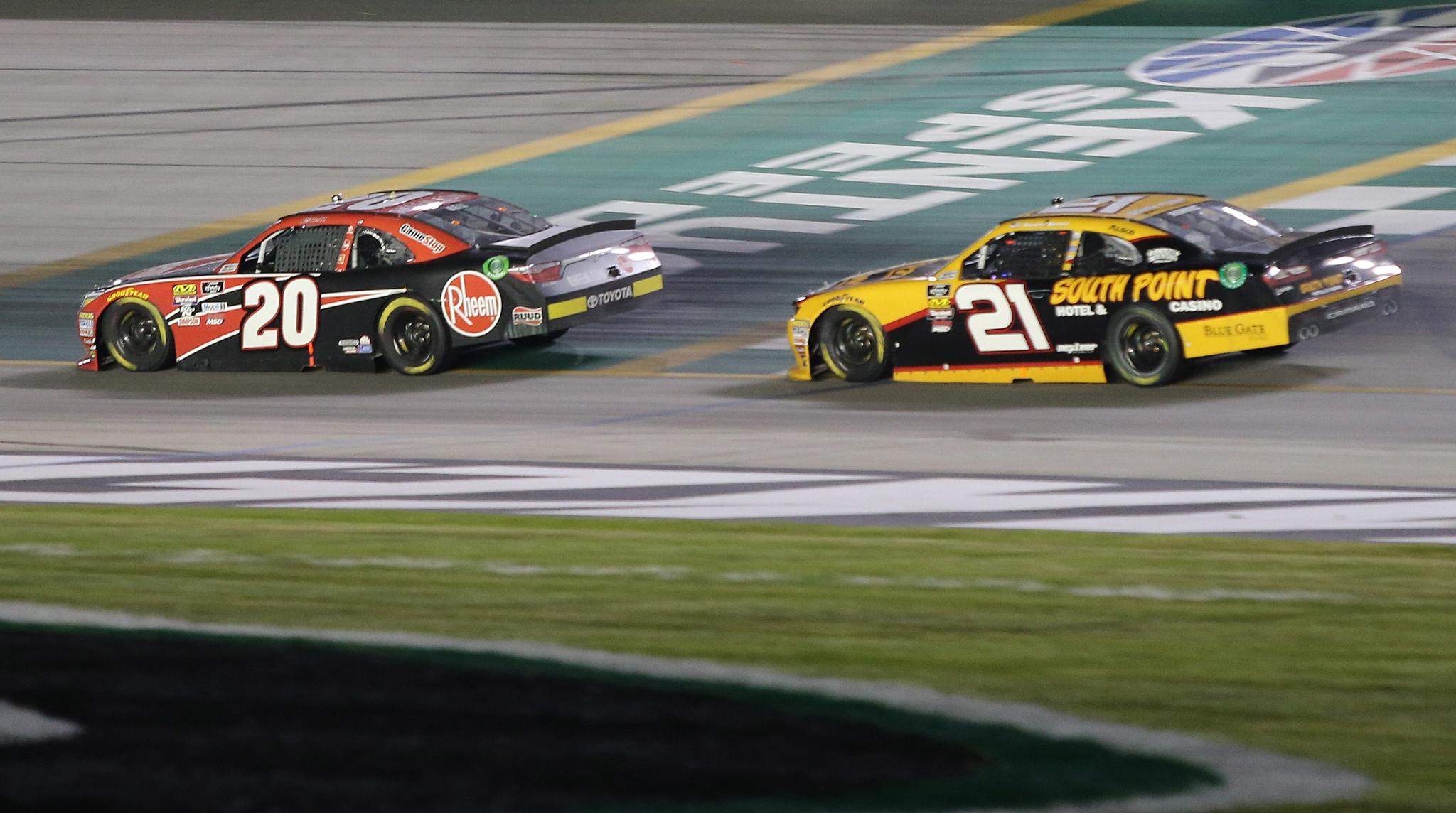 Christopher Bell (20) races Daniel Hemric Friday night at Kentucky Speedway
Jerry Markland/Getty Images
Hemric controlled the Lap 151 restart, but Allgaier moved to the lead on the outside coming through Turns 3 and 4. Joey Gase spun in Turn 4 for the seventh caution of the night with 39 laps remaining in the race.
With a push from Bell, Allgaier pulled out to a three-car lead on the Lap 166 restart. Bell moved up to second while Hemric dropped to third. Busch, who dropped to eighth after pitting during the sixth caution, rebounded to fourth followed by Custer.
Allgaier held a .3-second lead over Bell with 20 laps to decide the contest. Bell went low coming to the line on Lap 184 for the lead. Hemric passed Allgaier for second while Busch moved in on the bumper of the No. 7 Chevrolet, eventually taking over third-place.
Bell continued to pull away from Hemric with 10 laps remaining and extended his lead to .848-seconds for his third-career win in the Xfinity Series.
"To be able to come from the back here at Kentucky, it just really shows how good of car we have," Bell added. "This Rheem Camry was extremely good on the long run. Even on the short run too, I could fire off and have really good restarts, so I'm just thankful that everyone stayed behind me and everyone at Joe Gibbs Racing believes in me, so it's a dream come true to be racing in the Xfinity Series, let alone standing in Victory Lane one more time."
Sadler, who finished 12th, leads the NXS standings on a tie-breaker over Hemric.
CHRISTOPHER BELL, No. 20 Rheem Toyota Camry, Joe Gibbs Racing
Finishing Position: 1st
How would you describe this win?
"Man, it was extremely difficult. Starting in the back there, I knew my car was going to handle a little bit different than what it would at the front and all throughout practice I knew that we were – my car that was capable of racing for the win, but when we started in the back, man, it just drives so different back there and the guys kept getting good pit stops and we'd gain a spot here, gain a spot there, get a good restart and next thing you know we're up there racing at the front and it's driving totally different and keep telling myself, 'We've got a shot at this thing,' and just really proud of this team, everyone at Rheem, Ruud, GameStop, Toyota, TRD (Toyota Racing Development), all the people at Xfinity that help put this series on. It's just a ton of fun to be here and I'm thankful that I get to stand in victory lane one more time."
How did you keep it together after the spots lost on pit road?
"It's just something you don't even think about really. You just go out there and your job is to drive the race car as fast as you can and my guys have been doing a great job all night long, you know? We were picking up spots and I made a mistake last week in Chicago – I sped on pit road – and my guys didn't beat me up about, so I was going to say nothing to them about theirs."
What did it feel like to go from the back to the front to victory lane?
"That was pretty cool, man. To be able to come from the back here at Kentucky and just really shows how good of car we have. This Rheem Camry was extremely good on the long run. Even on the short run too, I could fire off and have really good restarts, so I'm just thankful that everyone stayed behind me and everyone at Joe Gibbs Racing believes in me, so it's a dream come true to be racing in the Xfinity Series, let alone standing in victory lane one more time.
How did you make your moves during the last restart?
"Yeah, the 21 (Daniel Hemric) was really good whenever I was following Kyle (Busch) there about midway through the race. I was just really riding trying to get away from the pack. The 21 wasn't falling back. He was pushing it right there with us, so I knew he was really strong and, you know, once I got to clean air there in front, just a matter of hitting my marks and, you know, Daniel was obviously really good too, so I think at that point it was a matter of who got out front first."
How do you feel about your championship chances?
"Well, I knew coming in here driving for Joe Gibbs Racing that we'd be championship contenders, but I've just got to minimize my mistakes and start winning more, so now we've got two of them and we need to get a couple more."
Are you starting to look towards the championship hunt?
"What he (Jason Ratcliff, crew chief) said. Pretty much in January we went and tested at Atlanta and for me that was an excellent test because Atlanta's surface is a lot like Homestead and the good thing for me is I feel like two of my best races this year have come at Atlanta and Chicago and they're both Homestead-style race tracks and that seems to be more my forte than tonight and I still won tonight, so that's pretty cool too, but I just love the low grip, slip-and-slide race tracks, so I've been thinking about Homestead since I left Homestead last year."
JASON RATCLIFF, crew chief, No. 20 Rheem Toyota Camry, Joe Gibbs Racing
What do you take from a day when you had to race thought the pack?
"I think for us, you know were always building on communication. You know, a perfect example is in qualifying and I think Christopher (Bell) was being hard on himself. I just over adjusted the car honestly, but the good thing about it was we both – we wanted to sit on the pole. We weren't going out there and trying to run second, so that's good. We've got to keep doing that, but, you know, I think our communication continues to get better. I over adjusted the car in the last stage of qualifying and got it too free, but, no, I mean the car was fast. We didn't have to – we didn't do anything different starting in the back than we did starting in the front. He did a nice job of working his way into the top-20 really quick and then we took a big swing at it on the first pit stop to try to get, you know, the car under him – the rear end underneath him – and from that point, we had good track position, so it was just a matter of tweaking on it to the end."
Is it too soon to start thinking about Homestead-Miami Speedway?
"No, I mean, we were thinking about Homestead in February or December. I mean, that's where you're going to win it, but you have to get there. One step at a time. We went into the season with high expectations, but realistic goals and I think we're meeting them. Yes, we'd like to have four or five wins under our belt – everybody would – but we're as Christopher (Bell) said earlier we're out there every week competing and that's what we need to do. If we're fortunate enough to get to Homestead then we just need to be competitive and execute and I think we're learning a lot of lessons right now as a race team. It's going to beneficial in Homestead."
RACE RESULTS
| | | | | | | | | |
| --- | --- | --- | --- | --- | --- | --- | --- | --- |
| Finish | Start | No. | Driver | Sponsor/Make | Laps | Led | Points | Status |
| 1 | 12 | 20 | Christopher Bell | Rheem Toyota | 200 | 17 | 44 | Running |
| 2 | 5 | 21 | Daniel Hemric | South Point Hotel & Casino Chevrolet | 200 | 8 | 38 | Running |
| 3 | 3 | 18 | Kyle Busch | NOS Energy Drink Toyota | 200 | 111 | 0 | Running |
| 4 | 2 | 7 | Justin Allgaier | Dale Jr's Whisky River Chevrolet | 200 | 32 | 41 | Running |
| 5 | 1 | 0 | Cole Custer | Haas Automation Ford | 200 | 14 | 49 | Running |
| 6 | 8 | 9 | Tyler Reddick | BurgerFi Chevrolet | 200 | 0 | 38 | Running |
| 7 | 6 | 42 | J.H. Nemechek | Anderson Columbia Co. Inc. Chevrolet | 200 | 14 | 48 | Running |
| 8 | 9 | 16 | Ryan Reed | Drive Down A1C Lilly Diabetes Ford | 200 | 0 | 29 | Running |
| 9 | 14 | 22 | Paul Menard | Discount Tire Ford | 200 | 0 | 0 | Running |
| 10 | 4 | 12 | Austin Cindric | Lasik Vision Institute Ford | 200 | 0 | 40 | Running |
| 11 | 7 | 2 | Matt Tifft | Surface Sunscreen Chevrolet | 200 | 0 | 33 | Running |
| 12 | 10 | 1 | Elliott Sadler | OneMain Financial Chevrolet | 200 | 0 | 26 | Running |
| 13 | 13 | 11 | Ryan Truex | Phantom Fireworks Chevrolet | 200 | 0 | 24 | Running |
| 14 | 16 | 3 | Ty Dillon | Red Kap/Alsco Chevrolet | 200 | 0 | 0 | Running |
| 15 | 17 | 5 | Michael Annett | Pilot Flying J Chevrolet | 200 | 4 | 22 | Running |
| 16 | 19 | 39 | Ryan Sieg | RSS Racing Chevrolet | 200 | 0 | 21 | Running |
| 17 | 21 | 4 | Ross Chastain | AE Door & Window Co. Chevrolet | 200 | 0 | 20 | Running |
| 18 | 20 | 51 | Jeremy Clements | RepairableVehicles.com Chevrolet | 200 | 0 | 19 | Running |
| 19 | 24 | 0 | Garrett Smithley | FAME/fame-usa.com Chevrolet | 198 | 0 | 18 | Running |
| 20 | 15 | 23 | Spencer Gallagher | ISM Connect Chevrolet | 198 | 0 | 17 | Running |
| 21 | 26 | 15 | BJ McLeod | Herb Kinman Chevrolet Chevrolet | 196 | 0 | 16 | Running |
| 22 | 33 | 8 | Ray Black II | JW Transport LLC Chevrolet | 196 | 0 | 15 | Running |
| 23 | 30 | 52 | David Starr | Tony?s Steaks and Seafood Chevrolet | 195 | 0 | 14 | Running |
| 24 | 36 | 76 | Spencer Boyd | Grunt Style Chevrolet | 195 | 0 | 13 | Running |
| 25 | 37 | 78 | Blake Jones | Tennessee XXX Moonshine Chevrolet | 194 | 0 | 12 | Running |
| 26 | 27 | 55 | Brandon Hightower | NAPA Toyota | 194 | 0 | 11 | Running |
| 27 | 18 | 60 | Ty Majeski | Ford Ford | 193 | 0 | 10 | Running |
| 28 | 34 | 45 | Josh Bilicki | Prevagen Toyota | 193 | 0 | 9 | Running |
| 29 | 38 | 1 | Vinnie Miller | Herb Kinman Chevrolet Chevrolet | 192 | 0 | 8 | Running |
| 30 | 39 | 74 | Mike Harmon | Horizon Transport Chevrolet | 190 | 0 | 7 | Running |
| 31 | 35 | 40 | Chad Finchum | Smithbilt Homes Toyota | 172 | 0 | 6 | Transmission |
| 32 | 25 | 36 | Alex Labbe | Sticky Stuff Custom Signs Chevrolet | 168 | 0 | 5 | Running |
| 33 | 22 | 35 | Joey Gase | Donate Life/Pro Master Chevrolet | 161 | 0 | 4 | Accident |
| 34 | 23 | 38 | JJ Yeley | RSS Racing Chevrolet | 119 | 0 | 3 | Suspension |
| 35 | 31 | 90 | Josh Williams | Star Tron Star Brite Chevrolet | 107 | 0 | 2 | Carburetor |
| 36 | 11 | 19 | Brandon Jones | Menards/NRG Toyota | 104 | 0 | 12 | Accident |
| 37 | 29 | 66 | Timmy Hill | CrashClaimsR.Us Dodge | 55 | 0 | 1 | Fuel Pump |
| 38 | 32 | 89 | Morgan Shepherd | Visone RV Chevrolet | 25 | 0 | 1 | Vibration |
| 39 | 40 | 79 | Josh Reaume | Chevrolet | 9 | 0 | PE | Overheating |
| 40 | 28 | 93 | Jeff Green | RSS Racing Chevrolet | 6 | 0 | 1 | Electrical |

[adinserter name="GOOGLE AD"]