Martin Truex, Jr. Tops Cup Qualifying at Kentucky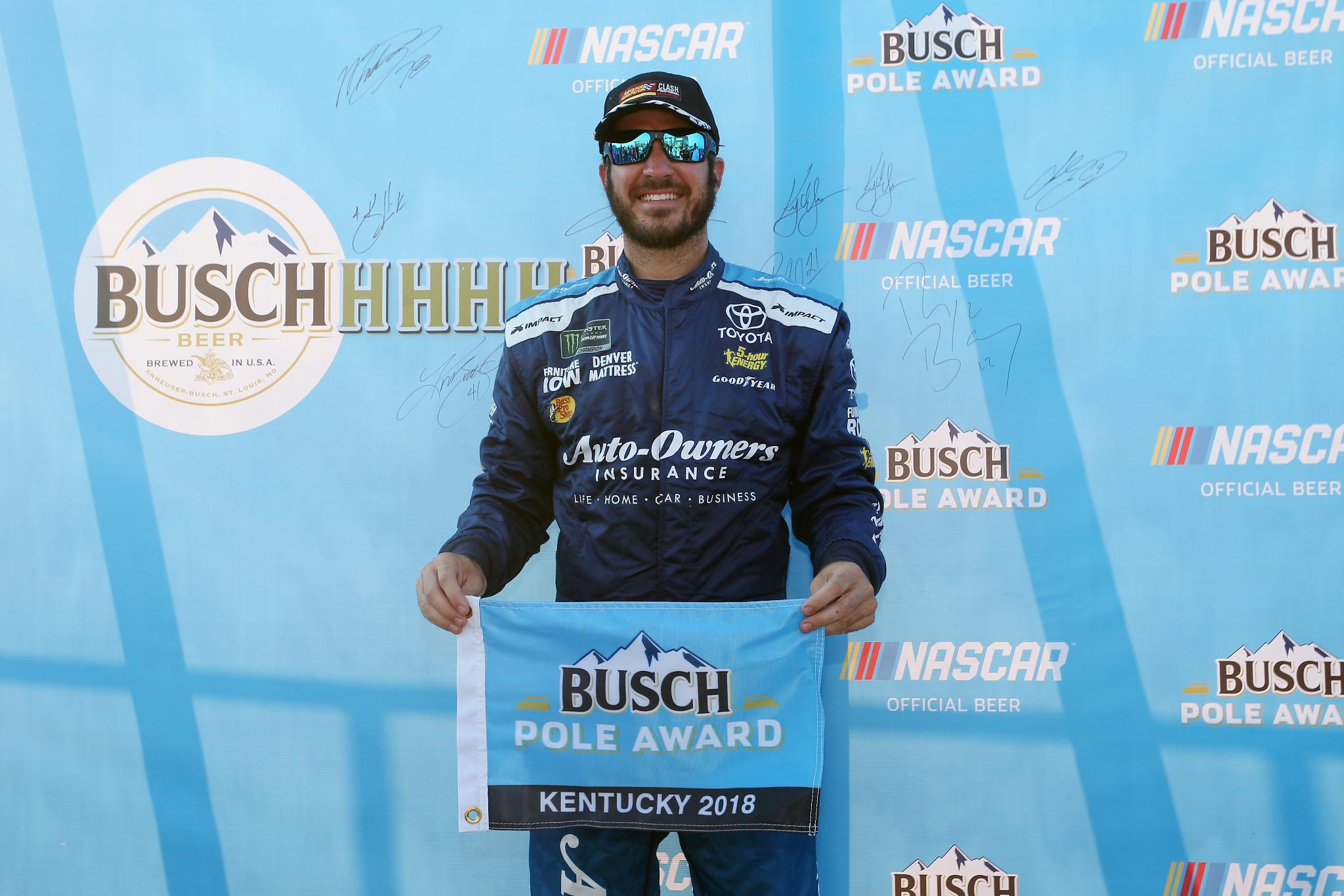 Martin Truex, Jr. wins his fourth pole of the season
Brian Lawdermilk/Getty Images
Martin Truex Jr. didn't need a dress rehearsal to put on a pole-winning performance at Kentucky Speedway on Friday.
His lack of mock qualifying runs in practice did not affect the ultimate result – his first Busch Pole on the 1.5-mile track.
The defending winner of the Quaker State 400 presented by Walmart executed the fastest lap in Round 3 to win the pole for Saturday night's race at the 1.5-mile track (7:30 p.m. ET on NBCSN, PRN, SiriusXM NASCAR Radio).
For Truex, the pole was his fourth of the season, the most among Monster Energy NASCAR Cup Series competitors.
"It wasn't a perfect lap by any means but it was good enough," said Truex after posting a speed of 188.890 mph (25.588-seconds). "We worked in race trim the whole time and honestly, our qualifying run, we only got one in during practice and it wasn't very good. We hit traffic.
[adinserter name="GOOGLE AD"] "We really had to guess on the set up for here. The first round, I was a little bit off. Some of it was driver, some of it was car. We put our heads together, came up with a plan and everybody stepped it up. It feels good. Starting up front is key, so that first pit stall will be good for here and hopefully, we can back up what we did last year tomorrow night. It's going to be tough, but it's going to be fun."
Saturday night's first-time winner Erik Jones was second, followed by Kevin Harvick, Brad Keselowski, Kyle Busch and Paul Menard. Ryan Blaney, Clint Bowyer, Kurt Busch, Ryan Newman, Daniel Suarez and Aric Almirola completed the top 12 in time trials.
Harvick topped the first session with a speed of 187.859 mph. Jones, Austin Dillon, Keselowski, Menard, Kyle Busch, Suarez, Bowyer, Newman, Blaney, Truex and Almirola completed the top 12 speeds. Chris Buescher was the first driver on the chart to run three laps in the first session but managed the 15th-fastest speed.
Truex posted a fast lap of 188.976 mph in Round 2 to lead the 12 drivers that advanced to the final round. Kyle Busch, Almirola, Keselowski, Jones, Newman, Bowyer, Kurt Busch, Harvick, Blaney, Menard and Suarez also advanced. With less than a minute to go in the round, Chase Elliott, Ricky Stenhouse Jr., and Austin Dillon made a second attempt but it was all for naught.
"The car hasn't drove bad from time to time," said Elliott, who will start 16th. "It just hasn't drove as fast as we like. We'll make it work."
Stenhouse used his early exit to address the comments Kyle Busch made earlier in the day about the Roush Fenway Racing driver not making an effort to apologize for wrecking him at Daytona International Speedway last Saturday. Stenhouse approached the No. 18 Toyota, where Busch was strapped into the car, prior to leaving pit road.
"I normally reach out to people when I make mistakes – and I clearly made a mistake," Stenhouse said after his qualifying run. "But with him running his mouth, I just felt like I didn't really need to call him. I just let him know that and I let him know that, 'You're right, you do run a lot further up front but you need to choose your battles wisely cause some time when you're lapping me or when we do get our cars better, you'll be up there racing with us."
Seven-time champion Jimmie Johnson was the only Hendrick driver who failed to advance to the second round. He'll roll off 27th on Saturday.
The teams of Denny Hamlin, Matt DiBenedetto, Jesse Little and Timmy Hill did not clear tech inspection in time to qualify for the Quaker State 400 on Friday.
RACE LINEUP
| | | | | | |
| --- | --- | --- | --- | --- | --- |
| Pos | # | Driver | Sponsor/Make | Lap | Speed |
| 1 | 78 | Martin Truex Jr. | Auto-Owners Insurance Toyota | 28.588 | 188.89 |
| 2 | 20 | Erik Jones | Freightliner Toyota | 28.611 | 188.739 |
| 3 | 4 | Kevin Harvick | Busch Light Ford | 28.64 | 188.547 |
| 4 | 2 | Brad Keselowski | Discount Tire Ford | 28.664 | 188.39 |
| 5 | 18 | Kyle Busch | Snickers Intense Toyota | 28.692 | 188.206 |
| 6 | 21 | Paul Menard | Menards/Quaker State Ford | 28.705 | 188.121 |
| 7 | 12 | Ryan Blaney | DEX Imaging Ford | 28.732 | 187.944 |
| 8 | 14 | Clint Bowyer | Haas 30 Years of the VF1 Ford | 28.77 | 187.696 |
| 9 | 41 | Kurt Busch | Monster Energy/Haas Automation Ford | 28.78 | 187.63 |
| 10 | 31 | Ryan Newman | Caterpillar Chevrolet | 28.866 | 187.071 |
| 11 | 19 | Daniel Suarez | ARRIS Toyota | 28.877 | 187 |
| 12 | 10 | Aric Almirola | Smithfield Ford | 28.895 | 186.884 |
| 13 | 3 | Austin Dillon | AAA Chevrolet | 28.851 | 187.169 |
| 14 | 17 | Ricky Stenhouse Jr. | Fifth Third Bank Ford | 28.866 | 187.071 |
| 15 | 88 | Alex Bowman | Axalta Chevrolet | 28.935 | 186.625 |
| 16 | 9 | Chase Elliott | NAPA Auto Parts Chevrolet | 28.947 | 186.548 |
| 17 | 6 | Matt Kenseth | Performance Plus Motor Oil Ford | 28.951 | 186.522 |
| 18 | 42 | Kyle Larson | Credit One Bank Chevrolet | 28.979 | 186.342 |
| 19 | 22 | Joey Logano | Shell Pennzoil Ford | 28.981 | 186.329 |
| 20 | 37 | Chris Buescher | Gain Chevrolet | 29.004 | 186.181 |
| 21 | 24 | William Byron | Liberty University Chevrolet | 29.01 | 186.143 |
| 22 | 1 | Jamie McMurray | Arctic Cat Chevrolet | 29.05 | 185.886 |
| 23 | 34 | Michael McDowell | Love's Travel Stops/Roller Bites Ford | 29.116 | 185.465 |
| 24 | 38 | David Ragan | MDS Transport Ford | 29.234 | 184.716 |
| 25 | 43 | Bubba Wallace | Petty's Garage/Medallion Bank Chevrolet | 29.263 | 184.533 |
| 26 | 47 | AJ Allmendinger | Kroger ClickList Chevrolet | 29.271 | 184.483 |
| 27 | 48 | Jimmie Johnson | Lowe's/Jimmie Johnson Foundation Chevrolet | 29.281 | 184.42 |
| 28 | 13 | Ty Dillon | GEICO Chevrolet | 29.533 | 182.846 |
| 29 | 95 | Kasey Kahne | Dark Matter presented by Ionomy Chevrolet | 29.582 | 182.543 |
| 30 | 15 | Ross Chastain(i) | Chevrolet | 29.805 | 181.178 |
| 31 | 72 | Corey LaJoie | Monarch Chevrolet | 29.936 | 180.385 |
| 32 | 23 | JJ Yeley | Steakhouse Elite Toyota | 30.022 | 179.868 |
| 33 | 0 | Landon Cassill | StarCom Fiber Chevrolet | 30.15 | 179.104 |
| 34 | 51 | BJ McLeod | Prefund Capital Chevrolet | 30.357 | 177.883 |
| 35 | 99 | Garrett Smithley | Victory Lane Quick Oil Change Chevrolet | 30.649 | 176.188 |
| 36 | 11 | Denny Hamlin | FedEx Office Toyota | 0 | 0 |
| 37 | 32 | Matt DiBenedetto | Keen Parts/CorvetteParts.net Ford | 0 | 0 |
| 38 | 7 | Jesse Little | Chevrolet | 0 | 0 |
[adinserter name="GOOGLE AD"]