Hometown Favorite Ben Rhodes Wins at Kentucky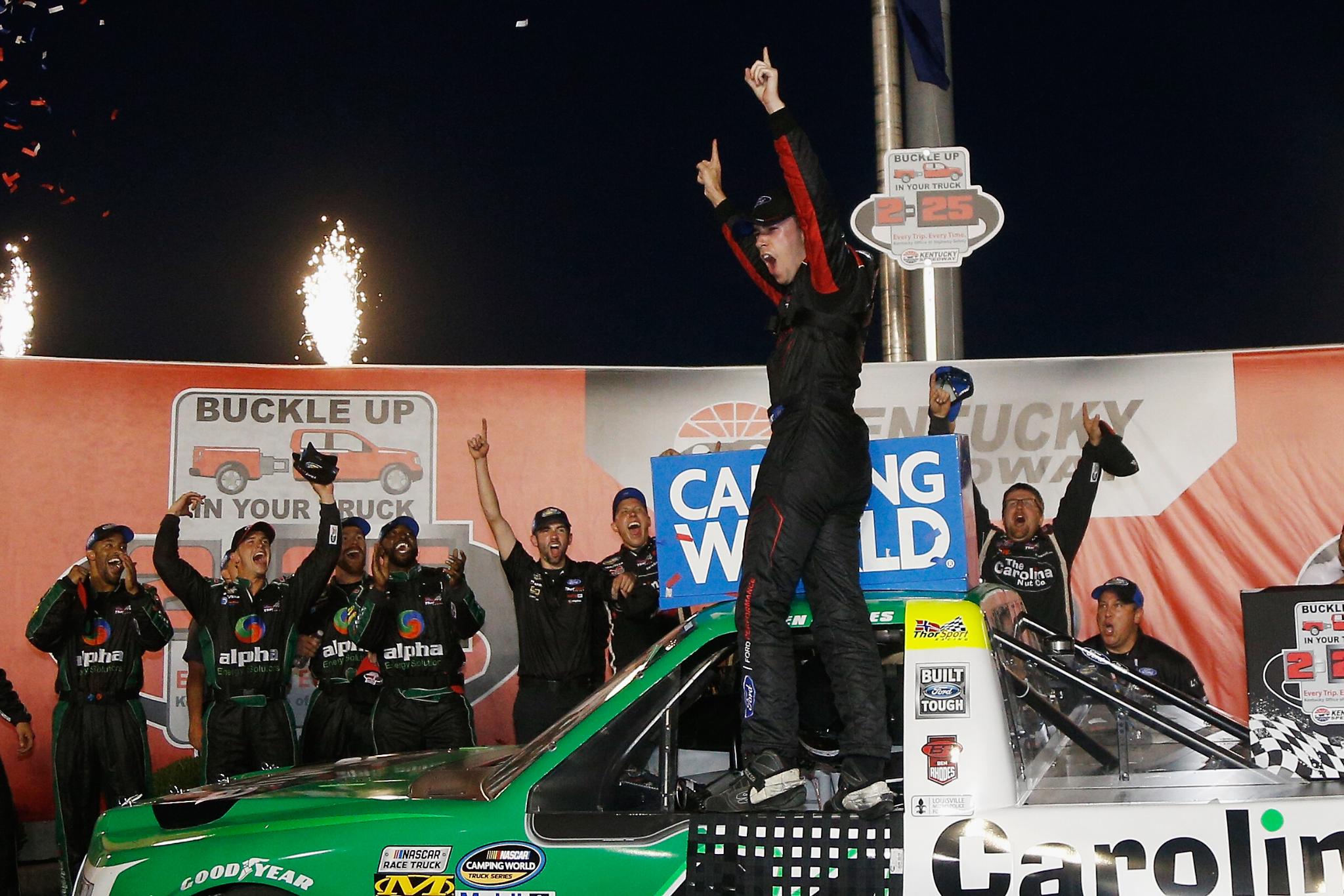 Ben Rhodes wins at Kentucky Speedway
Michael Reaves/Getty Images
The Louisville Slugger knocked it out of the park on Thursday night at Kentucky Speedway.
Ben Rhodes, who grew up less than an hour west of the venue in Sparta, Kentucky, finally won a NASCAR Camping World Truck Series race at his home track.
A fuel-only gamble by the No. 41 ThorSport Racing team in the closing laps paid off for the 21-year-old Louisville native, who led the final 24 laps of the Buckle Up In Your Truck 225.
Rhodes held off Stewart Friesen by .922-seconds at the line for his first win of the season and the first victory for ThorSport since switching to Ford Performance at the start of 2018.
[adinserter name="GOOGLE AD"] "I still don't have any words," Rhodes said after his second-career win in the Camping World Truck Series. "This is amazing, a dream come true. This has been such a long time coming. These guys deserved it so much. They've been working their butts off and we've been having such bad luck this year.
"We've had trucks like this all year long, finally we could showcase it. I'm so proud of this team. This is exactly what we needed."
Friesen came from the rear of the field after the team was forced to change engines prior to the race to finish second – tying his career-best from Texas Motor Speedway earlier this year.
"We had an engine problem during time trials and the whole team stepped in," Friesen said. "It was awesome. We had less than an hour to go to swap 'em out and we had a good finish. We led some laps. Didn't get off the way we needed to on pit road at the end and it was the difference of about 100 yards and a lot of clean air. Proud of the guys, but I made a little mistake there and it cost us."
Matt Crafton, Brandon Jones, John Hunter Nemechek, Grant Enfinger, Todd Gilliland, Noah Gragson, Dalton Sergeant and Justin Haley rounded out the top 10.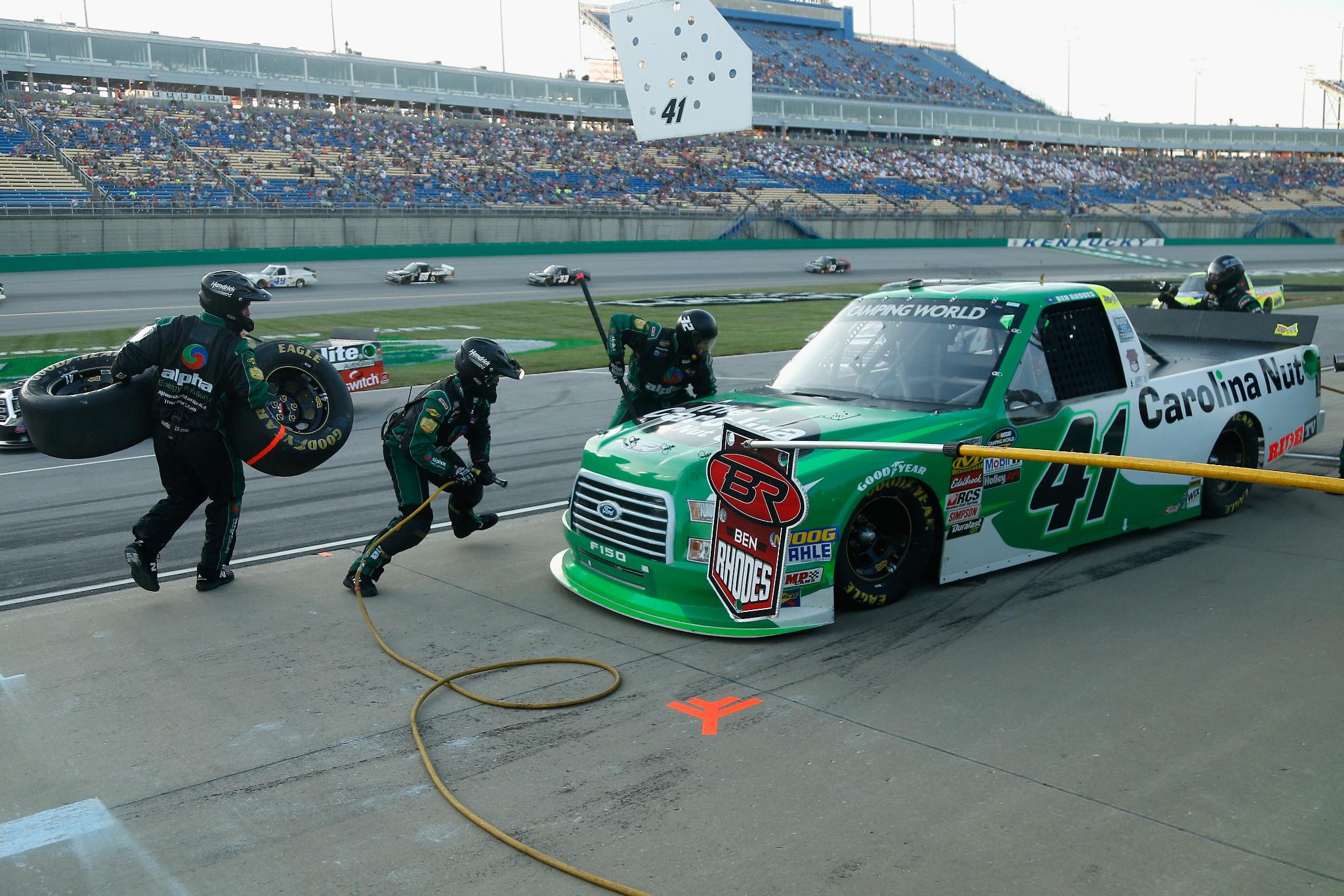 Ben Rhodes gambled on a fuel-only pit stop late in the race to put him in contention for the victory
Michael Reaves/Getty Images
Rhodes passed pole sitter Noah Gragson with three laps remaining in the first segment to win Stage 1. Gragson came back to win Stage 2. Parker Kligerman led the field to green for the final segment. Friesen swapped spots with Kligerman and finally gained control of the point by Lap 89.
Rhodes came from fifth to second with a bold move taking Kligerman and Brandon Jones three-wide to gain the position. Although Friesen led 37 laps, a problem in the pits with the right rear tire proved costly for the No. 52 Chevrolet on Lap 124. Rhodes gained the lead before pitting on the next lap.
Crew chief Eddie Troconis elected to pit for fuel only and a chassis adjustment. Although he had the lead entering pit road, a fire in the pit ahead of him left a cloud of smoke blocking his view of his box.
"I was really worried," Rhodes said. "I came in with the pit stall on fire in front of us. I almost missed my stall with all the smoke coming out."
Still, Rhodes cycled out to the lead with Friesen in second place.
"It was a bold move, but that's how you win, you win with bold moves," Troconis said. "That's what we came here to show them that we're going to win this championship. This kid has a lot of talent."
With 15 laps remaining, Rhodes' lead was just over .32-seconds over Friesen. But after Rhodes settled in he extended his advantage over the Friesen in the closing laps.
"A huge thank you to Ford Performance, ThorSport Racing and Carolina Nut Company," Rhodes said. "They've been behind us 100 percent. This is our first win with Ford this year for ThorSport, so I'm pretty happy about that."
Johnny Sauter, who suffered a speeding penalty on pit road late in the race finished 15th but retained the points lead by 42 over Noah Gragson.
The only caution other than the completion of stages occurred on the first lap of the race when Tyler Matthews made contact with Nemechek and spun the No. 83 truck.
RACE RESULTS

| | | | | | | | | |
| --- | --- | --- | --- | --- | --- | --- | --- | --- |
| Finish | Start | # | Driver | Sponsor/Make | Laps | Led | Points | Status |
| 1 | 3 | 41 | Ben Rhodes | The Carolina Nut Co. Ford | 150 | 38 | 58 | Running |
| 2 | 14 | 52 | Stewart Friesen | We Build America Chevrolet | 150 | 37 | 46 | Running |
| 3 | 30 | 88 | Matt Crafton | Great Lakes/Menards Ford | 150 | 0 | 41 | Running |
| 4 | 6 | 51 | Brandon Jones | SoleusAir/Menards Toyota | 150 | 0 | 0 | Running |
| 5 | 17 | 8 | J.H. Nemechek | D.A.B. Constructors/Fleetwing Chevrolet | 150 | 0 | 0 | Running |
| 6 | 5 | 98 | Grant Enfinger | Curb Records Ford | 150 | 0 | 43 | Running |
| 7 | 2 | 4 | Todd Gilliland | Mobil 1 Toyota | 150 | 1 | 43 | Running |
| 8 | 1 | 18 | Noah Gragson | Safelite AutoGlass Toyota | 150 | 62 | 48 | Running |
| 9 | 9 | 25 | Dalton Sargeant | Performance Plus Motor Oil Chevrolet | 150 | 0 | 29 | Running |
| 10 | 10 | 24 | Justin Haley | Fraternal Order of Eagles Chevrolet | 150 | 0 | 31 | Running |
| 11 | 4 | 17 | Chris Eggleston | BlazeMaster Fire Protection Systems Toyota | 149 | 0 | 26 | Running |
| 12 | 11 | 2 | Cody Coughlin | JEGS.com Chevrolet | 149 | 0 | 25 | Running |
| 13 | 15 | 7 | Korbin Forrister | Now Matters More Toyota | 149 | 0 | 24 | Running |
| 14 | 18 | 22 | Austin Self | GO TEXAN Chevrolet | 149 | 0 | 23 | Running |
| 15 | 7 | 21 | Johnny Sauter | ISM Connect Chevrolet | 148 | 0 | 25 | Running |
| 16 | 12 | 2 | Austin Hill | Whitetail Heaven Outfitters Chevrolet | 148 | 0 | 21 | Running |
| 17 | 19 | 45 | Justin Fontaine | ProMATIC Automation Chevrolet | 148 | 0 | 20 | Running |
| 18 | 13 | 16 | Brett Moffitt | ADVICS/AISIN Group Toyota | 148 | 0 | 19 | Running |
| 19 | 20 | 3 | Jordan Anderson | Bommarito Automotive Group Chevrolet | 146 | 0 | 18 | Running |
| 20 | 22 | 54 | Bo LeMastus | Crosley Brands/DGR-Crosley Toyota | 146 | 0 | 17 | Running |
| 21 | 21 | 68 | Clay Greenfield | AMVETS Please Stand Chevrolet | 145 | 0 | 16 | Running |
| 22 | 23 | 15 | Robby Lyons | Sunwest Construction Chevrolet | 143 | 0 | 15 | Running |
| 23 | 26 | 33 | Josh Reaume | Colonial Countertops Chevrolet | 143 | 0 | 14 | Running |
| 24 | 28 | 49 | Wendell Chavous | SobrietyNation.org Chevrolet | 139 | 0 | 13 | Running |
| 25 | 31 | 6 | Norm Benning | Zomongo/H&H Transport Chevrolet | 138 | 0 | 12 | Running |
| 26 | 32 | 13 | Myatt Snider | FarmPaint.com Ford | 137 | 0 | 11 | Running |
| 27 | 8 | 75 | Parker Kligerman | Food Country USA Chevrolet | 133 | 12 | 13 | Accident |
| 28 | 16 | 20 | Tate Fogleman | Randco Chevrolet | 103 | 0 | 9 | Suspension |
| 29 | 29 | 10 | Jennifer Jo Cobb | Driven2Honor Chevrolet | 28 | 0 | 8 | Overheating |
| 30 | 27 | 63 | Bayley Currey | MB Motorsports Chevrolet | 22 | 0 | 7 | Vibration |
| 31 | 25 | 0 | Camden Murphy | Driven2Honor Chevrolet | 11 | 0 | 6 | Electrical |
| 32 | 24 | 83 | Tyler Matthews | Accent Imaging Chevrolet | 1 | 0 | 5 | Accident |
[adinserter name="GOOGLE AD"]