Pritchett, Hagan, Anderson Top NHRA Qualifying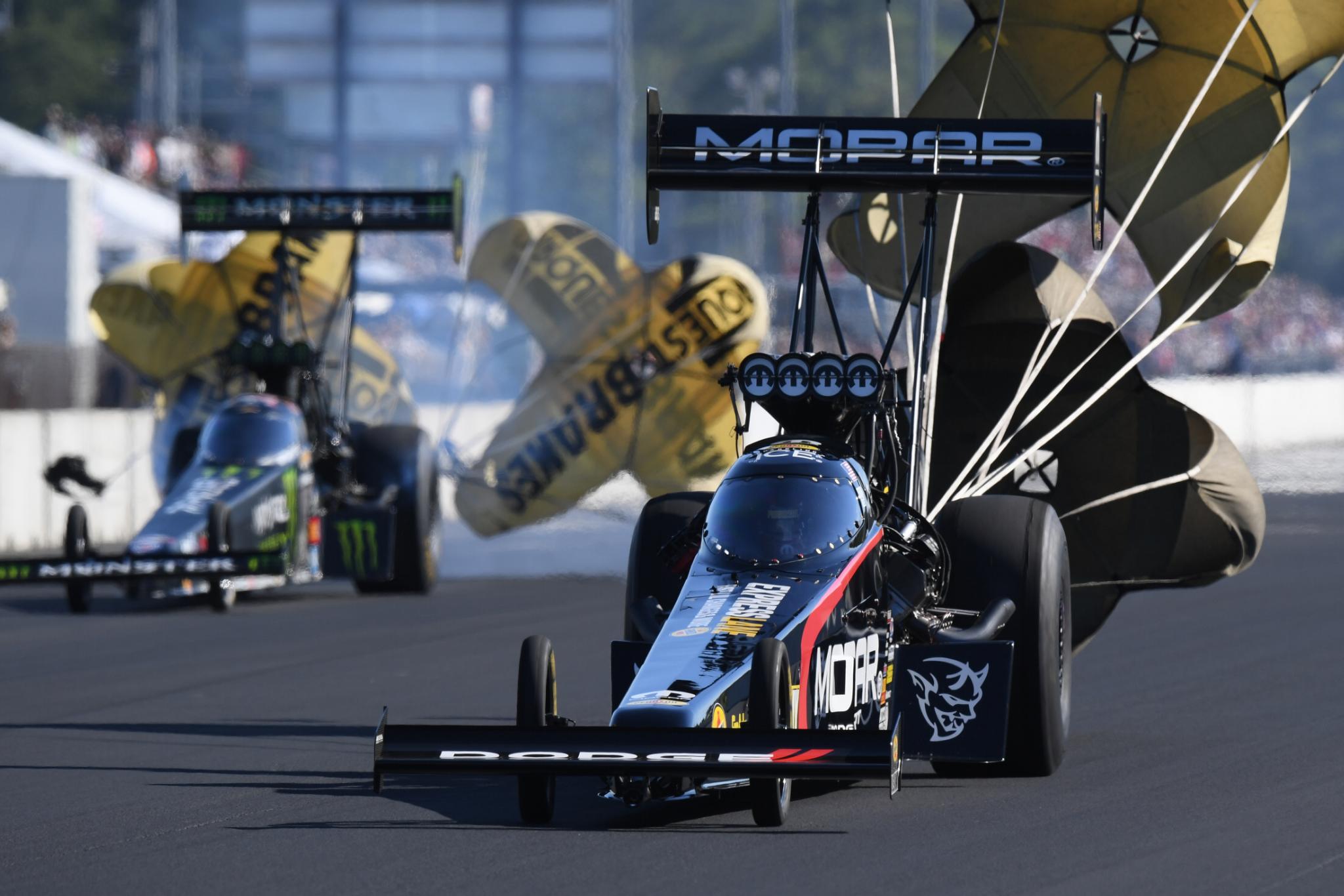 Leah Pritchett
Leah Pritchett secured the Top Fuel No. 1 qualifier for the second consecutive season at New England Dragway on Saturday afternoon in front of a sellout crowd at the sixth annual NHRA New England Nationals.
Matt Hagan (Funny Car) and Greg Anderson (Pro Stock) are also No. 1 qualifiers in their respective categories at the 13th of 24 events on the 2018 NHRA Mello Yello Drag Racing Series schedule.
Pritchett powered to the top spot with a run of 3.742-seconds at 324.51 mph in her Mopar dragster during the second qualifying pass on Friday. She earned the No. 1 qualifying position a year ago in Epping with a track record 3.673 pass, as she now has nine top qualifiers in her career.
"Today was all about practicing for Sunday, and we got the results that we wanted heading into tomorrow," Pritchett said. "I have all the confidence in the world for this team because they never give up, and their hard work is definitely paying off."
Pritchett will go head-to-head with Audrey Worm in the first round of eliminations on Sunday.
Tony Schumacher finds himself qualified second after a 3.744 at 330.31 in his U.S. Army dragster during his second qualifying run on Friday. He faces off with Jim Maroney in Sunday's eliminations.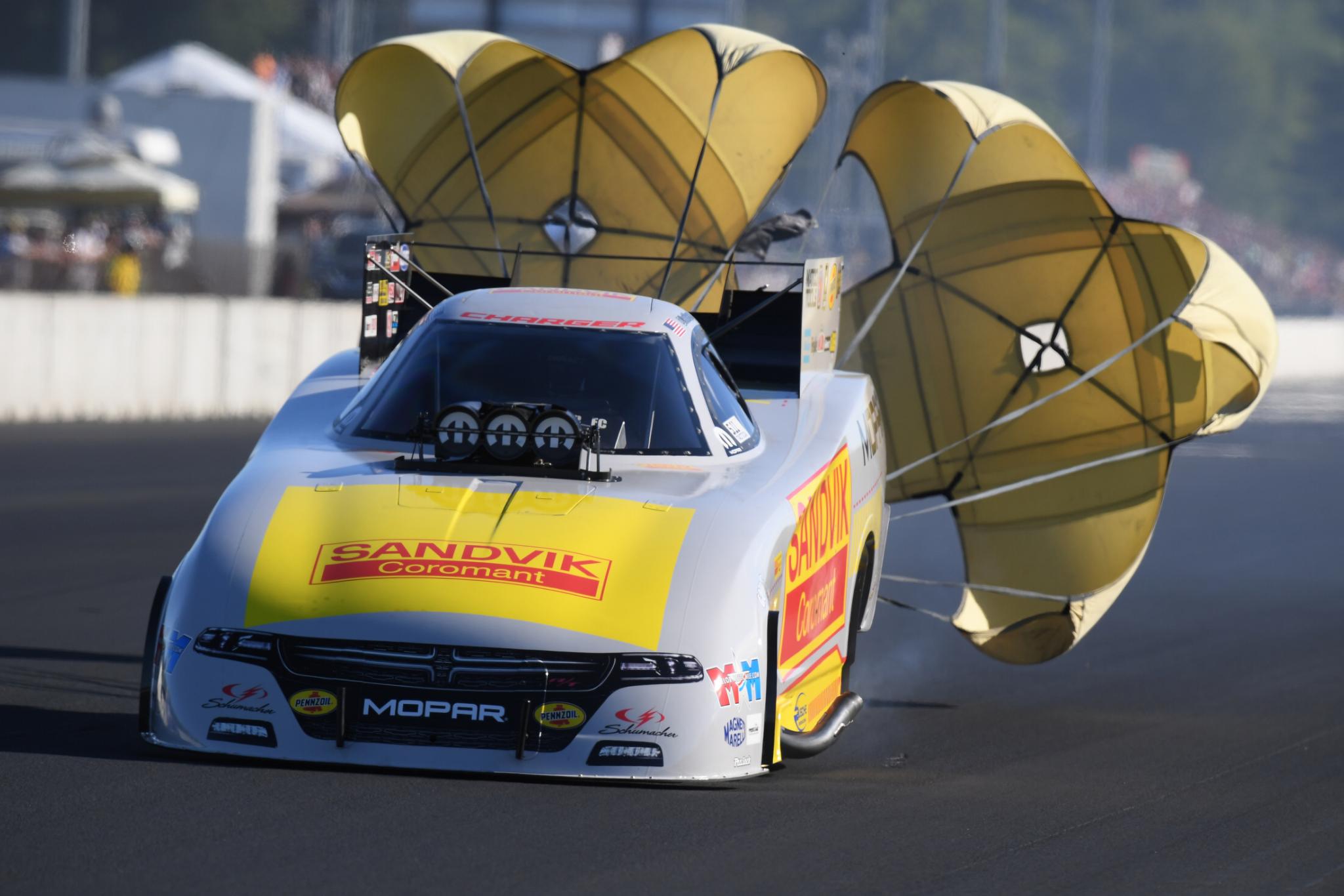 Matt Hagan
Hagan jumped atop the Funny Car category lead with a pass of 3.932 at 322.04 in his Mopar Express Lane Dodge Charger R/T recorded during his second qualifying run Friday. He entered the weekend tied for second in the Funny Car points standings as he notched third No. 1 qualifier of the year.
"We have a great racecar right now and that builds confidence for me with each run," Hagan said. "When you give Dickie Venables (crew chief) a few chances to figure out the track he can be deadly, and we have had some really strong runs this weekend that we need to build on tomorrow."
Hagan matches up against Terry Haddock on Sunday as he looks for his second consecutive event win at New England Dragway.
Jack Beckman qualified second after a 3.956 at 320.20 in his Infinite Hero Foundation Dodge Charger R/T during the second round of qualifying on Friday. He will take on Jeff Diehl in Sunday's eliminations.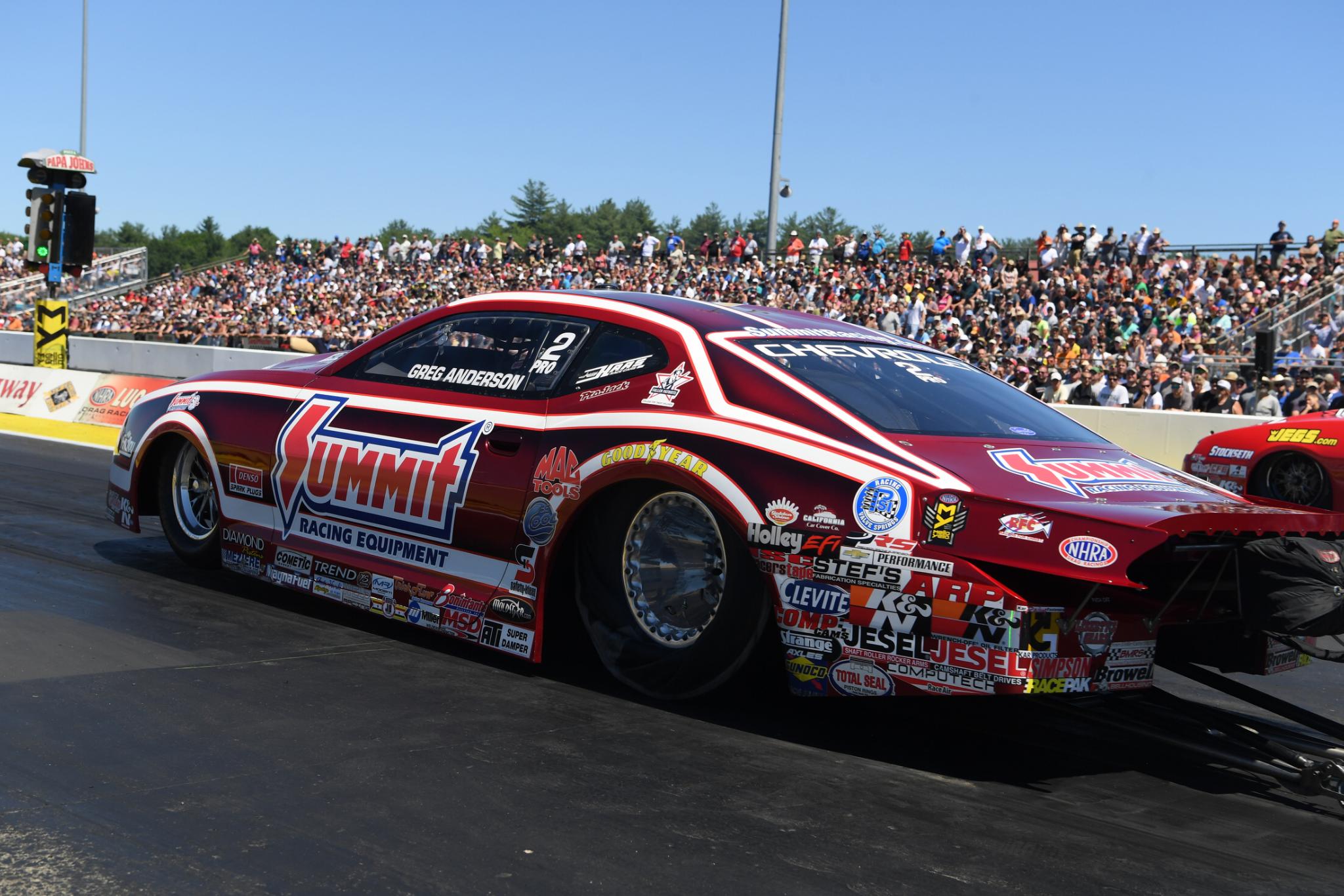 Greg Anderson
Anderson held on to the top spot in the Pro Stock class after driving to a 6.517 at 211.73 in his Summit Racing Equipment Chevrolet Camaro during his second pass on Friday. The four-time world champion locked in his eighth No. 1 qualifying spot of the year and fourth in the past five races.
"Yesterday we had the racetrack figured out and today we struggled a bit with the sun out on the track," Anderson said. "Today was definitely a learning experience and we will get another shot tomorrow, we will just have to learn what to do differently."
Anderson matches up with Val Smeland in the first round of eliminations.
Erica Enders qualified second after a 6.521 at 211.63 in her Melling Performance/Elite Motorsports Chevrolet Camaro in the fourth round of qualifying. She is set to take on Alan Prusiensky on Sunday.
Eliminations begin at 11:00 a.m. on Sunday at New England Dragway.
Sunday's first-round pairings for eliminations for the sixth annual NHRA New England Nationals at New England Dragway, the 13th of 24 events in the NHRA Mello Yello Drag Racing Series. Pairings based on results in qualifying, which ended Saturday. DNQs listed below pairings.
Top Fuel — 1. Leah Pritchett, 3.742 seconds, 324.51 mph vs. 16. Audrey Worm, 5.791, 111.38; 2. Tony Schumacher, 3.744, 330.31 vs. 15. Jim Maroney, 4.826, 153.51; 3. Steve Torrence, 3.756, 327.66 vs. 14. Dan Mercier, 4.530, 173.92; 4. Brittany Force, 3.775, 316.60 vs. 13. Mike Salinas, 4.004, 281.77; 5. Clay Millican, 3.778, 328.14 vs. 12. Antron Brown, 3.974, 276.58; 6. Dom Lagana, 3.781, 326.16 vs. 11. Shawn Reed, 3.895, 320.81; 7. Scott Palmer, 3.803, 323.97 vs. 10. Richie Crampton, 3.884, 316.97; 8. Terry McMillen, 3.857, 322.19 vs. 9. Doug Kalitta, 3.874, 303.64.
Funny Car — 1. Matt Hagan, Dodge Charger, 3.932, 322.04 vs. 16. Terry Haddock, Toyota Solara, 5.873, 102.77; 2. Jack Beckman, Charger, 3.956, 320.20 vs. 15. Jeff Diehl, Toyota Camry, 4.316, 289.45; 3. Shawn Langdon, Camry, 3.976, 321.42 vs. 14. Jim Campbell, Charger, 4.203, 300.26; 4. Ron Capps, Charger, 3.978, 320.89 vs. 13. Courtney Force, Chevy Camaro, 4.165, 304.46; 5. Robert Hight, Camaro, 3.979, 324.44 vs. 12. Bob Tasca III, Ford Mustang, 4.126, 281.01; 6. John Force, Camaro, 3.988, 324.75 vs. 11. Jonnie Lindberg, Mustang, 4.118, 307.93; 7. J.R. Todd, Camry, 4.021, 319.67 vs. 10. Tim Wilkerson, Mustang, 4.104, 308.35; 8. Tommy Johnson Jr., Charger, 4.023, 322.58 vs. 9. Cruz Pedregon, Camry, 4.044, 314.09.
Did Not Qualify: 17. Mike Smith, 8.701, 102.11.
Pro Stock — 1. Greg Anderson, Chevy Camaro, 6.517, 212.33 vs. 16. Val Smeland, Camaro, 7.224, 148.35; 2. Erica Enders, Camaro, 6.521, 212.49 vs. 15. Alan Prusiensky, Dodge Dart, 6.656, 209.01; 3. Vincent Nobile, Camaro, 6.528, 211.43 vs. 14. John Gaydosh Jr, Chevrolet Camaro, 6.617, 209.75; 4. Drew Skillman, Camaro, 6.538, 212.63 vs. 13. Fernando Cuadra, Camaro, 6.590, 210.60; 5. Tanner Gray, Camaro, 6.540, 212.69 vs. 12. Kenny Delco, Camaro, 6.581, 210.77; 6. Alex Laughlin, Camaro, 6.546, 211.99 vs. 11. Jason Line, Camaro, 6.564, 211.96; 7. Bo Butner, Camaro, 6.546, 212.16 vs. 10. Matt Hartford, Camaro, 6.554, 212.06; 8. Jeg Coughlin, Camaro, 6.547, 212.16 vs. 9. Chris McGaha,

Camaro, 6.547, 211.79.