Austin Dillon Wins in the rain in Michigan Xfinity race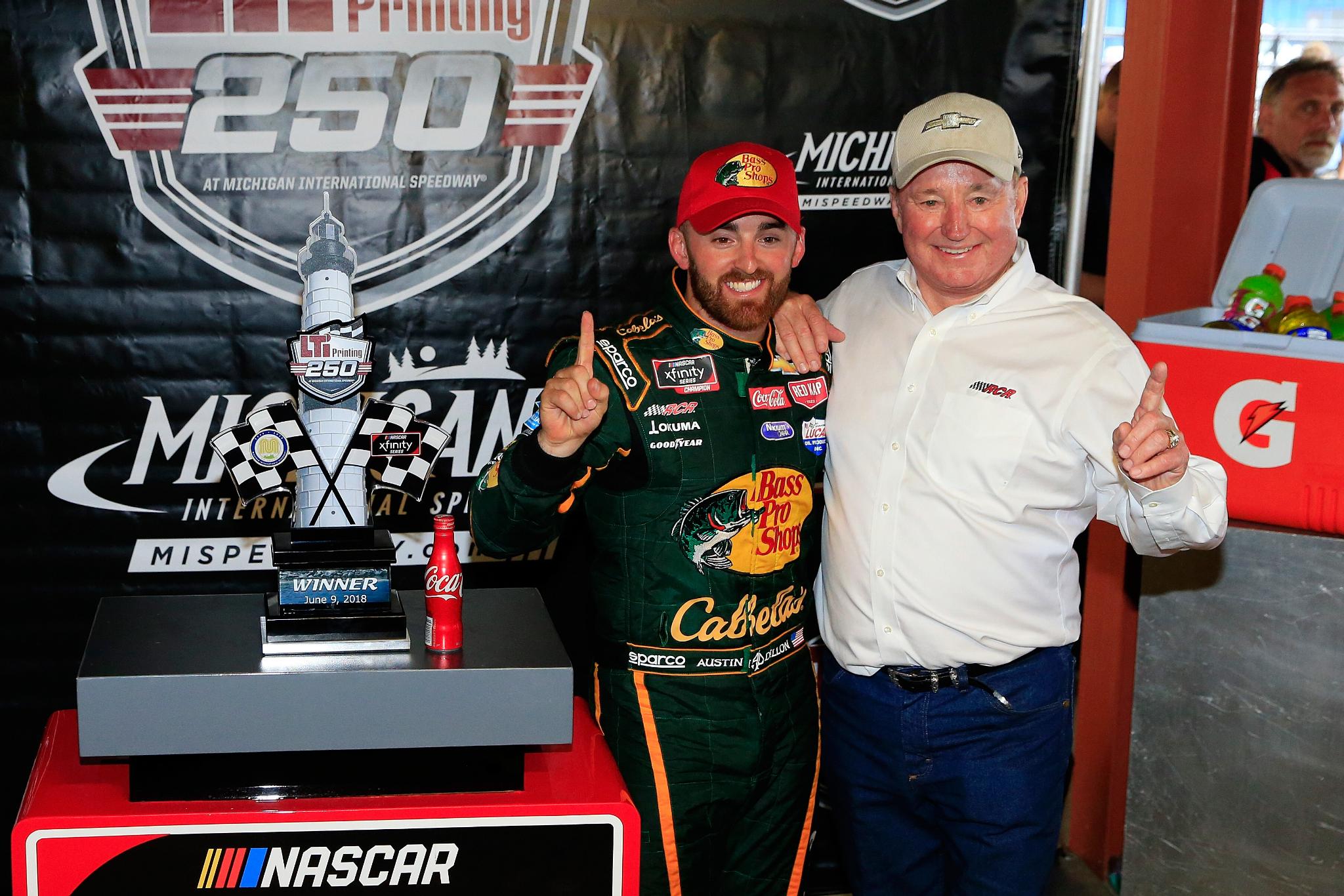 Austin Dillon and his grandfather and car owner Richard Childress celebrate at Michigan
Daniel Shirley/Getty Images
Austin Dillon powered past Kaz Grala on Lap 72 of Saturday's LTI Printing 250 at Michigan International Speedway and held the lead the rest of the way to win his first NASCAR Xfinity Series race since Aug. 19, 2016 at Bristol.
Dillon kept Richard Childress racing teammate Daniel Hemric behind him after a restart on Lap 89 of a scheduled 125, but the race ended under caution two laps later when rain pelted the asphalt. The event started three hours late after a window opened in the inclement weather.
The victory was Dillon's first at the two-mile track and the ninth of his career. RCR hadn't won in the series since Michael McDowell took the checkered flag at Road America in 2016, a week after Dillon claimed his victory at Bristol.
"It's always amazing to get to Victory Lane," Dillon said. "In the Xfinity Series for RCR, we've been working real hard to get our cars back where they need to be. This feels good…
"Me and (crew chief) Nick (Harrison) have gotten to run off a couple of wins together a couple of years back, and we felt like, if they put us back together that we could go do it again. We're a pretty good duo, it seems like. It's nice to be back with him and that group."
Hemric rolled home second, a career-best finish on an oval track, but his satisfaction with the 1-2 result by his organization was tempered by the nagging feeling he had failed to execute when it counted.
"If I had done my job or drug the brake and or done something maybe to form the bottom lane up better, maybe I could have passed Dillon," Hemric said. "Obviously, I was lined up next to, in my opinion, one of the best restarters in our sport, and Austin does a great job of that and had a lot of help on top."
Cole Custer ran third, followed by Ryan Reed and Paul Menard. Kyle Busch, Tyler Reddick, Kevin Harvick, Justin Allgaier and Ryan Truex completed the top 10.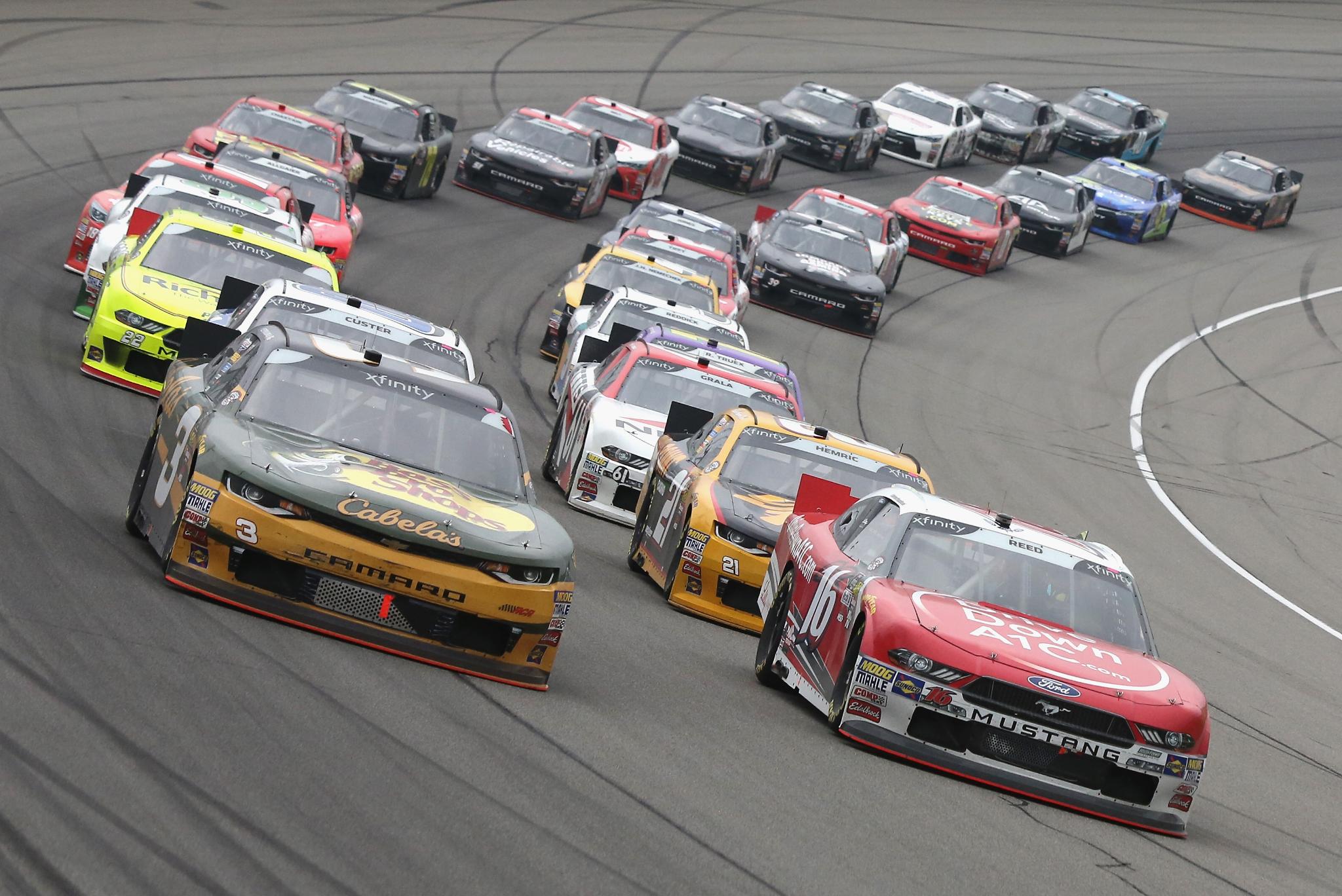 The Xfinity cars again ran the high-downforce aero package
Jerry Markland/Getty Images
For the second straight week, the Xfinity Series cars ran a high-downforce restrictor-plate package that kept the cars in closer quarters, though the outside lane established a clear advantage. But there was plenty of action in a race that featured nine cautions in 91 laps.
Christopher Bell recovered from a hard hit against the outside wall on Lap 17 and a subsequent spin on Lap 67. He rallied to finish 11th in a No. 20 Toyota despite serious damage to the right rear quarter and bumper cover.
Series leader Elliott Sadler wasn't as lucky. His No. 1 JR Motorsports Chevrolet scraped the outside wall on Lap 73 after contact with Alex Bowman's Camaro. Sadler finished 30th, the last driver on the lead lap, and saw his lead in the standings shrink to 41 points over Custer in second and 49 over Hemric in third.
RACE RESULTS

| | | | | | | | | |
| --- | --- | --- | --- | --- | --- | --- | --- | --- |
| Finish | Start | # | Driver | Sponsor/Make | Laps | Led | Points | Status |
| 1 | 13 | 3 | Austin Dillon | Bass Pro Shops/Cabela's Chevrolet | 91 | 18 | 0 | Running |
| 2 | 5 | 21 | Daniel Hemric | South Point Hotel & Casino Chevrolet | 91 | 1 | 35 | Running |
| 3 | 4 | 0 | Cole Custer | Code 3 Associates Ford | 91 | 0 | 42 | Running |
| 4 | 15 | 16 | Ryan Reed | Drive Down A1C Lilly Diabetes Ford | 91 | 1 | 49 | Running |
| 5 | 2 | 22 | Paul Menard | Menards/Richmond Ford | 91 | 8 | 0 | Running |
| 6 | 1 | 18 | Kyle Busch | Maltesers Toyota | 91 | 29 | 0 | Running |
| 7 | 6 | 9 | Tyler Reddick | Nationwide Children's Chevrolet | 91 | 0 | 30 | Running |
| 8 | 24 | 98 | Kevin Harvick | FIELDS Ford | 91 | 11 | 0 | Running |
| 9 | 9 | 7 | Justin Allgaier | BRANDT Chevrolet | 91 | 0 | 28 | Running |
| 10 | 12 | 11 | Ryan Truex | Phantom Fireworks Chevrolet | 91 | 0 | 41 | Running |
| 11 | 7 | 20 | Christopher Bell | Rheem Toyota | 91 | 0 | 28 | Running |
| 12 | 40 | 61 | Kaz Grala | NETTTS Ford | 91 | 5 | 34 | Running |
| 13 | 8 | 42 | John Hunter Nemechek | Chevrolet Accessories Chevrolet | 91 | 0 | 33 | Running |
| 14 | 16 | 4 | Ross Chastain | Flex Seal Chevrolet | 91 | 0 | 28 | Running |
| 15 | 21 | 51 | Jeremy Clements | RepairableVehicles.com Chevrolet | 91 | 0 | 22 | Running |
| 16 | 14 | 2 | Matt Tifft | Nexteer Chevrolet | 91 | 0 | 28 | Running |
| 17 | 17 | 5 | Michael Annett | TMC Chevrolet | 91 | 0 | 20 | Running |
| 18 | 11 | 19 | Brandon Jones | XYO Networks Toyota | 91 | 0 | 25 | Running |
| 19 | 18 | 39 | Ryan Sieg | Lombard Bros. Gaming Chevrolet | 91 | 0 | 18 | Running |
| 20 | 27 | 38 | JJ Yeley | RSS Racing Chevrolet | 91 | 0 | 17 | Running |
| 21 | 10 | 23 | Alex Bowman(i) | ISM Connect Chevrolet | 91 | 8 | 0 | Running |
| 22 | 34 | 76 | Spencer Boyd | Grunt Style Chevrolet | 91 | 0 | 15 | Running |
| 23 | 29 | 60 | Austin Cindric | LTi Printing Ford | 91 | 0 | 18 | Running |
| 24 | 25 | 78 | Tommy Joe Martins | Chevrolet | 91 | 0 | 13 | Running |
| 25 | 32 | 1 | Vinnie Miller | JAS Trucking Chevrolet | 91 | 0 | 12 | Running |
| 26 | 22 | 0 | Garrett Smithley | VehicleKeys.com Chevrolet | 91 | 0 | 11 | Running |
| 27 | 33 | 45 | Josh Bilicki | Prevagen Toyota | 91 | 0 | 10 | Running |
| 28 | 38 | 74 | BJ McLeod | Horizon Transport Chevrolet | 91 | 0 | 9 | Running |
| 29 | 36 | 40 | Chad Finchum | Smithbilt Homes Toyota | 91 | 0 | 8 | Running |
| 30 | 3 | 1 | Elliott Sadler | OneMain Financial Chevrolet | 91 | 0 | 21 | Running |
| 31 | 37 | 66 | Timmy Hill | OCR Gaz Bar Dodge | 90 | 0 | 6 | Running |
| 32 | 26 | 90 | Josh Williams | Sleep Well Chevrolet | 89 | 0 | 5 | Transmission |
| 33 | 28 | 52 | David Starr | Pro Waste Services, Inc. Chevrolet | 82 | 0 | 4 | Accident |
| 34 | 23 | 8 | Caesar Bacarella | MAXIM/ALPHA PRIME Chevrolet | 79 | 0 | 3 | Accident |
| 35 | 35 | 55 | Brandon Hightower | Timmons Truck Center Toyota | 79 | 0 | 2 | Accident |
| 36 | 30 | 15 | Matt Mills | Flex Glue Chevrolet | 54 | 0 | 1 | Accident |
| 37 | 20 | 36 | Alex Labbe | Can-Am/Wholey/Cyclops Chevrolet | 52 | 0 | 1 | Accident |
| 38 | 39 | 89 | Morgan Shepherd | Visone RV Chevrolet | 34 | 0 | 1 | Brakes |
| 39 | 19 | 35 | Joey Gase | Sparks Chevrolet | 33 | 0 | 1 | Overheating |
| 40 | 31 | 93 | Jeff Green | RSS Racing Chevrolet | 5 | 0 | 1 | Vibration |