Kyle Busch Rallies to Score First Xfinity Win of the Season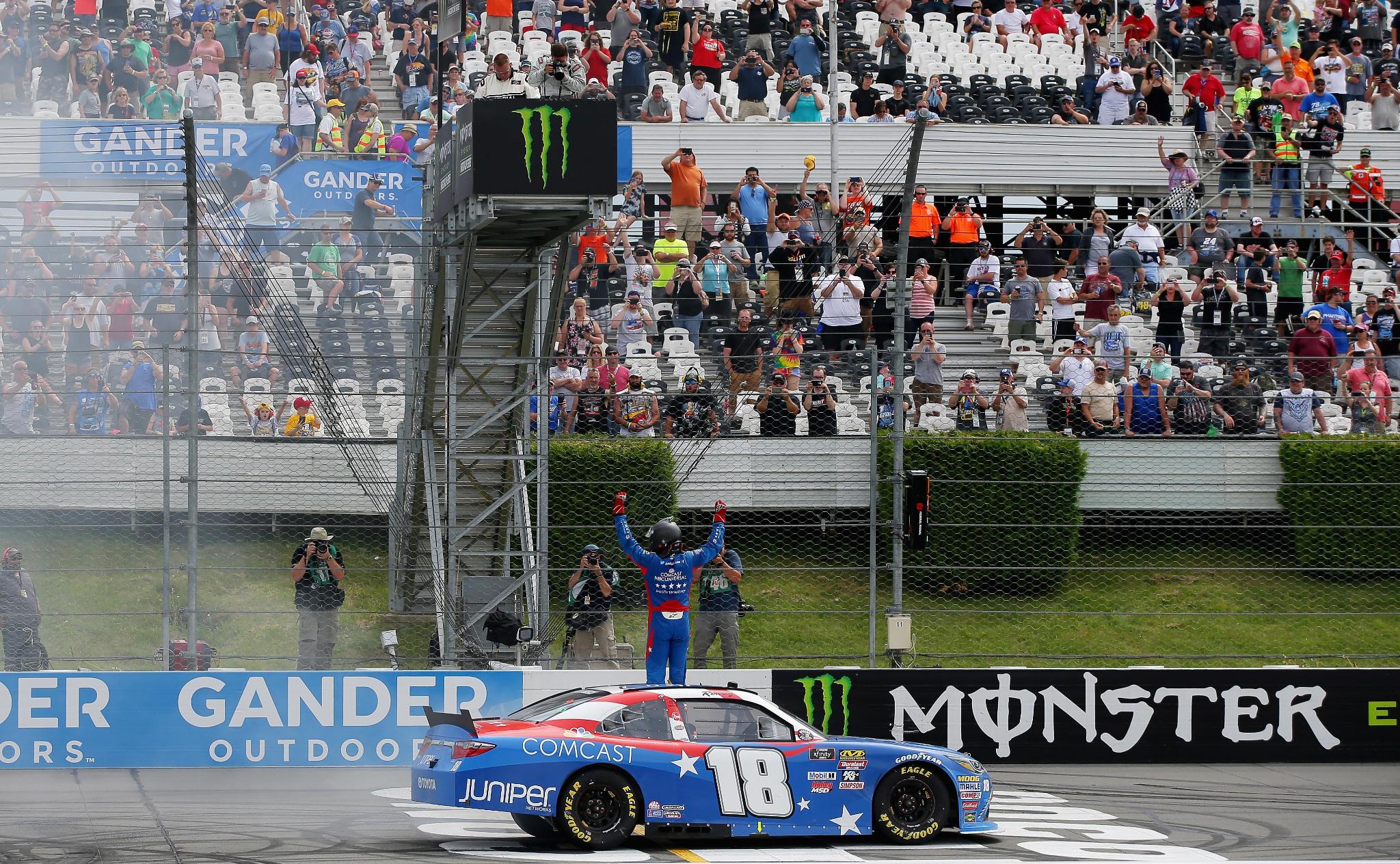 Kyle Busch celebrates his first Xfinity victory of the season
Chris Trotman/Getty Images
A new high-downforce, restrictor-plate competition package at Pocono Raceway brought a familiar result on Saturday—at least where the NASCAR Xfinity Series is concerned.
Overcoming a pit road speeding penalty that sent him to the back of the field for the start of the second 25-lap stage in the Pocono Green 250, Kyle Busch clawed his way through the field to win the 92nd race of his career.
What wasn't familiar was Busch's victory at Pocono. It was his first, in his second start at the 2.5-mile triangular track. And it was Busch's first Xfinity victory of the season in his fourth start of the year.
Busch's No. 18 Joe Gibbs Racing Toyota was the clear class of the field. Only the penalty put the outcome in doubt. Busch grabbed the lead from pole winner Cole Custer on Lap 3 off 100 and held it through the end of Stage 1, winning that leg by 7.171 seconds over teammate Christopher Bell.
But both Busch and Bell were too fast on pit road during stops and Lap 28, and the teammates restarted 21st and 22nd on Lap 31. By the end of Stage 2, won by Paul Menard, Busch had climbed to sixth, and from there it was a matter of time before he returned to the top spot.
[adinserter name="GOOGLE AD"] That happened when he stayed out under caution after Bell and Justin Allgaier, two of the top contenders, wrecked on the Long Pond straightaway on Lap 61 and exited the race. Busch held the lead from the restart on Lap 66 to the finish and crossed the stripe 2.521 seconds ahead of runner-up Chase Elliott, who was subbing for suspended Spencer Gallagher.
"The car was on rails this week," Busch said. "It was last week, too (in an eighth-place finish at Charlotte), but we were just able to over the deficit we had this weekend (from the penalty) and bring it back to the front."
Busch's only worry was getting through heavy race traffic in his charge from the back to the front after the start of the second stage.
"You're always worried about something crazy or an unpredictable situation happening," Busch said. "We just kind of had to bide our time and be patient a little bit, kind of make moves when we could make moves…
"All in all, though, we knew we had speed in our race car, and it was really fast out front, once we got to those top five, top six cars."
Daniel Hemric ran third, followed by Austin Cindric, Custer and series leader Elliott Sadler.
Busch got 48 laps out of his last tank of fuel. Elliott, who passed Hemric for second with one lap left, was hoping Busch's Camry would sputter before he reached the finish line.
"We came in to top off (on Lap 58), Elliott said. "We wanted to be on the good side of fuel, and I was hoping these guys would push it a little too close… But it was a lot of fun, and I'm looking forward to the next one."
Bell and Allgaier were victims of the Lap 61 crash that started with Sadler pushing Allgaier up the straightaway between Turns 1 and 2 in close quarters with the No. 28 Ford of Dylan Lupton. Contact between the cars of Lupton and Allgaier turned Allgaier's Chevrolet toward the wall, where he collected Bell's Toyota in the process. Both cars were damaged too severely to continue.
"I just made a mistake there whenever I followed Kyle (Busch) to Pit Road at the end of the first stage," Bell said. "He was going really fast, and I thought I could, too. And I just ended up speeding.
"There was nothing I could have done there with Justin, for that matter. We were just victims of Pocono restarts. It just got really hairy. It was exciting. That's why sometimes we love it and sometimes we hate it."
Sadler retained the series lead by 62 points over Custer in second and 63 over Hemric in third.
KYLE BUSCH
Finishing Position: 1st
How does it feel to accomplish winning at Pocono in the Xfinity Series?
"It feels good for as good as our car was. I tried to screw it up again early this week. My guys are amazing. Joe Gibbs Racing and everybody back in the Xfinity Series. They do a great job in the body shop and chassis shop. This car was on rails this week and last week, too. We were able to overcome our speeding issue we had this weekend to get back to the front. Want to say thanks to Comcast NBC Universal for the Salute to Troops Service Program that they have. Men and women they help support that have come out of military and help give them jobs both them and their spouses. It's a really a special program. Toyota is also involved in that as well. If you want to learn more, check out the website. It's certainly a lot of fun to race with meaning and cause. We dedicate this win to the men and women who are fighting for our country now and past. It's been a lot of fun racing in the Xfinity Series. This is pretty cool to check off the list and a win here at Pocono feels really good. Thanks to NOS Energy for supporting us. This Toyota Camry was very fast. I want to say thanks to Xfinity and of course these fans. It's everything it takes for us to make it to the race track every week. The fans are amazing in this sport and I appreciate that."
Were you ever concerned running back through the field after your penalty?
"Absolutely. You're always worried about something crazy or unpredictable situations taking place. We had to bide our time and be patient a little bit and make moves. There were moments there where we had to throw this corner away and let's race down the next straightaway to get the next one. We knew we had speed in our race car. It was really fast out front. Once we got to the top-five, top-six cars."
How was the dirty air and driving back through the field?
"We were just way tighter in traffic and in dirty air. To get off the corners and keep momentum going into the corners was really hard. Sometimes you'd get to the corner and you think you need to make a move right now but it was like forget it. Throw this corner away and let's regroup. Get off the corner well and get ready for the next straightaway. We knew certainly it would be a chess match with how you time and get through traffic. For us, our car was super fast and we were really good out front. We liked to be out there in the clean air. I wouldn't call it easy but it was certainly faster."
Are you one of the guys that monitors their numbers when it comes to wins?
"I hear about the numbers from everyone else. I don't necessarily go back and check stats or look at records. It's cool to come out here and race in the Xfinity Series. I actually learned a few things for today. I am looking forward to what we can do with that in tomorrow's race and being as competitive as we are. We'd like to go out there and race with our competition and beat them. Thanks to the fans for coming out here today. We appreciate you all. Hopefully we'll come back out tomorrow and have a safe trip."
What areas did you learn today for tomorrow?
"Starts at the start-finish and ends at the start-finish. Basically how to predict traffic and how to drive through different aero situations. Cars are different but they react somewhat the same. Trying to figure all of that out and what the balance does."
How special is it to add to your legacy with a win here at Pocono in the Xfinity Series?
"It's great. It's been one that we've wanted to get. We've only started one other race here and it was a rain-shortened race. I thought we were pretty good on that day but came home fourth. To have a great race car today like we had today. Eric Phillips (crew chief) and all of my guys. It was just great for us. Really good. Really cool. It means a lot to win here in the Xfinity Series at Pocono and check another box if you will of being able to win in all active tracks on the Xfinity schedule. That's pretty special. There is a few that I have missed out on and haven't gotten over the years that I wish I could get. There gone and done now, so I can't. But overall, today was a great day. I want to say thanks to NBC Comcast Universal and Juniper for allowing us the red, white and blue colors on it today for all the meaning of what that means. For saluting the troops and the members of service that are able to come back out of the military and to give jobs to those serving as well as their spouses. Really special message there.
Were you concerned with the speed in the car when you got the penalty?
"It's always difficult here to pass more times than not. I think this package was okay for giving some opportunity to make some moves and some situations. When the front guys were strung out, there was a gap between fifth and sixth. There was still another caution to come when I got to sixth. If it would have went green to the end, I am not so sure I would have been able to close that gap up. Just racing through traffic. Any time you're with a bunch of guys all mixed up together and a lot of racing, and a lot of duking going on, it can be a handful. We saw that last year here when I ran the Truck race with getting crashed out by someone mid-pack after leading the first stage and not being able to finish. It's always in the back of your mind. You don't want to put yourself in that situation. I didn't even think I was speeding. I never even saw our top indicating lights that tells us that we are speeding. I saw the lights in which we run pit road speed for. I am not sure what happened there but overall, I was really happy with how the car was driving. I knew we had speed to get back up."
Are you looking forward to the Michigan Xfinity race?
"If you want to run that restrictor-plate package, by all means, give it to me at Michigan. I am terrible there. I am sure (Kyle) Larson would like to say different but we've been fast there. It's a shame we haven't got the finishes that we wanted there. We were leading I think with 23 to go and one of the track marshals that were in the infield called debris in Turn 2 and there was nothing out there. And so, there was a debris caution called on me and I got ran over on the restart and faded. It's been frustrating there for sure but we've had speed and we've been fast. It's circumstances and what it comes down to there."
What are your thoughts on Ryan Preece?
"Ryan has done a really good job. I think this question is more for Eric. I thought he's done a nice job. Earlier this year, we were struggling as a car. I think Eric has gotten better. The car has gotten better. I think myself included has gotten better. I think Ryan is getting better, too. The performance of the team is shaping up and the chemistry between drivers and the crew chief is getting better as well. It's taken a little bit for us. But overall, the group of guys have been really good. Ryan has shown really good promise in the races he's run for us.
What was your takeaway with the package today?
"From my point, there was enough off-throttle time that it made a difference. That drive made a difference. That car made a difference. When we were out front and leading the race, we just didn't get run over by guys behind us because they were just faster than us because of the draft. It didn't take the leader and bring him back to the pack. Like if the leader was good and had everything going for him, that he could drive away. You can run whatever package you want to, as along as you have the opportunity to be faster than the rest. We are racing. This is a competition. Even though it's a show, we're supposed to put on a great race. I don't know if all races and all tracks promote great racing. I thought that today was a resemblance of what we would have saw, maybe even a little different than what we would have saw with the normal package here. With runs and such, and guys getting drafts and being out with the guys who would have been out of the throttle a little more. It just seemed like guys got rewarded for being able to take care of their tires and take care of their car. And then being in positions, you had to be smart about it. I felt like the best guy and best car won."
ERIC PHILLIPS, crew chief, No. 18 Comcast Salute to Service Juniper Toyota Camry, Joe Gibbs Racing
Finishing Position: 1st
Talk about your preparation for today's race.
"It's been a long work in progress. When they make these rule changes and big package changes as this is, there's a lot of work that goes into this. It just doesn't happen overnight. It changes our focus of what type of race cars we build and how we build them. I cannot say enough about the guys at Joe Gibbs Racing and TRD (Toyota Racing Development). Just with everything. We unloaded yesterday and all three of our cars had a lot of speed. We were off a little bit handling-wise. We knew what we needed to do and got a lot better in that practice and had a great weekend."
Was fuel ever an issue?
"Yes and no. We were probably three short when we pitted. But with the cautions and being able to run the pace and that long of a run, you get slowed down at the end. We were a little concerned. At the beginning of the run, we were going faster than we had all day and leading. Our mileage when we got back in the pack was a little bit off. Our worse numbers, we were probably half to three-quarters to the good there. I wasn't overly concerned about managing that. You get a three second lead and run out of gas coming off Turn 2, you kind of look like an idiot. So just trying not to screw it up. That's part of my job when he's in the car and I haven't done the greatest job at doing that this year."
What are your thoughts on Ryan Preece?
"I think the last half of the year this year Ryan gets a lot of the races. His information is different. Like Kyle and Noah are very similar in how they talk about the race car. It's just different and I have to take a different approach with him. I am excited about it. We keep working together and spend a lot of time together basically in July and on. We'll spend some time in the simulator and I am excited about what he is going to bring to this program. Our ultimate goal is to win an owner's championship this year. And that's the goal that Ryan has to do for us at the end of the year when we got to Playoffs.
RACE RESULTS
| | | | | | | | | |
| --- | --- | --- | --- | --- | --- | --- | --- | --- |
| Pos | St | # | Driver | Sponsor/Make | Laps | Led | Points | Status |
| 1 | 4 | 18 | Kyle Busch(i) | Comcast Salute to Service/Juniper Toyota | 100 | 64 | 0 | Running |
| 2 | 10 | 23 | Chase Elliott(i) | Allegiant Chevrolet | 100 | 0 | 0 | Running |
| 3 | 11 | 21 | Daniel Hemric | South Point Hotel & Casino Chevrolet | 100 | 0 | 35 | Running |
| 4 | 3 | 12 | Austin Cindric # | Fitzgerald Glider Kits Ford | 100 | 1 | 48 | Running |
| 5 | 1 | 0 | Cole Custer | Haas Automation Ford | 100 | 23 | 41 | Running |
| 6 | 7 | 1 | Elliott Sadler | OneMain Financial Chevrolet | 100 | 0 | 41 | Running |
| 7 | 8 | 42 | John Hunter Nemechek | Chevrolet Accessories Chevrolet | 100 | 4 | 41 | Running |
| 8 | 13 | 22 | Paul Menard(i) | LTI Printing Ford | 100 | 3 | 0 | Running |
| 9 | 9 | 9 | Tyler Reddick # | Pinnacle Financial Partners Chevrolet | 100 | 0 | 32 | Running |
| 10 | 2 | 11 | Ryan Truex | Phantom Fireworks Chevrolet | 100 | 0 | 28 | Running |
| 11 | 12 | 4 | Ross Chastain | Flex Seal Chevrolet | 100 | 0 | 26 | Running |
| 12 | 18 | 3 | Shane Lee | Childress Vineyards Chevrolet | 100 | 0 | 25 | Running |
| 13 | 20 | 16 | Ryan Reed | Drive Down A1C Lilly Diabetes Ford | 100 | 0 | 24 | Running |
| 14 | 21 | 2 | Matt Tifft | Tunity Chevrolet | 100 | 0 | 23 | Running |
| 15 | 14 | 51 | Jeremy Clements | RepairableVehicles.com Chevrolet | 100 | 0 | 22 | Running |
| 16 | 15 | 61 | Kaz Grala # | NETTTS Ford | 100 | 0 | 21 | Running |
| 17 | 17 | 39 | Ryan Sieg | KMB Plumbing & Electrical Chevrolet | 100 | 0 | 20 | Running |
| 18 | 23 | 36 | Alex Labbe # | Can-Am/Wholey/Cyclops Gear Chevrolet | 100 | 0 | 19 | Running |
| 19 | 24 | 35 | Joey Gase | Sparks Chevrolet | 100 | 0 | 18 | Running |
| 20 | 29 | 52 | David Starr | GeorgesToolRental.com Chevrolet | 99 | 0 | 17 | Running |
| 21 | 32 | 90 | Josh Williams | Star Tron Star brite Chevrolet | 99 | 0 | 16 | Running |
| 22 | 28 | 78 | BJ McLeod | JW Transport LLC Chevrolet | 99 | 0 | 15 | Running |
| 23 | 26 | 28 | Dylan Lupton | Fatal Clothing Ford | 99 | 0 | 14 | Running |
| 24 | 6 | 19 | Brandon Jones | Juniper/Comcast Salute to Service Toyota | 99 | 5 | 19 | Running |
| 25 | 27 | 8 | Tommy Joe Martins | JW Transport, LLC Chevrolet | 99 | 0 | 12 | Running |
| 26 | 37 | 0 | Garrett Smithley | Wheeling Wailers Chevrolet | 98 | 0 | 11 | Running |
| 27 | 31 | 15 | Matt Mills | Chevrolet | 98 | 0 | 10 | Running |
| 28 | 36 | 76 | Spencer Boyd # | Grunt Style Chevrolet | 97 | 0 | 9 | Running |
| 29 | 39 | 45 | Josh Bilicki # | Prevagen Toyota | 96 | 0 | 8 | Running |
| 30 | 35 | 40 | Chad Finchum # | Smithbilt Homes Toyota | 96 | 0 | 7 | Running |
| 31 | 30 | 1 | Vinnie Miller # | JAS Trucking Chevrolet | 96 | 0 | 6 | Running |
| 32 | 38 | 55 | Brandon Hightower | Timmons Truck Center Toyota | 95 | 0 | 5 | Running |
| 33 | 40 | 74 | Mike Harmon | Horizon Transport Chevrolet | 93 | 0 | 4 | Running |
| 34 | 25 | 38 | JJ Yeley | RSS Racing Chevrolet | 68 | 0 | 3 | Brakes |
| 35 | 22 | 5 | Michael Annett | Pilot Flying J Chevrolet | 66 | 0 | 2 | Suspension |
| 36 | 5 | 20 | Christopher Bell # | Ruud-Meier Supply Toyota | 61 | 0 | 10 | Accident |
| 37 | 19 | 7 | Justin Allgaier | Breyers 2 in 1 Chevrolet | 60 | 0 | 9 | Accident |
| 38 | 16 | 60 | Chase Briscoe | Nutri Chomps Ford | 57 | 0 | 1 | Accident |
| 39 | 34 | 66 | Timmy Hill | OCR Gaz Bar Dodge | 10 | 0 | 1 | Overheating |
| 40 | 33 | 93 | Jeff Green | RSS Racing Chevrolet | 4 | 0 | 1 | Brakes |

[adinserter name="GOOGLE AD"]