Brad Keselowski Wins Charlotte Xfinity Series Race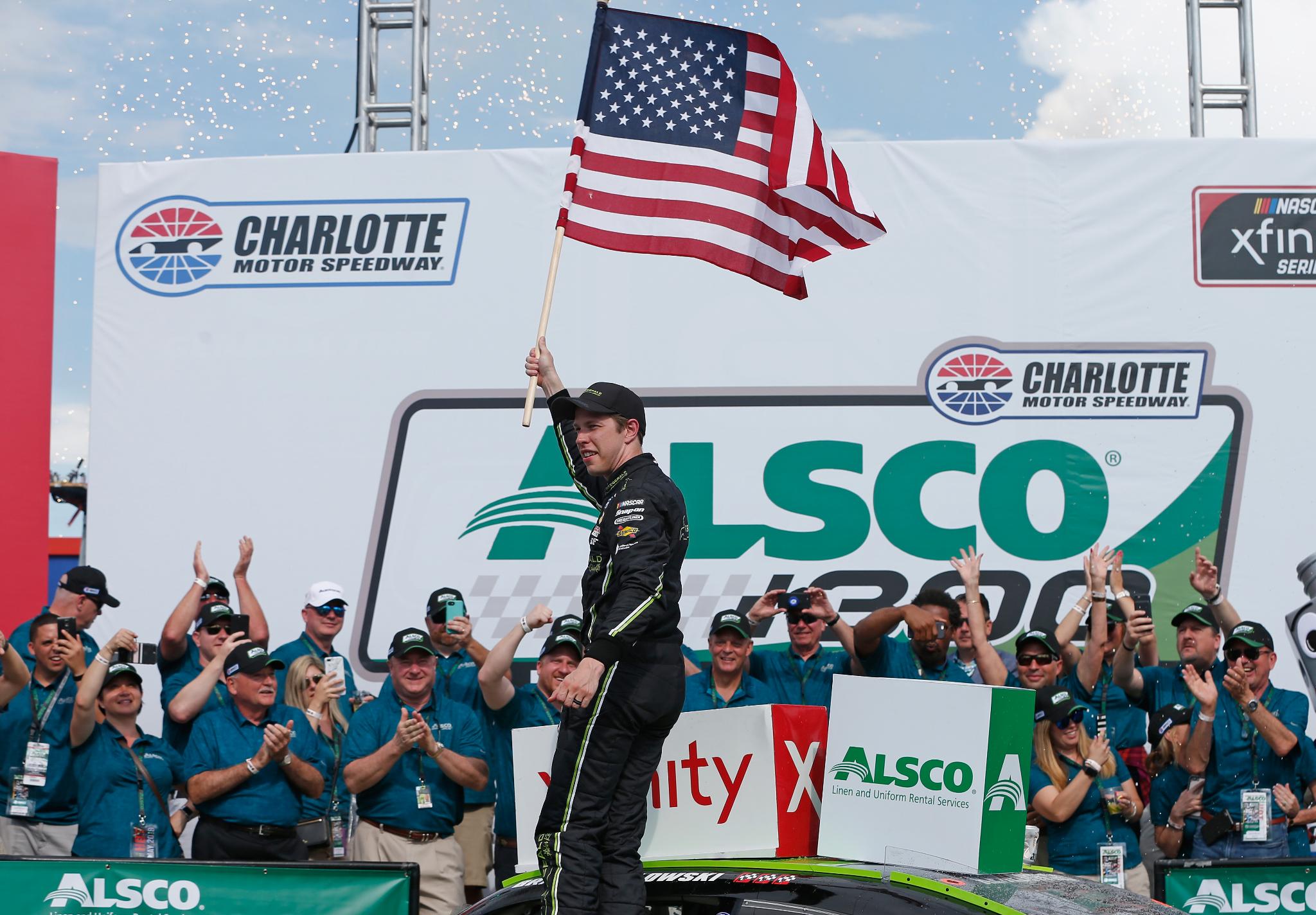 Brad Keselowski wins at Charlotte
Brian Lawdermilk/Getty Images
Neither rain, nor Kyle Busch, nor NASCAR overtime could keep Brad Keselowski from Victory Lane in Saturday's Alsco 300 NASCAR Xfinity Series race at Charlotte Motor Speedway.
Keselowski started on the pole and led 77 of the 204 laps including the final 44, surviving a one hour red flag, three late-race restarts and a green-white-checkered mad dash to the finish, beating out Cole Custer and score his second Xfinity victory of the season.
Christopher Bell was third, followed by Ty Dillon and series points leader Elliott Sadler.
The win was the 38th-career Xfinity Series victory for Keselowski, tying Carl Edwards for fourth all-time on the Xfinity wins list. It was the perfect gift for Keselowski's boss, Roger Penske, who was named to the NASCAR Hall of Fame Class of 2019 earlier in the week.
"Nothing better than to start off Memorial Day weekend than to get a win," said Keselowski. "It's hard to pick a place to start. To be quite honest, it was an eventful day. The rain and what happened there with the strategies (was tough), but so far this week has been a great week
"It was hard to execute today but we were able to persevere. It was hot today. It was smoking in the car. That's just part of the challenge of racing on days like this. I knew I needed to execute the restarts. I just needed to be flawless. That was really important there at the end."
[adinserter name="GOOGLE AD"] Keselowski started on the pole faced an early challenge from perennial Xfinity Series favorite Kyle Busch, who led the opening lap before Keselowski wrestled the lead away on lap two.
For the first 100 laps it was Keselowski and Busch trading the lead up front, with Busch managing to win both the first and second stages in what was shapping up to be another dominating Charlotte performance by Busch.
Following a round of pit stops with 43 laps to go, Daniel Hemric grabbed the top spot from Keselowski while Busch became mired back in tenth behind the cars that elected not to pit.
On the restart, Busch made an aggressive three-wide pass on the inside of Dylan Lupton when his left side tires hit the edge of the wet grass on the end of the frontstretch, sending Busch spinning right into the path of Chase Briscoe.
With Busch out of the picture, it was open season for Keselowski, who powered his way past Hemric to take over the top spot on lap 161.
Both the Xfinity and Cup Series had been chasing the weather all weekend, with rain cancelling one of the two Cup Series practices earlier in the day and pop-up storms threatening all afternoon.
With 25 laps to go, the skies finally opened up, forcing NASCAR to throw the red flag.
After a nearly one-hour delay, racing resumed with Keselowski still out in front, holding the lead over Bell, who was right on the cusp of chasing Keselowski down before the final caution for debris with two laps to go set up NASCAR overtime.
At the start of the three-lap shootout, Keselowski got a good jump and pulled out to a .4-second lead as Bell couldn't get going on the restart, allowing Custer to power past to take second.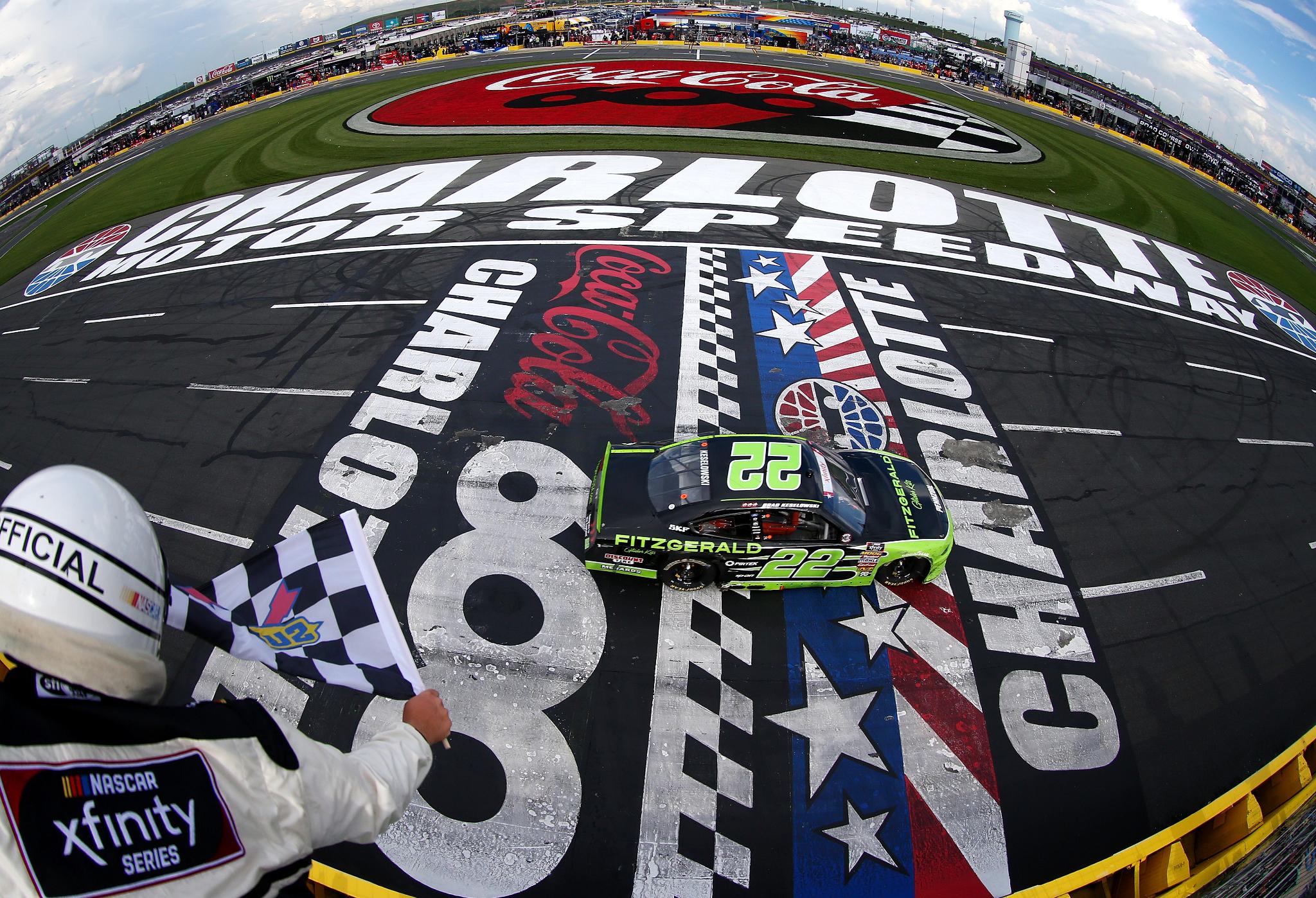 Brad Keselowski beats Cole Custer to the stripe
Sarah Crabill/Getty Images
Custer tried chasing down Keselowski over the final two laps and looked to be reeling in the leader, when a crash on the backstretch on the final lap ended the race before the final turn.
The runner-up finish was Custer's best showing of the season, and just his second top-five.
"In our backyard, this is real important. We have had good speed all year with our car. We just haven't had the finishes," said Custer. "We wish we won there but it was a run we needed. This will be good for the long stretch we have coming up. I'm looking forward to the next few races.
"It was so important to try and get a run. We were just trying to get some clean air, which was pretty tough. The 22 (Keselowski) obviously had the most air and he won. Our car was pretty good all day. We were just trying to get track position. When we had clean air, it was huge. It was a big difference when compared to the middle of the pack."
Bell racked up his seventh top five finish of the season, but was convinced he had a shot of catching Keselowski had the race gone green.
"I was just heartbroken whenever I saw that piece of debris fly off those lapped cars," said Bell. "Felt like we were really getting – starting to make some runs there. I think we were coming to two to go and I was getting the top going pretty good in (turn) one and two. Felt like I was going to have shot at him if the yellow didn't come out and then obviously when the yellow came out, I did have a shot at him and just didn't execute on that last restart.
"I had better tires than him and just didn't execute. I'm going to be curious to look at the restart there and see if – see what happened and why I couldn't get going. Bottom line, just didn't do a good job accelerating there and that's all she wrote."
The third-place finished pushed Bell to second in the points standings behind Sadler, while Reddick fell to third. Daniel Hemric moves to fourth in points over Custer.
RACE RESULTS
| | | | | | | | | |
| --- | --- | --- | --- | --- | --- | --- | --- | --- |
| Finish | Start | # | Driver | Sponsor/Make | Laps | Led | Points | Status |
| 1 | 1 | 22 | Brad Keselowski | Fitzgerald Glider Kits Ford | 204 | 77 | 0 | Running |
| 2 | 2 | 0 | Cole Custer | Haas Automation Ford | 204 | 29 | 48 | Running |
| 3 | 7 | 20 | Christopher Bell # | Rheem Toyota | 204 | 0 | 46 | Running |
| 4 | 14 | 3 | Ty Dillon | Nexium 24HR Chevrolet | 204 | 0 | 0 | Running |
| 5 | 13 | 1 | Elliott Sadler | OneMain Financial Chevrolet | 204 | 0 | 32 | Running |
| 6 | 15 | 11 | Ryan Truex | Phantom Fireworks Chevrolet | 204 | 0 | 31 | Running |
| 7 | 17 | 21 | Daniel Hemric | South Point Hotel & Casino Chevrolet | 204 | 3 | 33 | Running |
| 8 | 3 | 18 | Kyle Busch | NOS Energy Drink Toyota | 204 | 93 | 0 | Running |
| 9 | 19 | 2 | Matt Tifft | KCMG Chevrolet | 204 | 0 | 30 | Running |
| 10 | 16 | 61 | Kaz Grala | NETTTS Ford | 204 | 0 | 27 | Running |
| 11 | 9 | 98 | Chase Briscoe | Ford Ford | 204 | 0 | 27 | Running |
| 12 | 25 | 5 | Michael Annett | Pilot Flying J Chevrolet | 204 | 0 | 25 | Running |
| 13 | 21 | 39 | Ryan Sieg | Night Owl Contractors Chevrolet | 204 | 0 | 24 | Running |
| 14 | 36 | 0 | Garrett Smithley | FAME/fame-usa.com Chevrolet | 204 | 1 | 23 | Running |
| 15 | 5 | 19 | Brandon Jones | Menards/Jeld-Wen Toyota | 204 | 0 | 39 | Running |
| 16 | 8 | 12 | Austin Cindric # | Pirtek Ford | 204 | 0 | 21 | Running |
| 17 | 26 | 35 | Joey Gase | Sparks Chevrolet | 204 | 0 | 20 | Running |
| 18 | 28 | 15 | Joe Nemechek | jdmotorsports.com Chevrolet | 204 | 0 | 0 | Running |
| 19 | 37 | 78 | Ray Black II | JW Transport LLC Chevrolet | 204 | 0 | 18 | Running |
| 20 | 35 | 52 | David Starr | Extreme Kleener/Whataburger Chevrolet | 204 | 0 | 17 | Running |
| 21 | 33 | 76 | Spencer Boyd | Grunt Style Special Chevrolet | 204 | 0 | 16 | Running |
| 22 | 11 | 60 | Ty Majeski | Ford Ford | 203 | 0 | 15 | Running |
| 23 | 4 | 9 | Tyler Reddick | Pinnacle Financial Partners Chevrolet | 202 | 0 | 15 | Running |
| 24 | 31 | 8 | Tommy Joe Martins | Chevrolet | 198 | 0 | 13 | Running |
| 25 | 38 | 45 | Josh Bilicki # | Prevagen Toyota | 198 | 0 | 12 | Running |
| 26 | 18 | 4 | Ross Chastain | Florida Watermelon Association Chevrolet | 198 | 0 | 11 | Running |
| 27 | 39 | 55 | Brandon Hightower | Premier Recycling LLC Toyota | 197 | 0 | 10 | Running |
| 28 | 32 | 1 | Vinnie Miller | JAS Expedited Trucking LLC Chevrolet | 194 | 0 | 9 | Running |
| 29 | 40 | 16 | Ryan Reed | Drive Down A1C Lilly Diabetes Ford | 192 | 0 | 8 | Running |
| 30 | 24 | 66 | Timmy Hill | CrashClaimsR.Us Dodge | 189 | 0 | 7 | Running |
| 31 | 12 | 42 | Jamie McMurray(i) | DC Solar Chevrolet | 181 | 0 | 0 | Accident |
| 32 | 10 | 7 | Justin Allgaier | BRANDT Chevrolet | 180 | 0 | 13 | Accident |
| 33 | 23 | 28 | Dylan Lupton | Fatal Clothing Ford | 168 | 0 | 4 | Accident |
| 34 | 27 | 36 | Alex Labbe | Can-Am/Wholey/Cyclops Gear Chevrolet | 140 | 0 | 3 | Accident |
| 35 | 20 | 51 | Jeremy Clements | AllSouthElectric.com Chevrolet | 135 | 0 | 2 | Running |
| 36 | 22 | 38 | JJ Yeley | RSS Racing Chevrolet | 134 | 1 | 1 | Fuel Pump |
| 37 | 6 | 23 | Chase Elliott | Hooters 22nd International Pageant Chevrolet | 98 | 0 | 0 | Transmission |
| 38 | 34 | 90 | Josh Williams | Star Tron/Star Brite/Sleep Well Chevrolet | 26 | 0 | 1 | Oil Leak |
| 39 | 29 | 93 | Jeff Green | RSS Racing Chevrolet | 5 | 0 | 1 | Vibration |
| 40 | 30 | 99 | BJ McLeod | Chevrolet | 3 | 0 | 1 | Vibration |