NASCAR's New Aero Package Shows Promise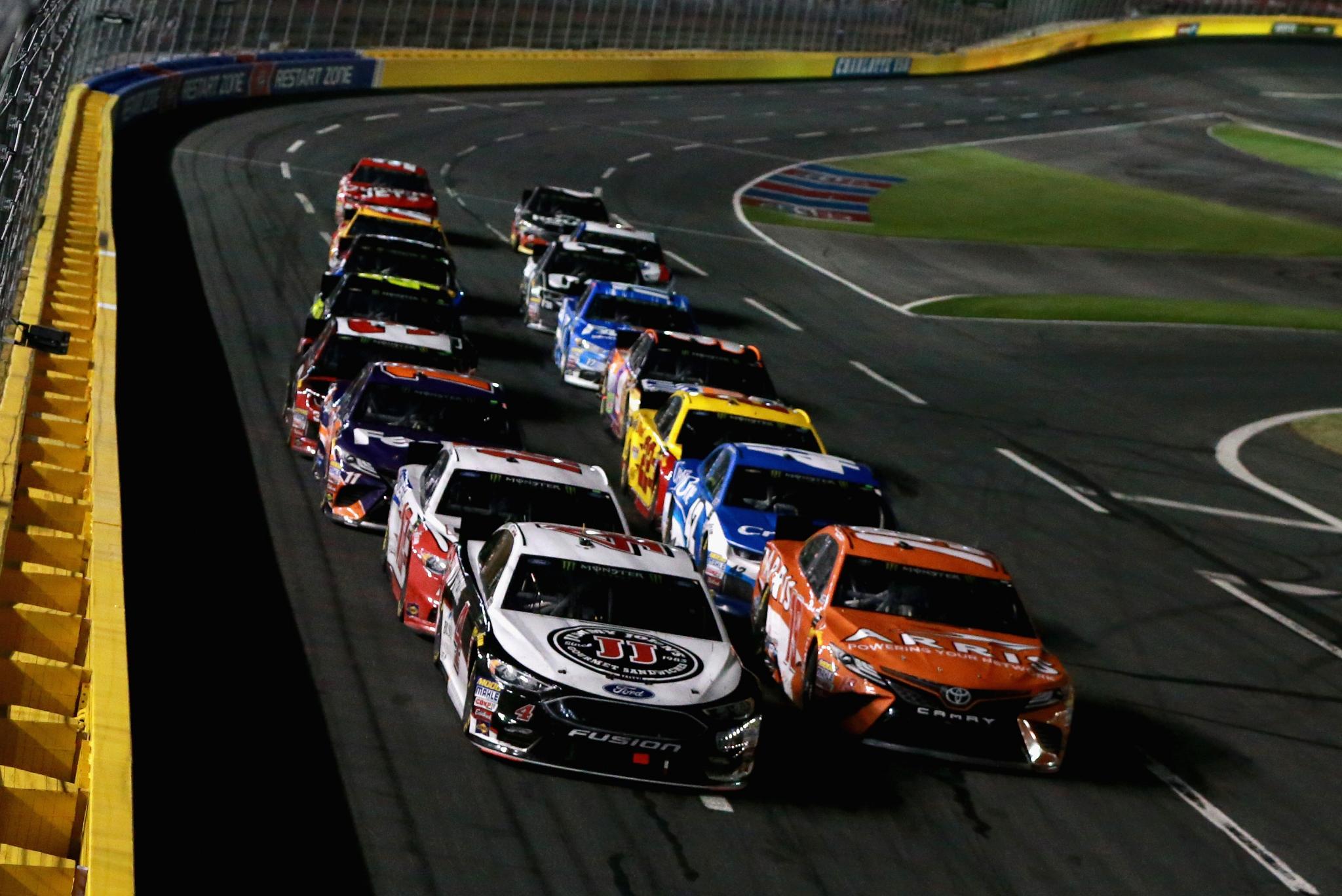 Kevin Harvick (4) battles Daniel Suarez (19) in the All Star Race at Charlotte
Sean Gardner/Getty Images
After years of ho-hum racing in the annual Monster Energy NASCAR All Star Race, NASCAR might have finally hit on something.
NASCAR's new experimental high-drag aerodynamic package got it's first trial by fire under the lights at Charlotte Motor Speedway on Saturday night, and it produced some promising results: lots of passing, three-wide racing, and some exciting moments in race that hasn't had much drama in the last few years.
Over the course of the event – which was expanded to 93 laps after several cautions forced the third and fourth segments to go into overtime – featured 38 green-flag passes for the lead. It was a vast improvement over the 2017 edition of the race, which saw zero green flag lead changes.
Fans, for the most part, seemed happy with what they saw. From the drivers…well, it was a mixed reaction.
One thing everyone agreed on: it's was a good effort by NASCAR, and one that should be looked into further.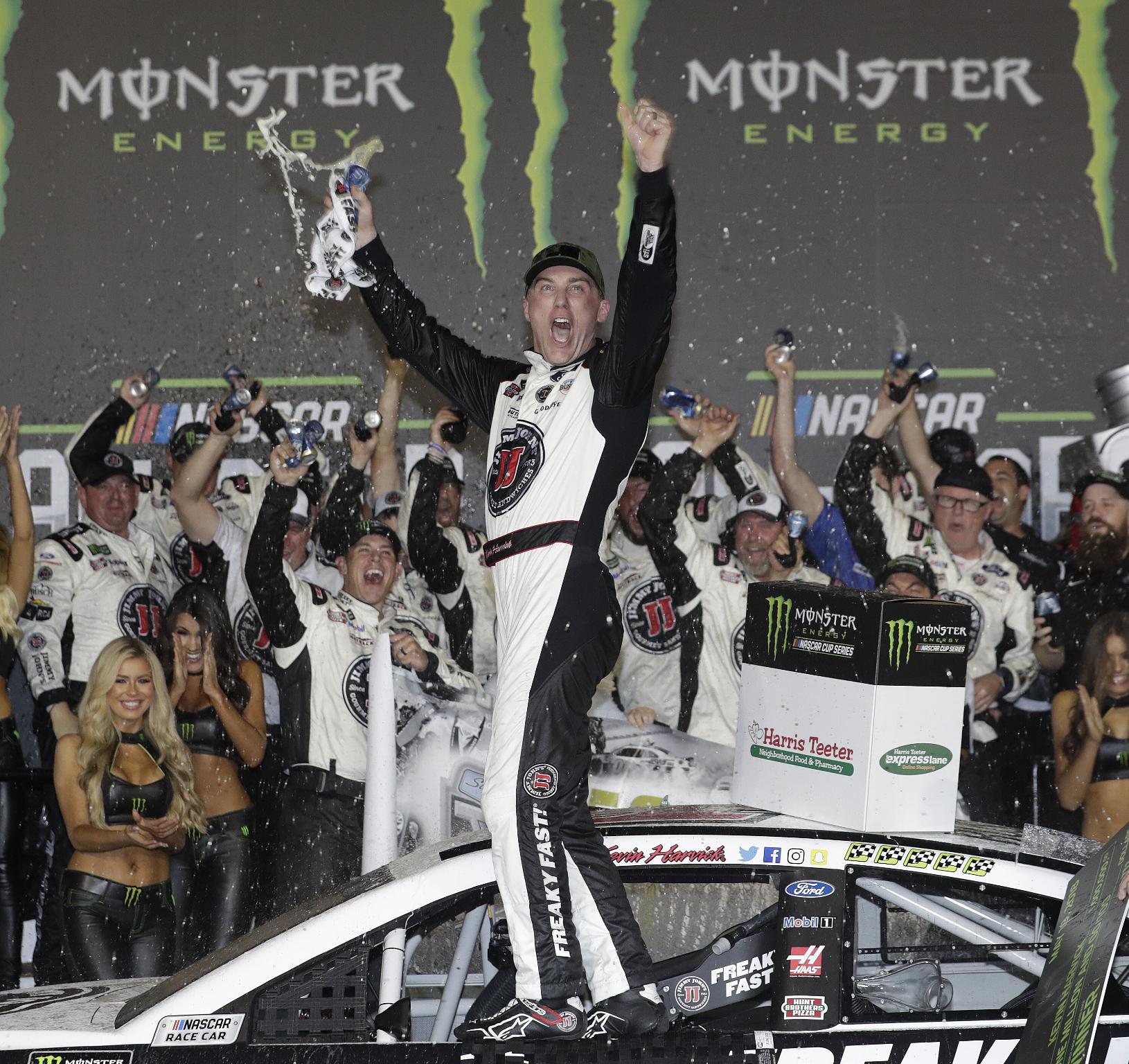 Kevin Harvick celebrates after winning the All Star Race
HHP/Harold Hinson

"I'd like to make sure we don't jump and say this is the save all, do all package," said race winner Kevin Harvick. "I'd like to see it slowly transformed into points paying races because I think the preparation level will be a little bit different from every team in the garage. I just want to make sure we cycle it in correctly, make sure it fits in well for the teams to be able to afford the things that need to be done to get the cars right. There's a lot of things to balance."
Third-place finisher Joey Logano, echoed those sentiments.
"Kudos to NASCAR for trying something, right?" said Logano. "We as competitors come into this racetrack and say, The heck with it, we'll go for anything. At least NASCAR has the same attitude. It's the race that you have nothing to lose. They looked at it that way.
"But I wouldn't say (the aero package) bad or good. It's different right now. It's up to us to try to figure out what's best, try to figure out what to do from here."
The new rules package features a 6-inch high spoiler with 12-inch "ears" on either side, a lower front splitter, and air ducts in the front of car to channel the air, making for more drag. The cars also have restricted engines – a first on a mile-and-half track.
NASCAR first tested the new package at the Xfinity Series race at Indianapolis last year, but Saturday night was first time NASCAR had tried it out on the Cup Series cars.
Because the non-points-paying aspect of the event, NASCAR frequently uses the All Star Race as a test bed to try out new way to improve the racing product on the track.
This year wasn't the first time NASCAR had trotted out a new aerodynamics package, but so far they've yet to hit on exactly the right combination, something Harvick was quick to point out.
"Just remember this. There was a large buzz about the low downforce package that we currently race when we left the All Star Race one year," said Harvick. "So just remember that."
NASCAR, however, was encouraged with what they saw, but agreed there was still work to do.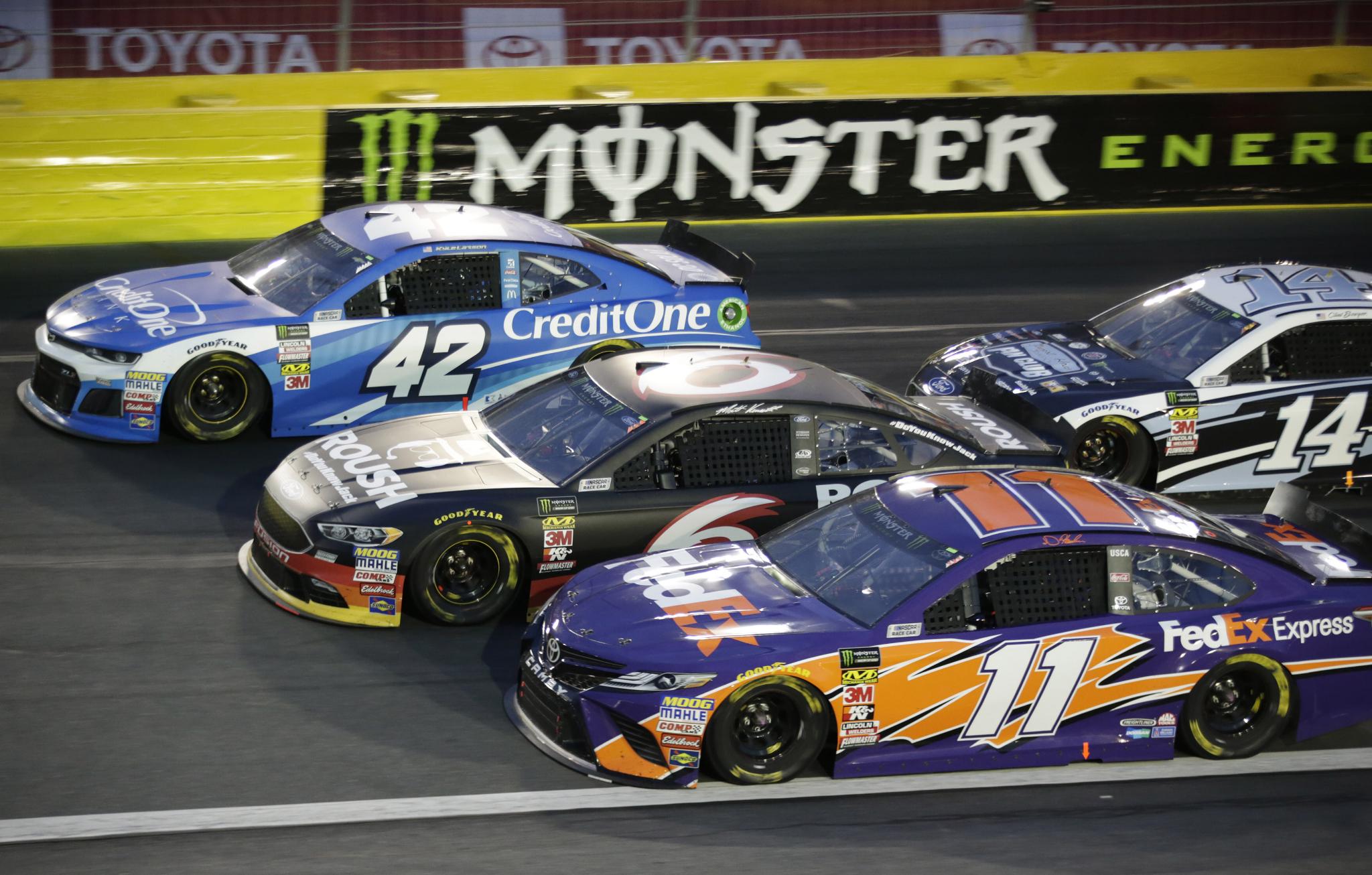 Denny Hamlin (11), Matt Kenseth (6) and Kyle Larson (42) battle three wide in the All Star Race
HHP/Alan Marler
"I think you judge it by the fans. I think you look down the last 10 laps, everybody is standing up," said Steve O'Donnell, NASCAR's chief racing development officer. "People were enthused. I think the one thing, you saw Kevin Harvick go out there and win, and he certainly dominated this year, but you didn't know who was going to win that race in turn three. You saw drivers out there competing. You saw three lead changes in one lap at the end of the third stage. We had zero lead changes at the (scoring) loops last year. I think we had 38. That's more than the last four years. Pretty good data when you look at that."
"From an eye test, we were certainly pleased with what we saw. I think you'll hear drivers say directionally there's some things we can look at. We agree. But would certainly say we've got to take time to digest what we saw, look at a lot of facts, see where we go from here. You don't want to assume that what you put on track is going to be a home run. We certainly hoped it would be, but there's certainly some things that you look at that you could tweak if you went this route. For us, we've got to take the time, be smart about this, really look at it, see where we can go from here. But I think it's fair to say that this is something we absolutely want to look at."
Speedway Motosports President and CEO Marcus Smith was certainly pleased with what he saw, and said he would like to see the package used next weekend's Coca Cola 600.
"Why not? Anything is possible," said Smith. "One of my things in life is, 'Don't delay a good thing.' If you're going to do it, go ahead and do it now. I'm not an engineer, but as a fan I loved what I saw and I think that's kind of why we're all here – for the fans. It's certainly worth looking at but it's going to take a buy-in from the core of the sport – NASCAR and the teams and the car manufacturers.
"This was some of the best racing we've seen on a 1.5-mile track in many, many years, and it was a lot of fun to watch. This package was way bigger than Charlotte. This was something that has a much bigger goal and that's to have a positive impact on the sport. I think we accomplished that."
[adinserter name="GOOGLE AD"]