Bowman, Suarez, Allmendinger, Elliott Advance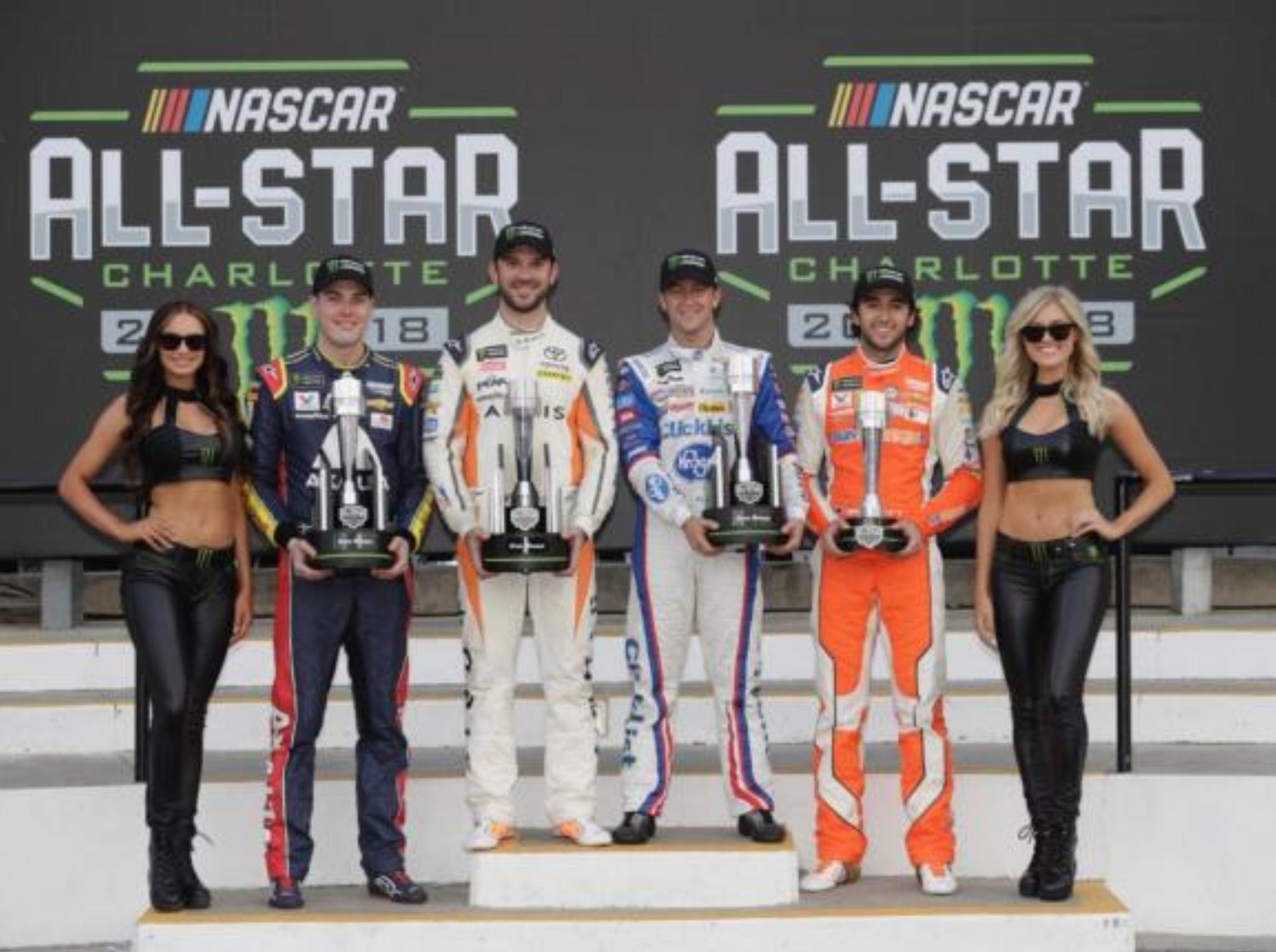 (L-R) Alex Bowman, Daniel Suarez, A.J. Allmendinger and Chase Elliott advanced to the All Star Race.
HHP/Harold Hinson photo
Alex Bowman, Daniel Suarez and A.J. Allmendinger picked up stage victories in Saturday's Monster Energy Open to advance to the Monster Energy NASCAR All Star Race at Charlotte Motor Speedway and a shot at a $1million-dollar payday.
Chase Elliott won the Fan Vote to take the 21st and final spot in the all star field.
Aric Almirola started the three-stage, 50-lap race from the pole and led the opening 12 laps
On lap 13, Bowman ducked to the inside of Almirola and battled side by side until the two came into turn three and Bowman was able to pull ahead to take over the top spot.
Once out in front, Bowman held the lead for the next nine laps – facing some pressure from behind by Erik Jones – to win the opening stage to transfer to the All Star Race. Jones was second, followed by Elliott, Paul Menard and Bubba Wallace, Jr.
"The car was really good. We were wide open all the time," said Bowman. "I'm really proud of all my guys. Other people's cars weren't driving as well as ours was. The All-Star Race is going to be interesting. The track is going to cool down. The racing is probably going to get a little wilder. But, it is just so cool to be a part of it. It's a privilege to be driving for Hendrick Motorsports. And it's really cool to make the All-Star Race."
Jones and William Byron led the field to the green flag for the second, 20-lap segment, but Byron was quickly shuffled out of line, allowing Suarez to move up on the outside take the lead away from Jones on the opening lap.
Suarez took command for the next 12 laps but Elliott closed the gap and pulled alongside Suarez on the backstretch and cleared the No. 19 Toyota coming through turn four to take over the lead.
Suarez refused to go down quietly and just two laps later raced his way past Elliott and back in front of the field. Allmendinger got past Elliott for second and tried to mount a challenge, looking to the low side coming through turns three and four, but Suarez held him off to win the second stage over Allmendinger, Elliott, Wallace, Jr., and Byron.
"It was good. It was fun. I'm very proud of my guys," said Suarez. "The pit crew did an amazing job again. Last year we were able to make it and this year we're able to again, so I'm very proud of that."
Wallace and Elliott made up the front row for the final 10-lap stage, and Wallace had the early advantage as he and Elliott pulled away while Almirola, Jones and Allmendinger battled it out for third place back in the field.
With five laps to go, Allmendinger had closed the gap and was running nose to tail with Wallace and Elliott as Jones made a bid for third on the bottom.
With two to go, Elliott got around Wallace on the inside just as they crossed the strip, causing Wallace to lose momentum and ended up three wide with Jones and Allmendinger for second.
Allmendinger used his momentum to pull even with Elliott and pulled a slide job coming off turn two on the final lap to take the lead.
Elliott tried to fight his way back on the outside by Allmendinger and briefly had the nose of his No. 9 Chevrolet out in front, but Jones forced his way to the high side to try and make it three wide and Allmendinger made his car three-lanes wide to hold them both off.
Allmendinger slid up to the high side to block, killing Jones' momentum and stacking up the field behind him, allowing Allmendinger to power away and claim the final stage by three car lengths over Jones.
"I made the decision that I was crashing, or I was winning," said Allmendinger. "This is big for the organization, all my guys here at the race track, back at the shop. For Kroger ClickList, especially, to be able to call us all-stars for the night is great. We're making progress. We're not where we want to be yet as a race team, but we're getting better. It's just nice to cap it off and now have a chance to race for a million dollars."
[adinserter name="GOOGLE AD"]